December 21, 2014
12/21/14

By Subscription Box Mom

0 Comments
0
swiggydiggydoo December 2014 Review – Baby/Toddler Eco-Friendly Subscription Box
Disclosure: This box was received free for review purposes.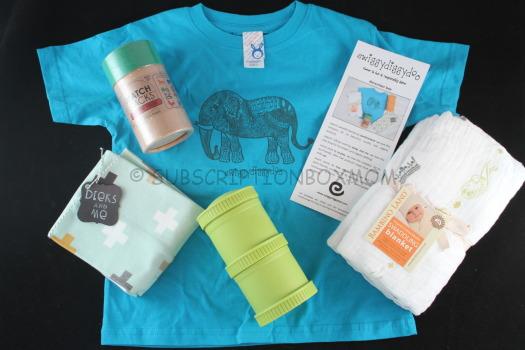 Swiggydiggydoo is a new subscription box for 0-3 year olds.  Swiggydiggydoo focuses on sending eco-conscious, organic and modern baby/toddler items.  You don't have to worry about reading the labels on any of the products.  Swiggydiggydoo makes sure all the products in the box are free from BPA, phthalate, bromine, lead and many more chemicals. Swiggydiggydoo sounded really cool and I couldn't wait to check it out.
The Details:
Cost: $39.95 (one time box) Monthly rates (Auto Renew): $39.95-monthly, $116.85/3 months, $227.70/6 months, $443.40/12 months.
What's in the box? "You will receive products made with your kid's health and our environment in mind, plus you'll get a custom designed, limited edition shirt for your kid. the items we send are approved by our team and let me tell you – we are very picky. along with your shirt, your box might include toys, crafts/activities, books, clothing, feeding items and more. abooga baby, double/double, haba, house mountain naturals, jack n' jill, jj rabbit and libras botanticals are just to name a few of the carefully selected brands you may receive in your box."
How do I get the box? Order and pay by the 25th of the current month to have your box of stuff mailed to you around the 15th of the next month.
When will I get my box? If you signed up before the 25th of the current month, you will get a box next month. boxes will be shipped around the 15th of the month and should arrive 2-10 days after they're mailed.
How do I cancel?  Email before the 20th of the month.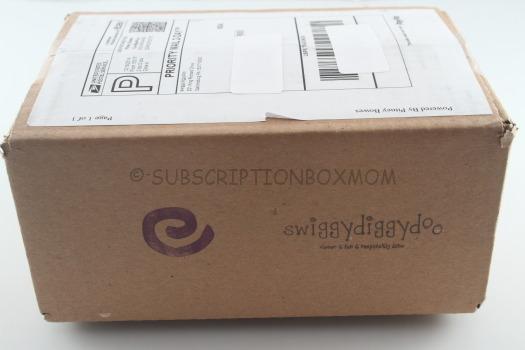 Swiggydiggydoo shipped in a brown box and arrived by USPS.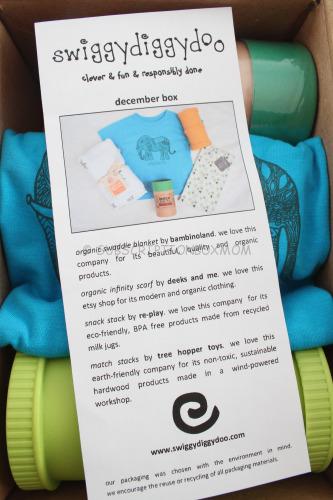 First Look and Information Card
Swiggydiggydoo sent an information card with a picture of everything in the box and a description of each item.  I received a box for a boy.  All boxes are the same with the exception of the shirt size and maybe color variations.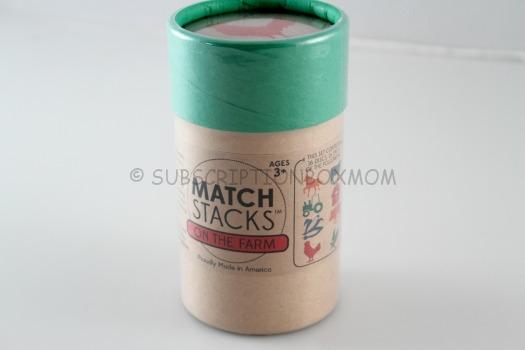 Tree Topper Toys Match Stacks "On the Farm" $20.00  Our family received these Match Stacks before (Numbers) and it is a great toy.  You can use these discs to help your child with language development, by making them name the objects.  You can also use these as a traditional matching game.
These discs are made of sustainable hard wood in a wind powered workshop.  All the pieces are also non-toxic.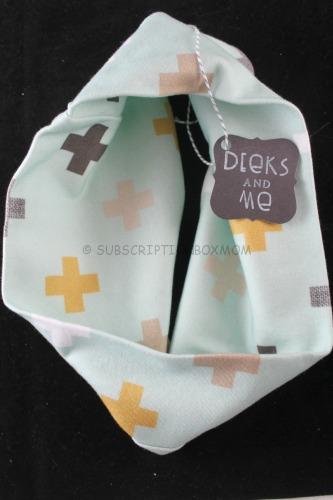 Deeks and Me Organic Infinity Scarf $12.00  This is an infinity scarf made for babies and toddlers.  The fabric is organic and the scarfs are hand made.  I love the modern look of these scarfs.  They can be be worn by boys or girls.  Super cute.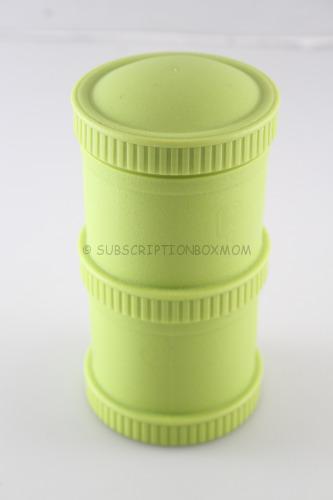 Replay Snack Stack $5.99  These are super cute snack containers that are made from old milk jugs.  I love the color of this and it can also be used for small toys.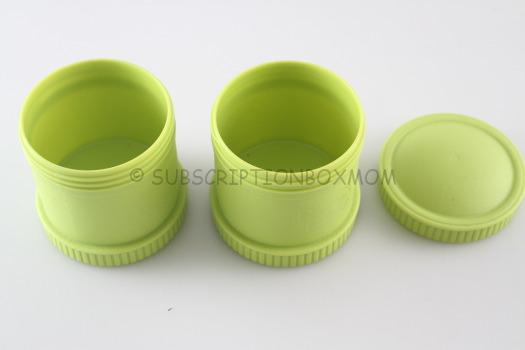 There are two sections and one lid.  You can just take one section at a time, if you just have one small snack.  For longer car trips or outings, you can have two different snacks.  This also can be used for formula or toys.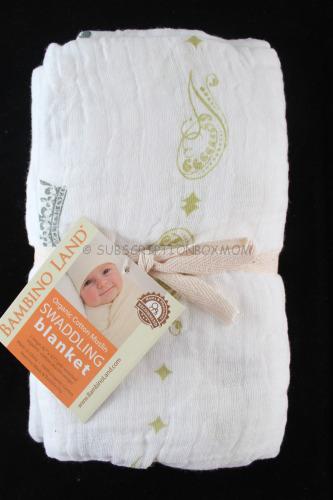 Bambino Land Swaddling Blanket: $12.99 This cute little muslin blanket is covered in crowns, perfect for your little prince or princess.  This blanket is 47″ by 47″, so you can use this to swaddle a baby or use it as a blanket for your toddler at naptime.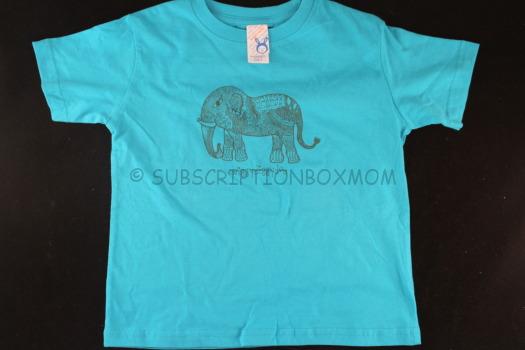 Elephant Shirt  $10.00 est There is a shirt in every box of swiggydiggydoo.   When you sign up, you choose the size of the t-shirt.  As your child grows, you can email swiggydiggydoo, when your child needs a bigger shirt.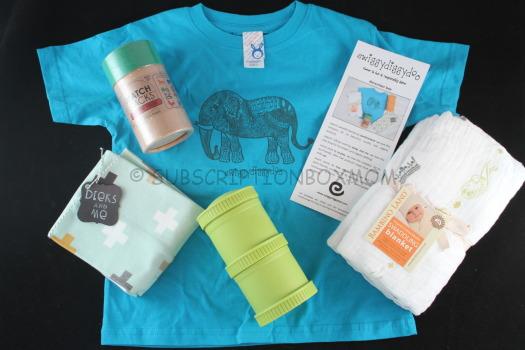 Final Thought: This was a super cute box.  This box had a total value of $60.98!  This box was packed with so much cute stuff.  I loved everything in the box, especially the swaddle blanket and the snack container.  The toddler infinity scarf was really unique and I have never seen anything like it.  Other than the Match Stacks, I think this box could work for any age between 0 and 3.  I am excited to see what Swiggydiggydoo will come out with next month!  If you want to try  Swiggydiggydoo, click HERE.  
Check out my Holiday Coupon page HERE.
Check out my Check out my Holiday 2014 Subscription Box Gift Guide HERE.
Do you like FREE SUBSCRIPTION BOXES?  Click HERE to see my free subscription box list.
Do you love Giveaways?  Click HERE to enter all my Giveaways.