December 28, 2014
12/28/14

By Subscription Box Mom

0 Comments
0
Okashi Connection December 2014 Review + Coupon
Disclosure: This box was sent free for review
My December Okashi Connection arrived and I couldn't wait to dig into my Japanese treats.  Okashi Connection is only $22.00, they ship worldwide for free and they pack a box full of treats, and snacks from Japan.  I have been reviewing Okashi Connection for several months, and it's always a fun box to receive.
The Details:
Cost: $22.00
Shipping:  Shipping is FREE and they ship WORLDWIDE.  They don't ship to a few locations, click HERE to see a complete list.
What's in the box? We send a size 60 box with around a pound (between 400-600 grams) of Japanese candy and snacks. We strive to include things that are difficult or impossible to get outside of Japan and seasonal items. We also include some information about the candy, as well as a video, hosted by Karin (13) and Haruka (11), with their opinions and instructions on how to make / eat the items.
When am I charged?   Your card will be charged on the 30th (or last day) of the month.
When does my box ship? Boxes will be shipped within the next week after being charged, and they should arrive at your door within 1-3 weeks after that. 
Website: http://okashiconnection.com/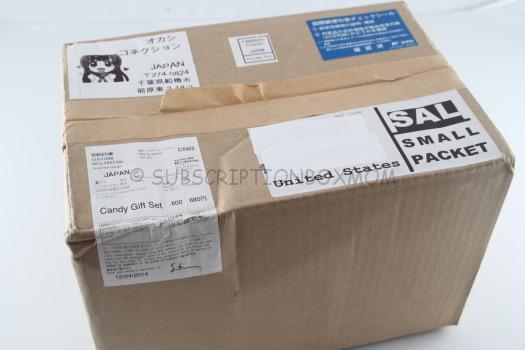 Okashi Connection ships from Japan, so it takes a bit longer to receive.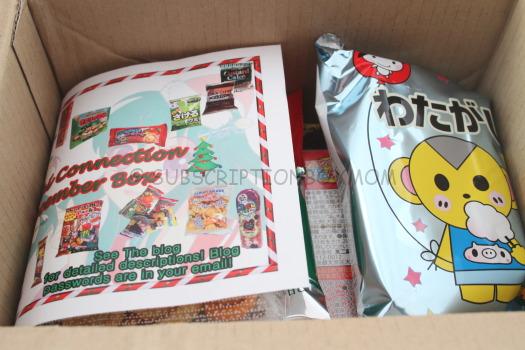 First Look: This box was packed with snacks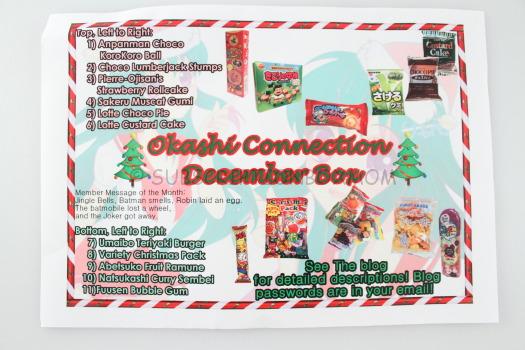 Okashi Connection includes an information sheet with pictures and names of everything in the box. Once you subscribe, you will also get access to the members only blog area.  The blog includes detailed information about each treat.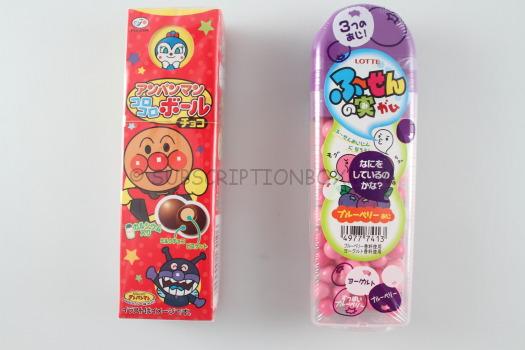 Anpanman Chocolate Koro-Koro Ball: These are very similar to Whoppers, only easier to chew.  These are tiny little balls of chocolate goodness.
Fuusen Bubble Gum: This gum comes in a cool container and is grape flavored.  This gum is great for blowing bubbles.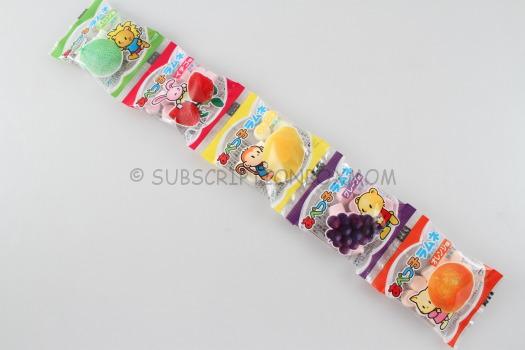 Abetsuko Fruit Ramune: This is my favorite treat in the box.  These are little packs of sugar pellets that dissolve as soon as they touch your tongue.  There is strawberry, grape, lemon, melon.  These taste similar to a compressed pixie stick.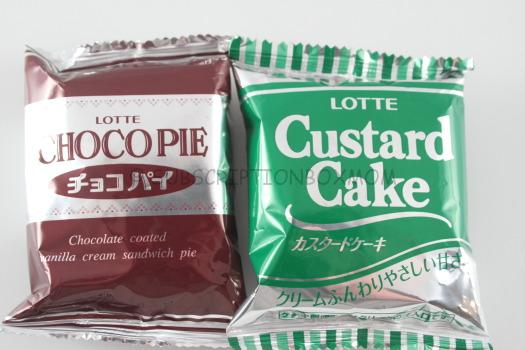 Lotte CHOCOPIE:  This tastes like an American moon pie.  There are two cakes covered in chocolate with cream in the middle, then the whole thing is covered in chocolate.  This is very tasty and my husband loved this.
Lotte Custard Cake: This is similar to the CHOCOPIE. This is a cake similar to a Twinkie with cream in the middle.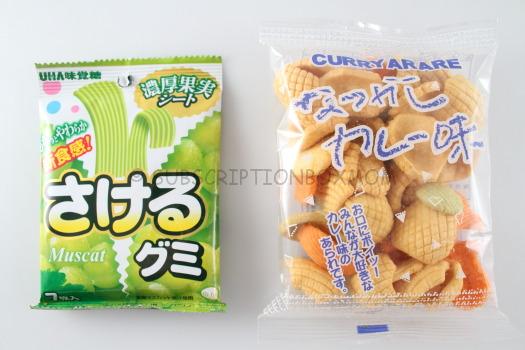 Sakeru Muscat Gumi: This are little packages of gumi candy.  This candy is green and it peals apart.  It has a grape flavor and was very tasty.
Natsukashi Curry Sembei: I am not exactly sure what curry tastes like, but this is good. There are three different colors of chips, but they taste very similar.  These are similar to potato chips.  Very Tasty.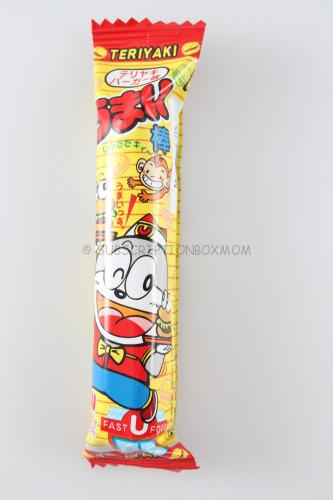 Umaibo Teriyaki Burger: Umaibo is a crunchy puffy corn snack.  There are many different flavors.  My favorite flavor is the cheese flavor.  The Teriyaki Burger isn't my favorite.
Lumberjack's Chocolate Stumps: These cookies are similar to Koala's March, but much better.  There is a cookie stump that is coated in chocolate.  These are really tasty cookies.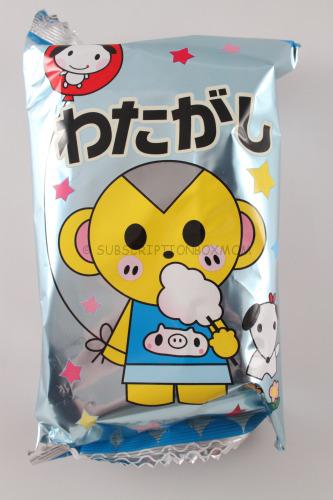 Mystery Treat: This is similar to cotton candy but thicker.  I don't know the exact name of this, but it's quite good.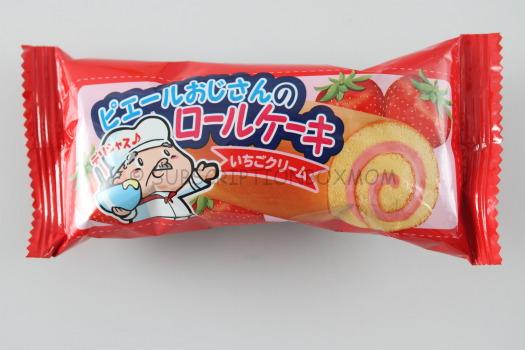 Pierre-Ojisan's Strawberry Rollcake: This is cake and strawberry filling rolled together.  This is very light and flavorful.  I really loved this one.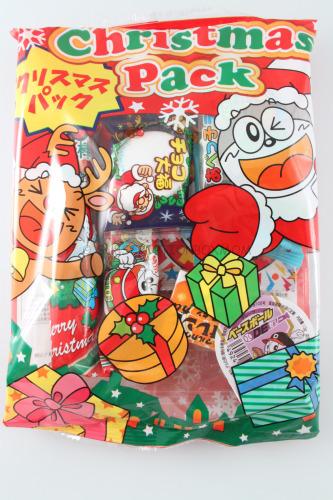 Variety Christmas Pack: This one packaged had many different treats.  There is a mini-umaibo, ramune, fried mochi sembei, a chocolate filled marshmallow and several more items.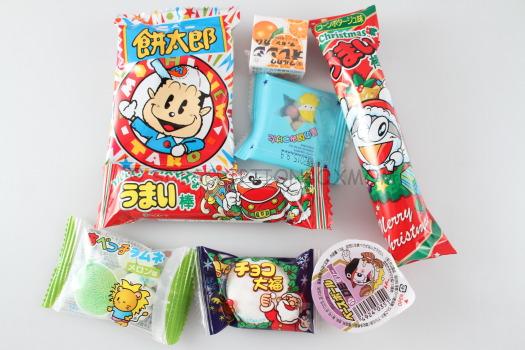 I loved getting ramune, because I hate all the others by the time I got to this package.  The purple package on the bottom right, was a grape jello type treat.  The little blue package at the top, are little candy stars that are really just pure sugar.
Final Thought:  Once again, Okashi Connection sent a fantastic box full of treats.  This box really has a huge amount of snacks.  I haven't tasted everything and my belly is full.  The ramune were my favorite treat in the box and I would love to have more.  The gum was also really great.  This box never disappoints.  If you are looking for a Japanese snack box, check out Okashi Connection.  Click HERE to subscribe and use the code Boxmom to get $1.00 off your box.
Check out my Holiday Gift Guide HERE.
Check out my Black Friday – Cyber Monday – Holiday 2014 Subscription Box Coupons 
Do you like FREE SUBSCRIPTION BOXES?  Click HERE to see my free subscription box list.
Do you love Giveaways? Check out all my Giveaways HERE
Disclosure: This box was received free for review