December 5, 2014
12/05/14

By Subscription Box Mom

0 Comments
0
November 2014 Little Thinker Box Review + Coupon
Disclosure: I received this box for review purposes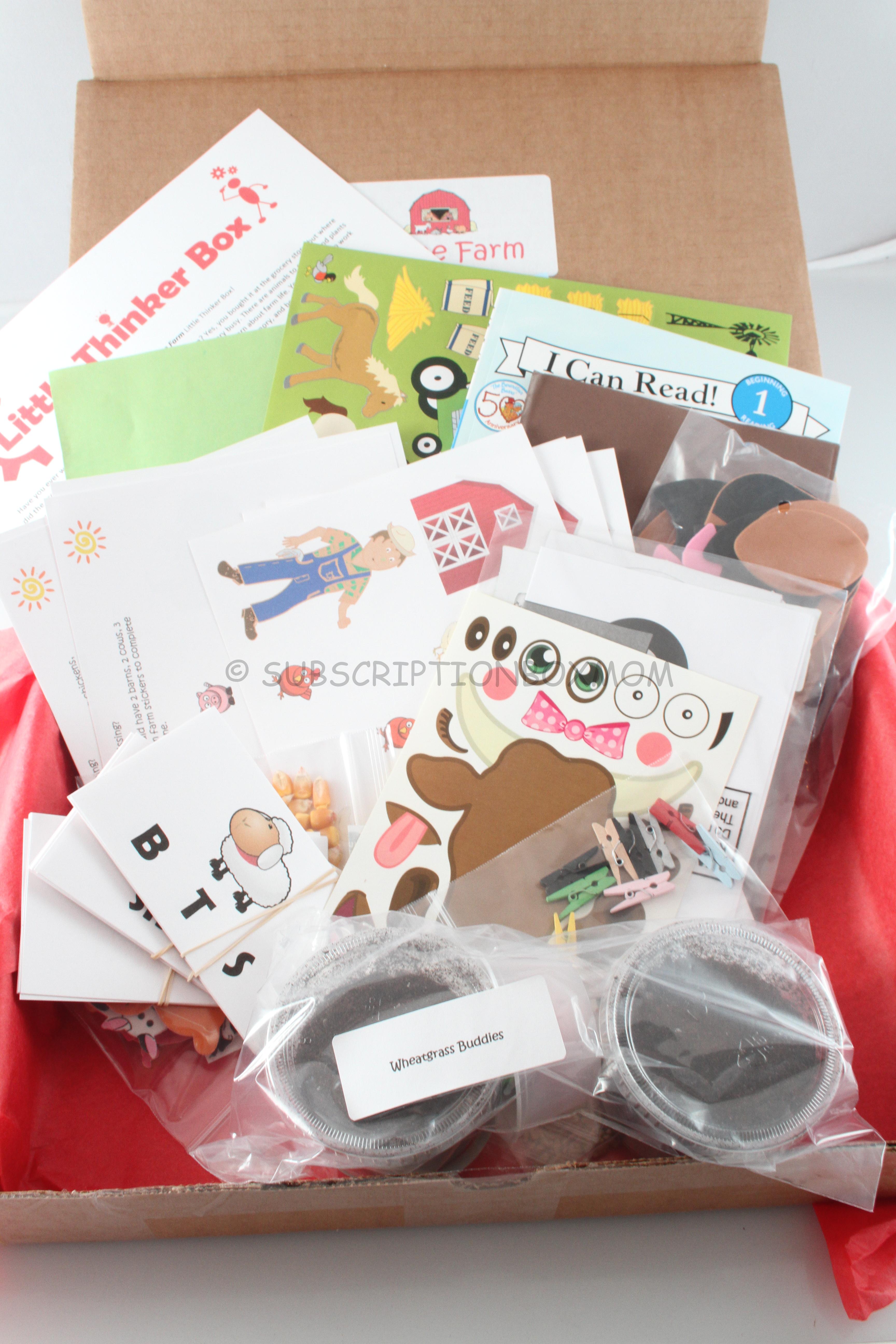 Little Thinker Box is a box for children the Pre-K age or entering Kindergarten.  Each month, your child will receive a themed box filled with math, science, writing and other skills.  The box will be filled will games, crafts, project and experiments.  I received this box back in Dec 2013, and I thought it was super cute.  Now that my son is in Pre-K, I was excited to see how L would like it.
The Details:
Cost: $25.00 a month reoccurring subscription. 1 Month $28.00, 2 Months $54.00, 3 Months $75.00, 6 Months $138.00, 12 Months $252.00
Kidables: There are also individual themed boxes for more fun.  There are different butterflies and dinosaurs boxes HERE.  The individual boxes are 17.99 – 29.99 with free shipping
Coupon: Use the code SBMom to save 10% off the 1st month of a subscription.  Click HERE to order
Age Range: 3-5
When does the box ship?  1st week of the month.  Allow 5-10 days for delivery.  The cut off day is the 22nd of the month to receive the next month's box.
When am I charged? Your credit card will be charged within 24 hours prior to shipment of your item(s).
Website: http://www.kidableadventures.com/Little-Thinker-Box-s/1822.htm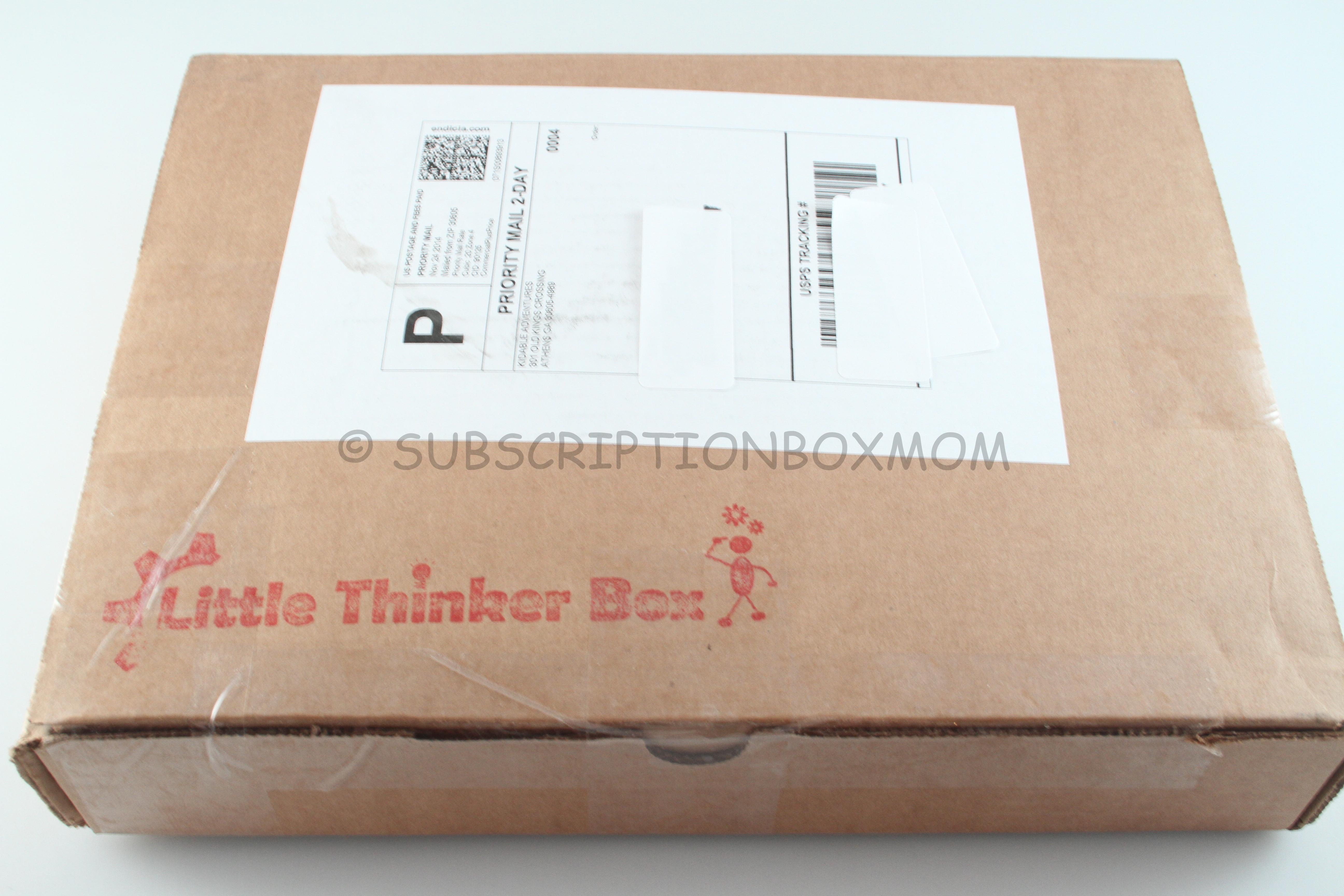 Little Thinker Box ships by USPS and comes in a brown box.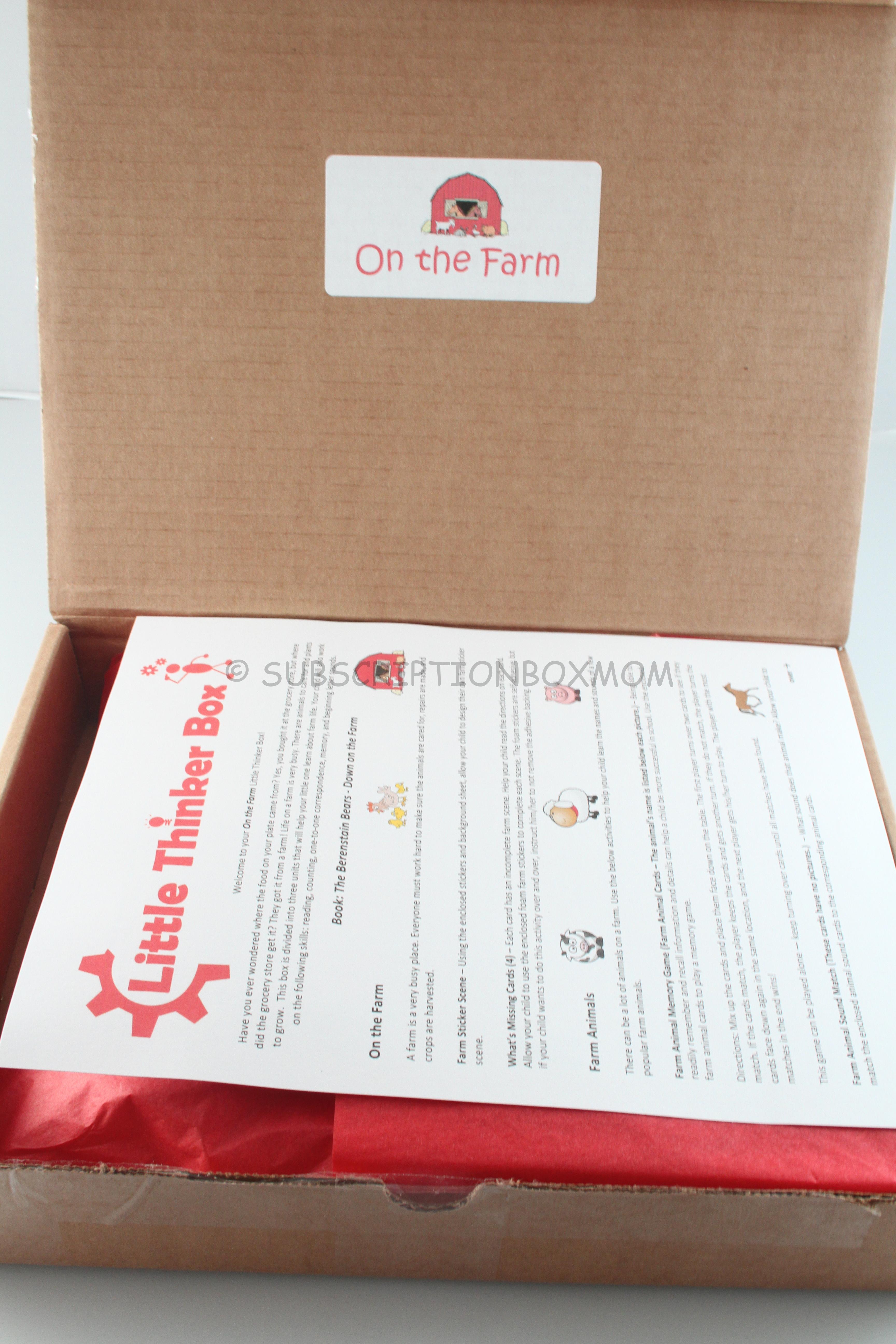 FIrst Look:  There an information/instruction sheet.  Little Thinker Box really puts time and effort into their instructions.  The theme for this month is  "On the Farm".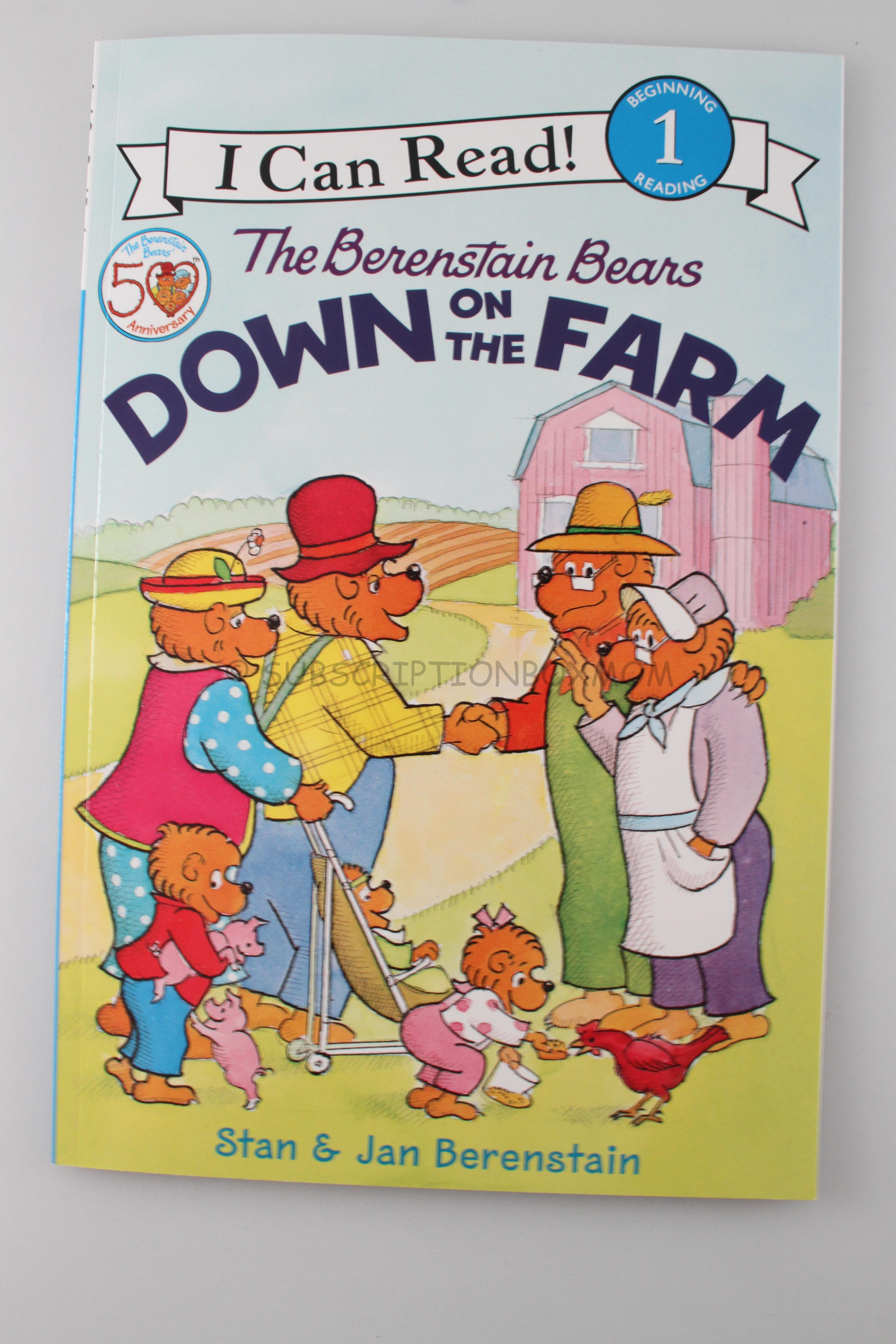 Little Thinker Box includes a book with their box.  This month's box was "Down on the Farm" by Berenstain Bears.  My 5-year-old L, loves the Berenstain Bears books.
The box was divided into three sections: On the Farm, Farm Animals, and Farmer
On the Farm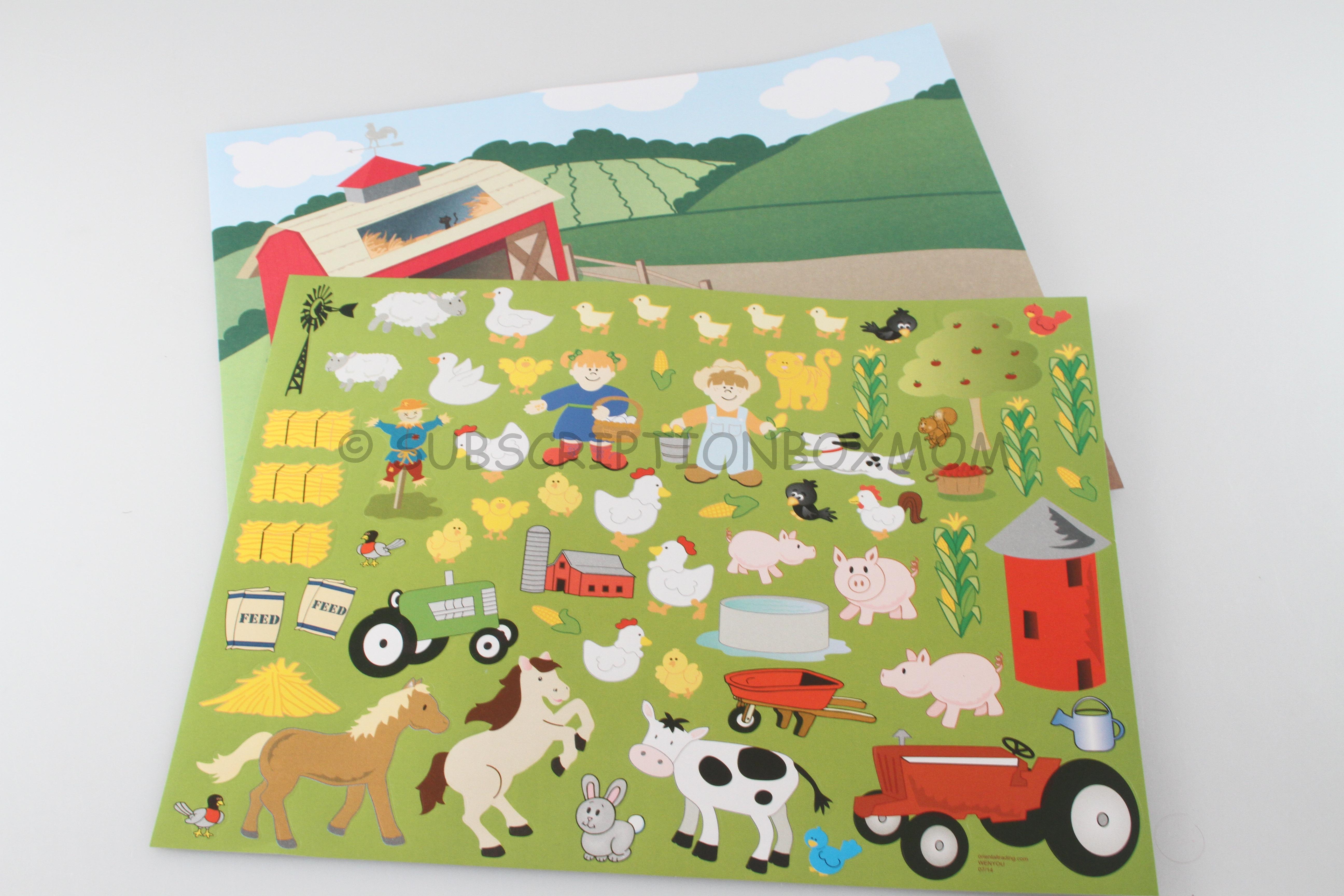 Farm Sticker Scene: Your child is given a farm scene and stickers.  Your child makes their own farm with the stickers.
 I gave L the instructions and then let him work.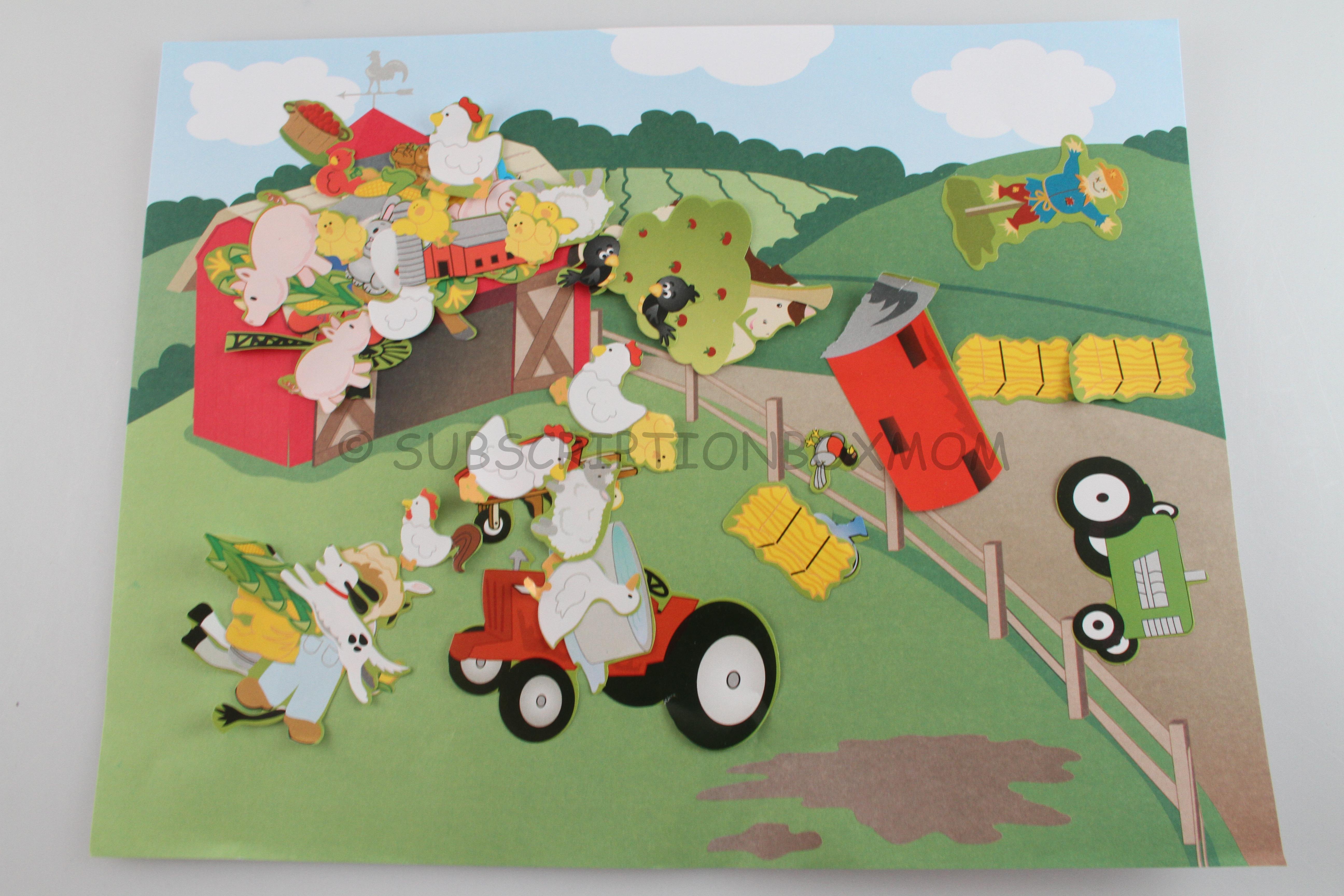 L's finished scene.  L said a tornado hit the farm.  My son loves weather and likes learning about tornadoes. There is never a dull moment here.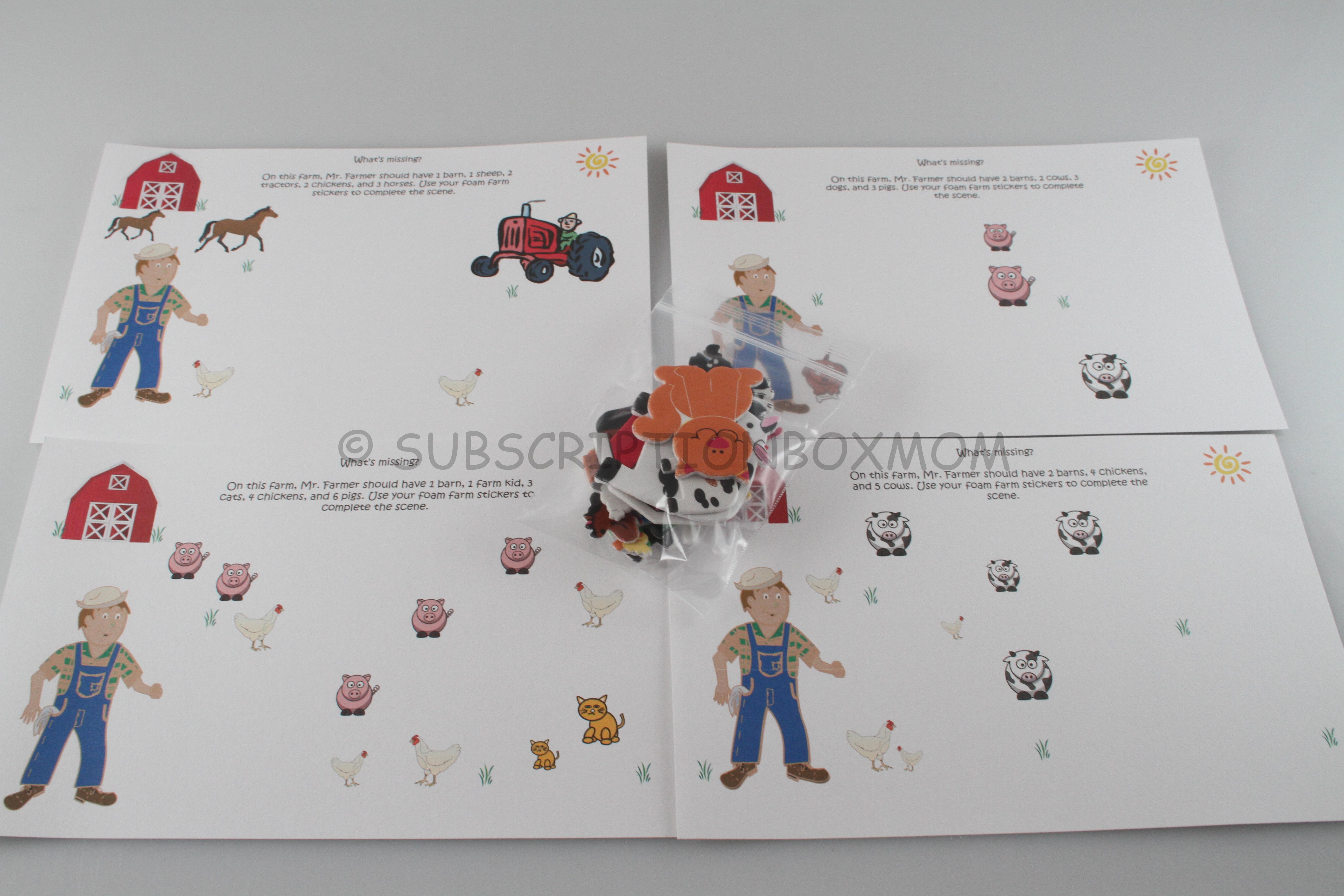 What's missing cards:  There are 4 cards and your child has to find out what is missing, then add the appropriate stickers.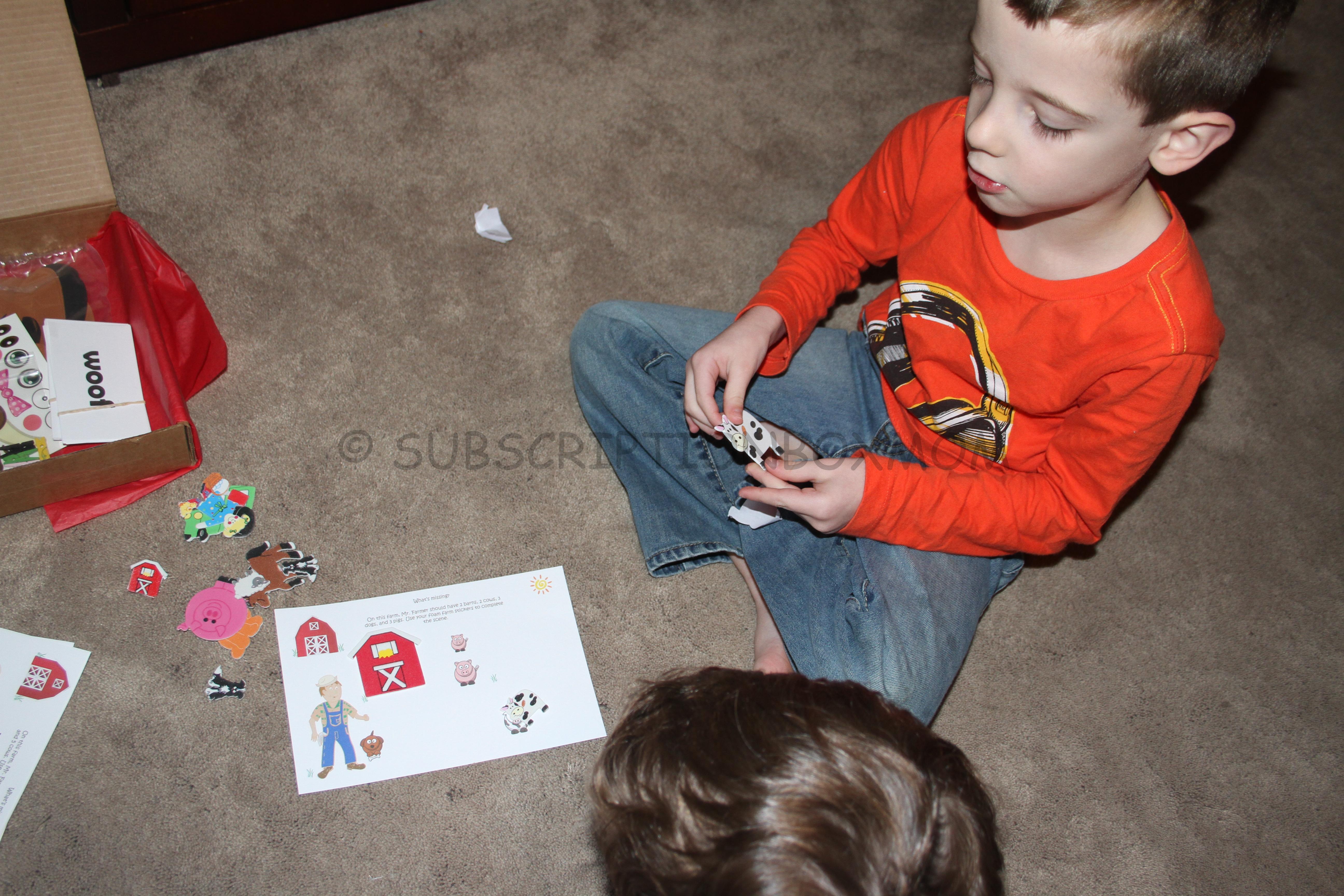 Both L and T worked on this project.  L mainly led the activity and helped T add the stickers.
Farm Animals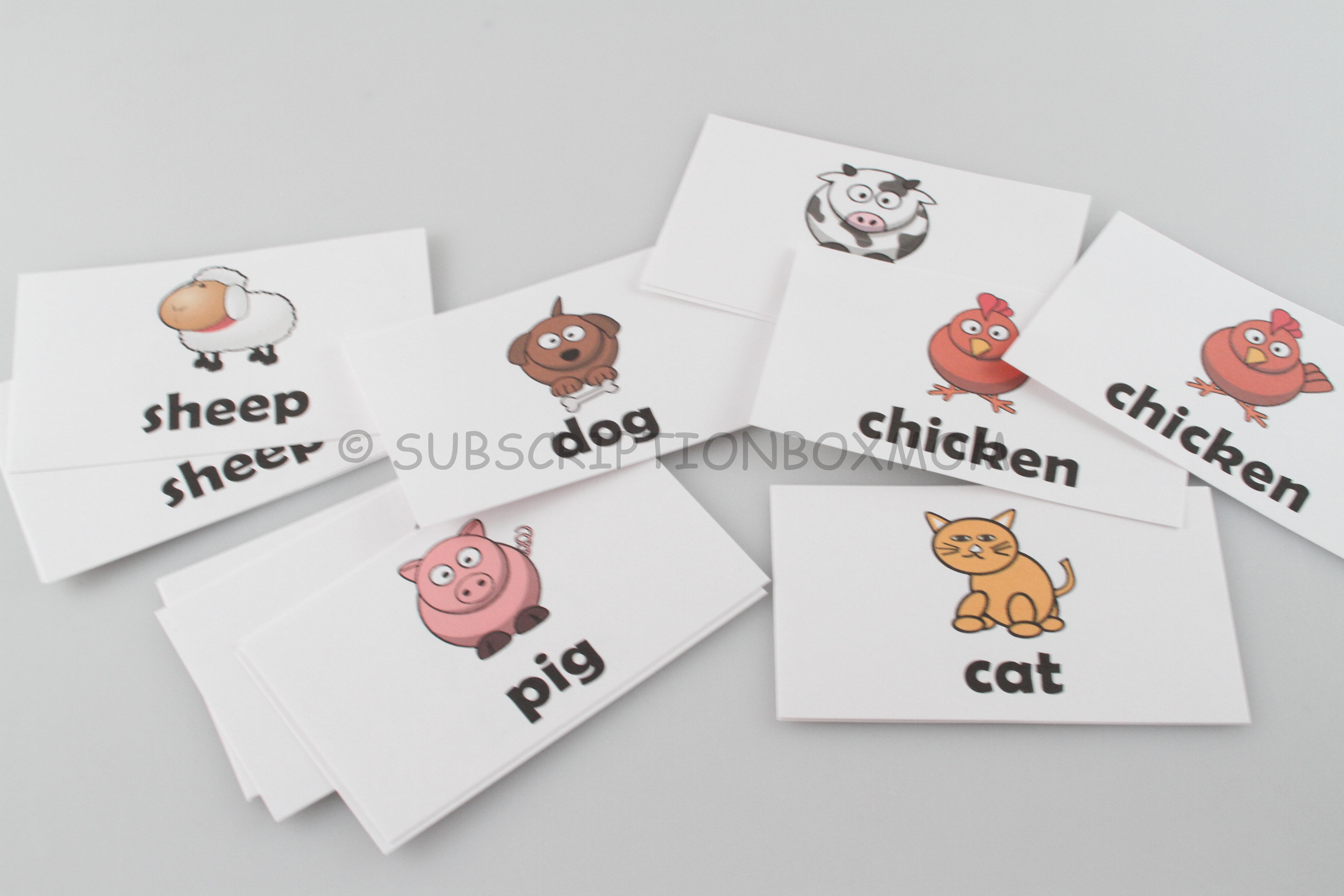 Farm Animal Memory Game: This is like traditional memory.  You turn over the cards and try to find the matches.  I played with both boys and it was fun.  I didn't get any pictures, as I had to keep T from turning over all the cards.
Farm Animal Sound Match:  You ask your child what animal makes each sound.  L did this pretty easily and it was a nice challenge for T.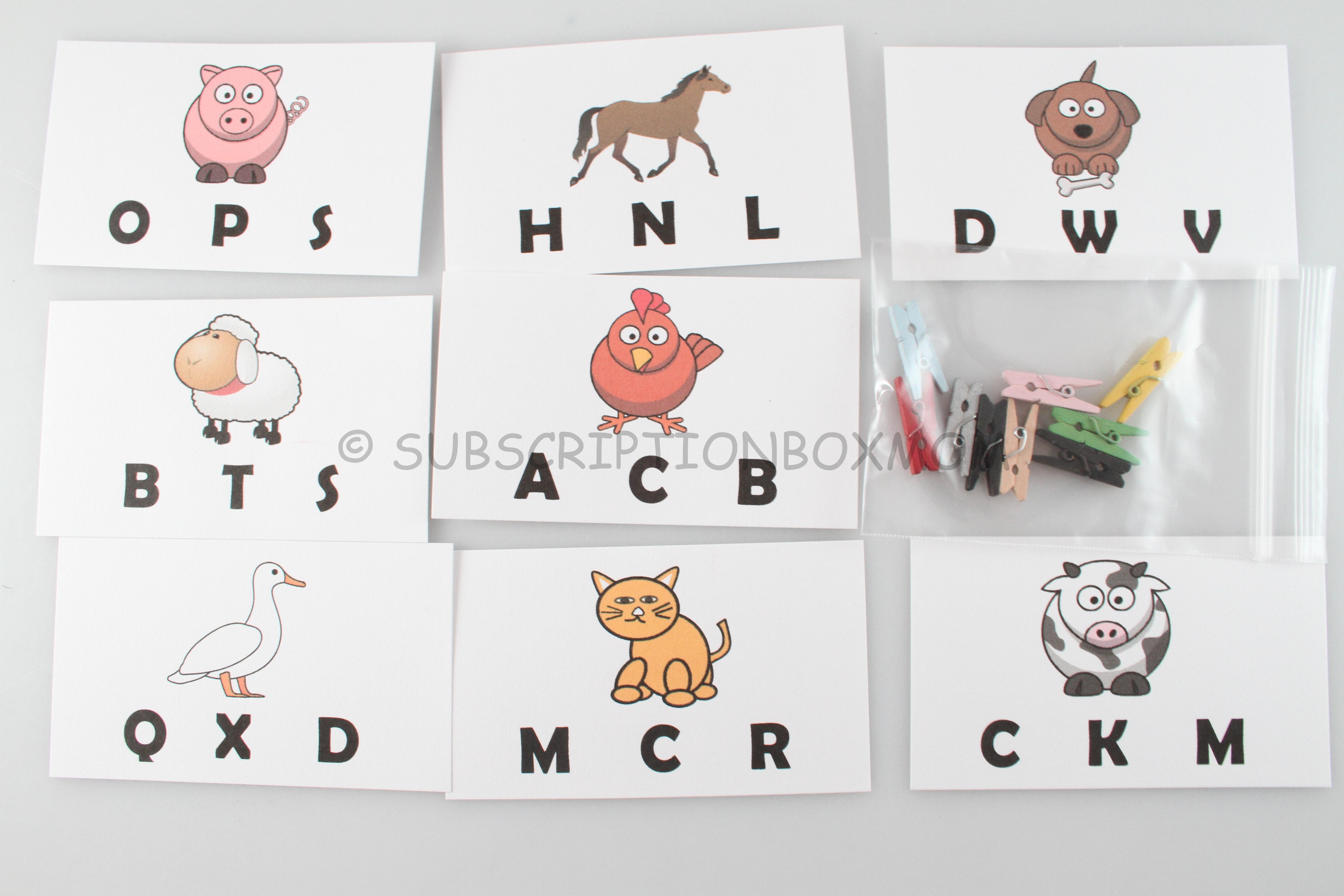 Farm Animal Beginning Letter Sounds:  Your child puts a clothes pin on the beginning letter of each word.  This was my favorite activity in the box.  Your child has to use your fine motor skills to open each clothes pin.  Your child also has to use those beginning reading skills to identify letters.  L needs help with his fine motor skills and beginning reading skills, so this is the perfect activity for him.  He got a bit frustrated with the clothespins, but he had fun with it.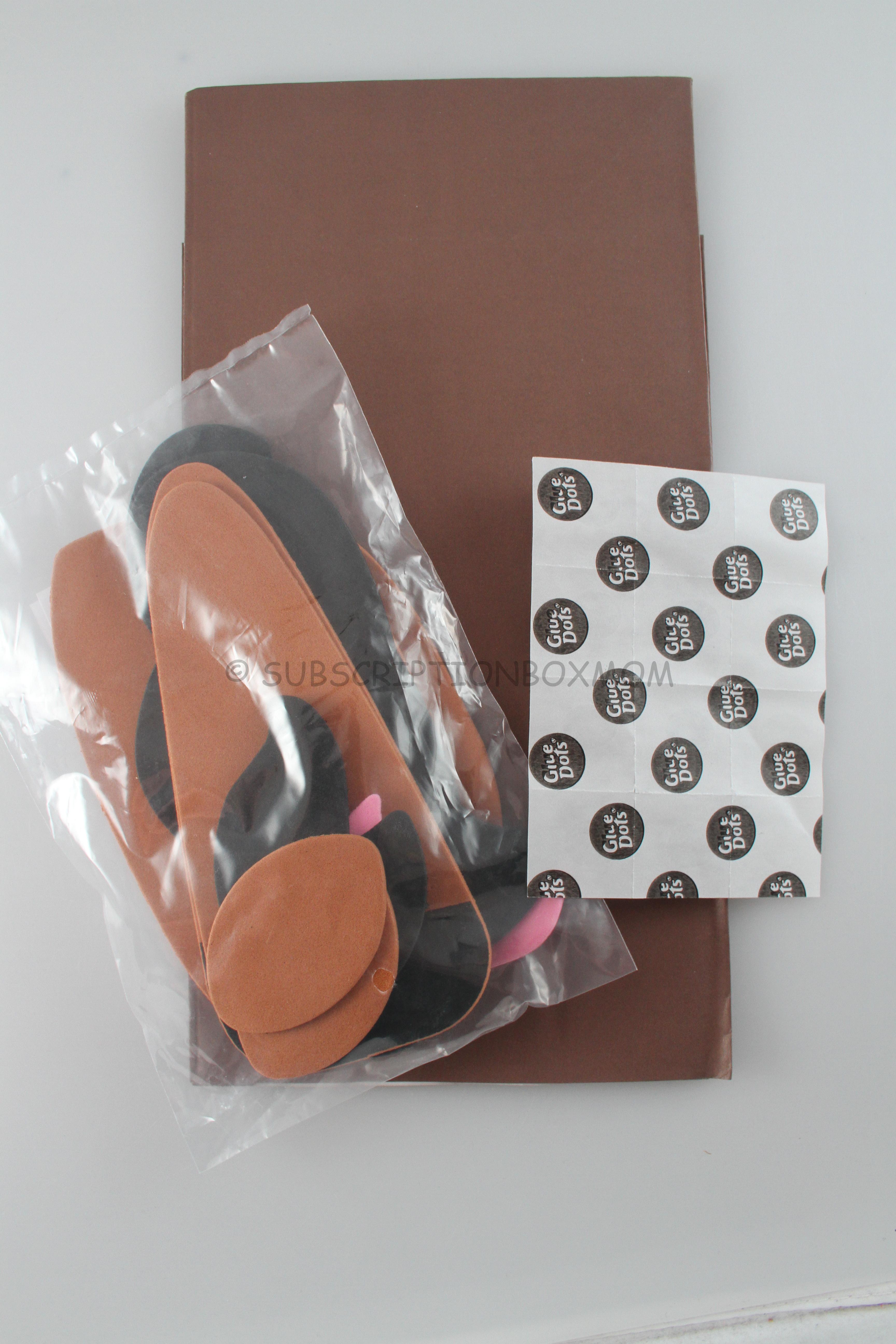 Farm Animal Puppet:  Your child uses the foam pieces and glue dots to make a horse puppet.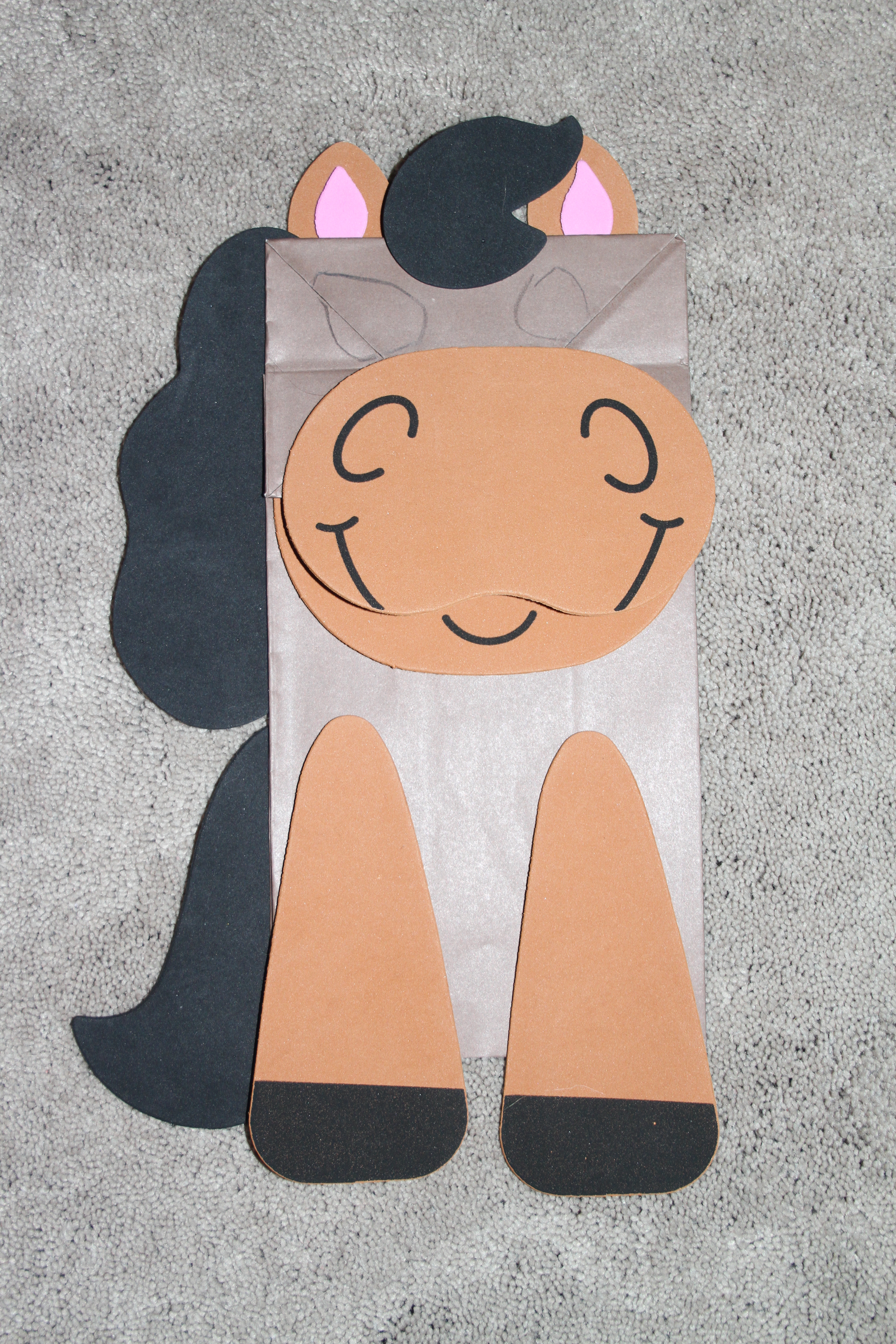 This is the finished horse puppet.  The puppet came with eyes, but they were different sizes, so L made his own.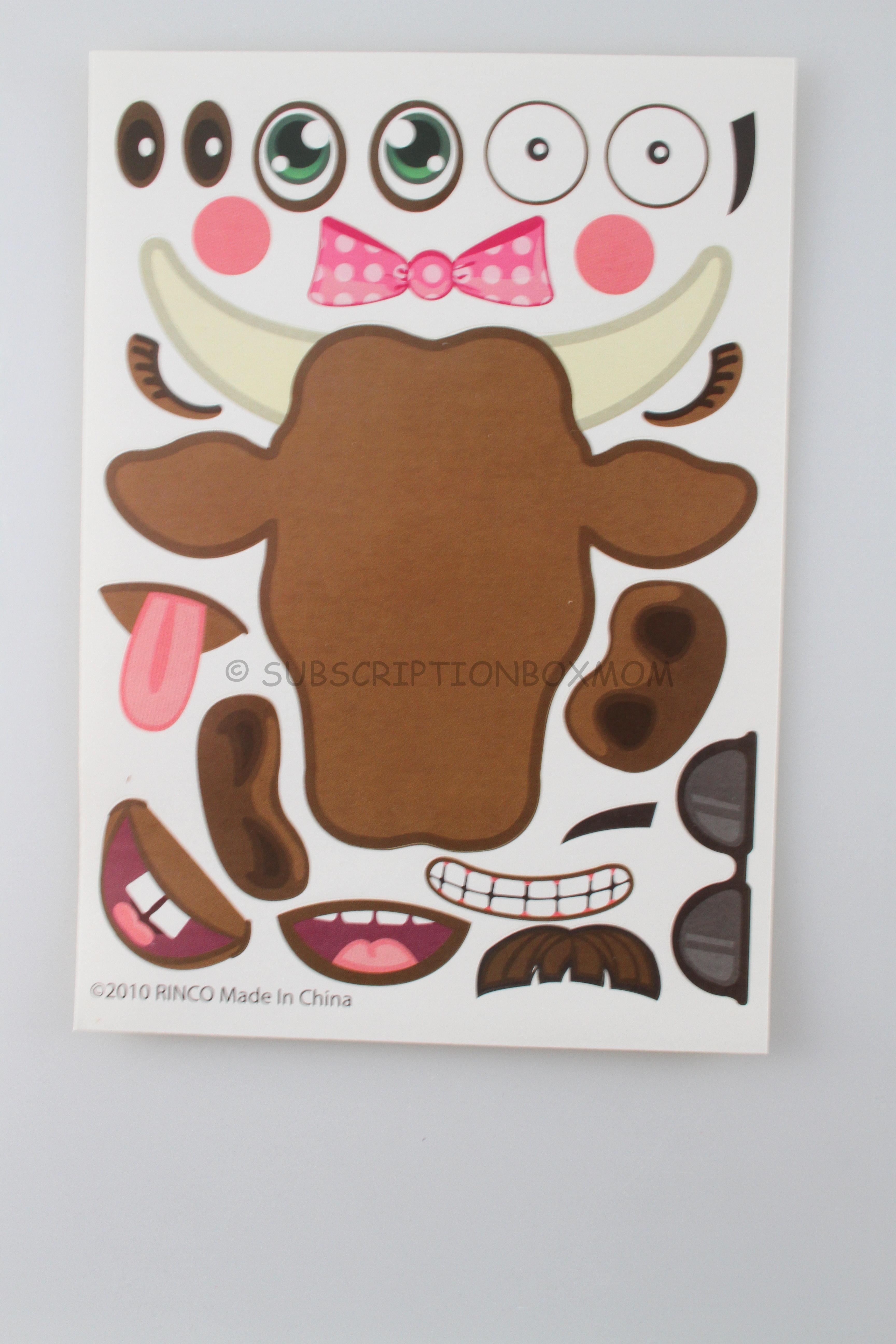 Farm Animal Face Sticker: Your child uses the stickers to make a cow face.  Once your child is done with the activity, they can stick it on a notebook or other object for decoration.  The left over stickers can be used for the Wheatgrass buddies activity.
Farmer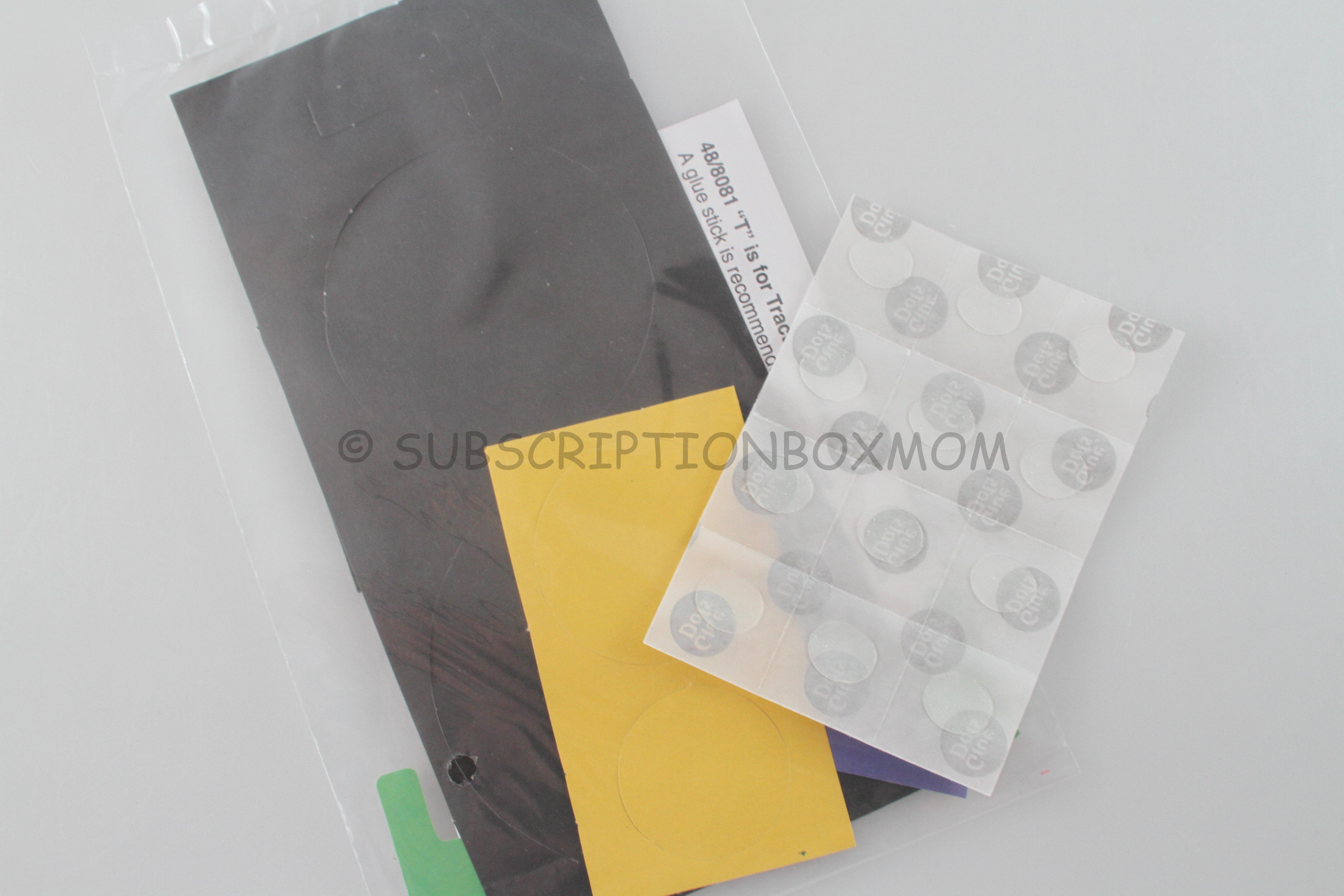 Repair the Tractor – T is for Tractor Craft Kit:  Using all the pieces, your child uses the glue dots to build the tractor.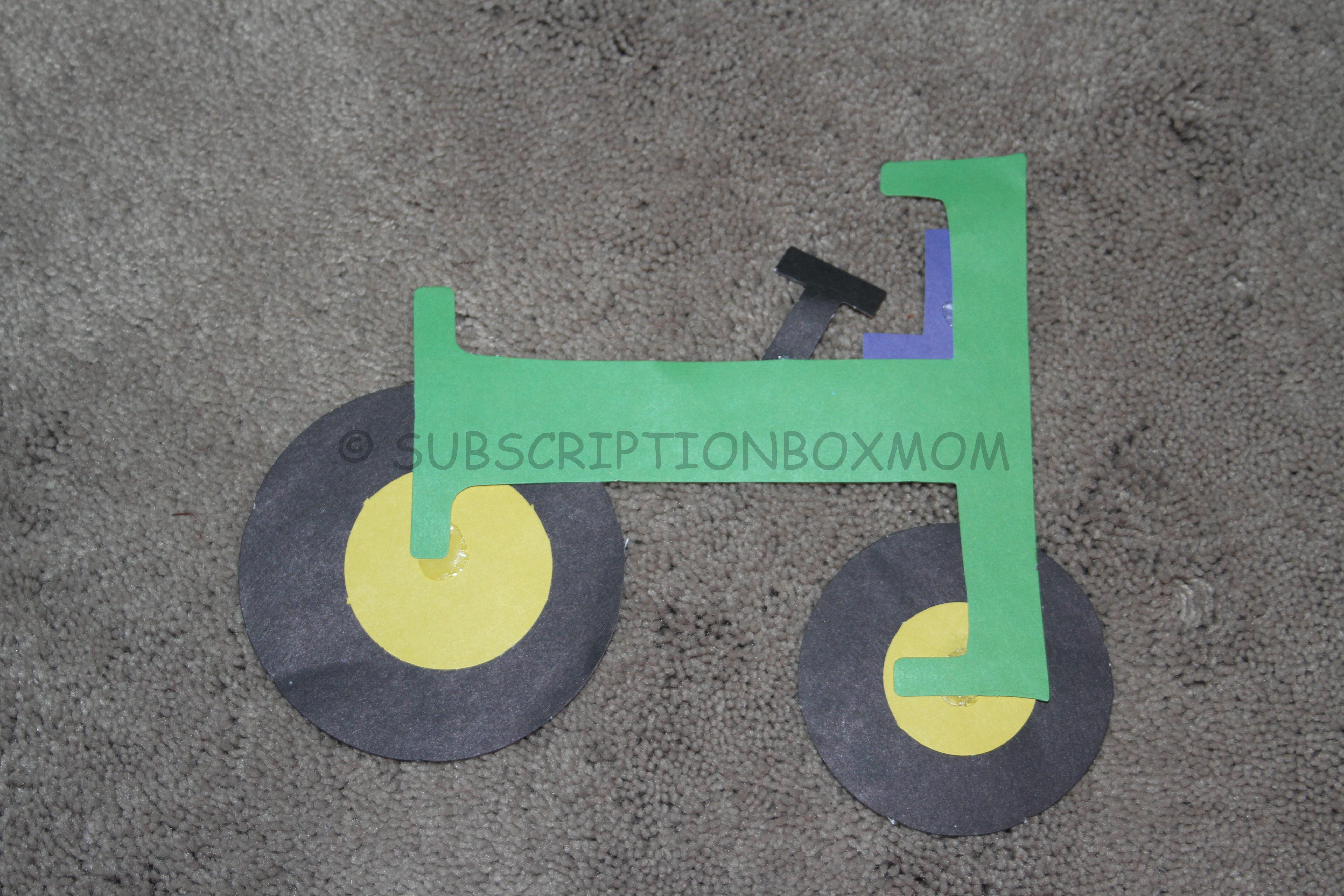 The Finished Tractor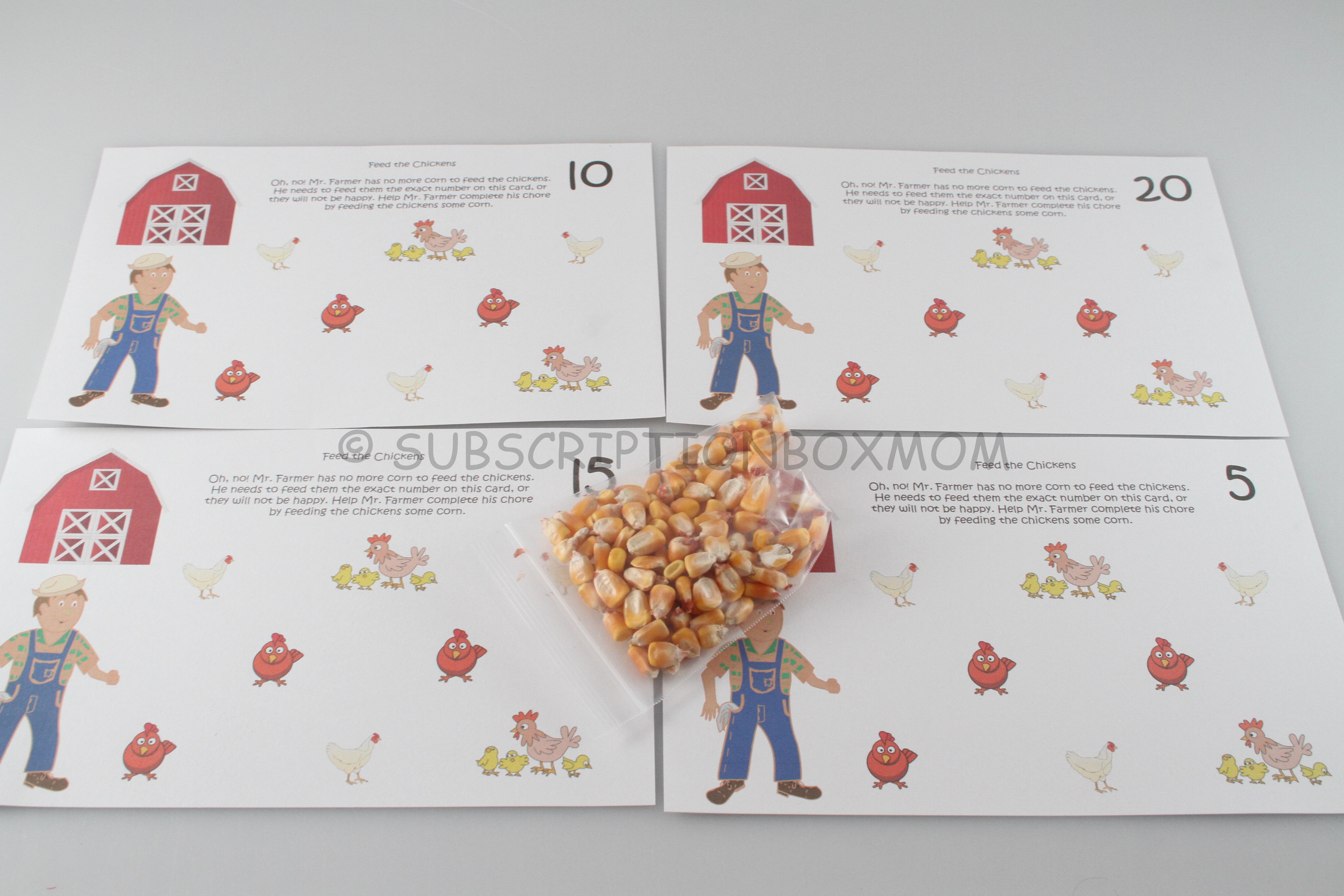 Feed the Chickens: There are four cards with numbers.  Your child puts the appropriate number of pieces of corn on each card.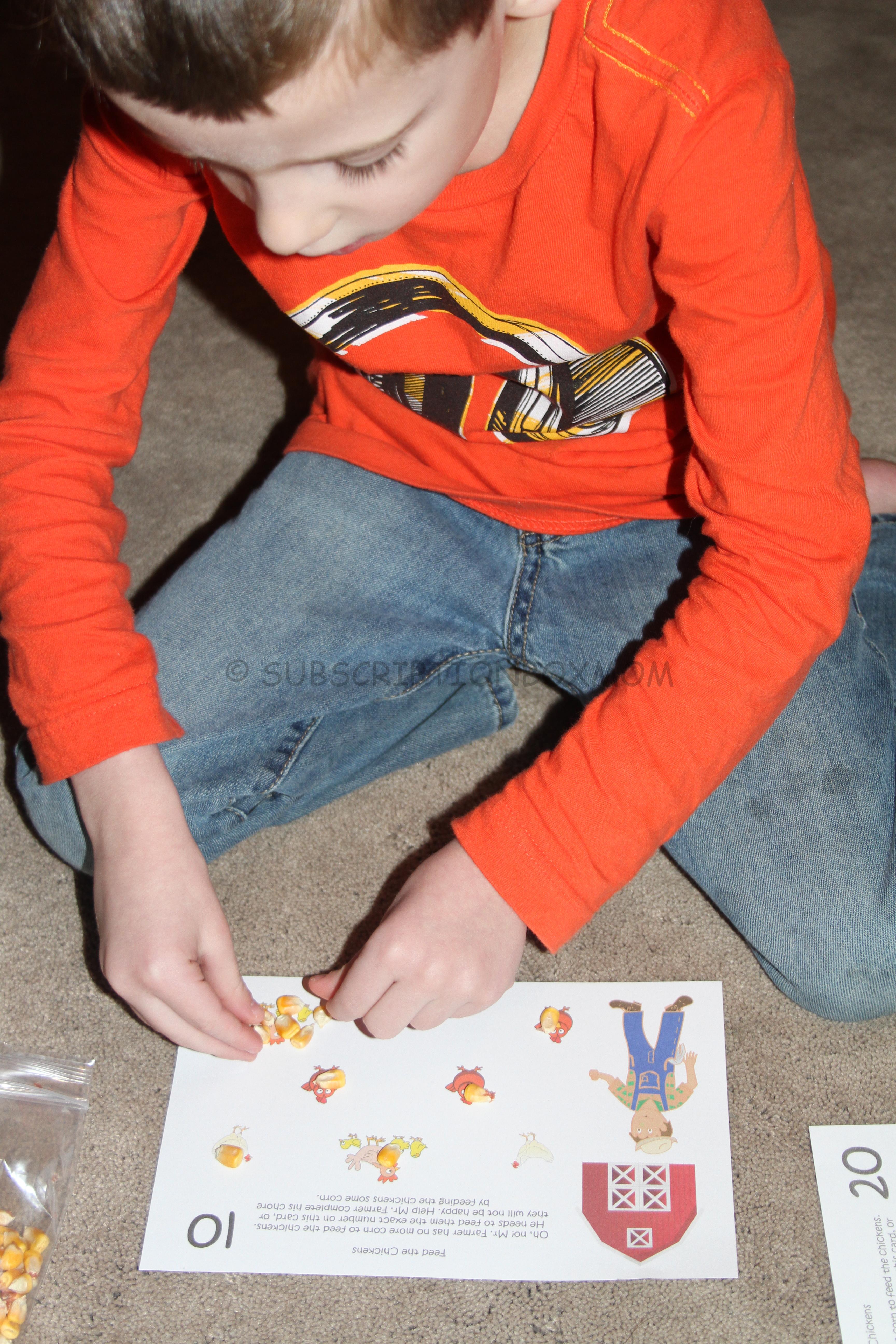 L took care to give each chicken corn.  This was a great activity to teach general counting and counting by 5's

Even my little T was able to do this activity.  I gave him the #5 card.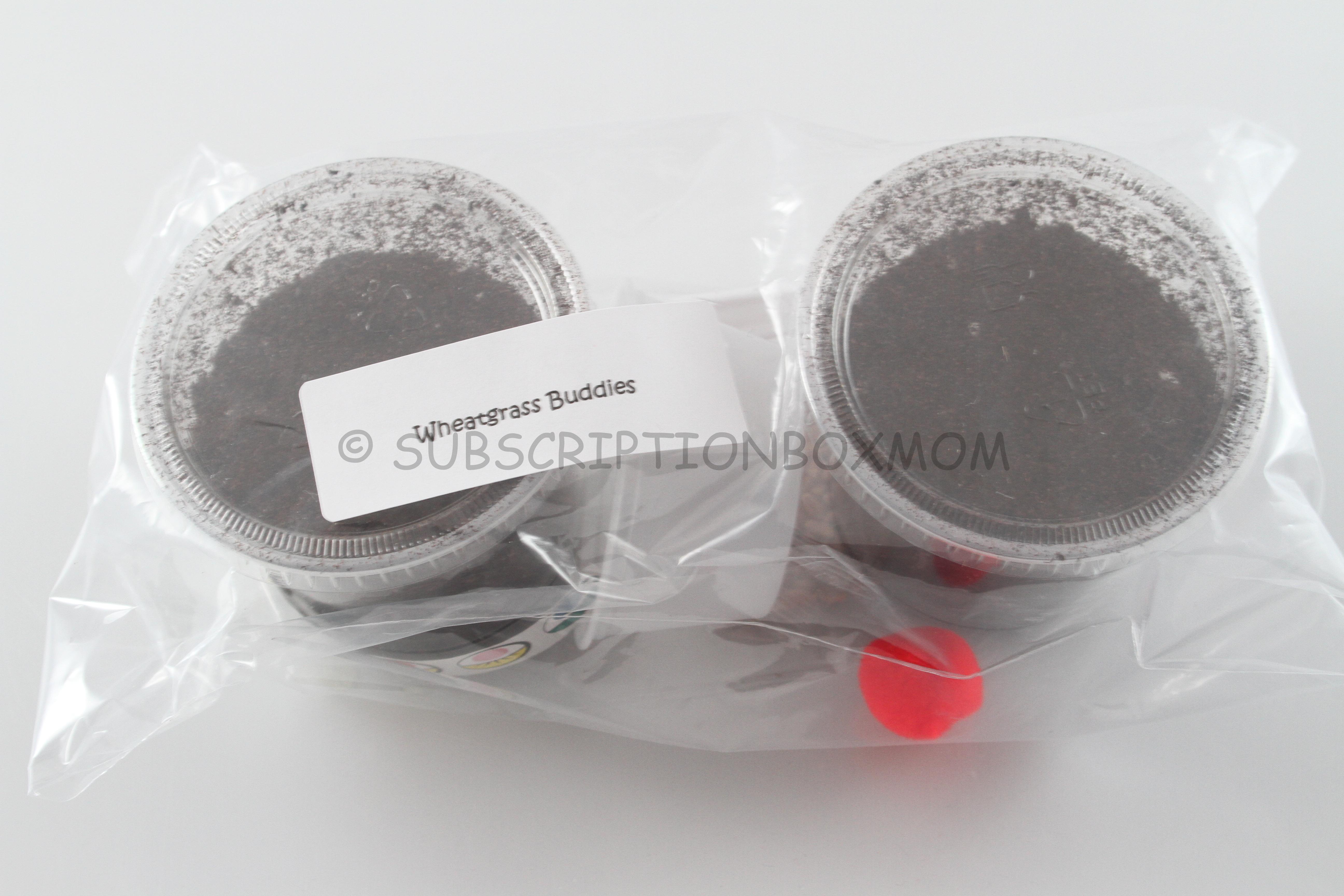 Plant Crops – Wheatgrass Buddies: This activity came with pots of soil, seeds and decorations to decorate the pots.  We haven't complete this activity yet, but we are going to do it, in the next day or two.  I will update this review when it is done.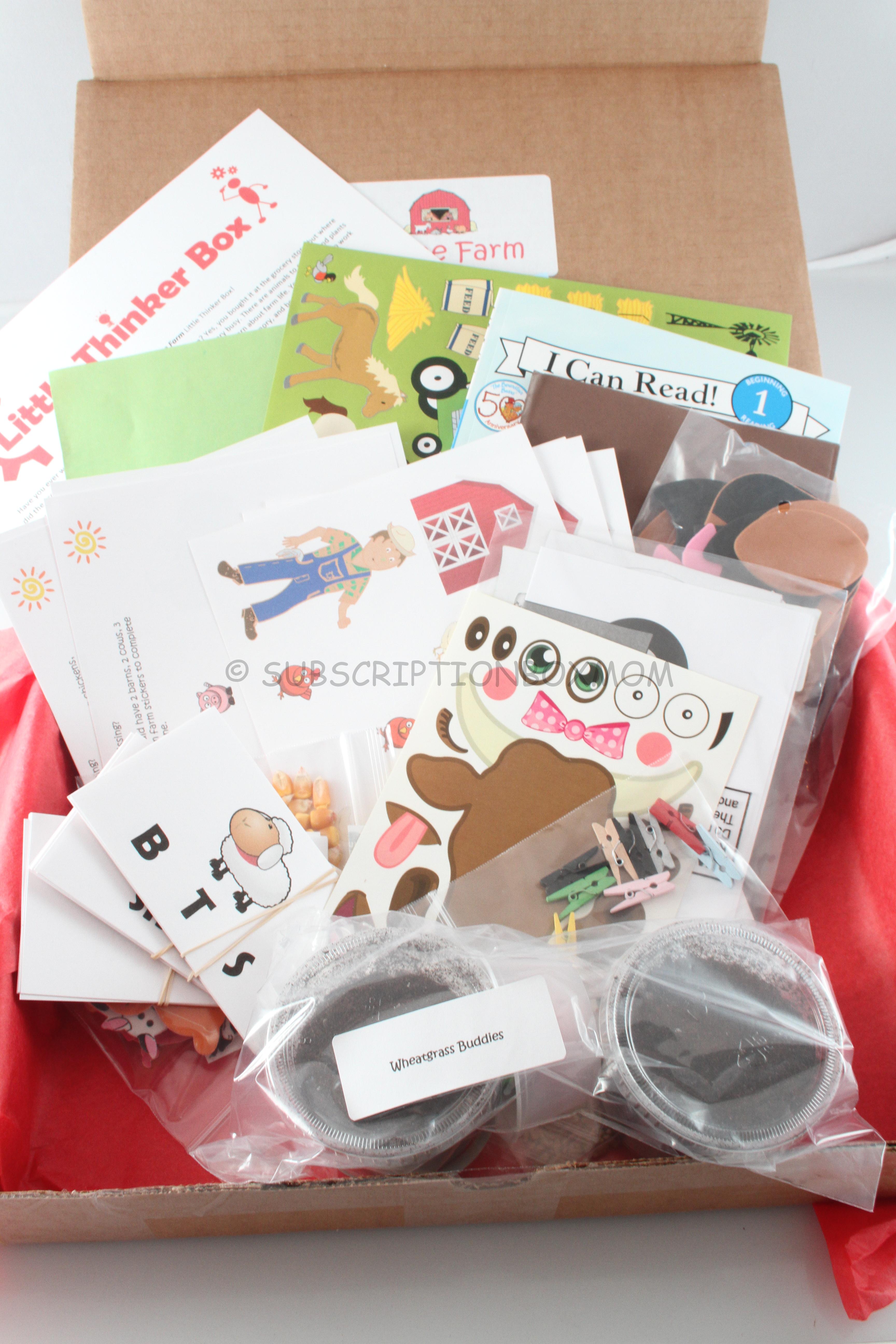 Final Thought:  My son L really enjoyed this box.  There were ten activities in the box.  This box will really last you a month.  I worked with L to do many of the activities for this review.  If I didn't have a review to publish, these activities would easily last a month.  At $25.00/month, this  box works out to $2.50 an activity.  I think this is a great box for a preschool child or a child in Kindergarden.  You can try Little Thinker Box, and save 10%, just click here and use the coupon SBMom
Check out my Holiday Coupon page HERE.
Check out my Check out my Holiday 2014 Subscription Box Gift Guide HERE.
Do you like FREE SUBSCRIPTION BOXES?  Click HERE to see my free subscription box list.
Do you love Giveaways?  Click HERE to enter all my Giveaways.