December 17, 2014
12/17/14

By Subscription Box Mom

0 Comments
0
December 2014 Bulu Box Subscription Box Review + 50% Discount + Free Boxes
Disclosure: This post contains affiliate links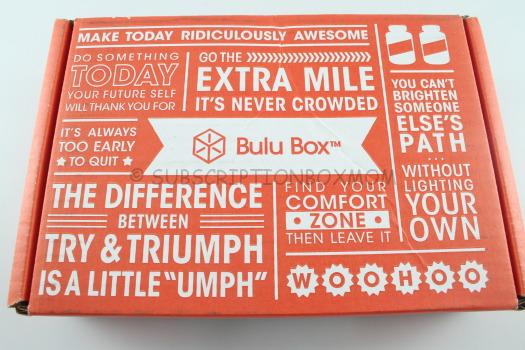 Bulu box. a vitamin and supplement sample box.  Bulu Box includes various vitamins and supplements to help you lead a healthy lifestyle.  Each box contains 4 to 5 premium samples plus lifestyle extras from time to time. There is a regular Bulu box and a weight loss Bulu Box. The Bulu Weight Loss Box was designed with the specific goal of weight loss in mind. Each box contains 4 to 5 premium weight loss items such as vitamin and supplement samples, fitness gear and healthy eating tools.
I really enjoy Bulu box, because I can try supplements and vitamins, before buying an expensive jar of something I might hate.  Bulu Box also has a great reward system. You can earn points easily to spend in the online store. Every 10 points equals $1.00. Your points will expire 90 days after you earn them. Here is how you earn points.
1. 50 Points: for each $10 Bulu Box in your month-to-month subscription 2. 50 points: Refer a Friend and get 50 points. 3. 20 Points: Fill out your user profile 3. 10 points: Refer your products in your box. You will have a min of 4 a month, so that is 40 points easily. 4. 1 Point: Earn 1 point for every dollar spend in the box.
If you fill out your reviews you can earn 90 points a month easily! That's $9.00 for the store each month. A monthly subscription is only $10.00 a month, so this rewards system will make your first box better than free. Each month after, you will be basically paying a $1.00 for your box.
The Details:
Cost: $10.00 a month, $30.00 for 3 months,
Types: Regular Bulu and Weight Loss Bulu Box
Coupon:  Sale:  Bulu is having a great sale.  Get 50% off any subscription.  To get this great deal, click HERE and use the code BULUGAN751
Rewards: You earn at least 50 points ($5.00) or more for reviewing products in your box. You can then use the money, to buy full size products of things in your box.
When am I billed? 5th of the month
When does my box ship? Around the 15th of the month
How do I cancel or pause? You can cancel by logging into your account or emailing Hello@BuluBox.com
Website: www.bulubox.com
I was sent the regular Bulu Box for review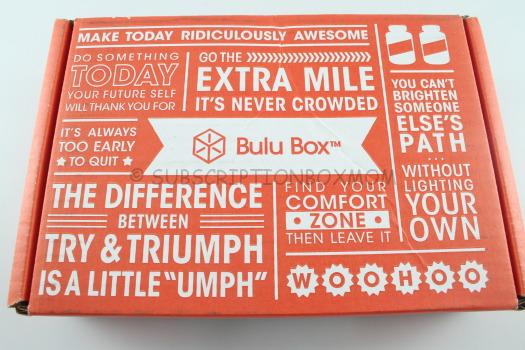 Bulu Box ships by USPS and there are lots of empowering words on the box.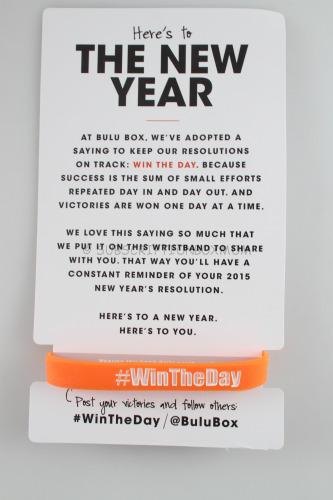 Bulu Box's saying for the new year is "Win the Day".  Bulu sent this bracelet to help subscribers keep their resolutions next year.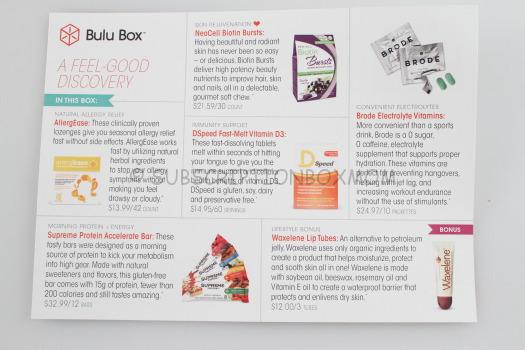 Bulu Box always includes and information card that lists everything in the box.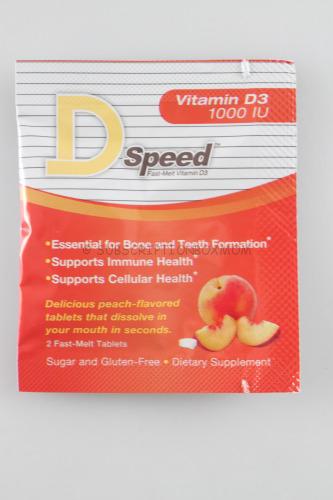 DSpeed Fast-Melt Vitamin D3 25 cents I received these in last month's box.  These are tablets that dissolve in your mouth and are designed to improve your immune system.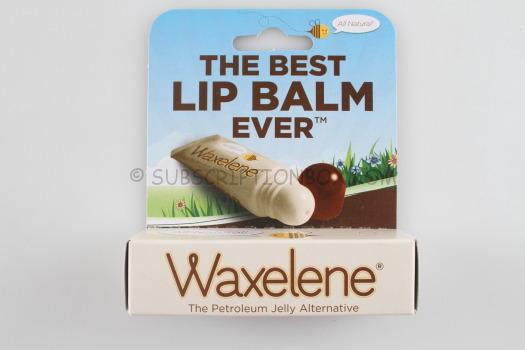 Waxelene Lip Balm $3.99 This lip balm is made with all natural ingredients to moisturize your lips.  I was a bit nervous about using this, as the term "wax" in the name.  This balm really glided on my lips and didn't have any weird smells.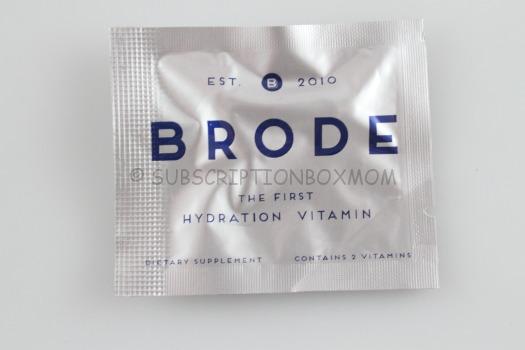 Brode Electrolyte Vitamins $2.50  This is another item from last month.  It has 0 sugar, caffeine and electrolytes.  This helps with hydration, jet lag and workout endurance.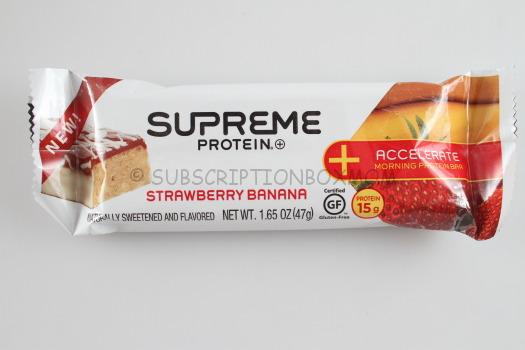 Supreme Protein Accelerate Bar $2.75 This is another duplicate from last month.  My husband liked the last one, so I will give him this one too.  This is a strawberry banana bar with yogurt on top.  This is gluten-free and has 15 grams of protein, but still under 200 calories.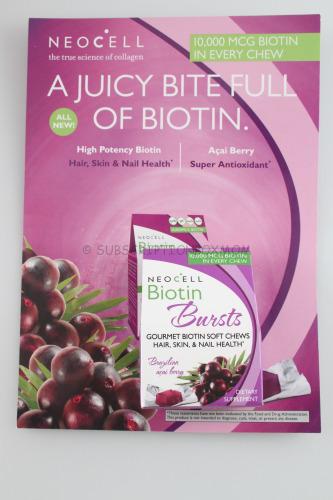 NeoCell Biotin Bursts .72 cents  This is one more item from last month.  I am not sure why there are so many duplicates.  This is a chew that is designed to improve hair, skin and nails.  The chews are quite tasty, although it's hard to tell how effective they are with one use.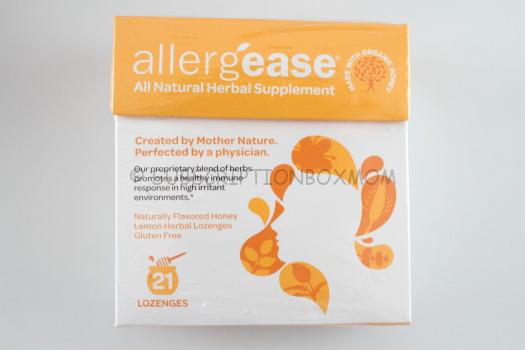 Allergease Herbal Supplement $5.99 This is a lozenge that is designed to reduce sneezing, runny noses and other symptoms of allergies.  This is completely natural and 100% organic, so you won't have any nasty side effects from taking it.  This is flavored with honey and lemon.  I think these work well, but I they do have a bit of a cough drop taste to them.  I will use these when my allergies get really bad.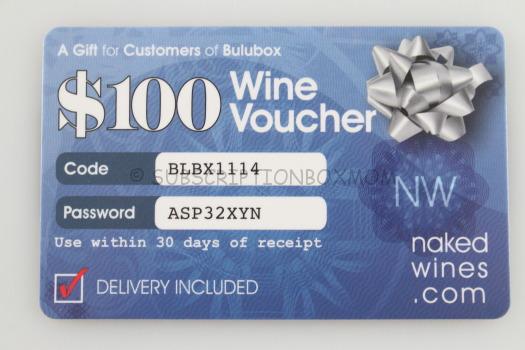 Bulu included a $100.00 Wine Voucher for Naked Wines.  You must live in one of the following states, to use the gift card:AK, AZ, CA, CO, CT, DC, FL, GA, HI, IA, ID, IL, KS, LA, MA, MD, ME, MI, MN, MO, NE, NV, NH, NY, NJ, NM, NC, ND, OH, OR, SC, TN, TX, VT, VA, WA, WI, WV, WY, MT.  I am busy, so I am posting the code here, so feel free to use it.  It is only for one person, so if you use it, please comment, so I can mark it as used.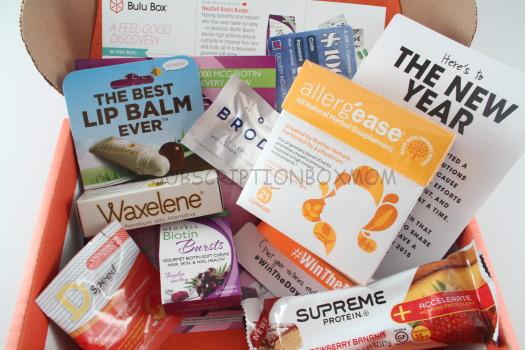 Final Thought:  This box had a total value of $16.20.  While this box had a great value, I was disappointed in the duplicate products.  I have received Bulu Box for several months, and I have never received duplicates like this.  The allergy supplements is my favorite item in the box.  It found it to be effective, although I didn't love the taste.  You can get 50% off any Bulu Box subscription.  To get this great deal, click HERE and use the code BULUGAN751. If you get the 3 month subscription, you will pay $15.00 after the half off.
Do you love Giveaways? Check out all my Giveaways 
HERE
Disclosure: This post contains affiliate links