December 31, 2014
12/31/14

By Subscription Box Mom

2 Comments
2
BuddhiBox December 2014 Review – Yoga Subscription Box
Disclosure: I was sent this box for review purposes.
BuddhiBox is a new subscription box designed for those people who love yoga and/or want to live a healthy lifestyle.  BuddhiBox was developed by Maxine Chapman, a yoga instructor.  She loves helping others have a better yoga experience and she loves sharing new and exciting natural products.  Maxine wanted to share with a bigger audience, and that is how BudhhiBox was born.  BuddhiBox is $30.95/ month and you will get 4-6 deluxe and full size products.  Most of the items you will find in the box are organic and vegetarian.  BuddhiBox also gives back to a charity each month.  This month, the featured charity is Eat Breath Thrive.
The Details:
Cost: $30.95/month, $27.95/month for 6 months, $25.95/month for 12 months.
What's in the box? BuddiBox ships you a curated box of 4-6 products that enhance your yoga practice and lifestyle. BuddhiBox practices Saucha or pure living.
We only partner with businesses that follow ethical and conscious standards of production. Most of the items we feature are organic and vegetarian.
When does the box ship?  10th of the month.
Website: https://www.buddhiboxes.com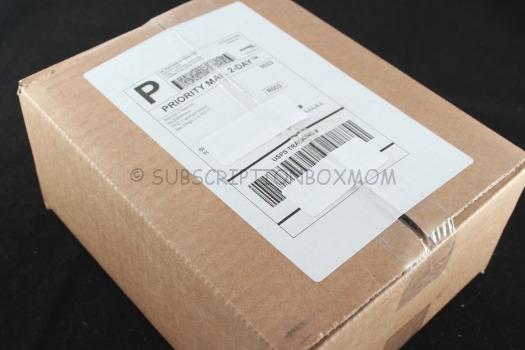 BuddhiBox shipped in a brown box and arrived by USPS priority mail.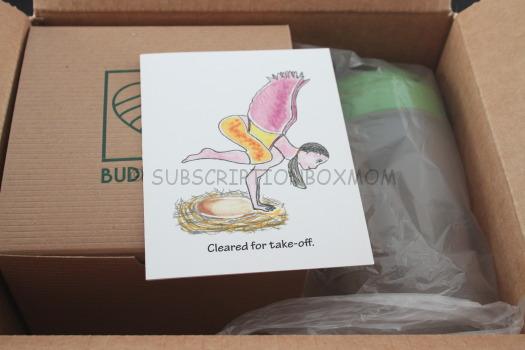 First Look:  There was a card on top that was a thank you for reviewing the box.
The main BuddhiBox was a simple brown box with the BuddhiBox logo on top.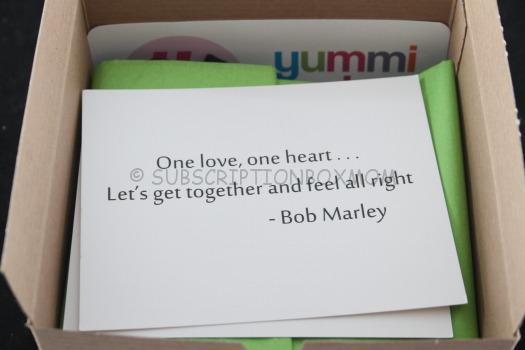 Second Look.  I was happy to see a quote on top.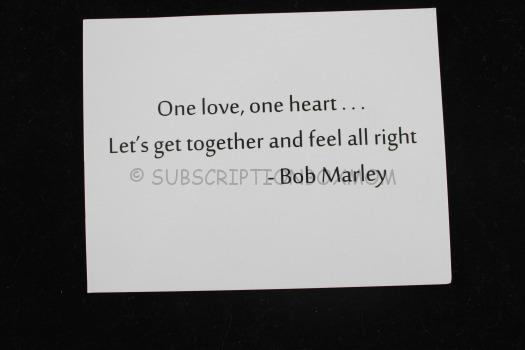 The quote for this month is "One love, one heart…Let's get together and feel all right", by Bob Marley.  This is a nice quote and I pictured myself relaxing on a beach, once I read this.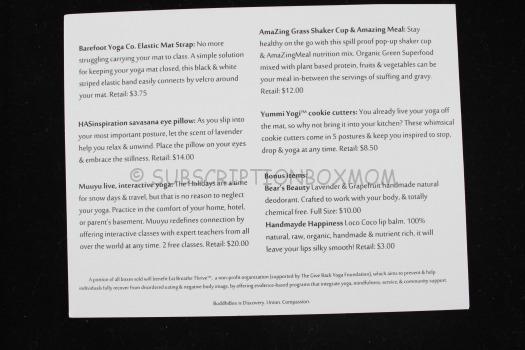 The back of the card was the information card.  BuddhiBox lets you know all about each product.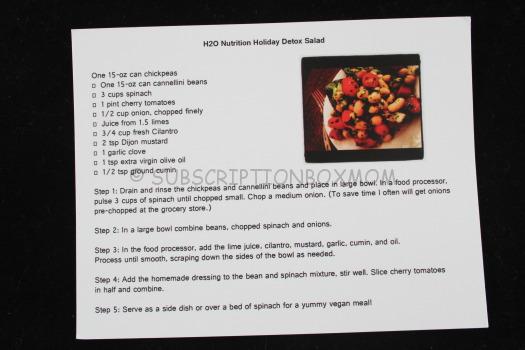 There was a recipe for H20 Nutrition Holiday Detox Salad.  H20 Nutrition is a company that provides sports nutrition information to professionals and the general public.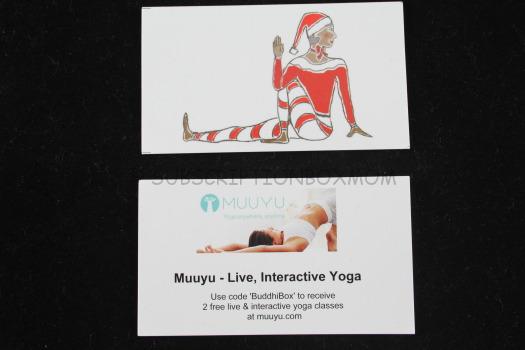 BuddhiBox included a card (top) that instructs you to do the Marichi's Pose. This yoga pose releases tension on the spine and is for anyone, from beginners to advanced yogis.
There was a card from Muuyu to get 2 live and interactive yoga classes from muuyu.com.  This card has a $20.00 value.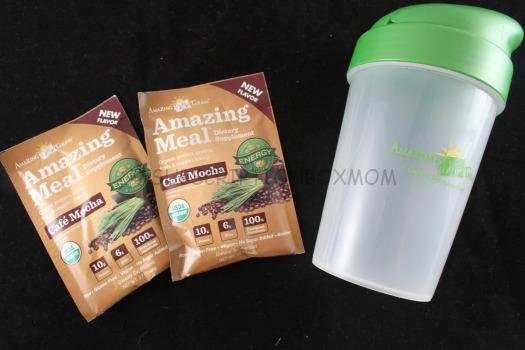 AmaZing Grass Shaker Cup + Amazing Meal $12.00: BuddhiBox included a huge spill proof cup with two packets of Amazing Meal, in the flavor Cafe Mocha.  The Amazing Meal is all organic and packs 10 grams of protein, 6 grams of fiber and are made with 100% plant based ingredients.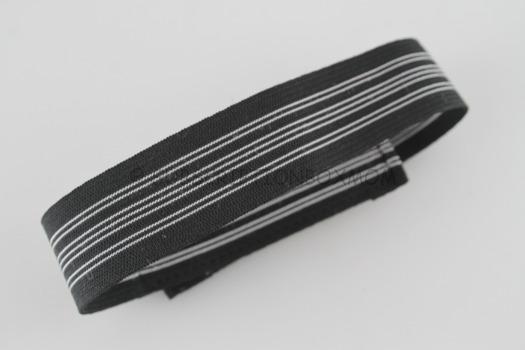 Barefoot Yoga Co. Elastic Mat Strap $3.75  This strap is designed to velcro around your yoga mat for easy transportation!  I personally don't have a yoga mat, so I am using this for my holiday wrapping paper.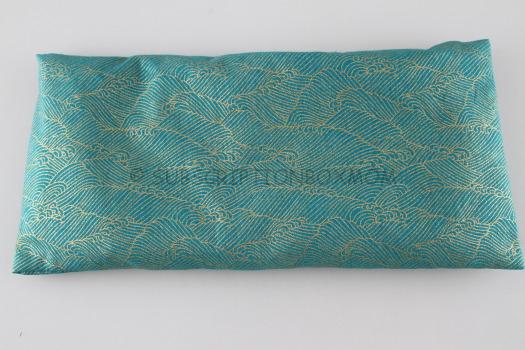 HASinspiration savasana eye pillow $14.00 This eye pillow is filled with lavender.  Lavender is my favorite scent and this was pure bliss on my eyes.  I took a 20 minutes mommy break during nap time and this eye pillow really helped me relaxed.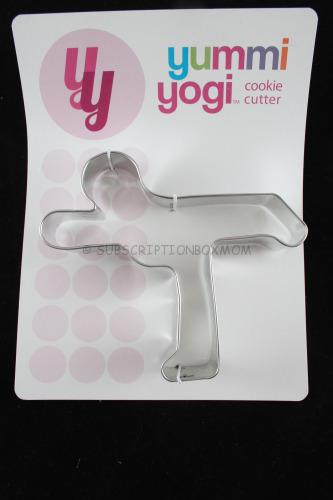 Yummi Yogi cookie cutter $8.50  After a good yoga session, you can unwind with a yoga inspired cookie.  I had to laugh when I saw this, I never knew there were yoga cookie cutters.  This is pretty cool.  I found a healthy (er) cookie recipe HERE, that I am going to try with this cookie cutter.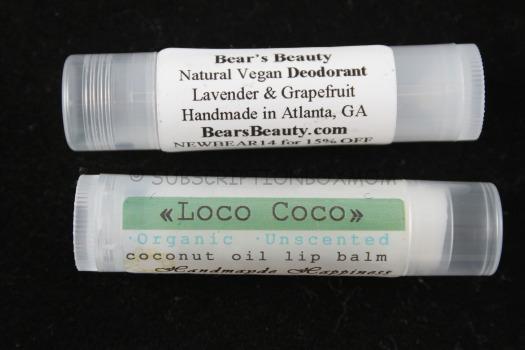 Bonus Items:
Bear's Beauty Deodorant sample: I have never really used natural deodorant, but I decided to give this one a try.  This smells fantastic, it is made with lavender grapefruit.  This kept me dry and feeling fresh all day.  I was really impressed and rather surprised.  I didn't know natural deodorants could be so effective.
Handmayde Happiness Lip Balm $3.00 This is a natural lip balm made with coconut oil.  The ingredients are 100% natural, raw, organic, handmade and full of nutrients.  This moisturized my lips and it didn't smell too strongly of coconut, so I will use this.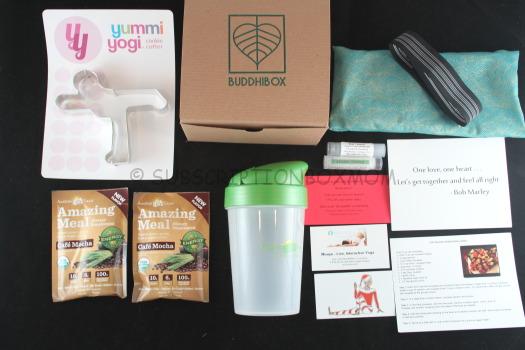 Final Thought: I was really impressed with BuddhiBox.  The total value of this box was $61.25 (41.25 without the online classes).  This box had double the value, compared with the cost of the box.  While I don't personally do yoga, I am going to use everything in the box, with the exception of the cafe mocha (not my personal taste).  As 2015 is quickly approaching, this was a great box to review.  I really felt inspired to get healthy in 2015 and lead a healthier lifestyle.  If you want to try BuddhiBox, click HERE.  
Do you like FREE SUBSCRIPTION BOXES?  Click HERE to see my free subscription box list.
Do you love Giveaways?  Click HERE to enter all my Giveaways.