November 25, 2014
11/25/14

By Subscription Box Mom

2 Comments
2
November 2014 SocialBliss Review – #TheStyleBox
Disclosure: This post contains affiliate links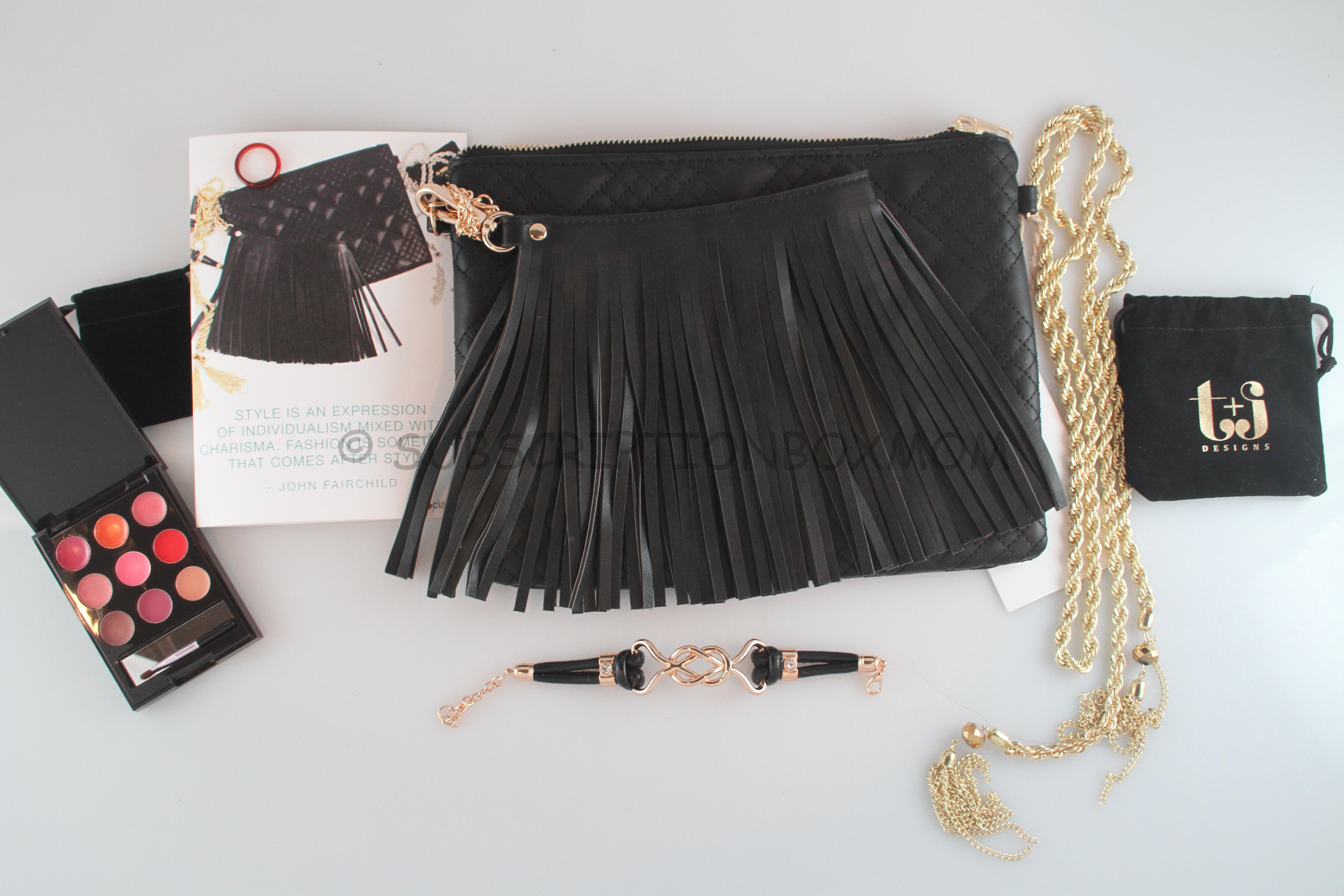 Socialbliss Style Box is $39.95 a month plus $9.95 shipping.  Each box will contain an assortment of popular one size fits all fashion accessories and lifestyle products.  Each Style Box has a value of at least $100 and sometimes up to $200. I have been getting Social Bliss for several month, but the last few boxes haven't impressed me.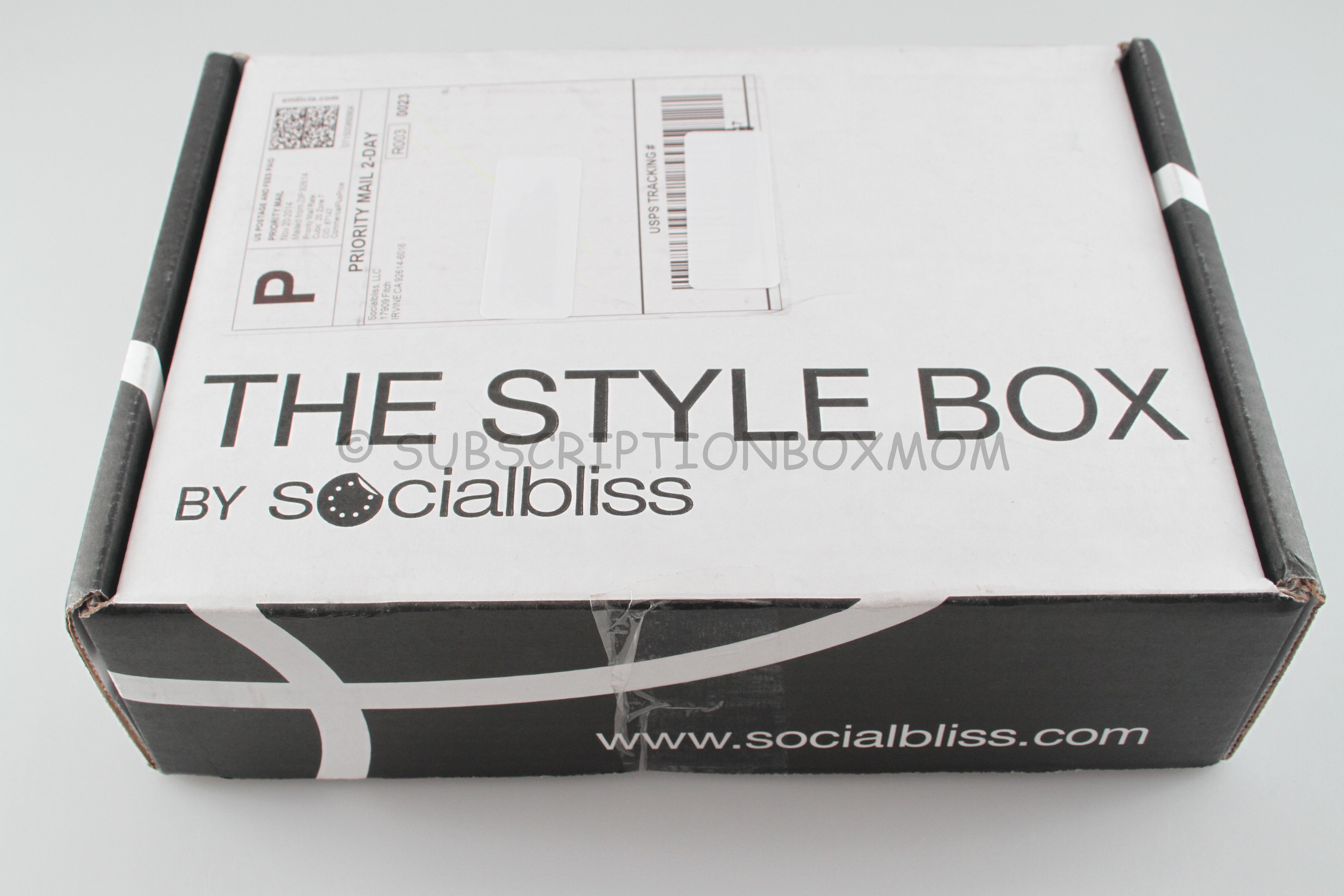 I haven't been hearing much about Socialbliss lately.  I am not sure if they are not releasing spoilers like they used to, or if people are canceling.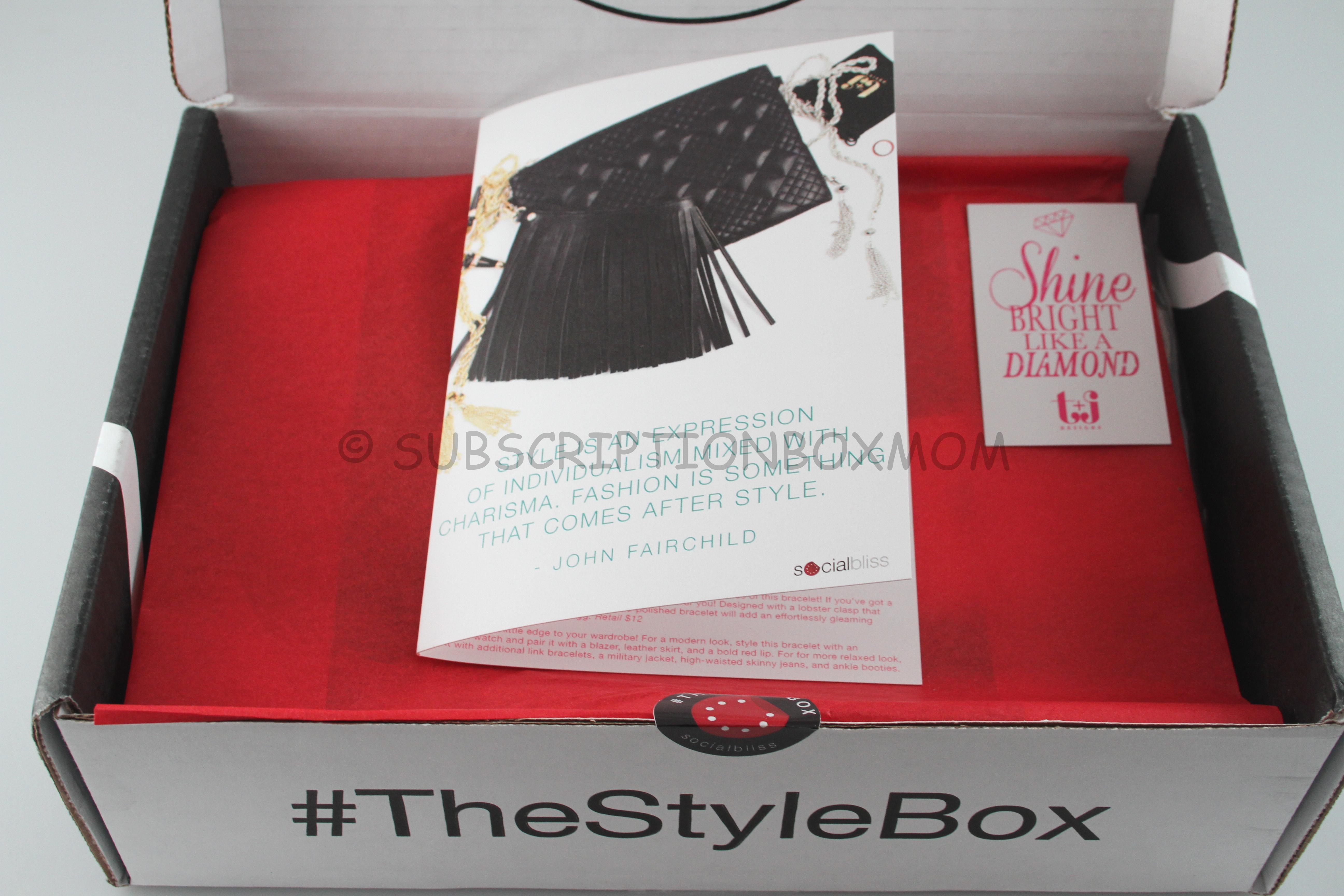 First Look  On top of the box was an information card and a coupon.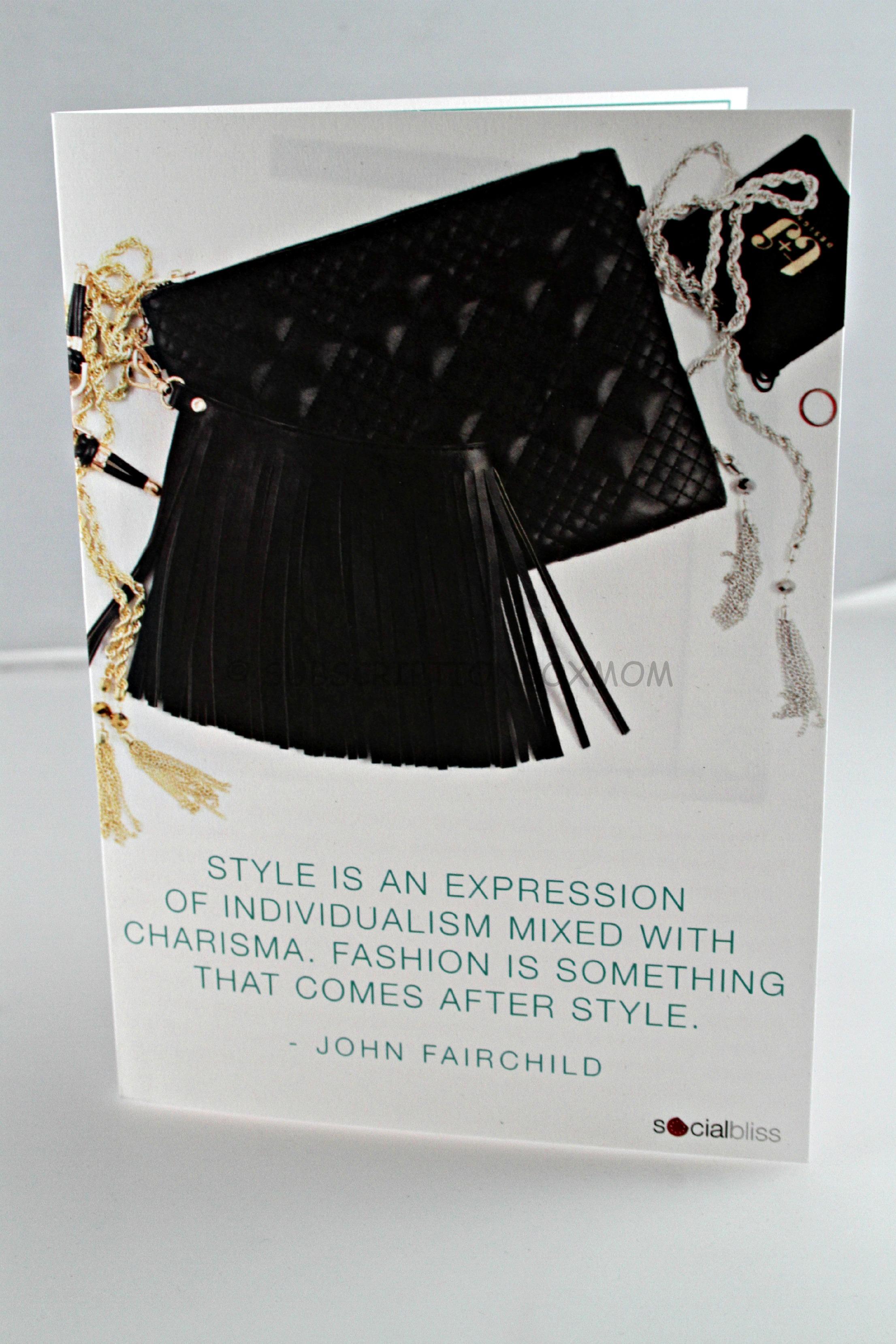 SocialBliss includes an information card every month.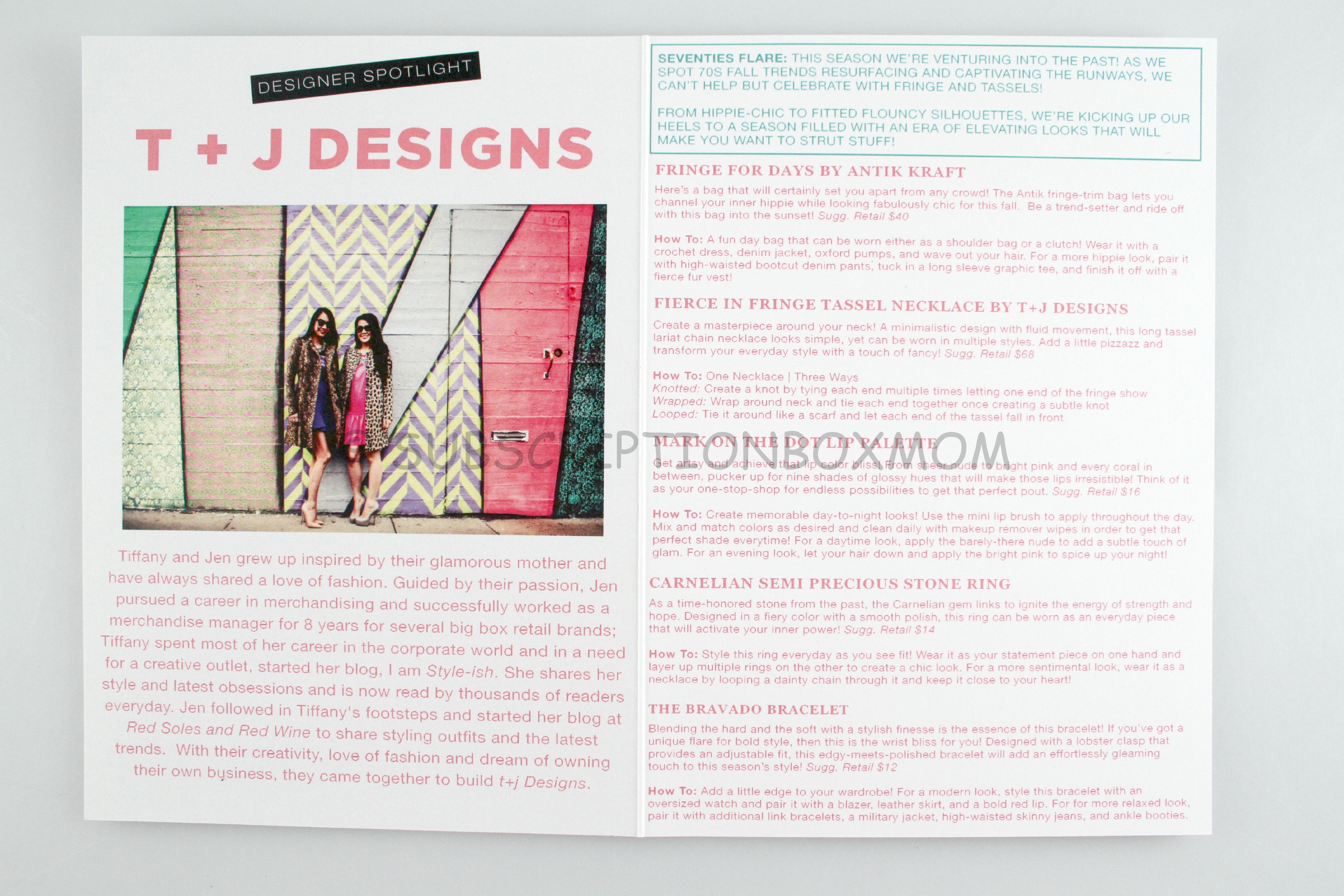 This month, T + J Designs is the featured designer.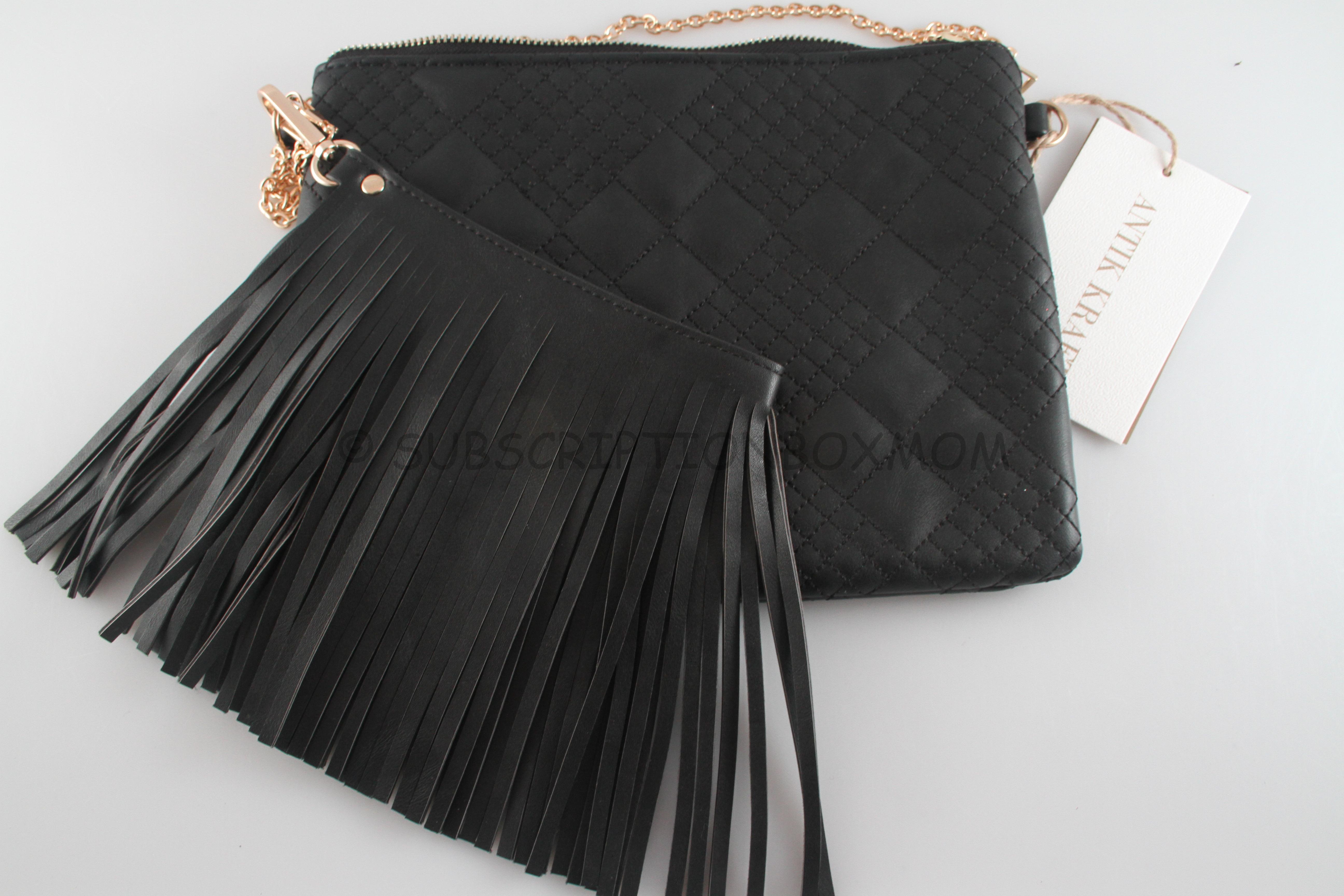 Fringe For Days By Antik Kraft $40.00  I don't know where to begin with this purse.  There is a circle of fringe that hangs down the side.  While the instruction card tell you a bit about the bag, there isn't enough information to figure out how to use this.  You can use it as a clutch or a shoulder bag.  I think the fringe is horrible and luckily it can be removed.  The purse really is unappealing as a whole.  I hate the gold trim and practically everything about it.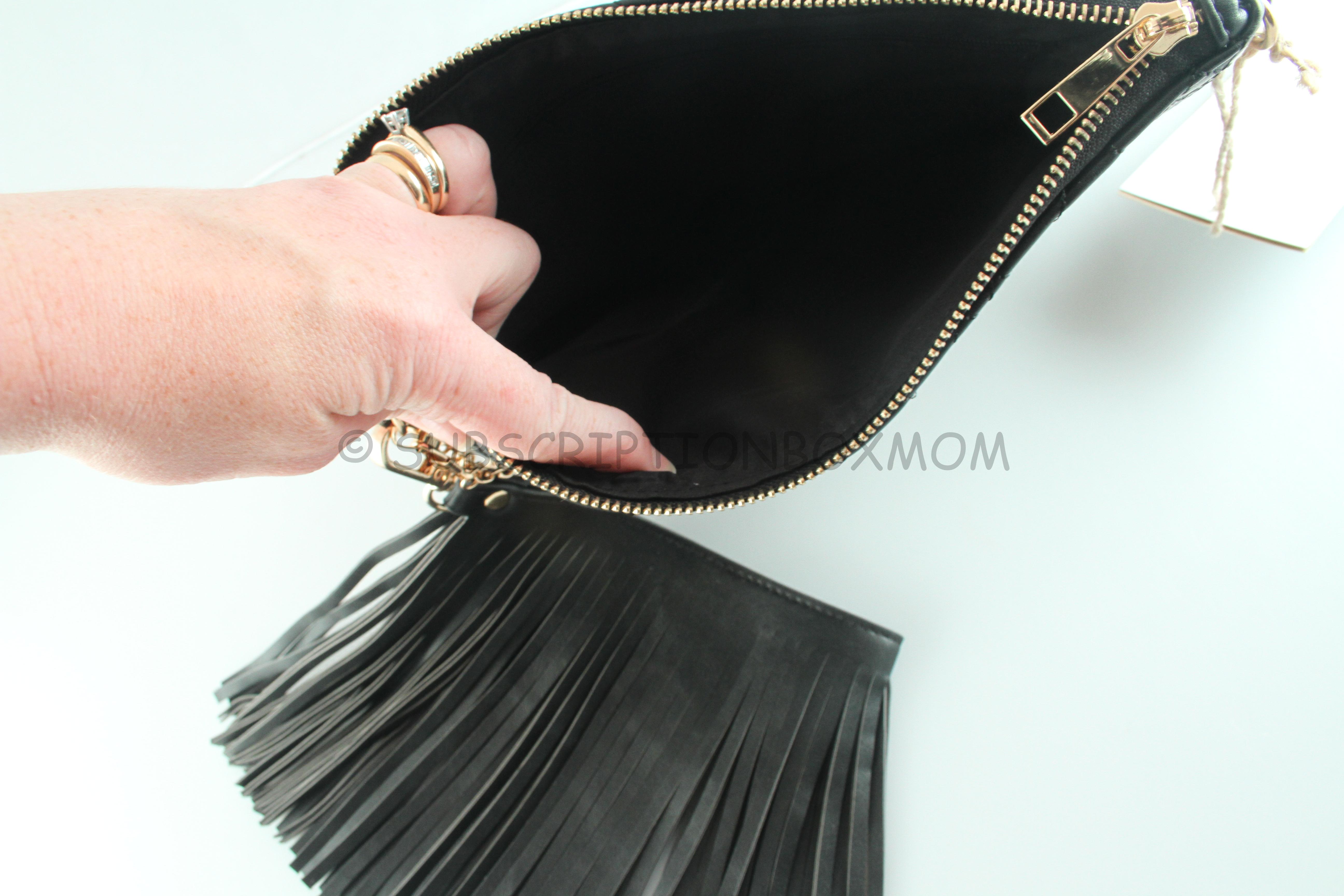 A peek inside.  The one redeeming quality about this purse, is it's not tiny.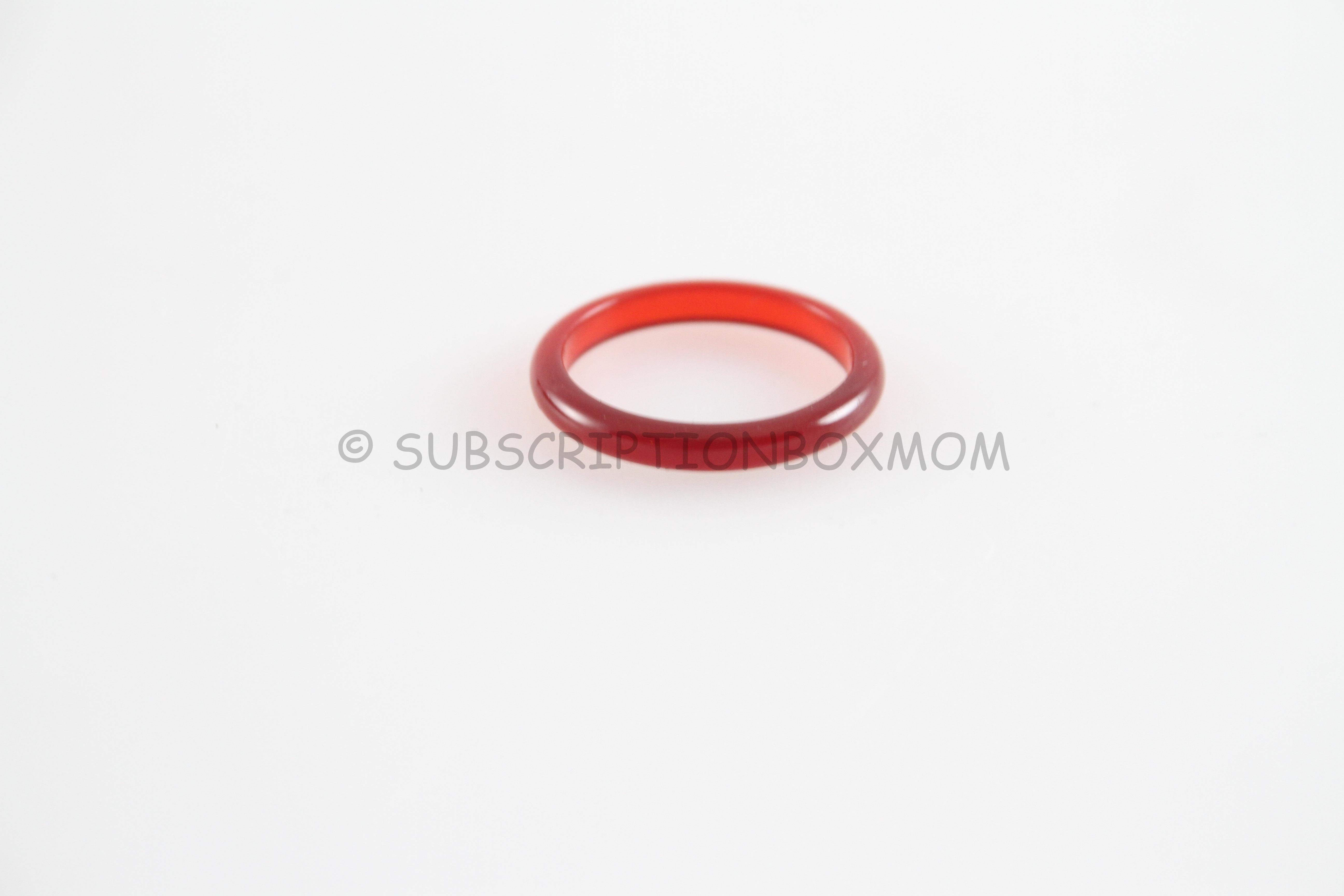 Carnelian Semi Precious Stone Ring $14.00  I don't think subscription boxes should send non-adjustable rings, unless they send your size.  This is snug on my hand and I wear a 7-8.  I am not impressed with the ring either.  It reminds me of those rock rings you can buy at caves.  This doesn't impress me, at all.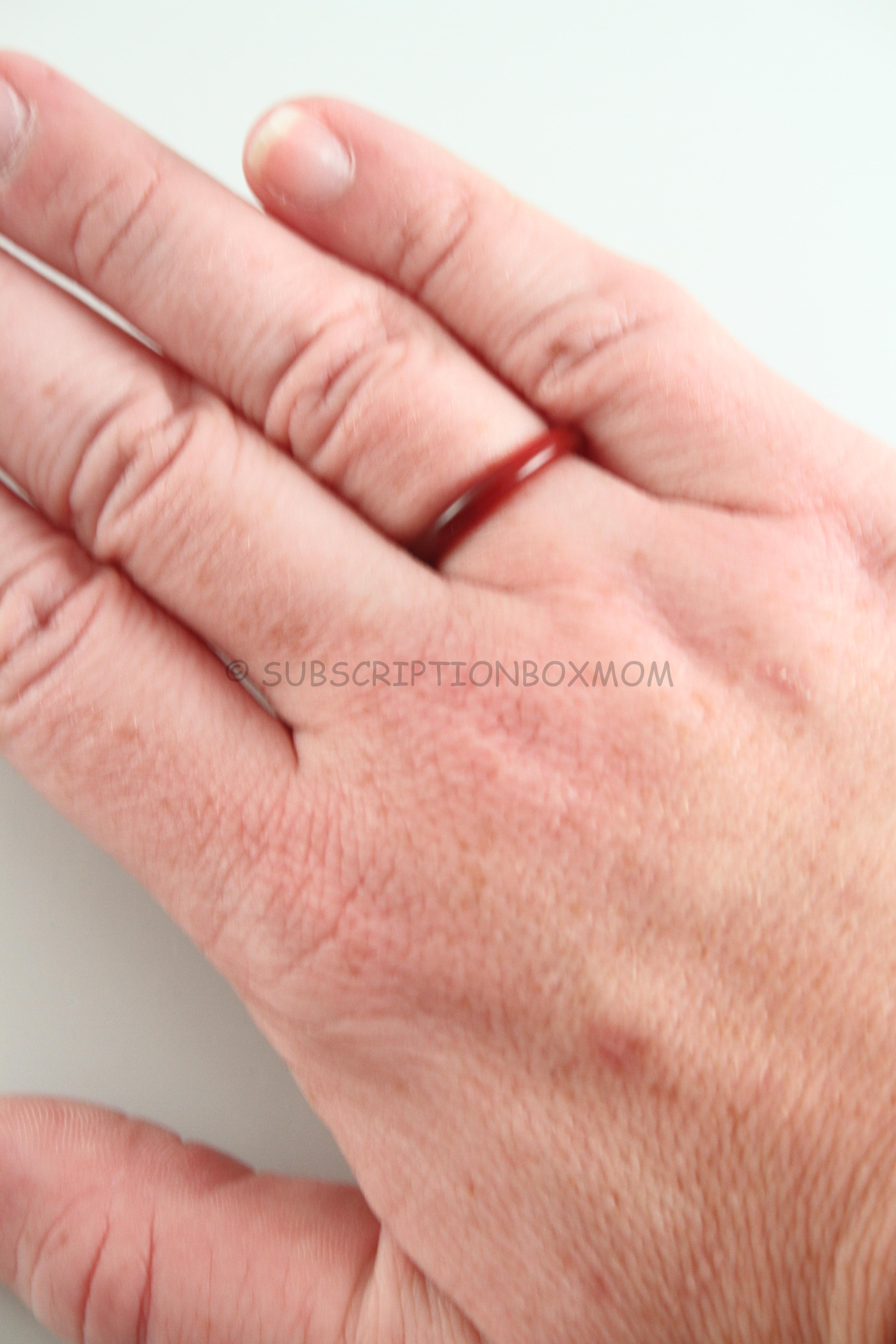 This is how the ring looks on my hand.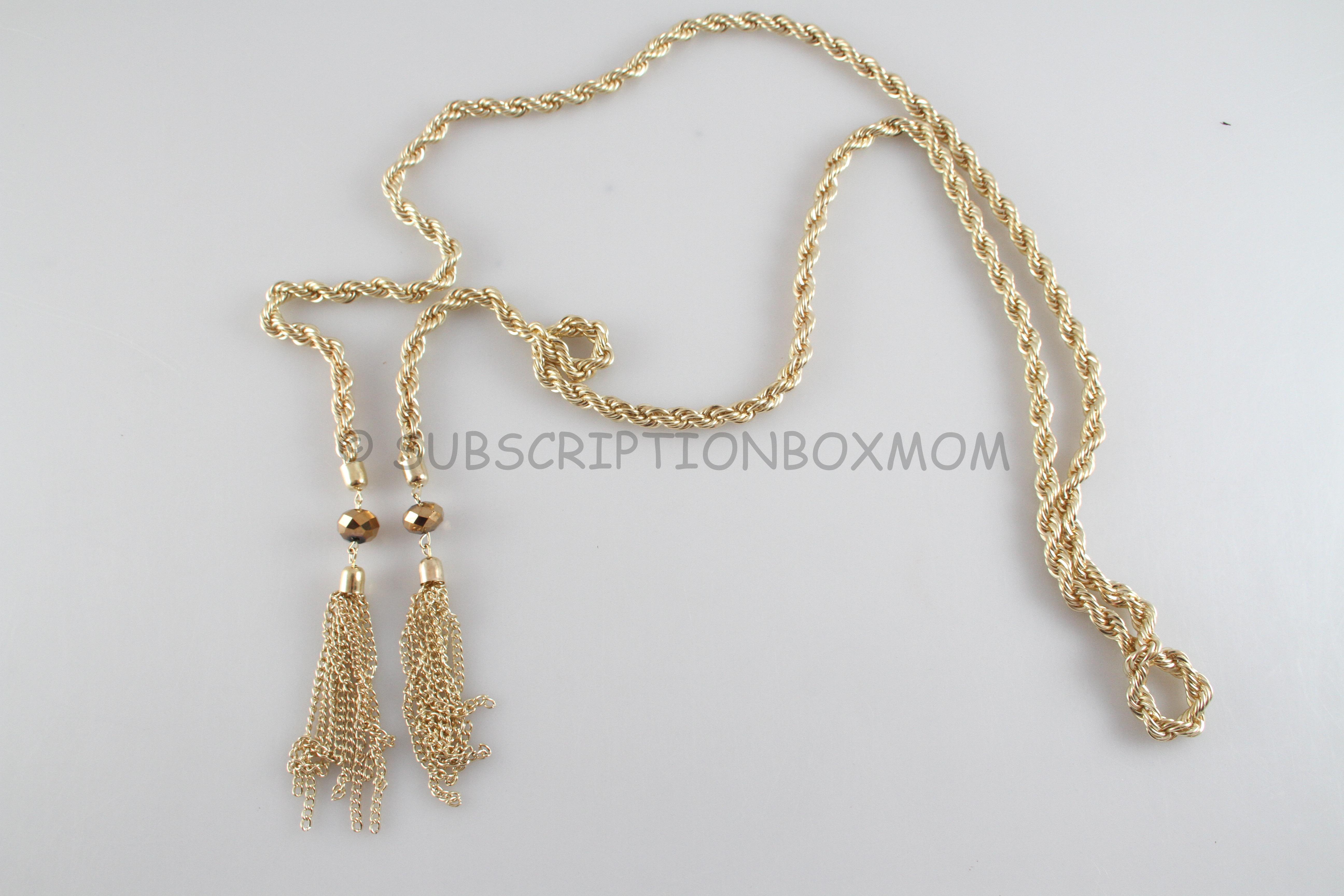 Fierce in Fringe Tassel Necklace by T+ J Designs $26.00 :  The suggested retail on this is $68.00, but the company has it marked down to $26.00, so that is the price I am using.  I really dislike this.  This necklace reminds me of my honor cords in graduate school (I liked those).  Unless I am wearing a cap and gown, I won't wear this.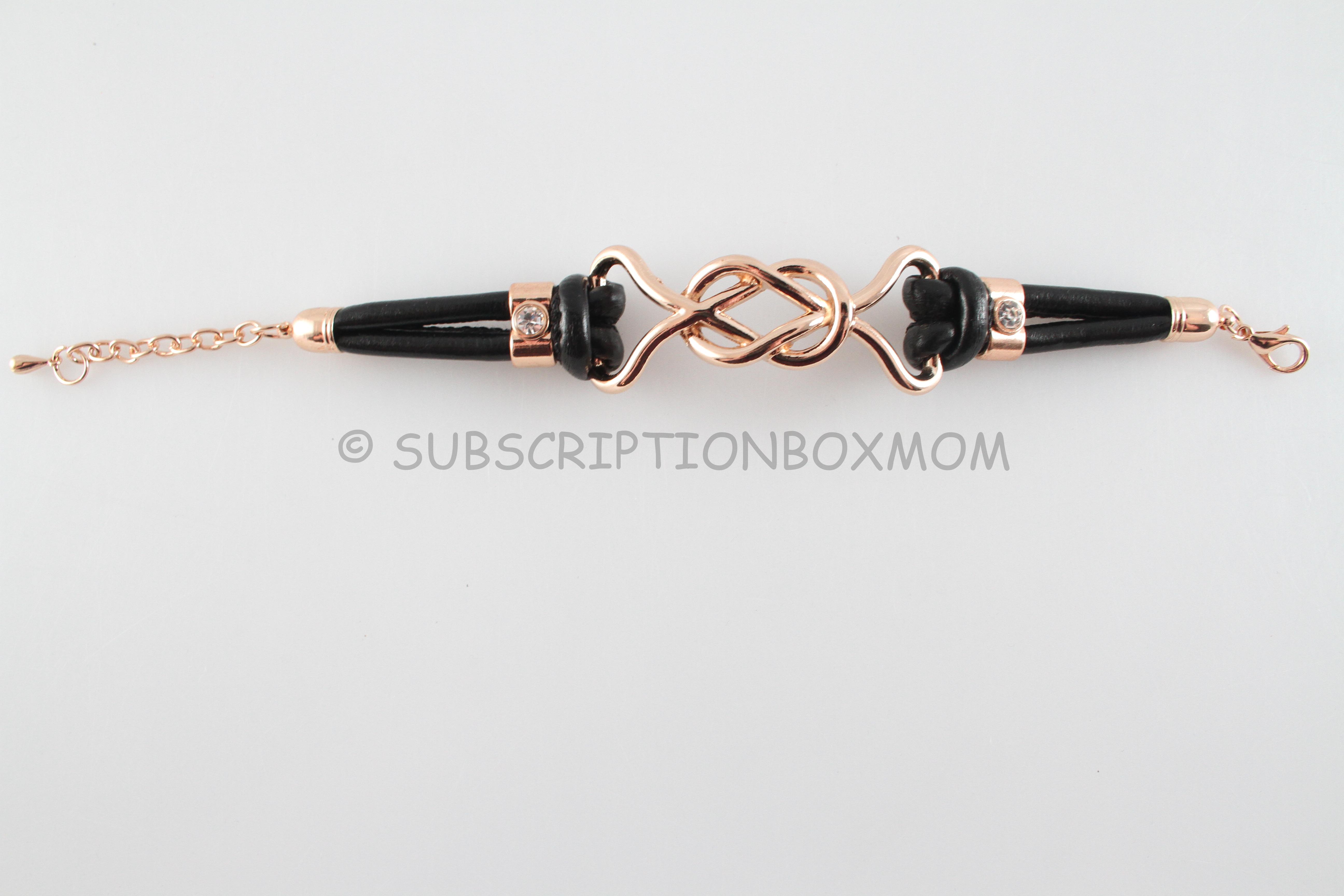 The Bravado Bracelet $12.00 Have subscription box companies gone on a silver strike?  Again, I am not a fan of gold.  This bracelet is "okay". but I don't really like it.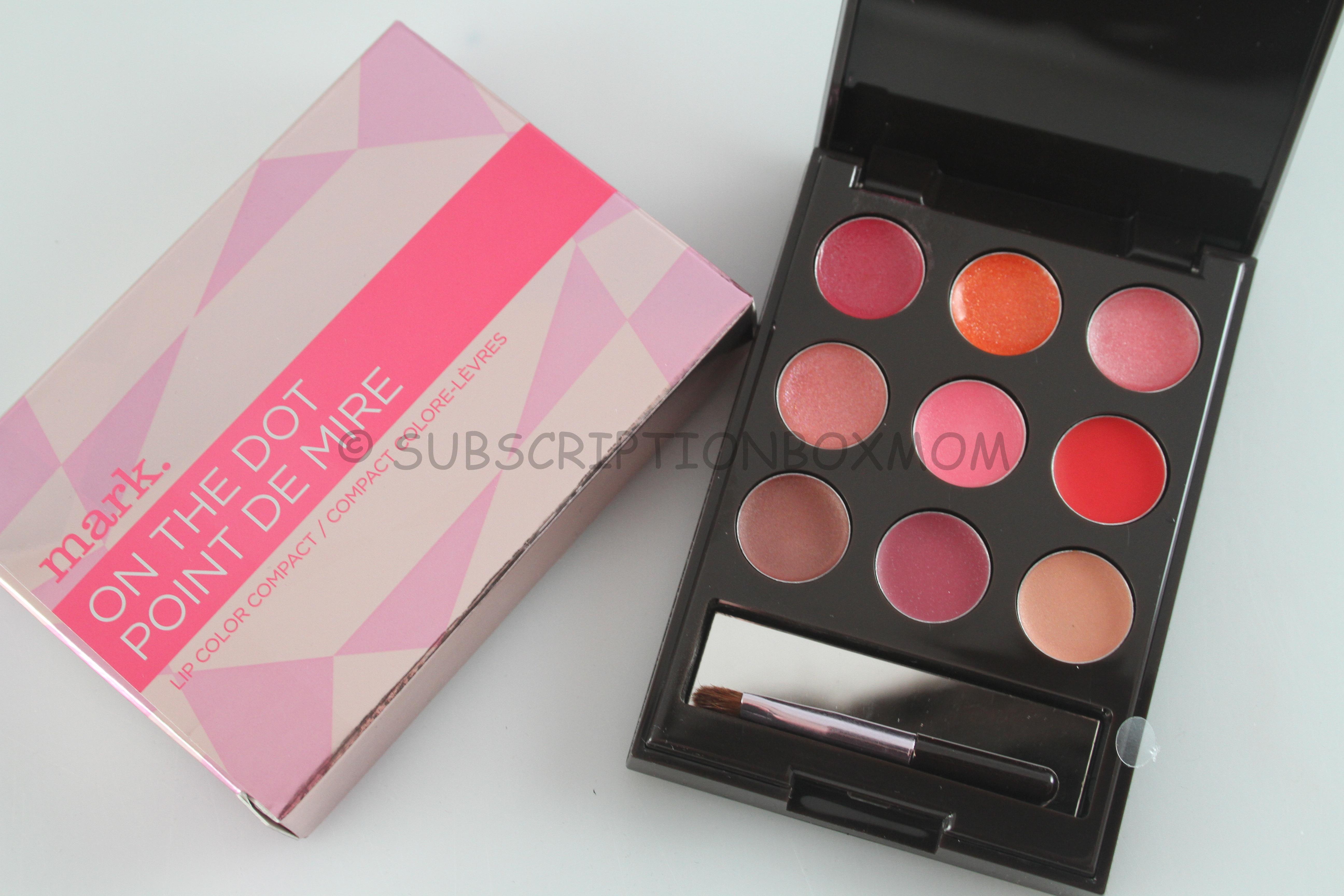 Mark. On The Dot Lip Palette $16.00  I love lip products, so I was excited to try this out.  The lip gloss does the job, but it's not my favorite.   I feel the palette is designed poorly.  I don't know why they put a tiny mirror, where you are going to store the lip brush.  If you use this regularly, the mirror will become quite dirty.  I wish the mirror would have been placed in the lid.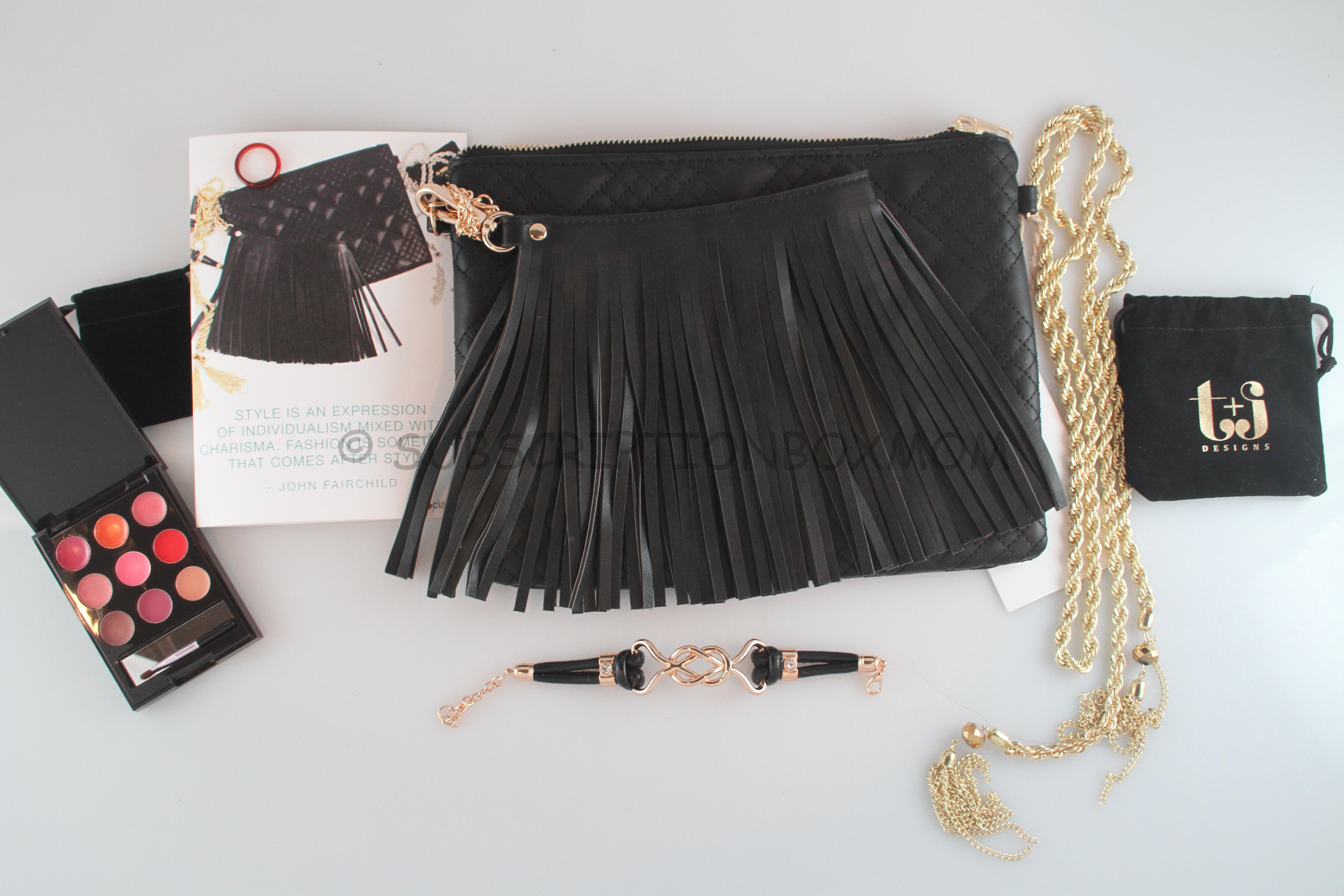 Final Thought:  The total value of this box was $108.00.  I really disliked this box.  I don't feel any of it was my style/taste.  The lip palette will be used some, but I am going to try to trade everything else.  I feel very disappointed in SocialBliss. SocialBliss started the year with such amazing boxes, but I feel the last few boxes have been poorly curated.  I might just be boring or I might not be stylish.  I have canceled my subscription.  I might come back if the boxes improve.  What did you think of this box?  If you want to try SocialBliss, click HERE.
Don't miss any of the Black Friday Subscription Box Coupons.  Check out my Black Friday – Cyber Monday – Holiday 2014 Subscription Box Coupons  post.
Check out great gifts on my Holiday Gift Guide HERE.
Do you like FREE SUBSCRIPTION BOXES?  Click HERE to see my free subscription box list.
Do you love Giveaways? Check out all my Giveaways HERE
Disclosure: This post contains affiliate links
Final Thought: