November 18, 2014
11/18/14

By Subscription Box Mom

0 Comments
0
November 2014 Sauce Pack Review – Hot Sauce Subscription Box
Disclosure: This box was received free for review purposes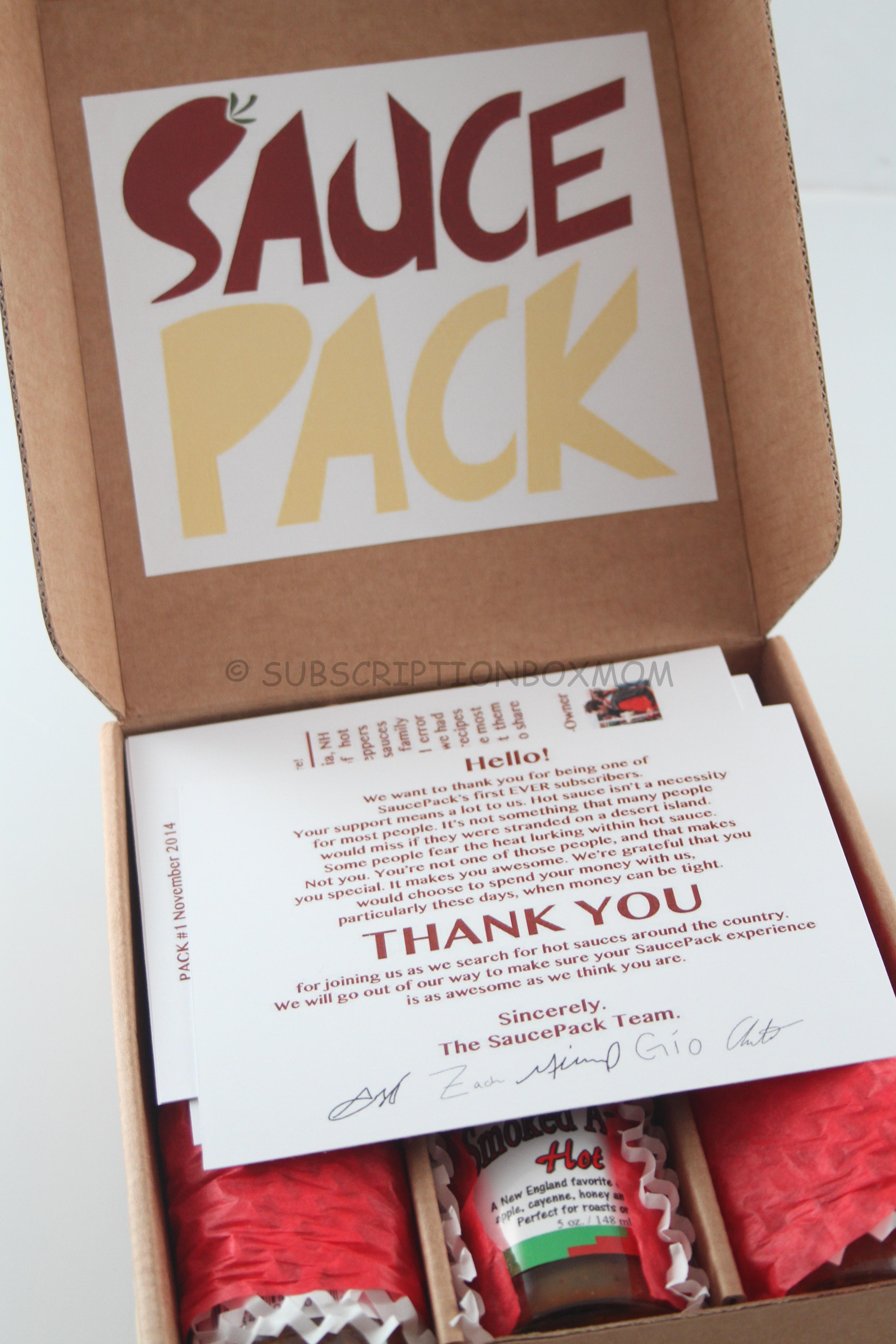 Sauce Pack is a brand new hot sauce subscription box, that sends three hot sauces to your door each month.  Each hot sauce is made in the USA.  I was very excited to review this box, as I love food hot and spicy.  My family doesn't share my love of hot sauce, so I get these all to myself.  I am slowly integrating spices in my cooking (aka hot beans instead of mild), so I am hoping to introduce these to my guys at some point.
The Details:
Cost: $25.00/month, 6 months $135.00, 12 months $220.00
What's in the box? Every subscriber gets a pack every month containing three different hot sauces made in the USA. 
Shipping: They only ship to the continental US, as of right now.  There is a shipping charge until you sign up as a subscriber now.  Subscribers to the first pack (which will ship November 2014) automatically get free shipping for the lifetime of their subscription. Unless you cancel your subscription, you will never be charged for shipping. This promotion is available only to subscribers who register before November 1.
When will I get my box? Packs are generally shipped within 2 business days after the first of the month.  Depending on where you live, you should expect to receive your pack by the second or third week of the month. 
When am I billed? Month-to-month subscribers and 6-month subscribers are billed on the first day of every month.
How do I cancel? To cancel your SaucePack subscription, simply log into your customer account by clicking on "My Account" at the top right corner of the site. It will show your subscription below. Click "cancel" in the actions category and your subscription will end the following month. Please note that you have to cancel before the first day of the upcoming month to cancel your subscription for that month. 
Sauce Pack ships in a priority mail envelope.  I love when subscription boxes mail priority, as a I get my box even quicker.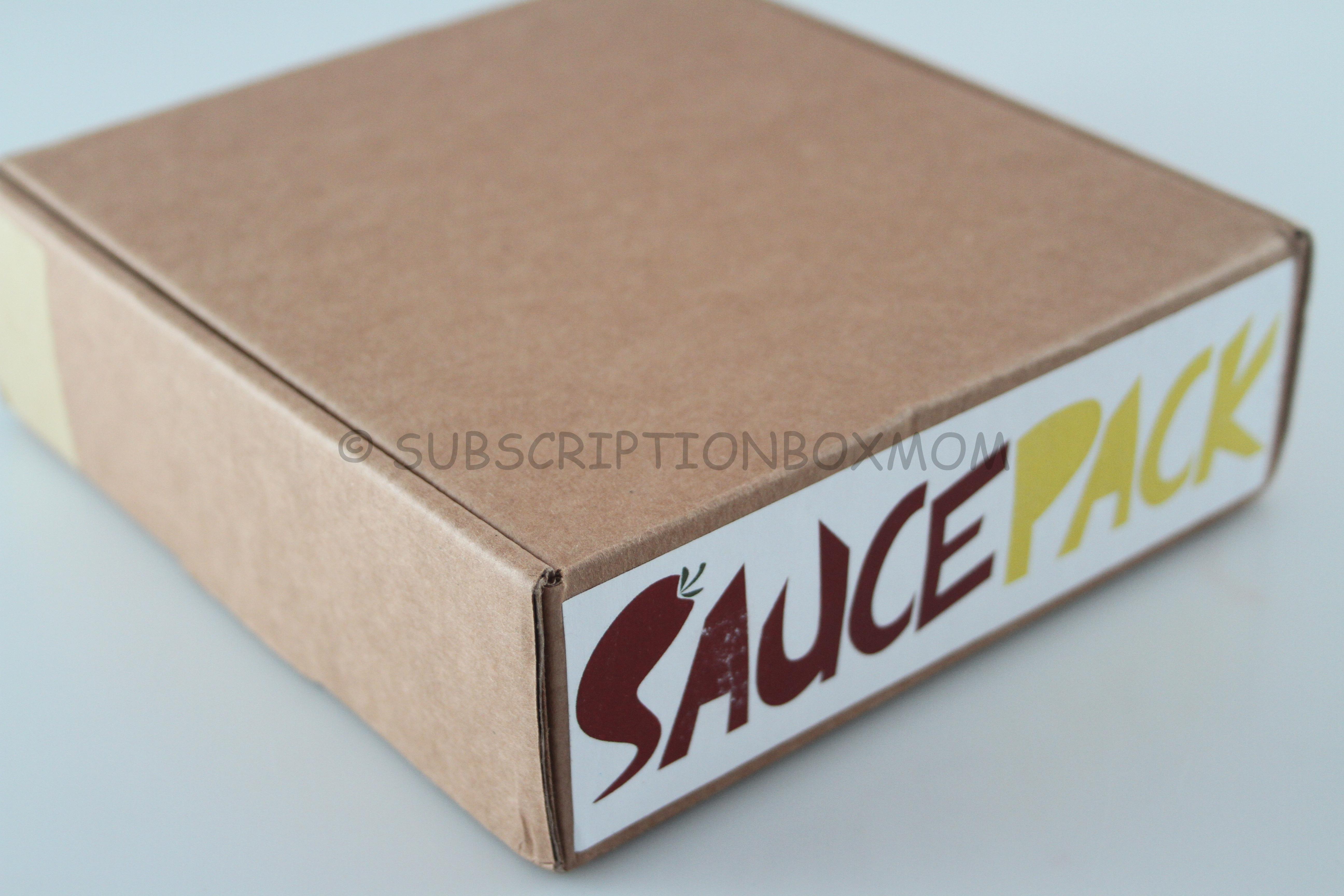 The box is a little brown box with a Sauce Pack sticker.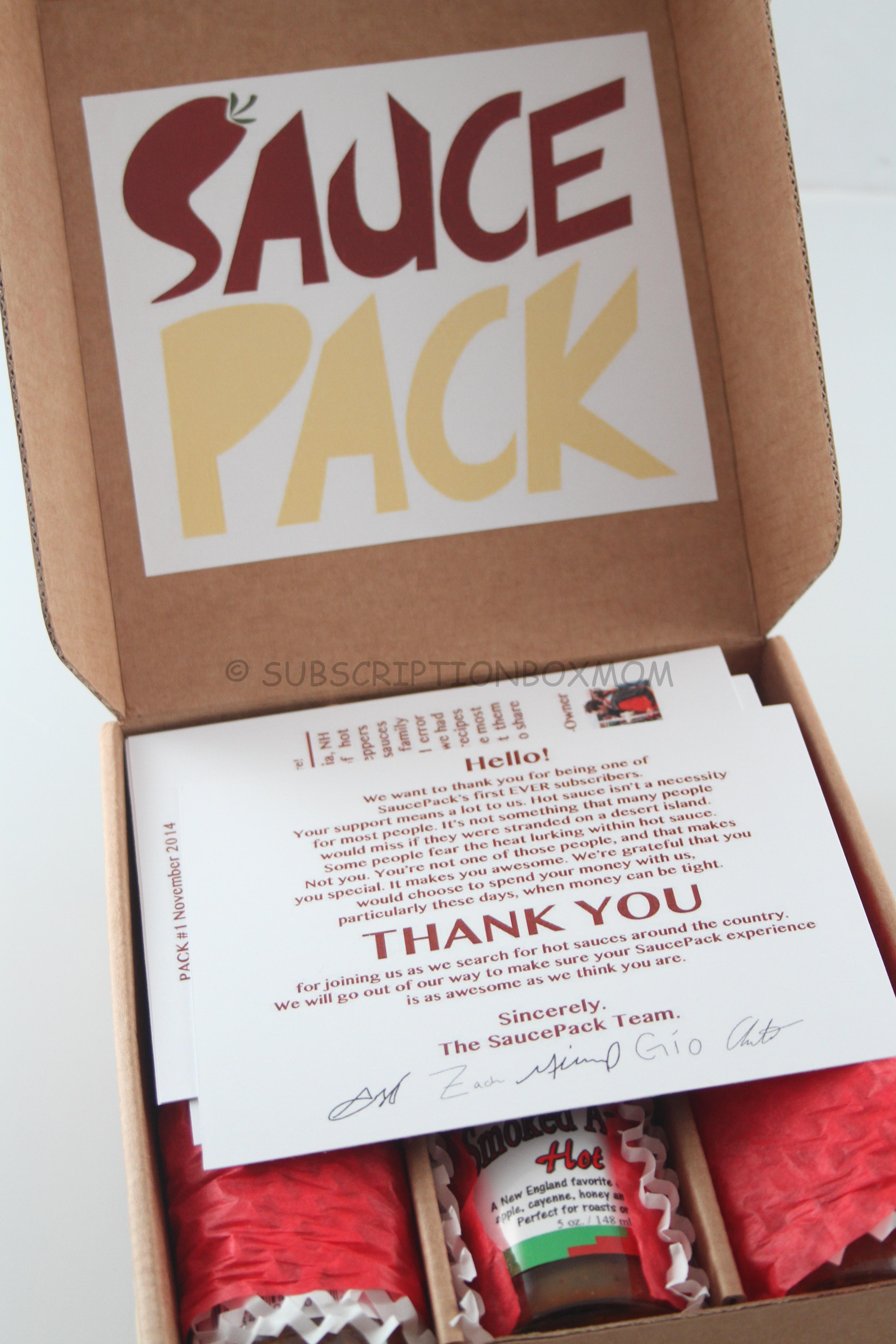 First Look: I really liked the presentation of this box.  There is a sticker on the inside of the lid, there were information cards on top and the sauces were wrapped in pretty paper.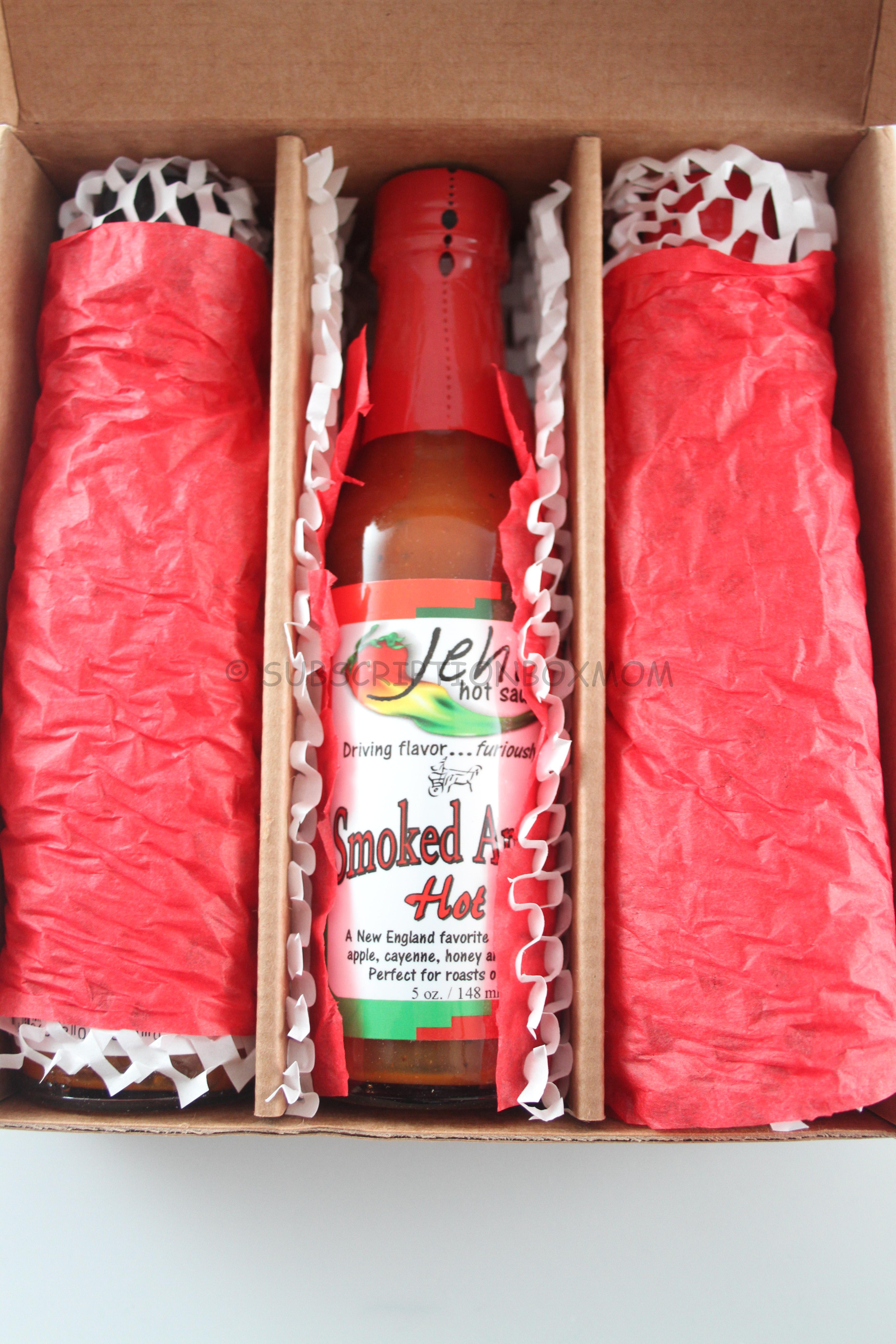 Look how pretty!  Each bottle was neatly wrapped in red and white paper.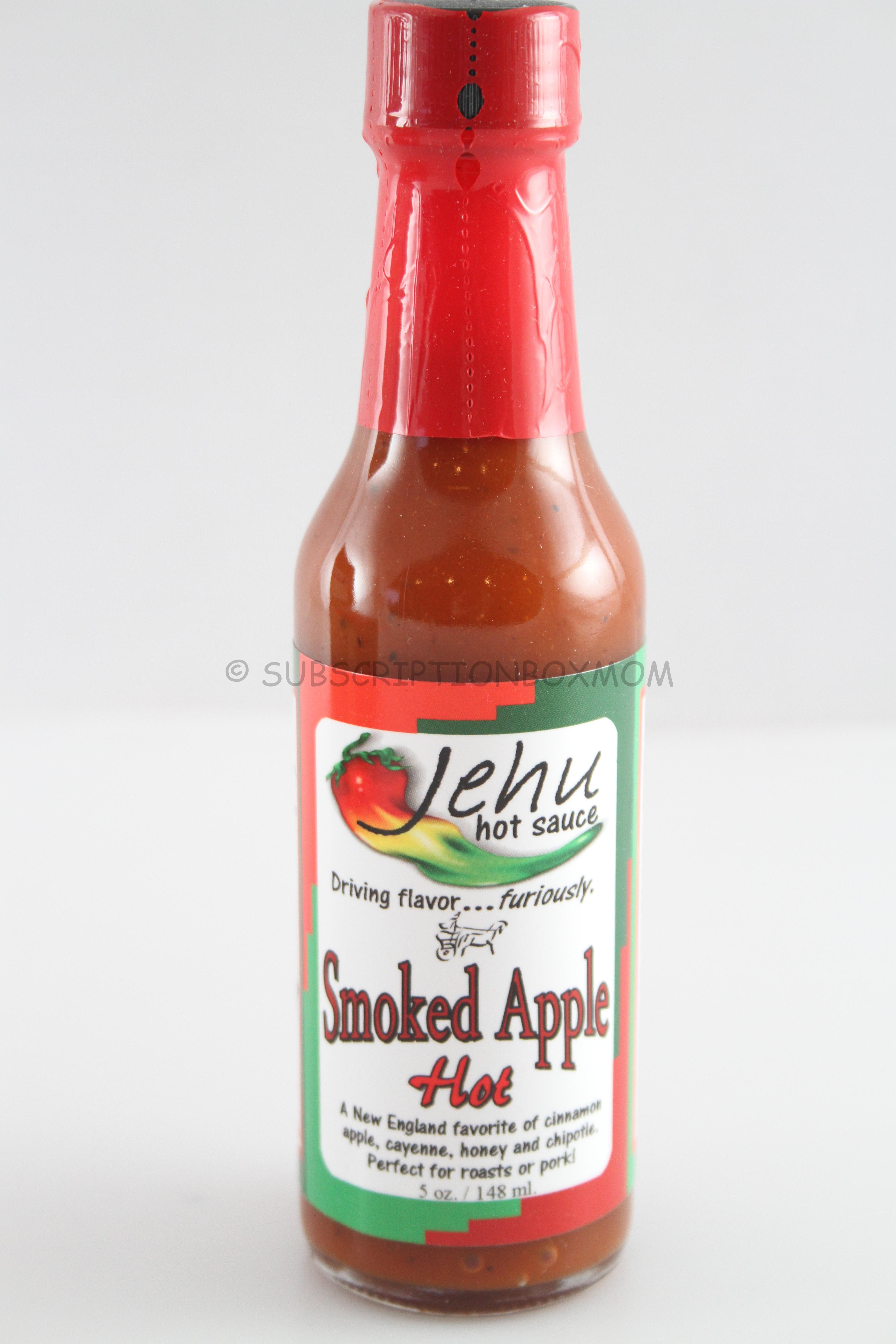 Jehu Smoked Apple Hot Sauce This is my favorite sauce.  It is a mix of apple, cinnamon and other great stuff.  This is a sweet sauce with a pretty big kick.  I actually ate this on potato chips, which may sound really gross, but it was all I had.  The things I do for reviews

.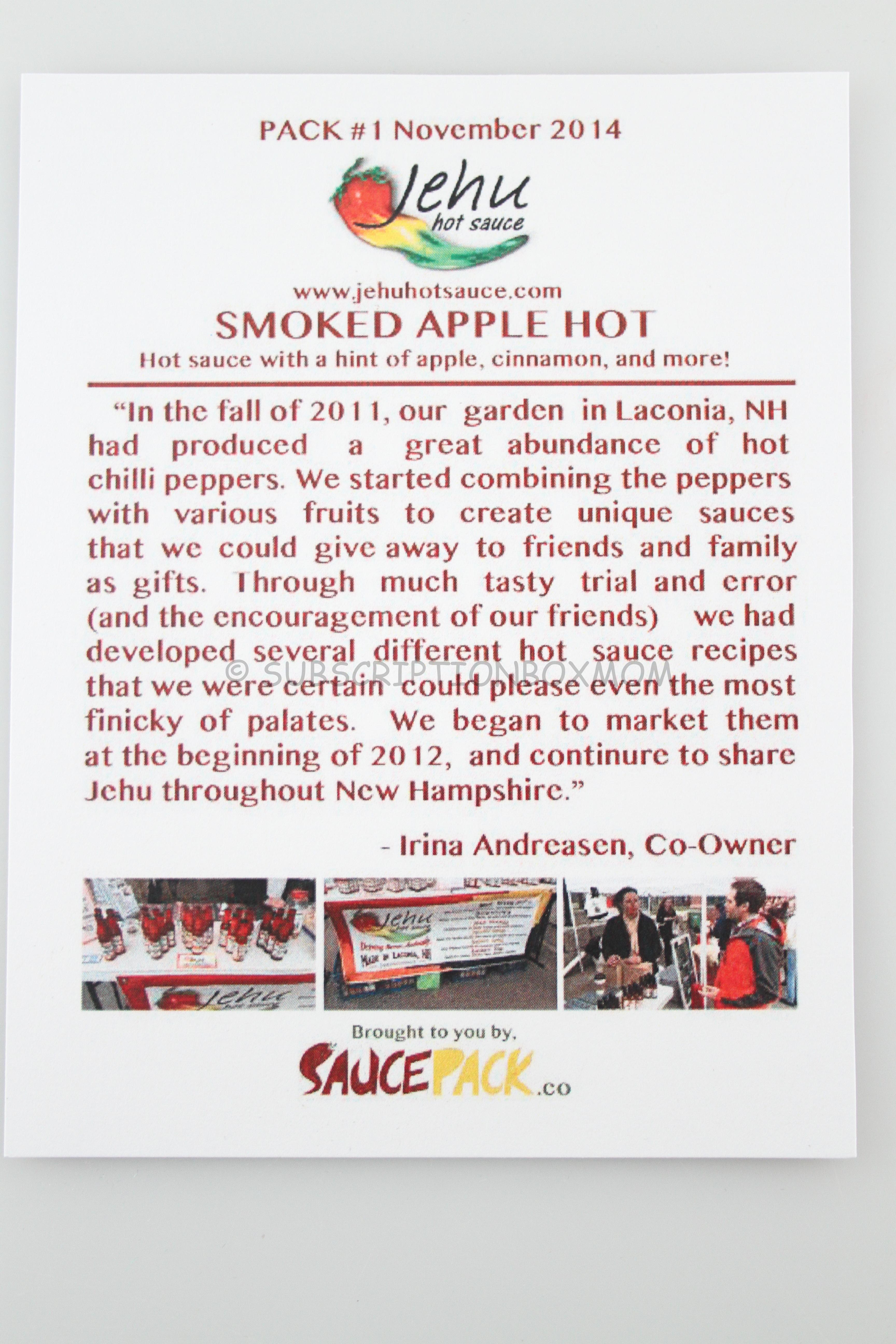 The information card included a background on the company and a recipe for Spicy Apple Turkey Chili.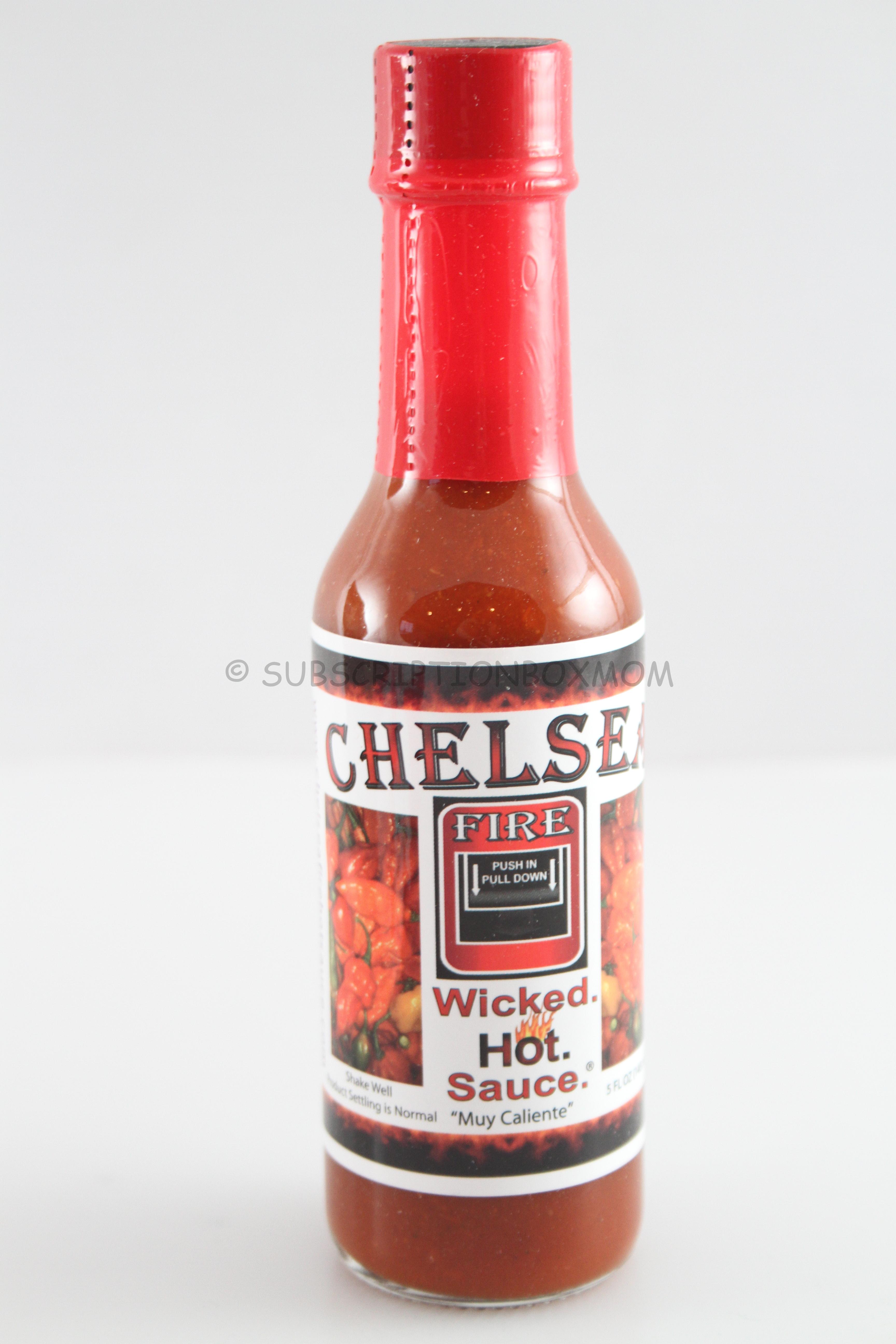 Chelsea Fire Wicked Hot Sauce:   This is made with ghost peppers, which are very hot!  This had a peppery hot flavor.  This sauce also has a great back story.  It was inspired by the Chelsea fires of 1908 and 1973.  The company also donates a portion of gross sales proceeds on a quarterly basis to the National Fallen Firefighters Foundation.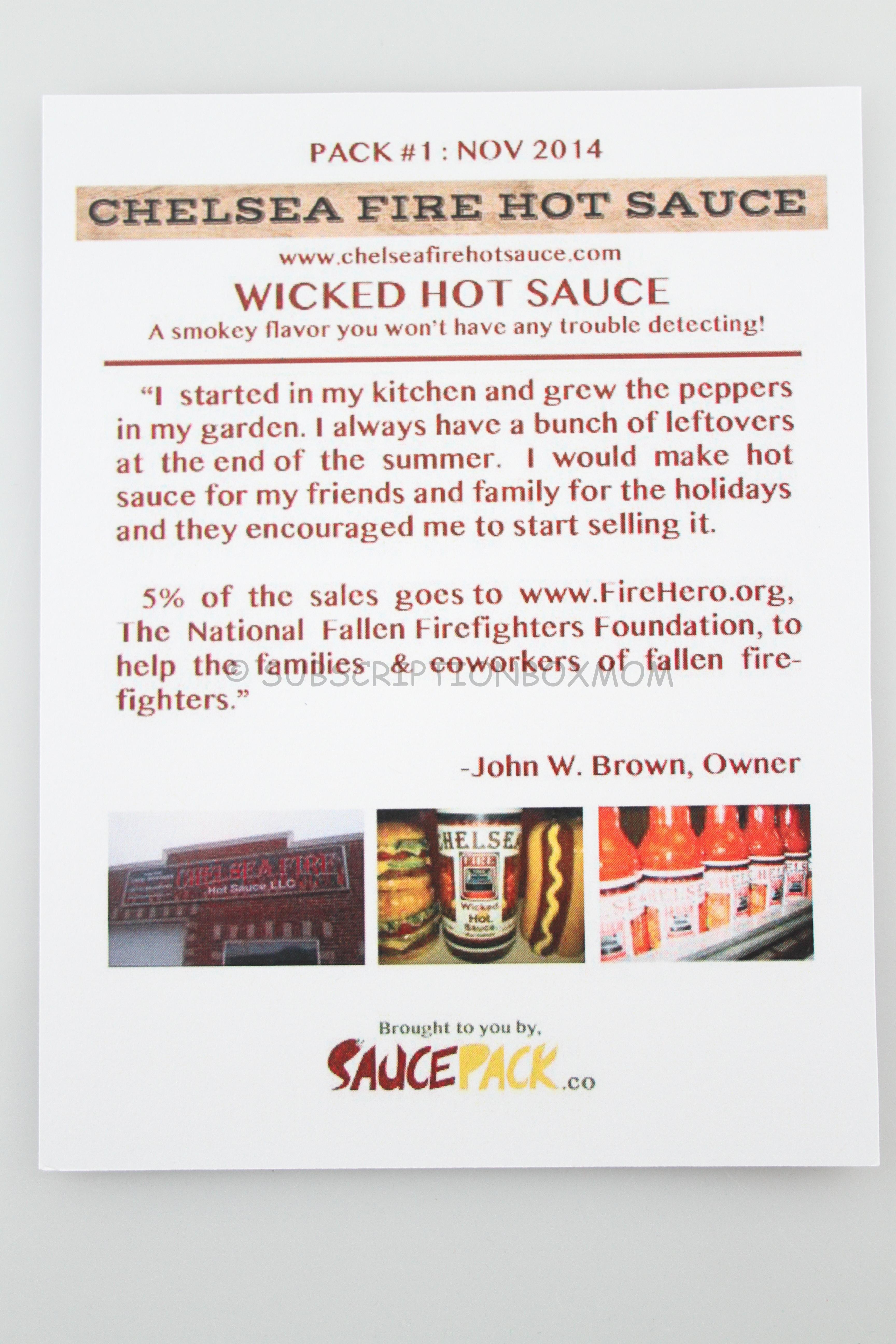 There was a recipe for Wicked Sandwich Spread.  This is made with sour cream, cream cheese, and of course the hot sauce.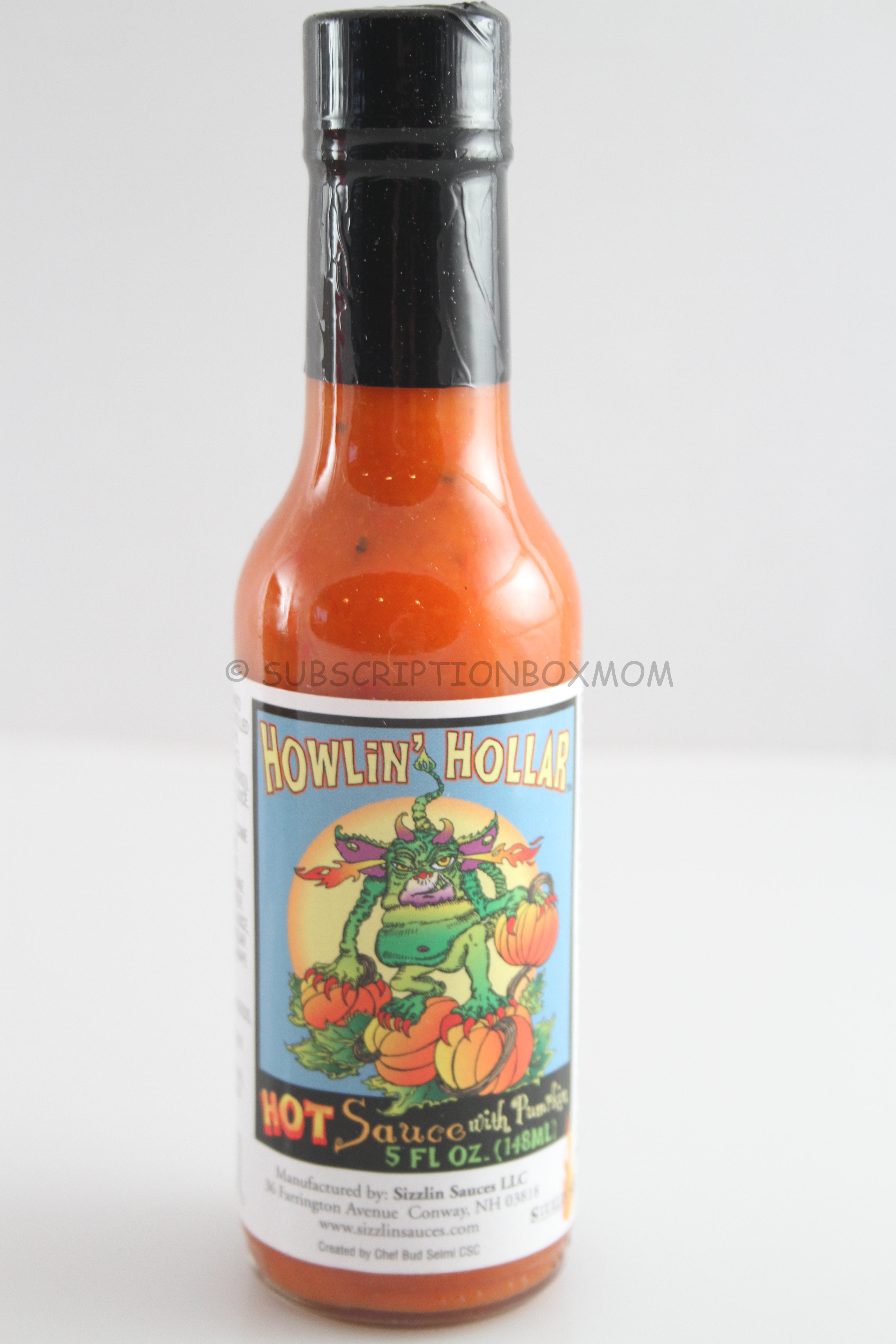 Howlin' Hollar Hot Sauce:  This is a mildest of the hot sauces.  The taste of pumpkin really tames down the spicy flavor.  Don't get me wrong, it will still burn your tongue.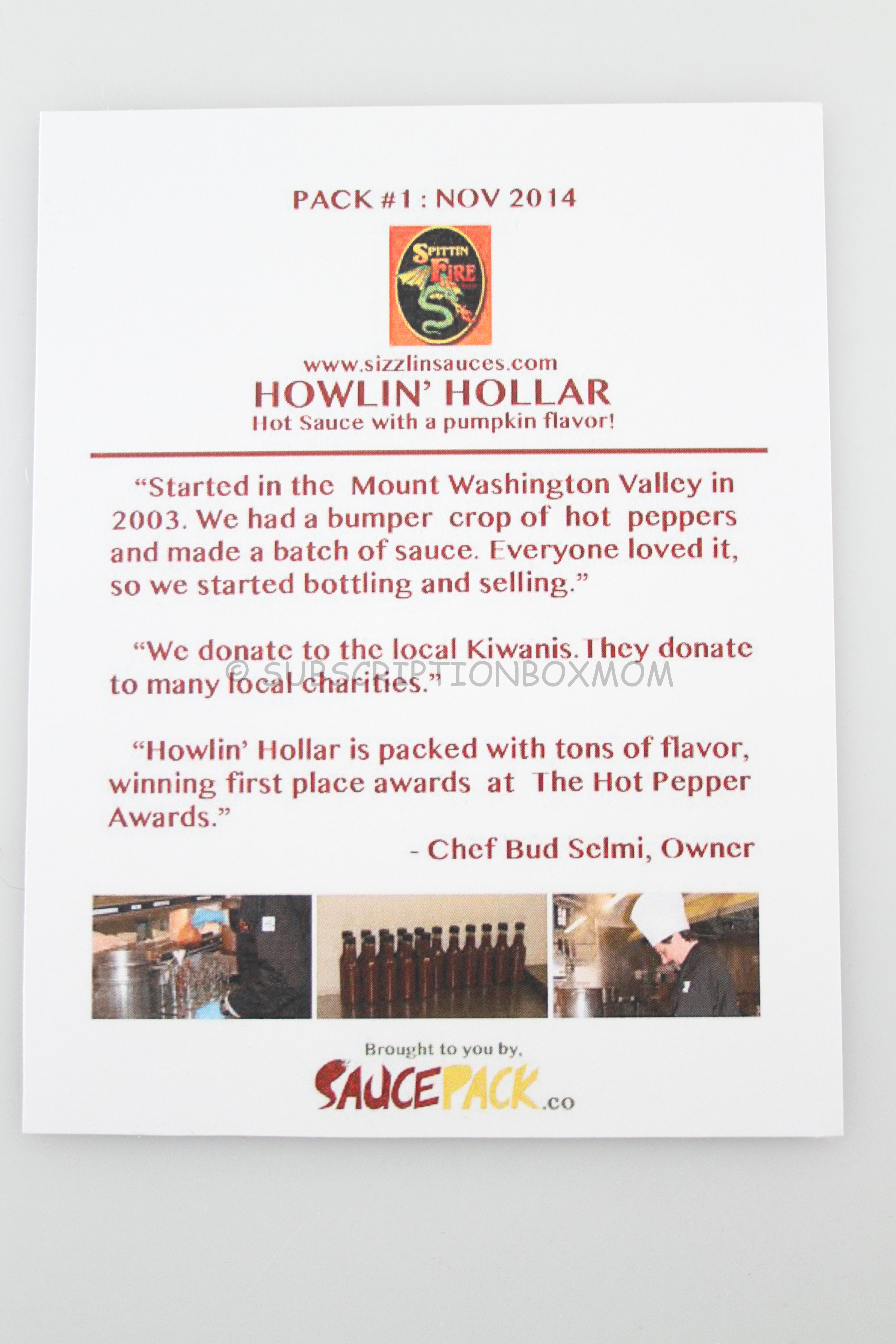 The recipe for this hot sauce is Baked Stuff Shrimp, yummy!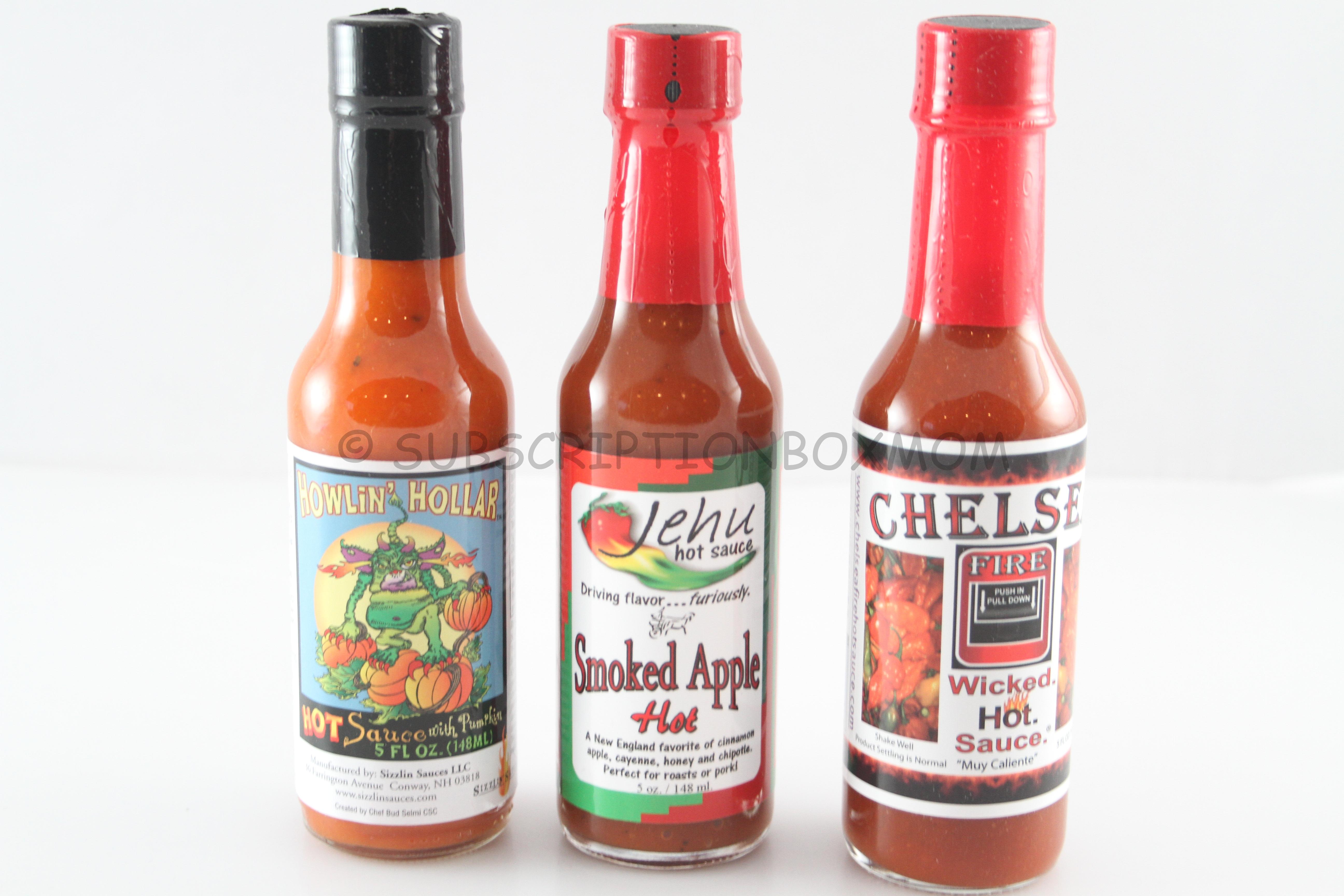 Final Thought:  I really enjoyed this box.  Each sauce was very unique and was tasty.  They each had their own favor and they weren't hot, just for the sake of being hot.  I will be able to use each sauce in my cooking (more for me, than my family).  If you love hot sauce, or knows someone who does (think holiday gifts), check out Sauce Pack HERE.  Remember, if you sign up and get the November box, you will get free shipping for life.
Check out great gifts on my Holiday Gift Guide HERE.
Check out my Black Friday – Cyber Monday – Holiday 2014 Subscription Box Coupons 
Do you like FREE SUBSCRIPTION BOXES?  Click HERE to see my free subscription box list.
Do you love Giveaways? Check out all my Giveaways HERE
Disclosure: This post contains referral links.