October 24, 2014
10/24/14

By Subscription Box Mom

14 Comments
14
Universal Yums December 2014 Review – Premier Box – Snack Subscription Box
Disclosure: This box was received free for review.  This giveaway is sponsored by Universal Yums. Universal Yums will draw the winner and contact the winner for prize distribution.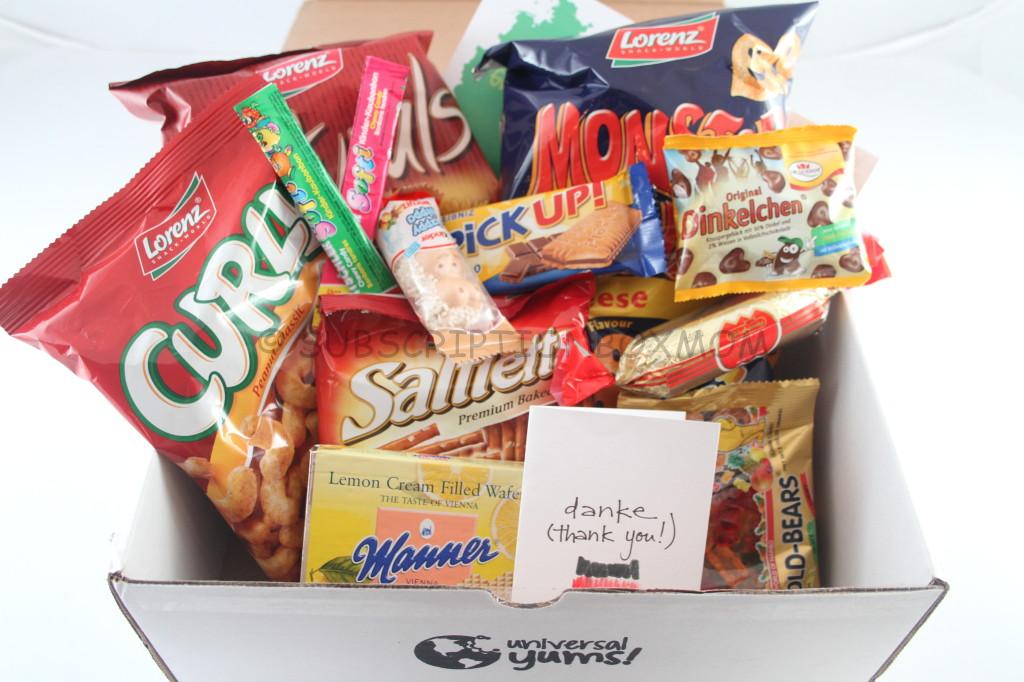 Universal Yums! is a brand new snack subscription box, that sent me their box to review.  Universal Yums sends boxes of currated snacks and treats from all over the world.  Each month a new destination is picked.  Each box is packed with snacks that are a mix of flavors: salty, sweet, spicy, fruity, and more – some that you may have never tasted.  There are two different subscription boxes: A $10.00 (Yum) box with 6 or more snacks and a $20.00 (Yum Yum) box with 13 or more snacks.  I was sent the Yum Yum box for review.
The Details:
Cost: $10.00/month for the Yum box, $20.00/month for the Yum Yum box.  You can also choose a subscription of 1-6 months.  Subscriptions automatically renew.
Shipping:  Universal Yums ships to the contiguous 48 states, but they are working on expanding.
Whats in the box?  Yum Box sends 6+ snacks.  Yum Yum Box sends 13 + snacks
A mix of flavors: salty, sweet, spicy, fruity, and more – some that you may have never tasted.
Only authentic snacks made by a company based in the featured country.
When am I charged? If you purchased a gift or a seasonal product, the transaction is processed immediately. For subscriptions, you will be billed on the first of each month, regardless of when you signed up. When does the box ship? Boxes arrive between the 15th and 20th of the month. Website: http://www.universalyums.com/
This is their first box, the December Box, which will start shipping in Dec.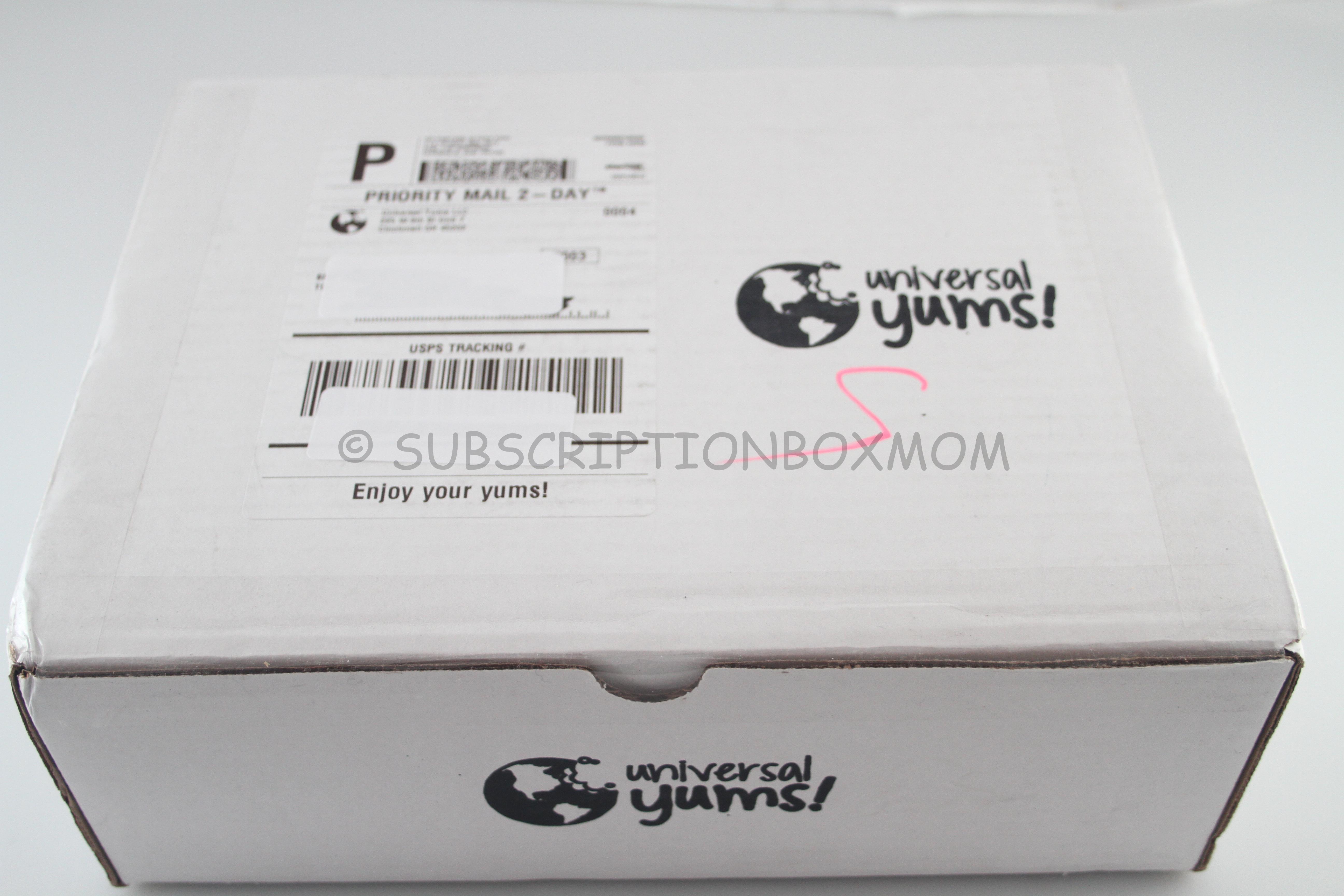 Universal Yums shipping by priority mail and was delivered by USPS.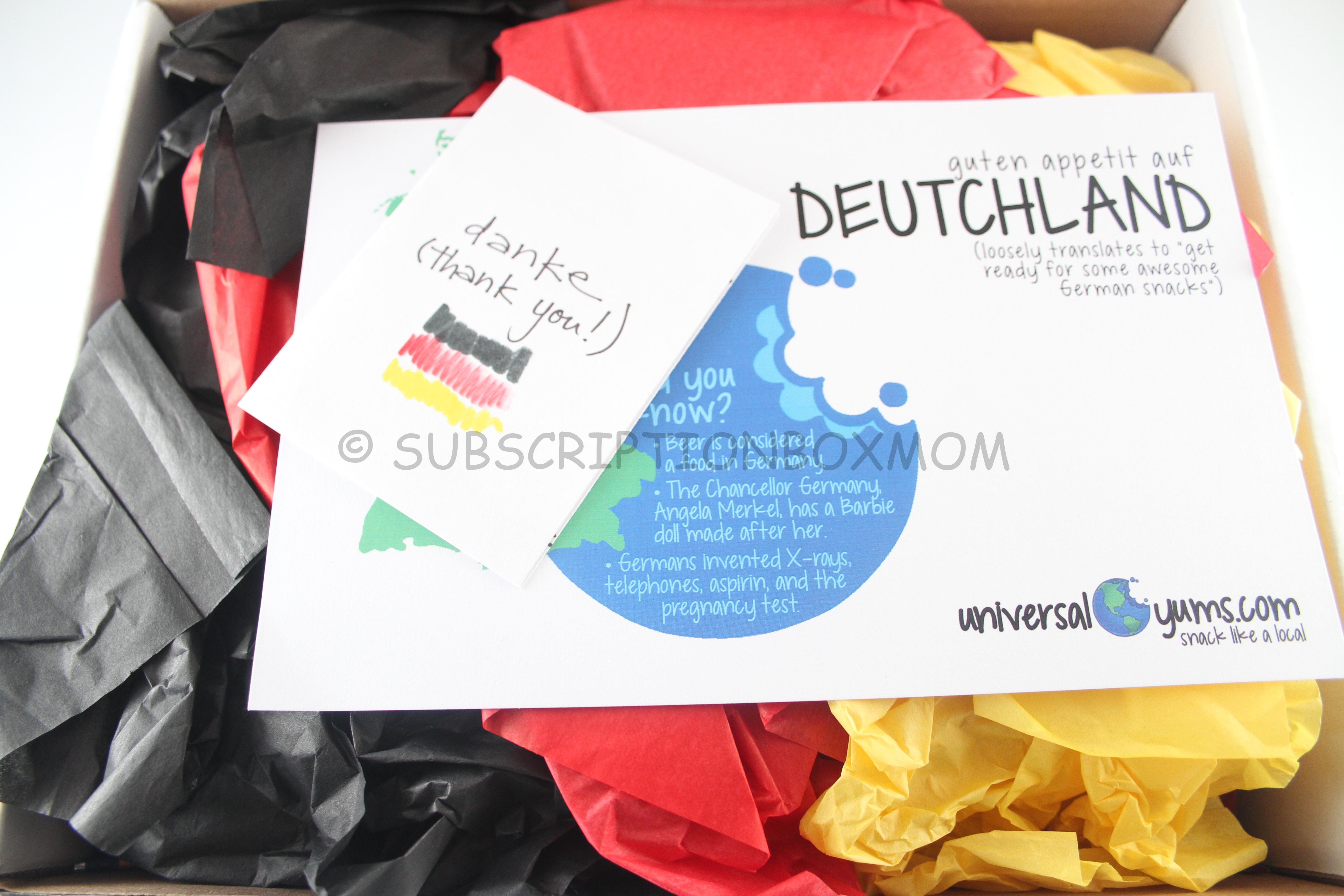 First Look:  The first thing I noticed was the brightly colored tissue paper.  They arranged the tissue paper to look like the German flag.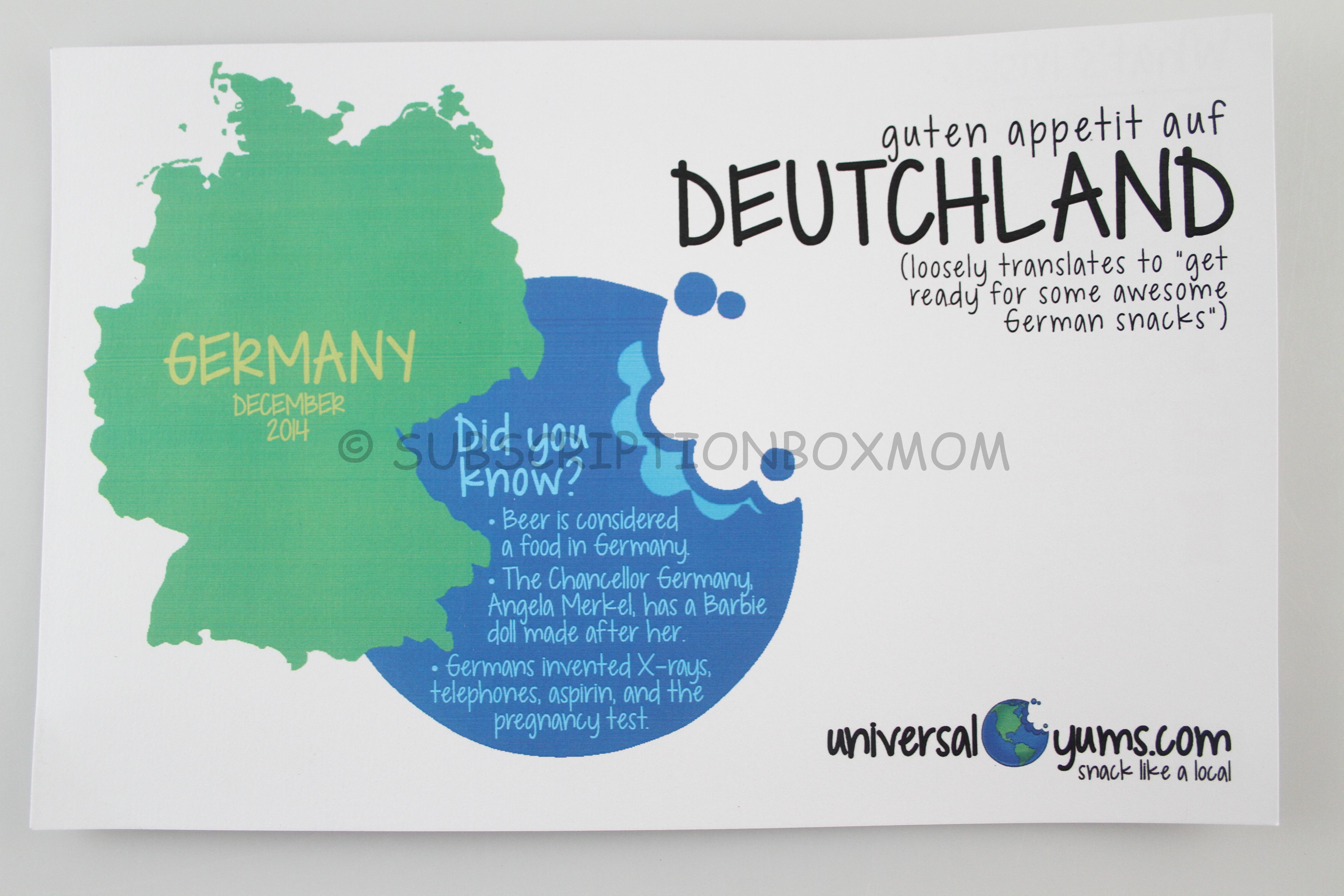 The information card had a phrase in German and it's translation.  There were also faqs about Germany on the information card.  Did you know the Germans invented the pregnancy test?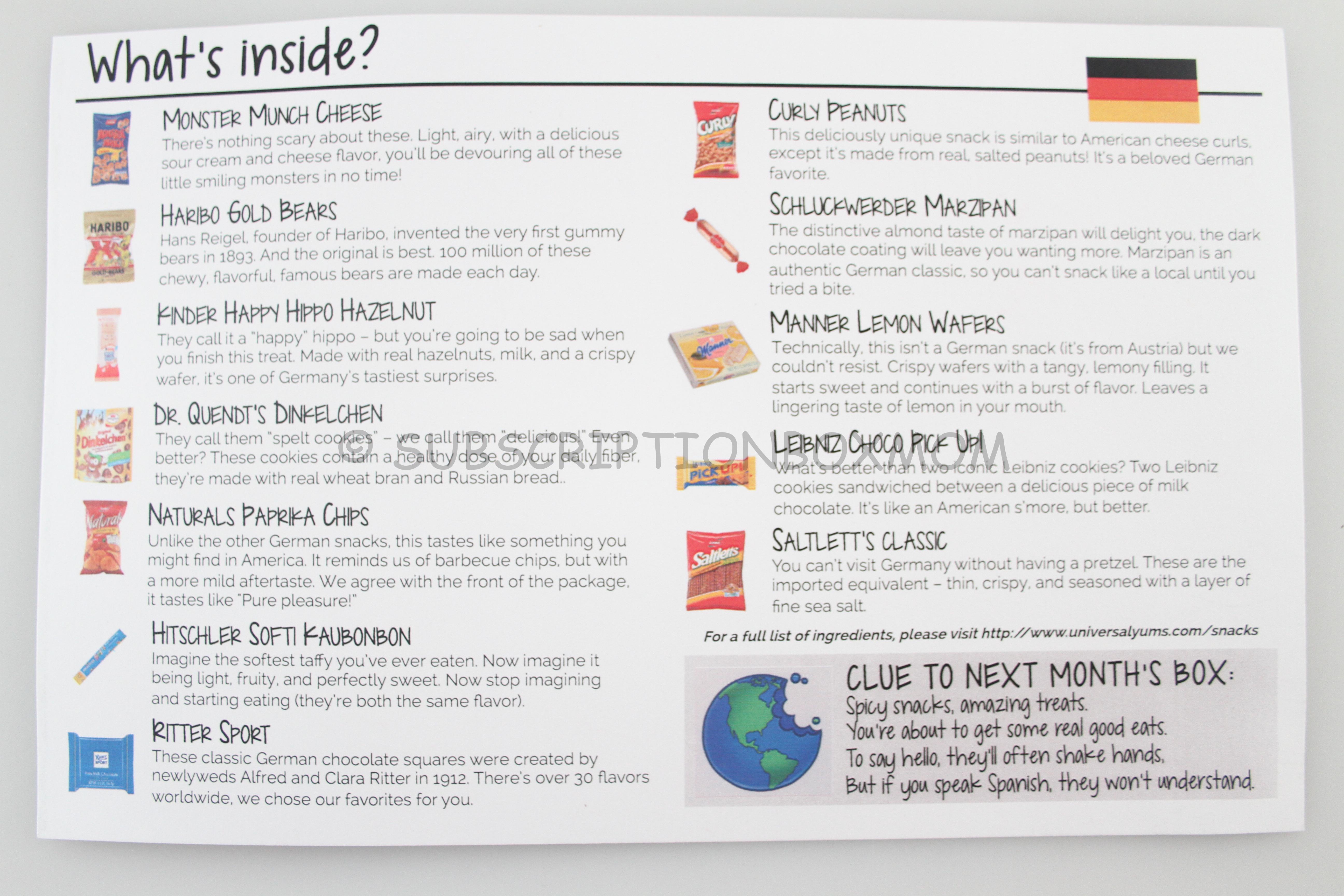 The back of the information card has all the snacks in the box with a picture and description.  This really stood out to me, as it can be hard to identify some international snacks, without a picture.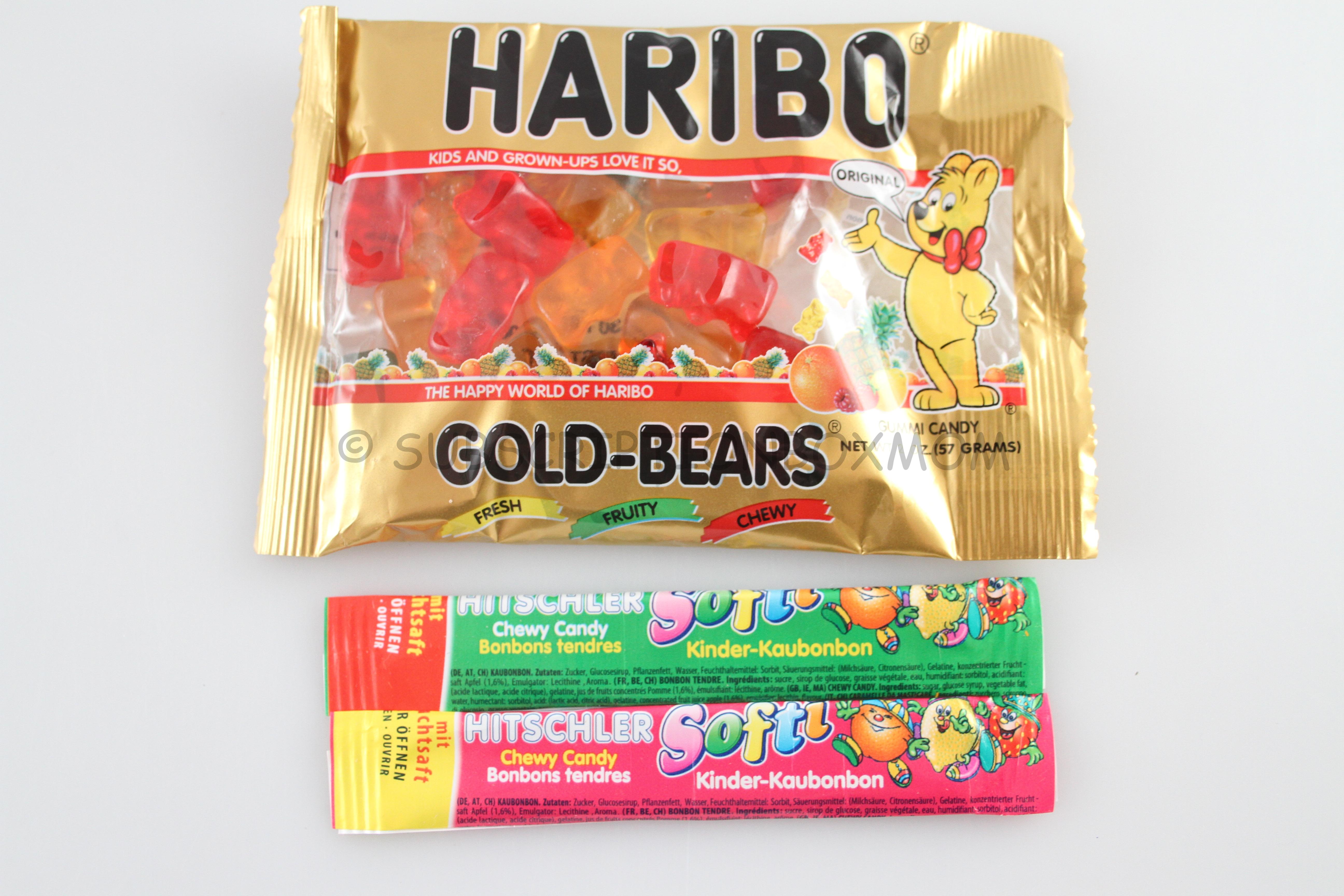 Haribo Gold Gummy Bears:  Oh my goodness this are good.  Granted you can find these in the USA, but they come from Germany and I was glad to see them.
Hitschler Softi Kaubonbob:  This is really soft, sweet, taffy.  I tried the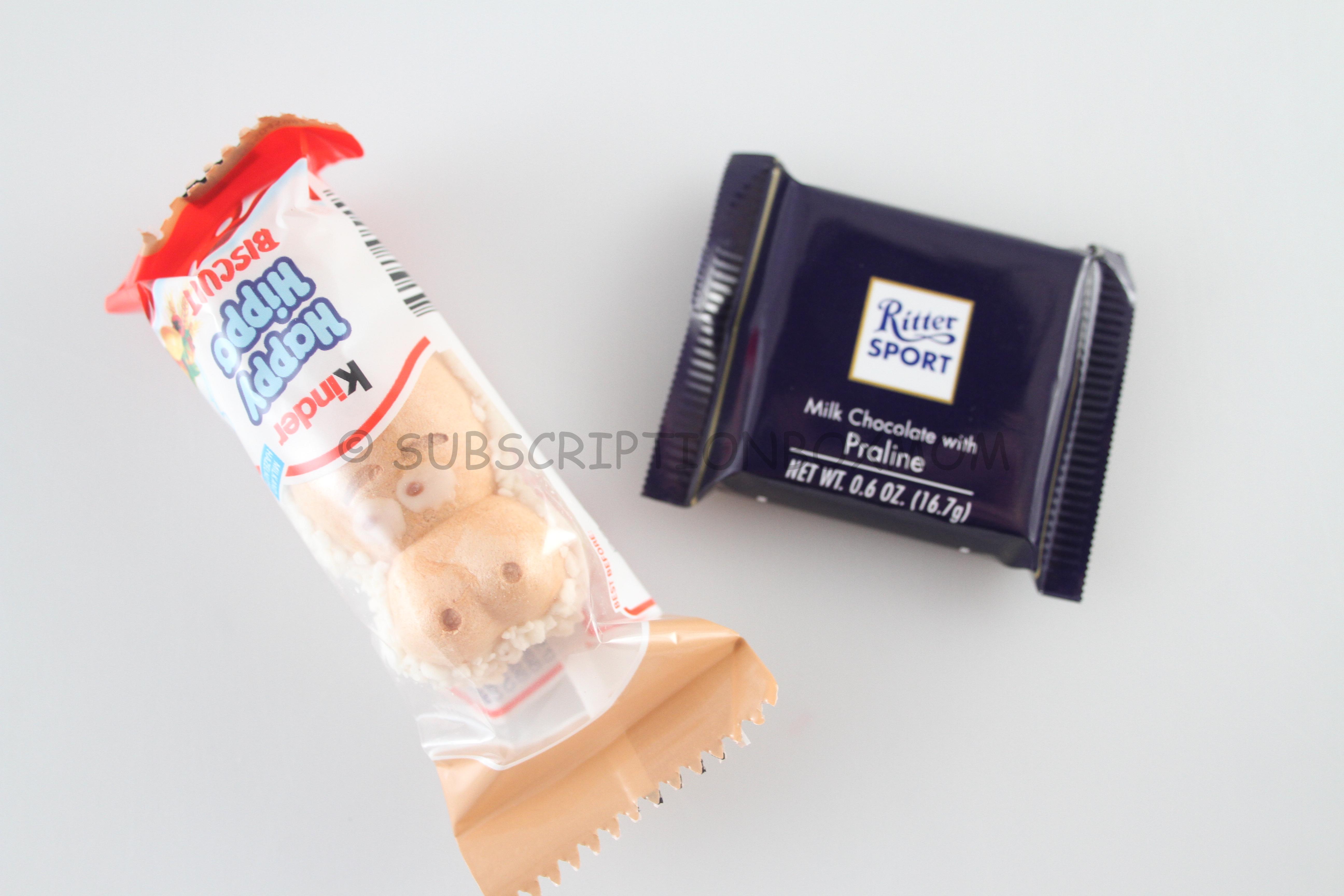 Kinder Happy Hippo Hazelnut: I know Kinder, because they make that really cool Kinder Eggs with surprises in them.  These hippos are made with real hazelnuts, milk and a crispy wafer.  This little hippo is so cute, I hate to eat him.
Ritter Sport: This is a milk chocolate with praline.  They were created by Alfred and Clara Ritter in 1912.  This sounds really tasty and I can't wait to try it.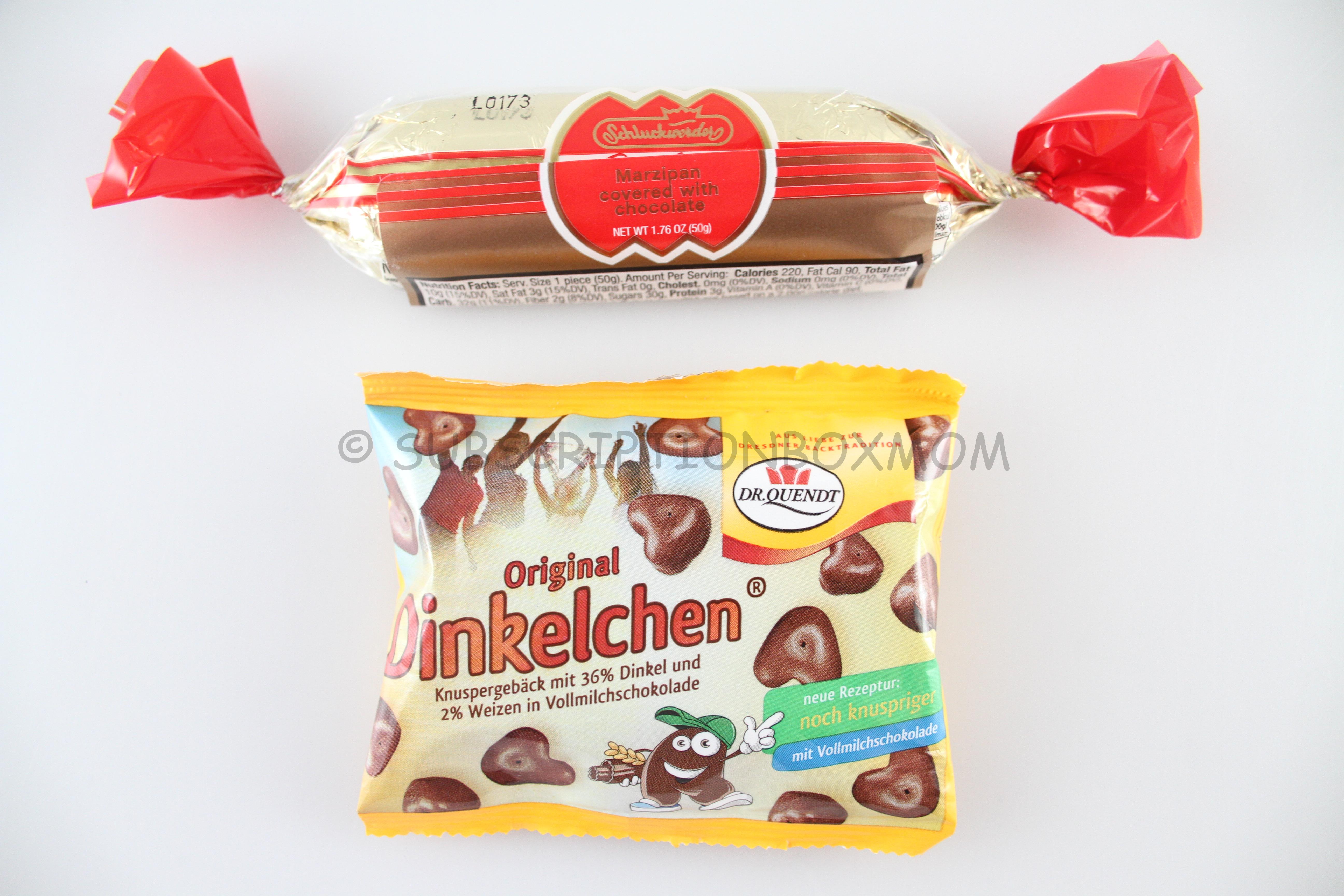 Schluckwerder Marzipan: This is chocolate covered Marzipan.  I have tried something like this before, and it was really tasty!
Dr. Quendt's Dinkelchen: These contain your daily dose of fiber!  These are chocolate covered crunchy bites.  They didn't taste "healthy" at all, and they were really good.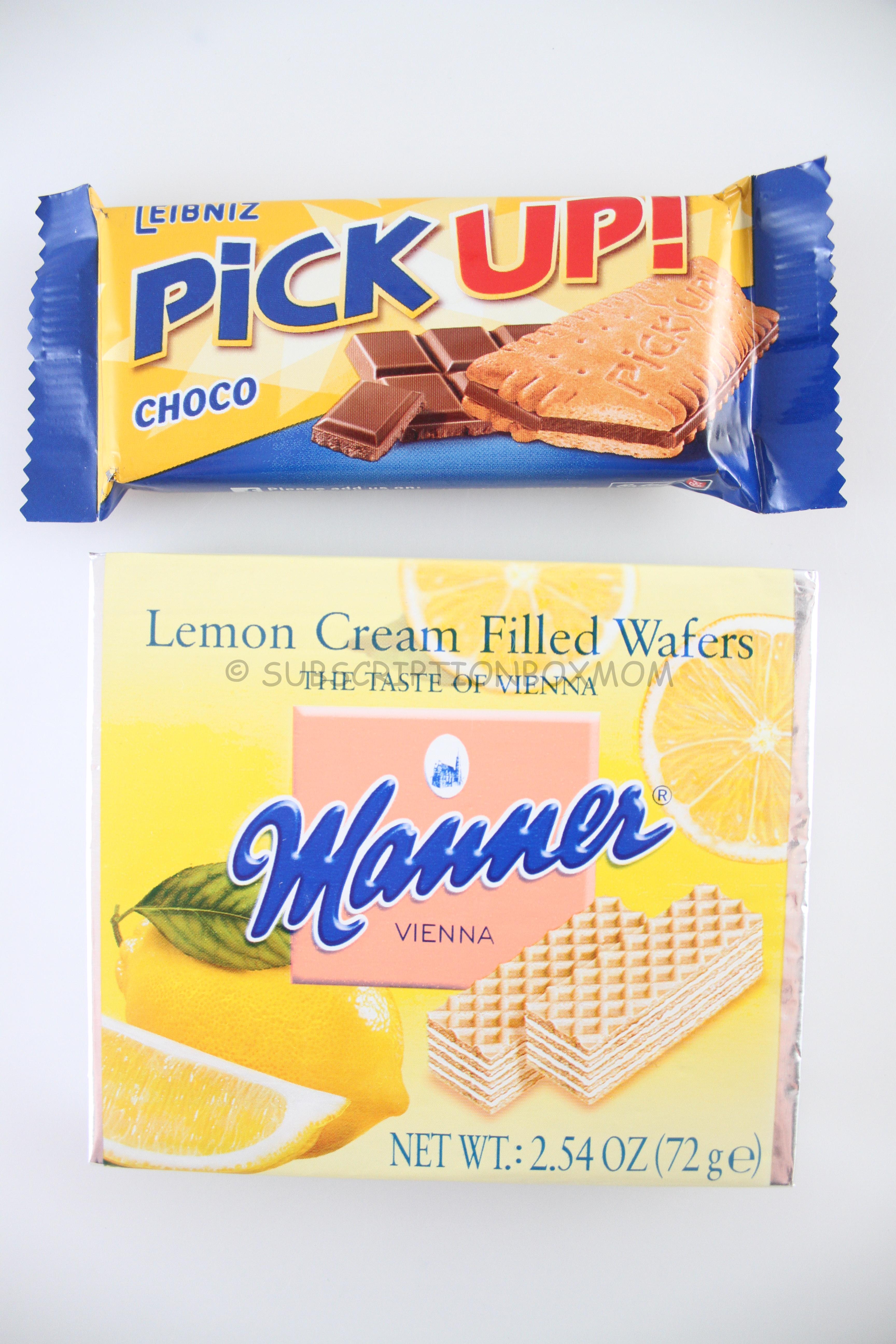 Leibniz Choco Pick Up:  These are described as tasting like an American s'more.  I didn't tell my husband and had him taste it.  C said it tasted like a s'more without the marshmallow.  I agree and think they taste wonderful.
Manner Lemon Waffers: These snacks are from Austria, but Universal Yums wanted them included.  These are lemon filled cream wafers.  YUMMY!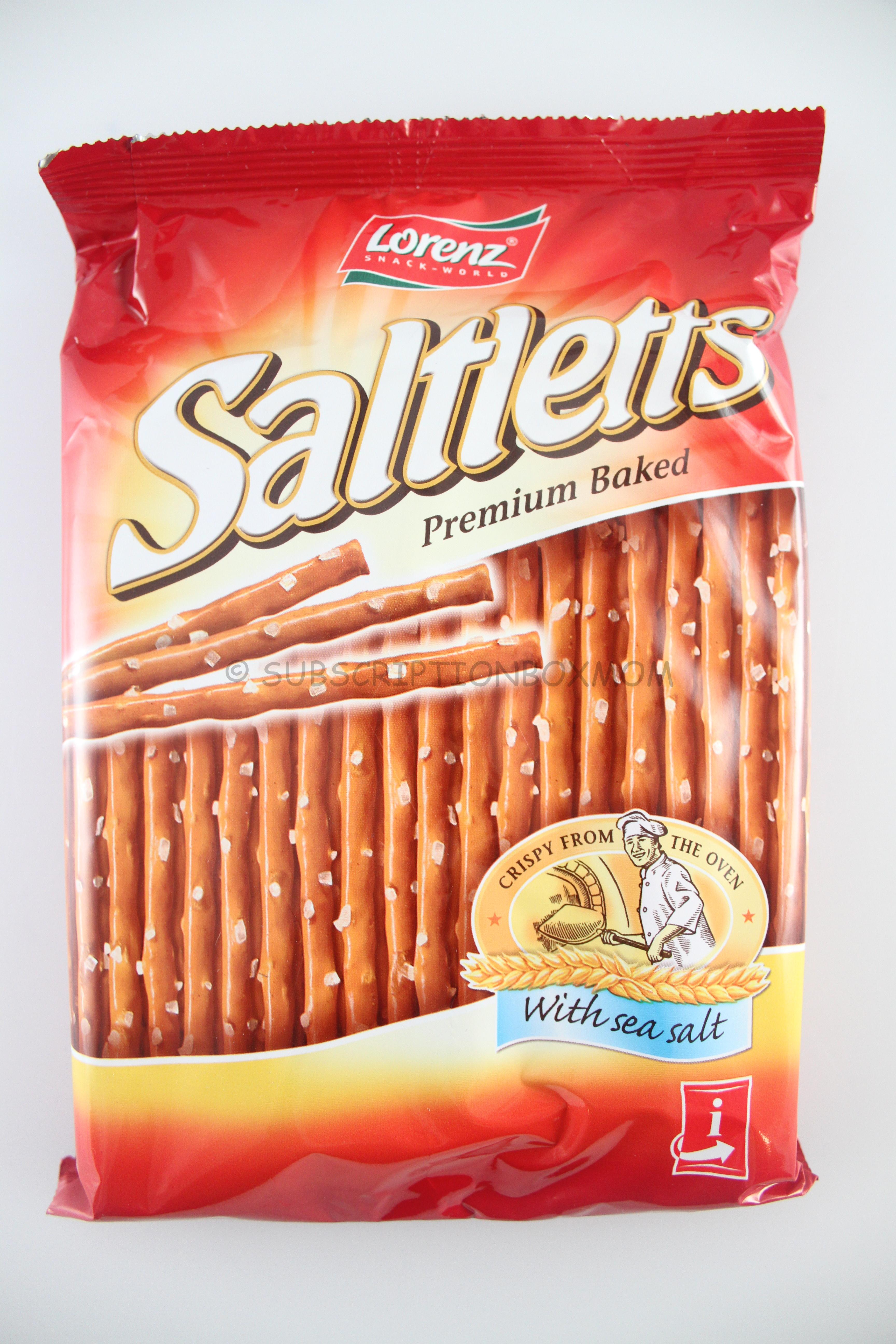 Saltett's Classic:  I have never been a big pretzel fan.  I usually will eat a couple, if they are around, but that's about it.  These pretzel sticks are a whole other story.  These are very light, crispy and have just enough salt.  My husband also loves these and keep snatching the bag.  The bag is pretty big, so there is enough to share.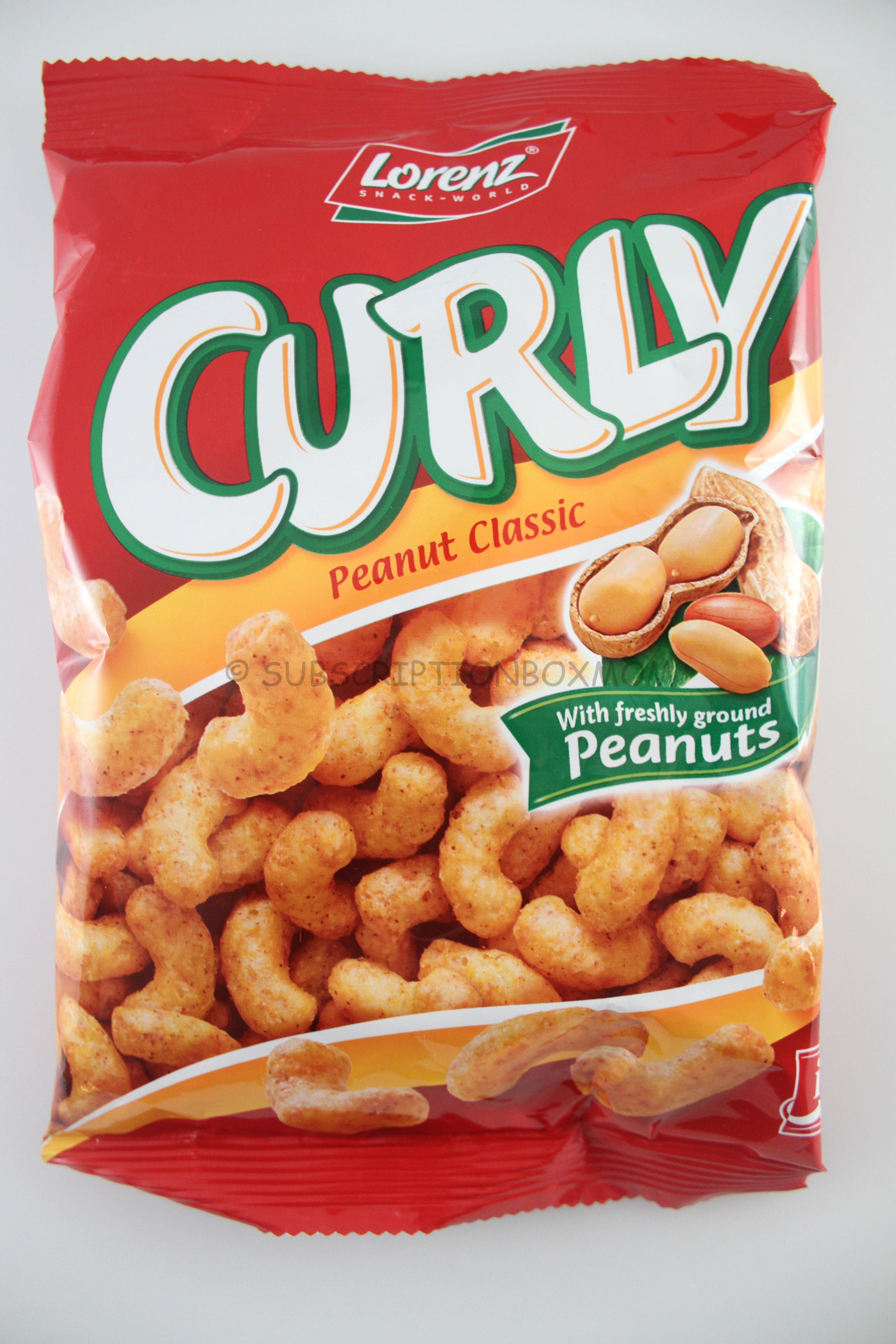 Curly Peanuts:  These are like cheese curls, only made with real, salted peanuts.  Because my oldest is allergic to peanuts, we don't keep peanuts in the house.  i enjoyed a few and C is taking them to work to enjoy.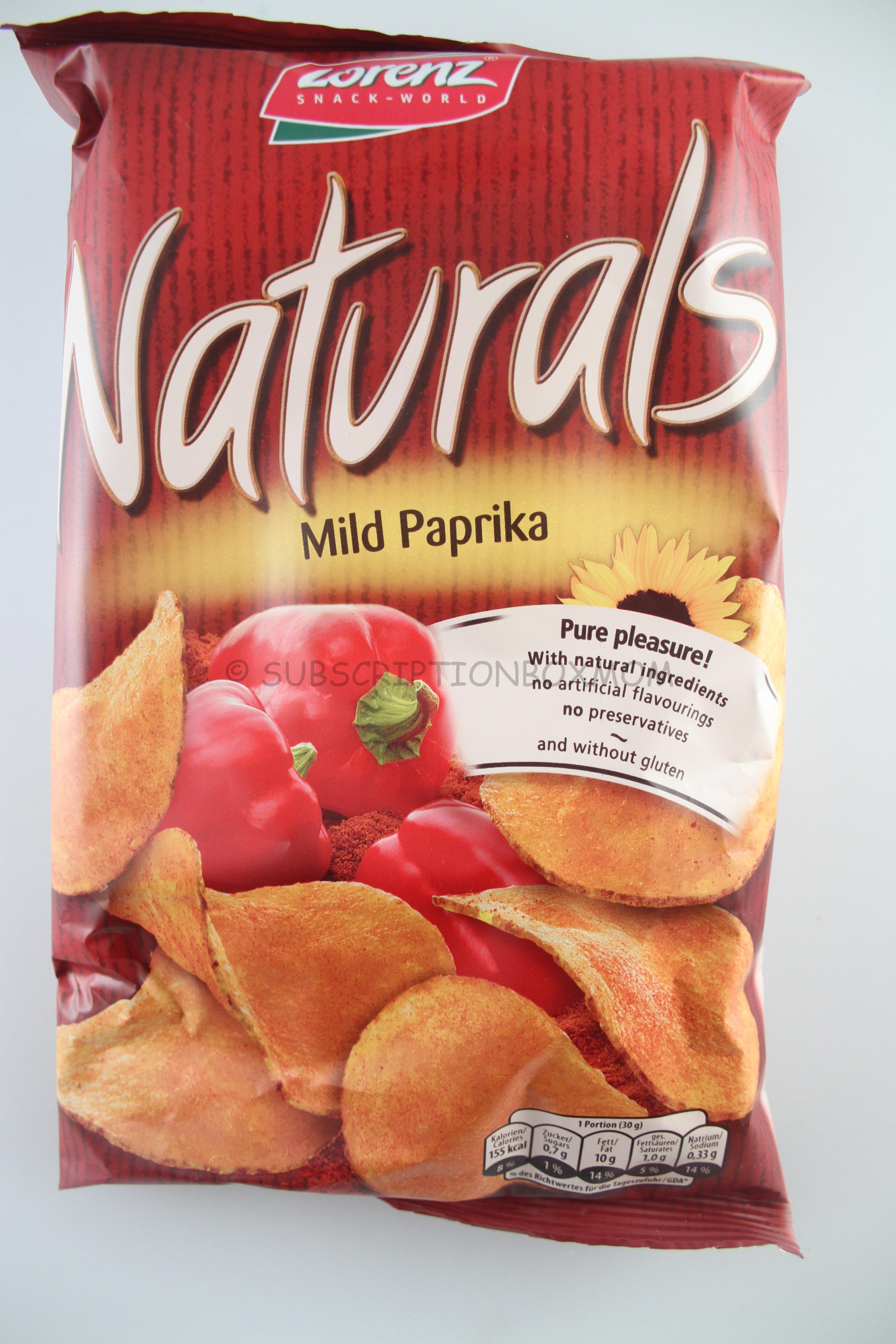 Naturals Paprika Chips:  I agree with Universal Yums that these taste like BBQ chips with a mild after taste.  I am eating these for lunch tomorrow.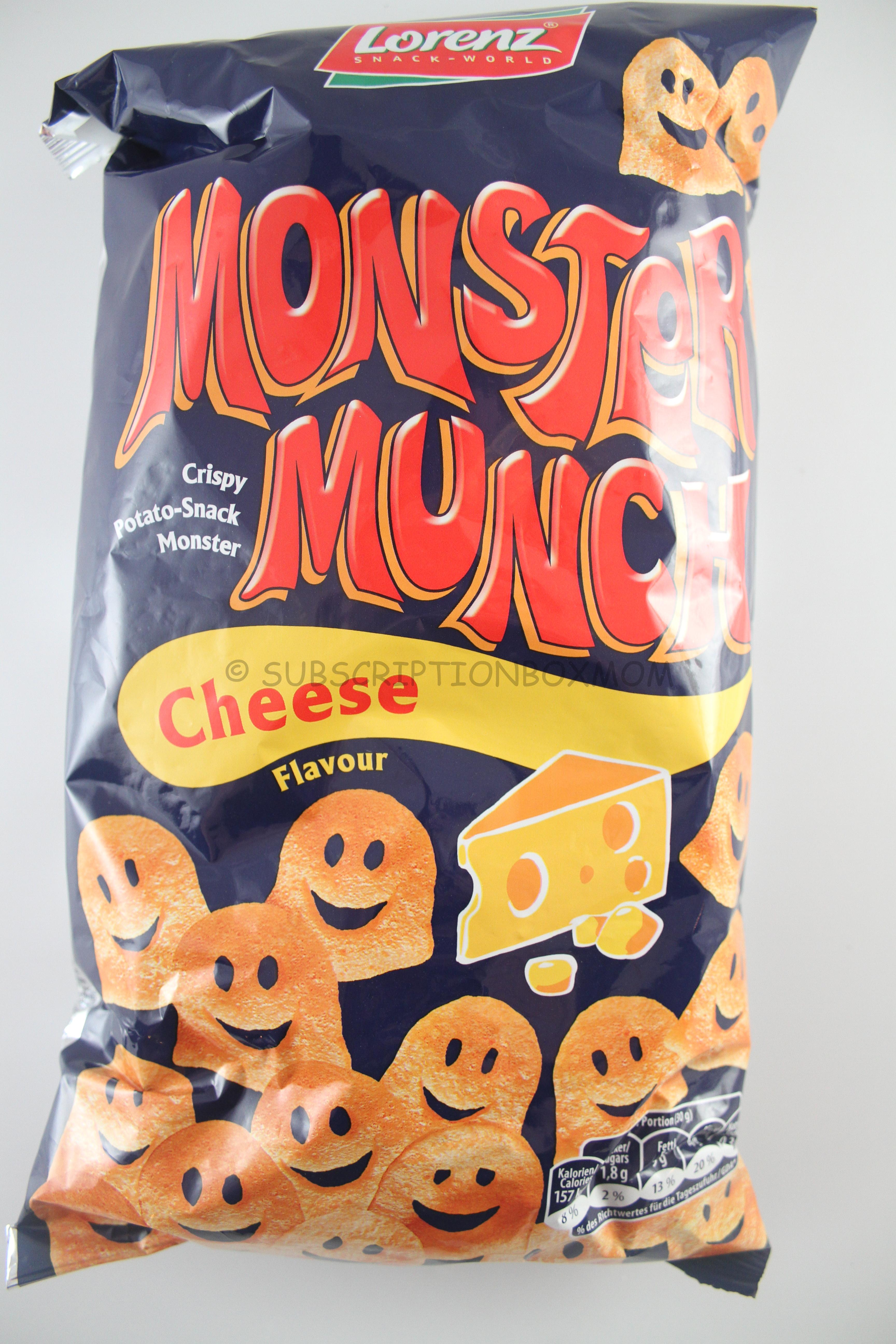 Monster Munch: I saved the best for last.  These are light, airy and cheesy.  They taste similar to Munchos, but cheesy.   I couldn't find a link to these, which makes me sad, because they will be gone tomorrow.  These are cute little ghost with smiley faces.  What more could you ask in a snack.  I really loved these and I need to find a way to get more.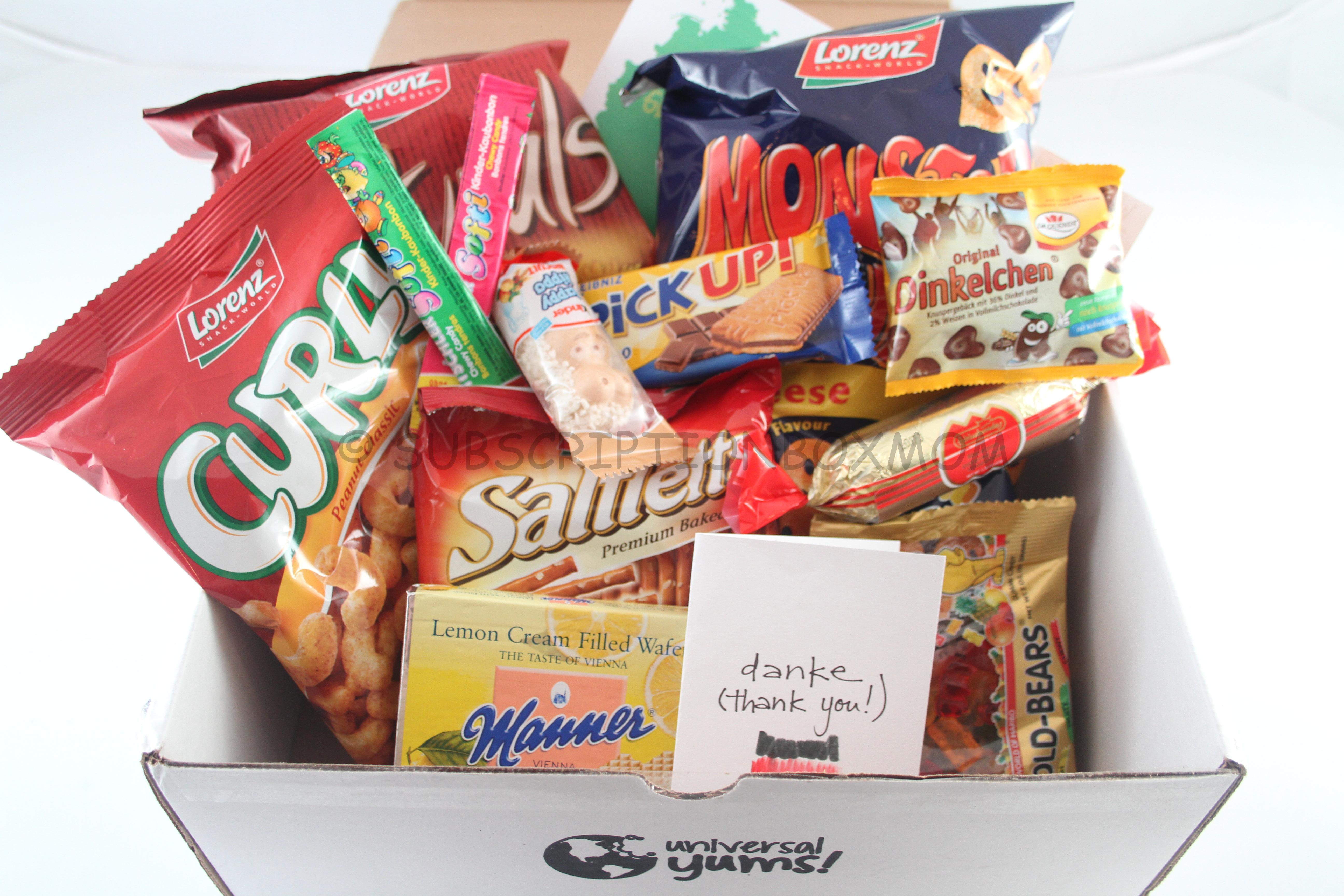 Final Thought:  This was the first box for Universal Yums, and they nailed it!  I didn't do a cost breakdown, as many of the products are from German websites.  All the snacks I have tried so far, have been wonderful.  I am not usually this impressed with food boxes, but Universal Yums has is all; cute packing, well thought out themes, and great tasting snacks.  If you are looking for a snack box, consider Universal Yums! HERE.  Universal Yums is also going to give one of my subscribers a box!  Just enter below.
Universal Yums Giveaway on Subscription Box Mom
Do you like FREE SUBSCRIPTION BOXES?  Click HERE to see my free subscription box list.
Do you love Giveaways?  Click HERE to enter all my Giveaways.