October 2, 2014
10/02/14

By Subscription Box Mom

2 Comments
2
SporkPack September 2014 Review + Coupon
Disclosure: This post contains affiliate links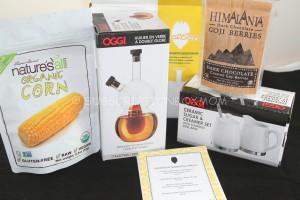 SporkPack is a new subscription box for foodies and kitchen gadget lovers.  SporkPack is $22.34/mo plus s/h and every month, you receive a Kitchen Gadget and/or Cooking Essential, plus a number of hand selected Delectable Treats.  Every month has over a $40.00 value!  SporkPack says if you like wandering the aisles of Sur La Table, Williams Sonoma, or Crate and Barrel, SporkPack is for you.  You are able to review your unboxing on instagram or video and one person will win a high end piece of equipment (starting aug 2014).  
From SporkPack "We scour the world and the inter-webs for new kitchen gadgets, unique cooking essentials, and rare delectable treats. Each month, SporkPack handpicks 6-8 new items to include in your pack, which are kept secret until your packages are delivered! SporkPack strives to bring you something new and exciting with every package. Our motto is that each month's unboxing should be like Christmas morning for our subscribers. The thought behind every product we select is that it should bring awe and wonderment to you, our subscribers. We're also an online community of food lovers, food bloggers, and the just plain epicurious. We put out new recipes, how-to videos, and reviews regularly. Connect with professional chefs and insatiable eaters to share your thoughts, recipes, and reviews. "
To Subscribe, click HERE to access subscriptions.  When you find your subscription you want, use the code NEWFRIENDS to save 20% ($4.47 on 1 month plan).  Note, the coupon will not work on the 3 month plan, because that is already deeply discounted. I was excited to try the
The Details:
Cost: $22.34/mo. $50.61/3 months, $119.04/6 months
Coupon:  Click HERE to access subscriptions.  When you find your subscription you want, use the code NEWFRIENDS to save 20%.
Shipping: $6,00/month
What's in the box? Each package contains between 6-8 items retailing at $40+. Every month you will receive a Kitchen Gadget and/or a Cooking Essential, plus a number of unique and Delectable Treats destined to become your new favorites. Even better, once you've gobble down those treats, you can come back to this site and stock up on more from our store.
Website: www.sporkpack.com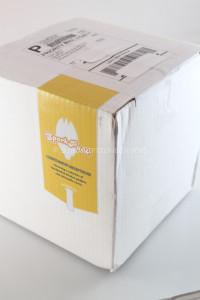 SporkPack came in a large box this month.  I was really excited to see what was inside.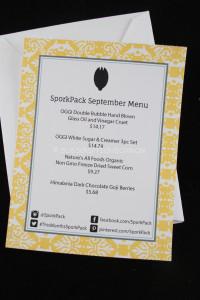 SporkPack included an information card with all the items and their retail value listed.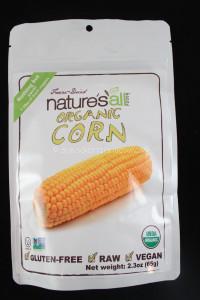 Nature's All Foods Organic Non Gmo Freeze Dried Sweet Corn, $9.27  I was shocked at the price of this, but this is what it sells for on Amazon.  This is a $9.00 bag of dried corn!  This is a tasty treat, but I would never pay $9.27 for this.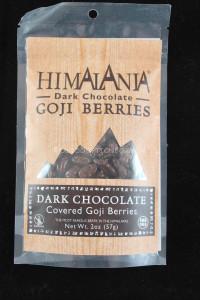 Himalania Dark Chocolate Goji Berries $5.68 My husband will like these I think.  He likes all kinds of chocolate covered fruits.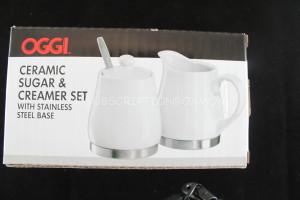 Oggi White Sugar & Creamer Set  $14.79:  We actually needed a sugar bowl, so this will come in handy.  I am not sure what we  will do with the creamer container, probably save it for company.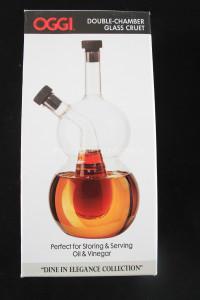 Oggi Double Bubble Hand Blown Glass Oil and Vinegar Cruet, Clear
 $14.17  I had to do a double take when I saw this, because I thought it was something else.  This hold vinegar and oil together in the same container, but they are in separate areas.  This is very unique looking, but I already have oil and vinegar containers I like.  This will be gifted or traded.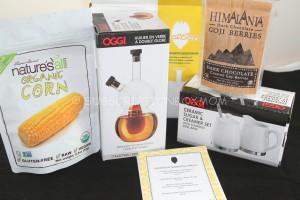 Final Thought: This box had a total value of $43.91.  I was happy that this box had the promised value.  Despite the promised value, I didn't really enjoy this box.  I will use the sugar bowl and my husband will eat the chocolate covered berries, but I won't use the cruet.  The corn is tasty but I think it is overpriced.  If you want to try SporkPack, click HERE to access subscriptions.  When you find your subscription you want, use the code NEWFRIENDS to save 20%.
Do you like FREE SUBSCRIPTION BOXES?  Click HERE to see my free subscription box list.
Do you love giveaways?  Click HERE and see all my current giveaways.
  Disclosure: This post contains affiliate links.