October 31, 2014
10/31/14

By Subscription Box Mom

0 Comments
0
October 2014 Popsugar Must Have Box Review
Disclosure: This post contains referral links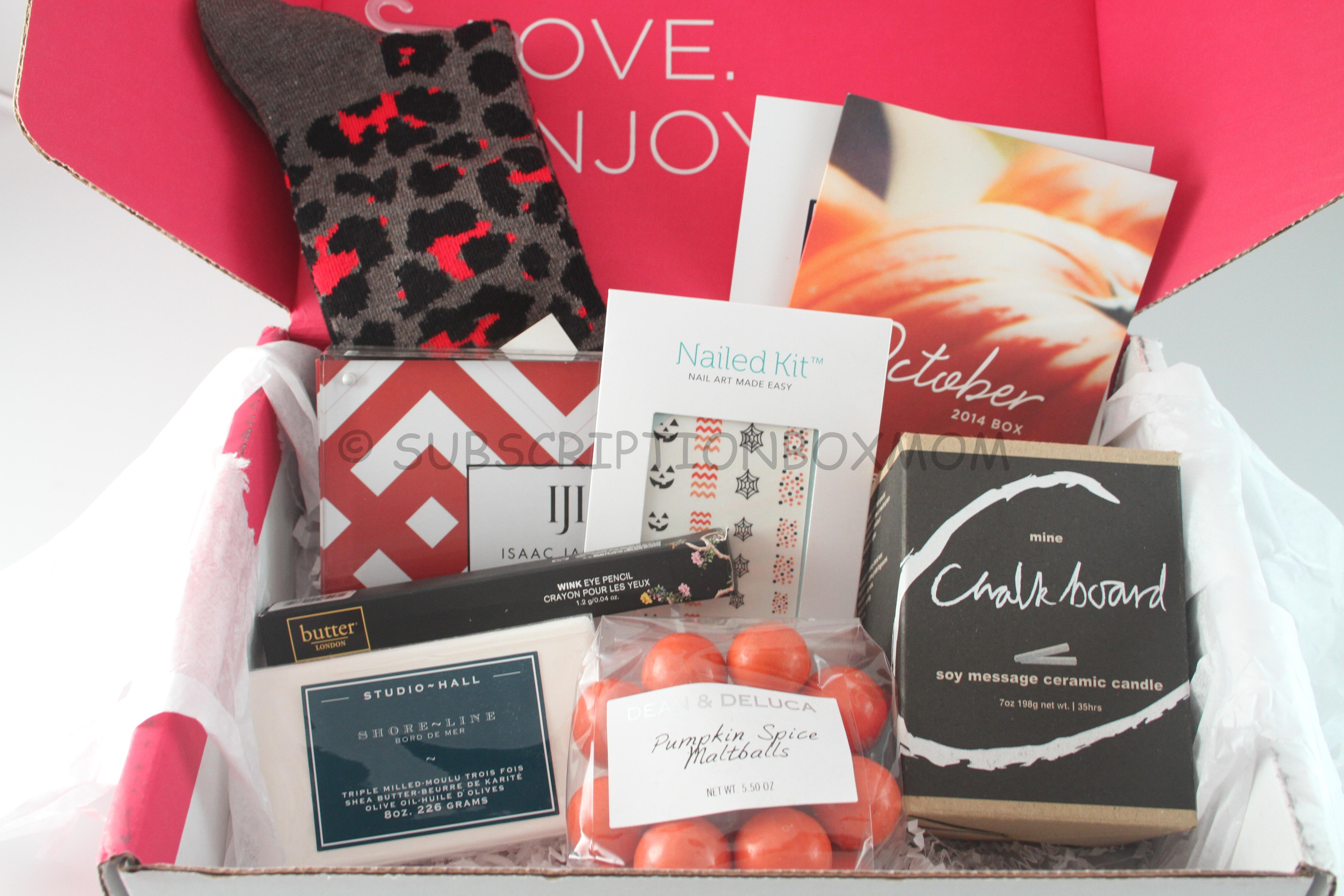 I have been subscribed to Popsugar for a long time and it is one of my favorite boxes.  They recently rolled out a new website and with that came problems.  Many people received their boxes late this month, including me.  I am still pouting a bit, that my box didn't come till Oct 30, but I will move on.
The Details
Cost: Month to Month $39.95
3 Months: $109.85
6 Months: $214.70
12 Months: $429.40
Coupon:  Get $15.00 off when you click HERE and using the code SEPT15  
Shipping: Popsugar only ships to the United States
What's in the box? Every month, Lisa Sugar and her editorial staff will curate an exciting monthly box full of fun, must-have picks across fashion, beauty, home decor, fitness, and more, which we will deliver to your door. The monthly box targets women ages 18-40 and features full-size products and premium items including tried-and-true classics, celebrity favorites, and brands consumers have yet to discover. Your monthly subscription box will include products worth over $100. (Please note: The $100 value is based on the manufacturer's estimated MSRP at the time products are acquired by POPSUGAR. All prices are subject to change without notice.)
When do I get my box? Your POPSUGAR Must Have box will ship by the 15th of the month, orthe following business day if the projected shipment date is a holiday, or as otherwise indicated in your account. Your account settings will initially display that your box is "processing" after you are billed. When your box ships out, the "processing" message on your account settings will update to reflect your tracking information.
When am I billed? You will be billed for your first month immediately upon placing your order for a monthly subscription. Please note that if your monthly subscription begins in a later month, you will still be billed at the time you place your first order. After the first month has completed, you will be billed when your next shipment is being processed (expected to occur in the beginning of each month, or as otherwise indicated in your account).
How do I cancel? In order to cancel your subscription, simply go to your Account Page, and under the "Subscriptions" tab, click "Manage Billing." On the "Billing" pop-up, please scroll to the bottom where you will find the text "You can cancel your subscription here." Please click the highlighted "here." You will be prompted to confirm whether or not you want to cancel. Please note, clicking "Cancel" will disable the auto-renewal feature on your account but will not affect your current order. For example, if you have a 3-month subscription, you will still receive all three boxes but no additional boxes. Also, any referral bonus boxes as noted on your account settings page will be placed on hold after you cancel your account, as you need to have an active subscription in order to receive any of your referral bonus boxes.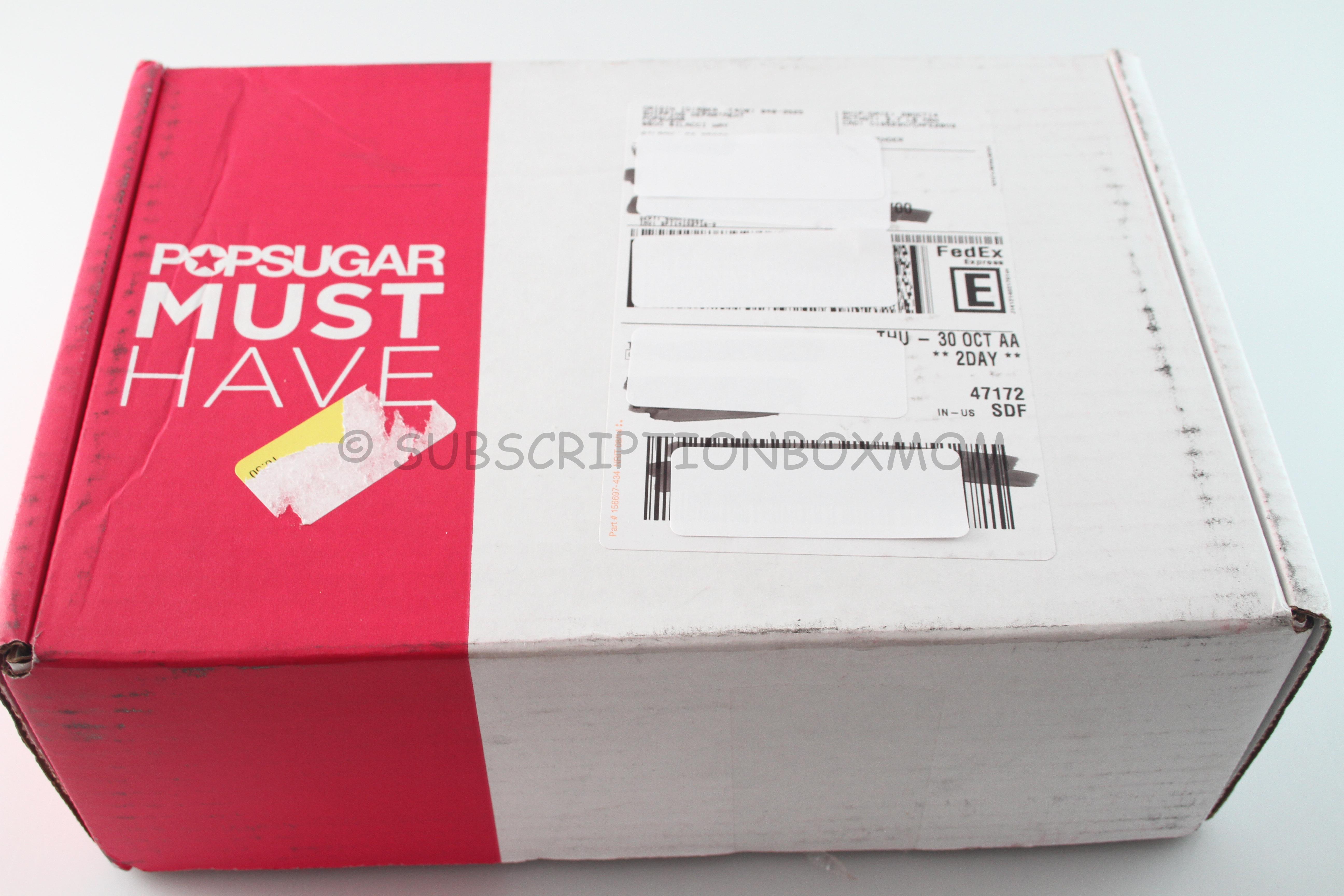 My box came by FedEX this month, which was appreciated, so I didn't have to wait as long for USPS.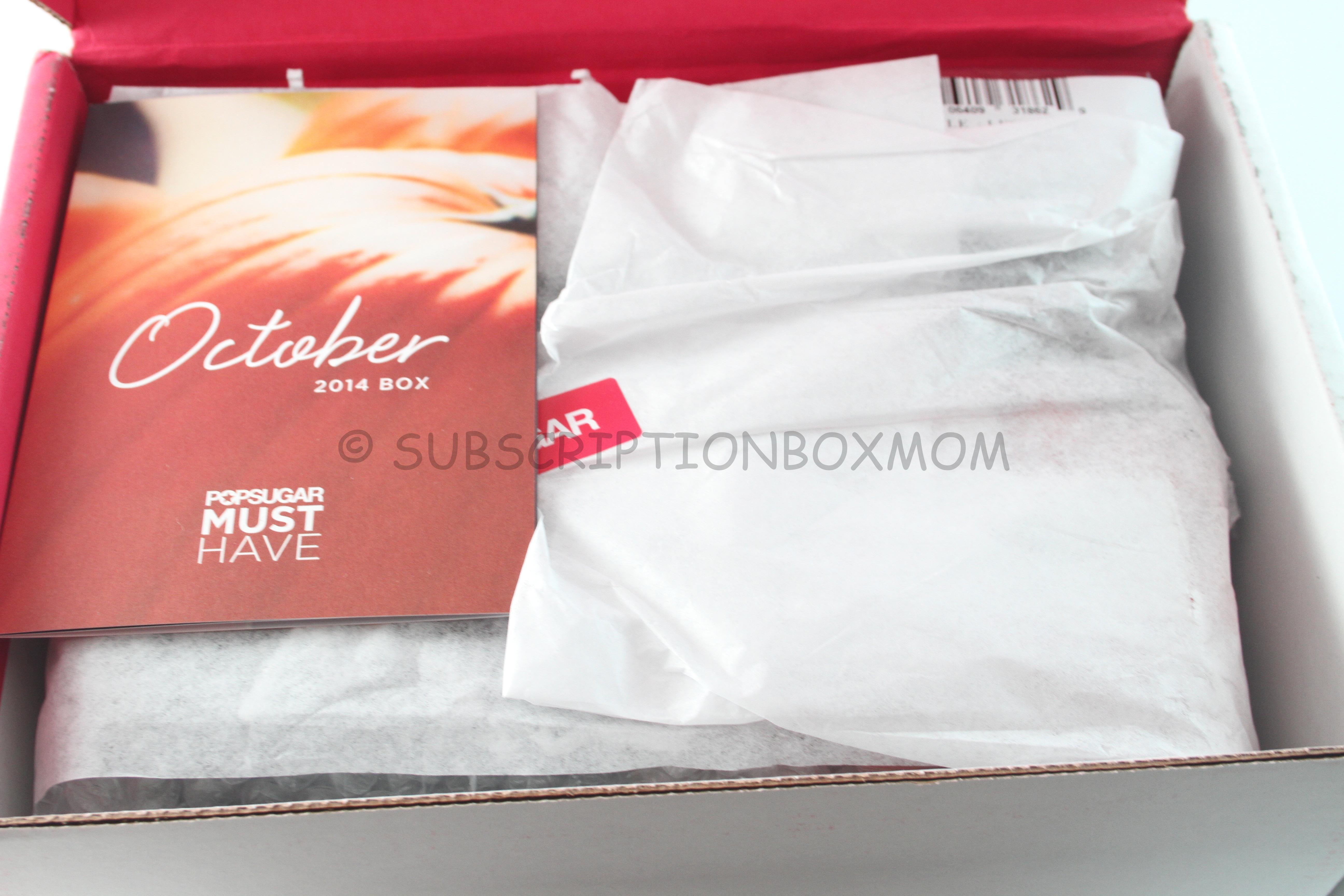 First Look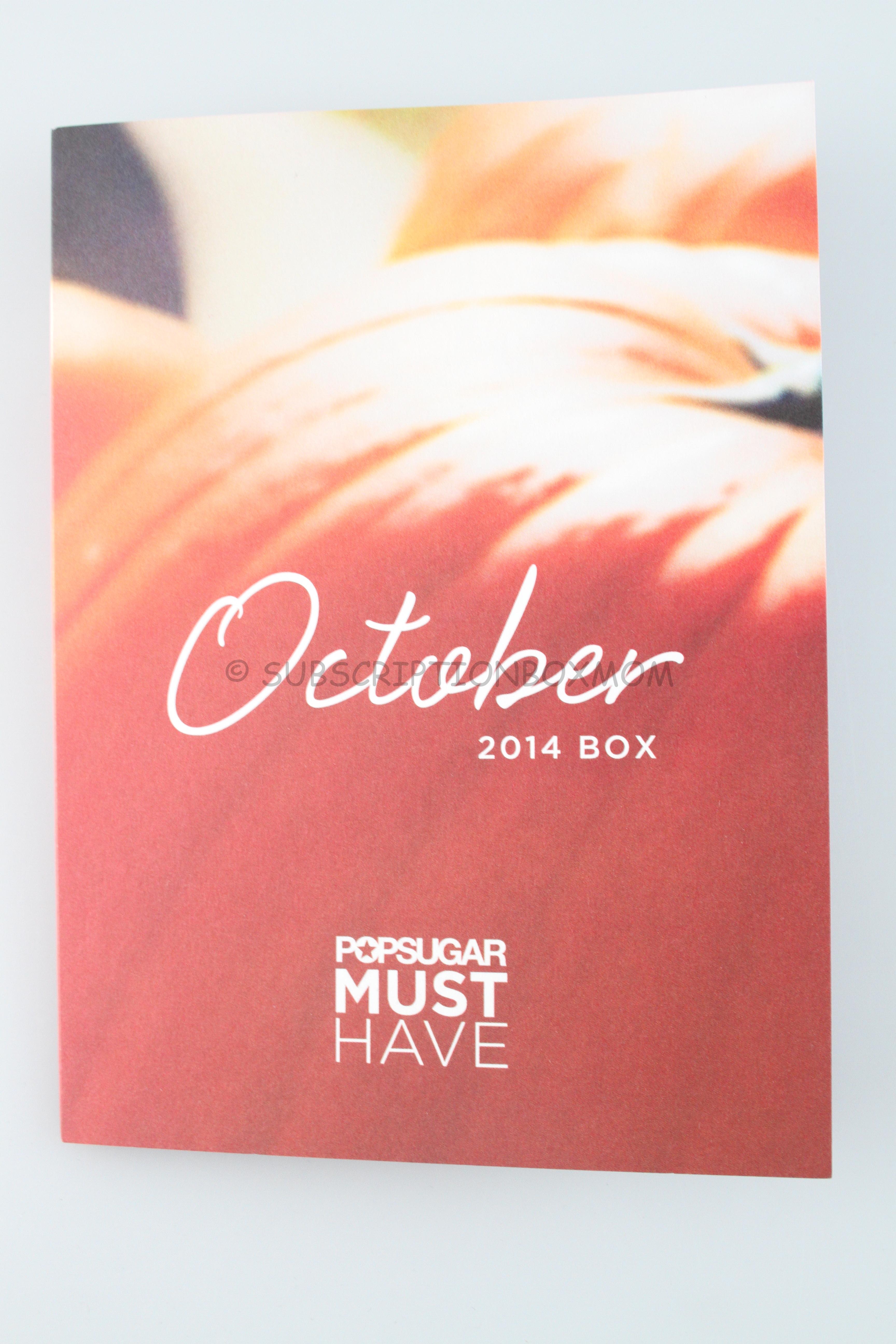 The information card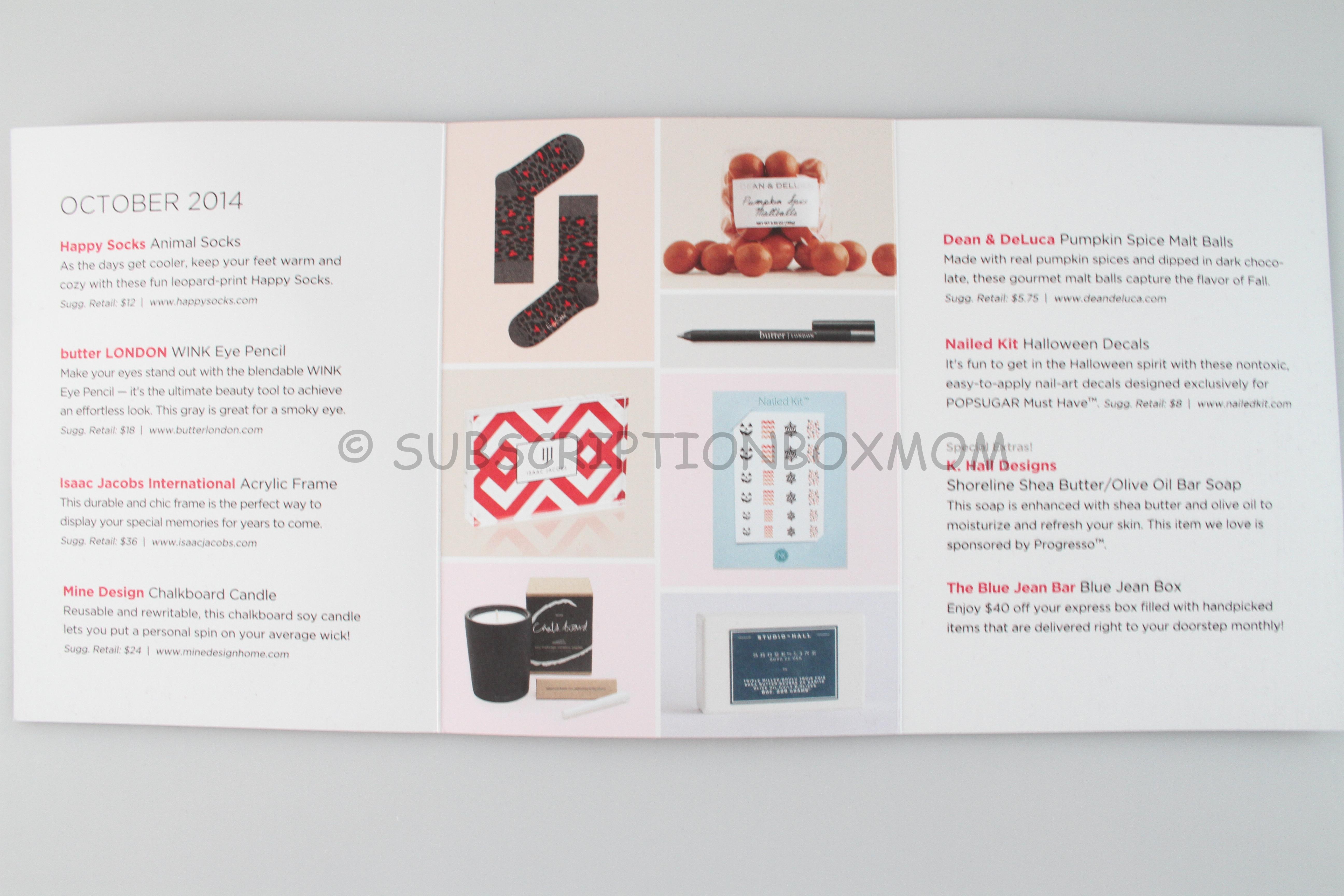 Popsugar includes a card with everything in the box.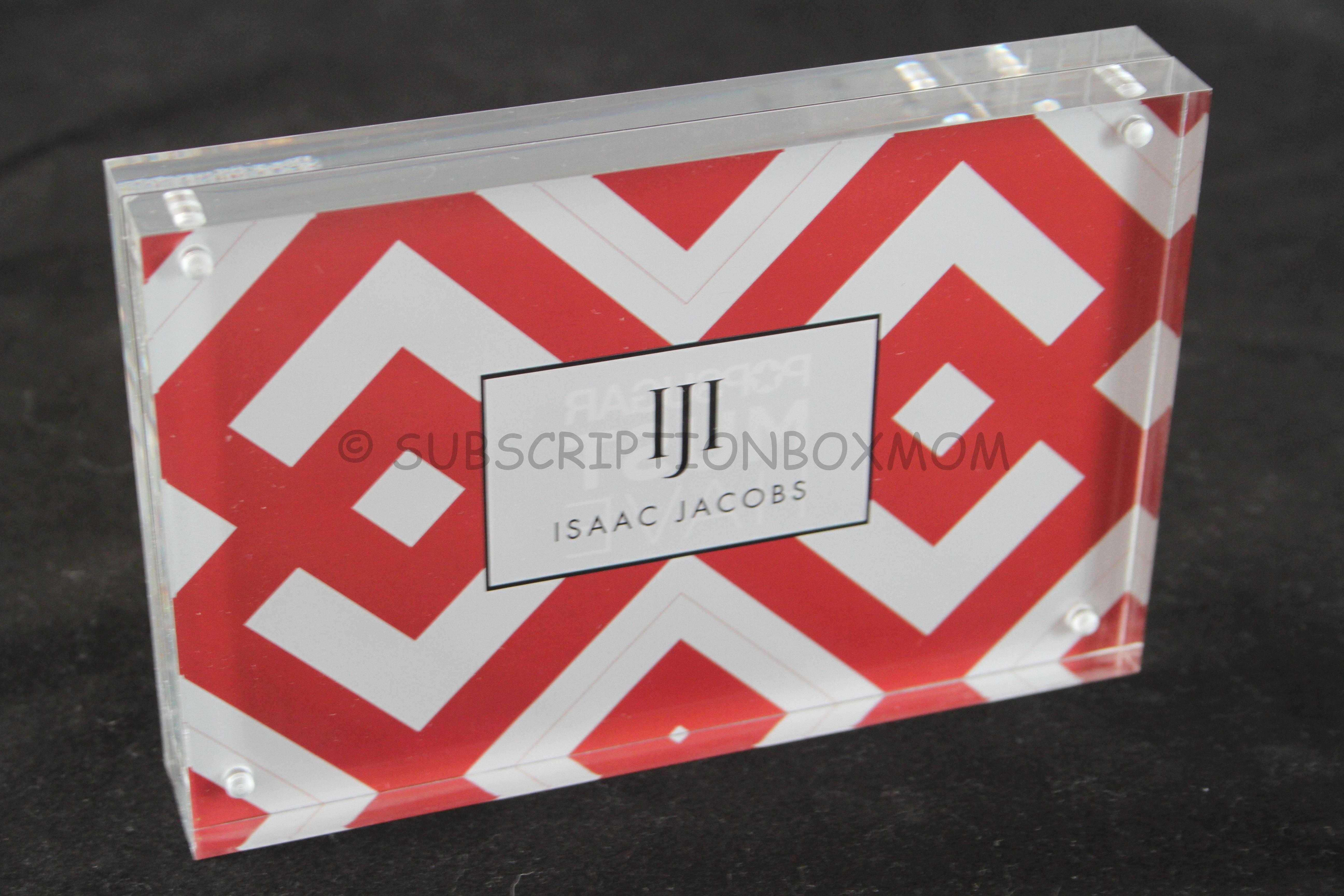 Issac Jacobs Acrylic Magnetic Picture Frame $36.00  I really love this.  I adore picture frames and I have about a trillion around my house.  My house serves as a giant photo album of my children.  What can I say, they are cute kids.  I took about 200 pictures in Disney, so I will place one in this frame.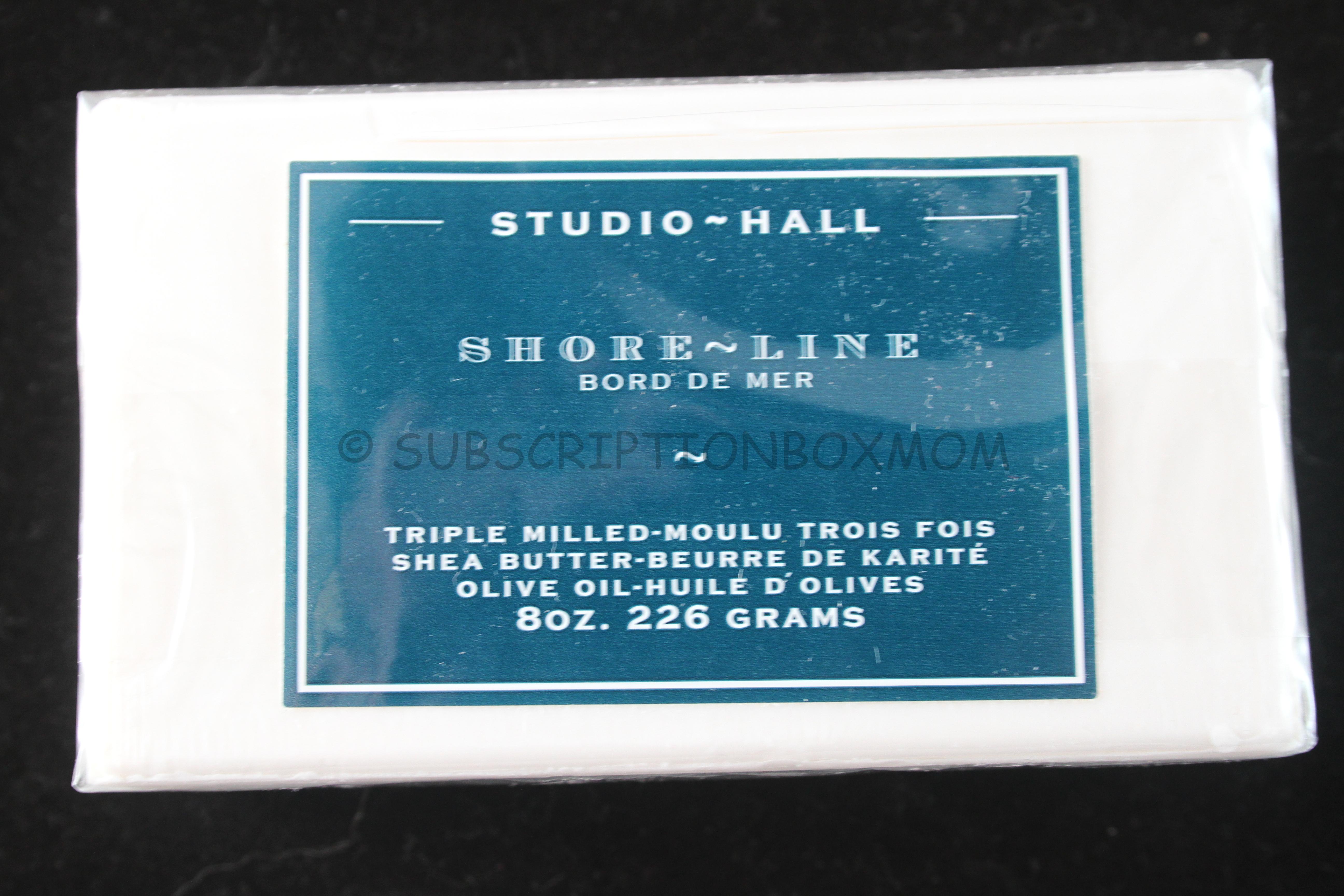 K.Hall Designs Soap $10.00 This is made with shea butter and olive oil.  This is a sponsored item by Progresso.  This doesn't wow me, but it sounds like a nice bar of soap.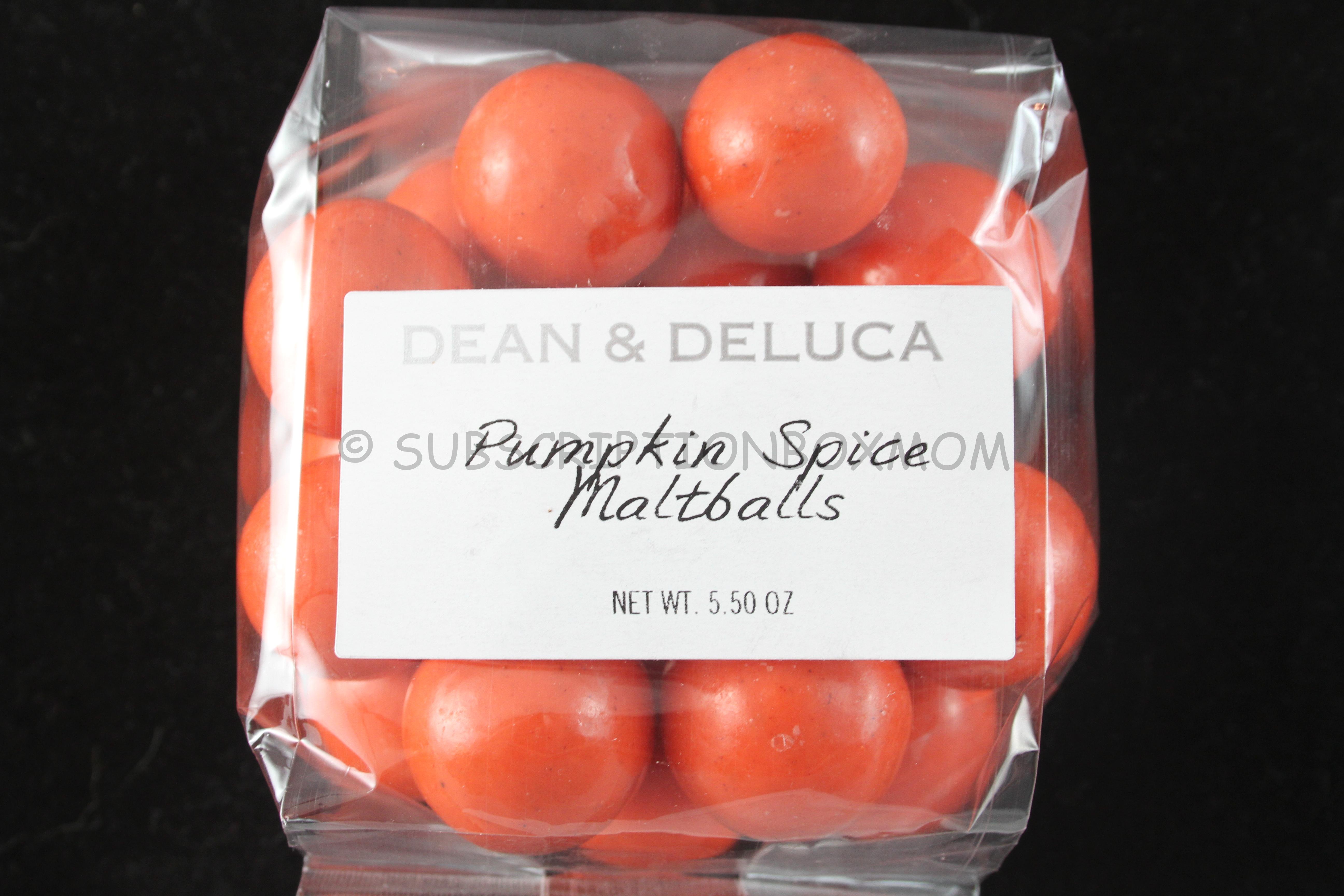 DEAN & DELUCA Pumpkin Spice Maltballs $5.50  This are malt balls that are made with pumpkin spices.  These didn't sound like my cup of tea, so I am selling them to someone who really loves them.  Win for both of us.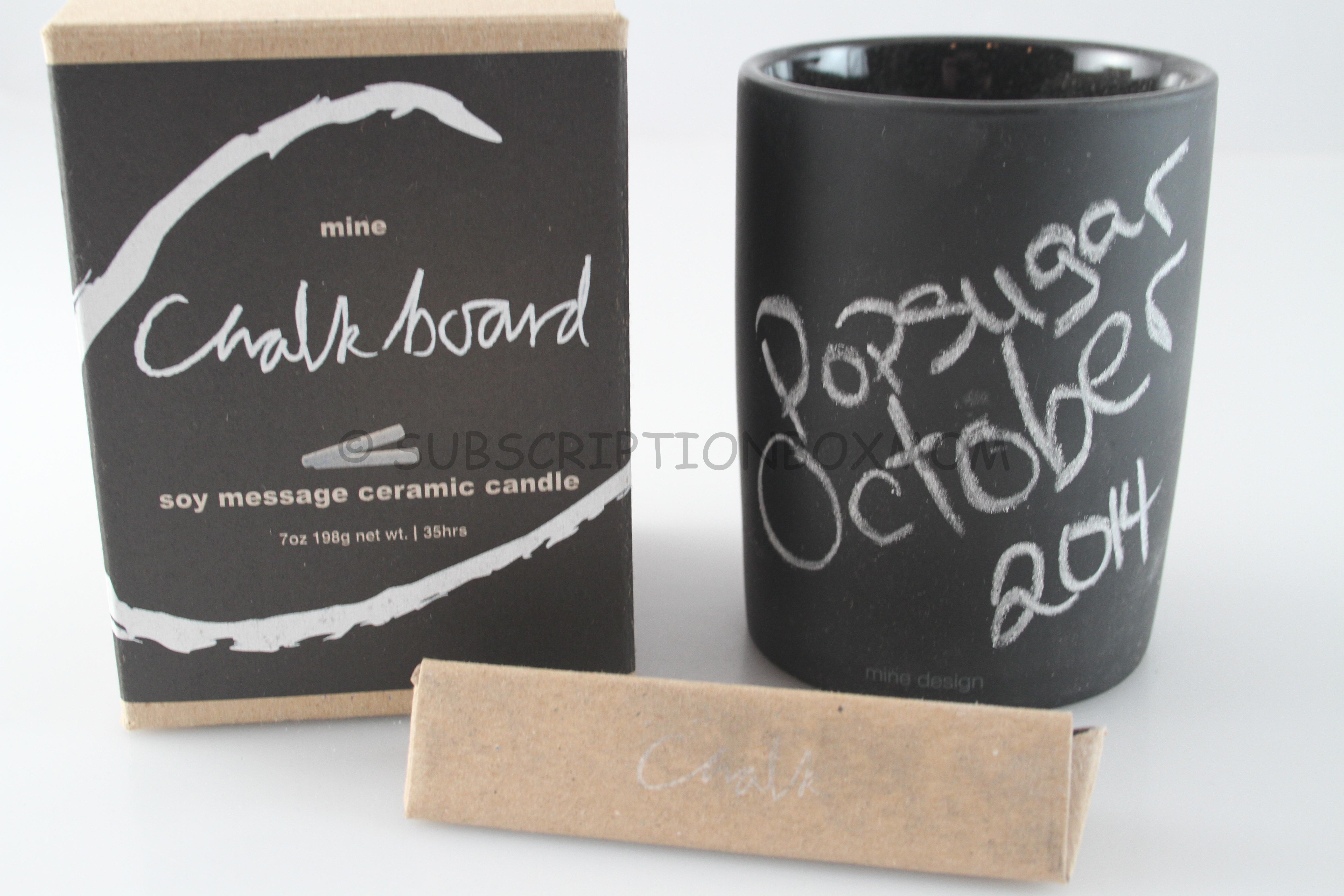 Mine's Design Chalkboard Candle $24.00 No, my 5 year old didn't write that, I did.  I hate my handwriting, so maybe I will let the kids draw silly pictures on this.  The candle smells amazing (floral scent) and is made with soy.  I love that you can write on it, even if my writing isn't great.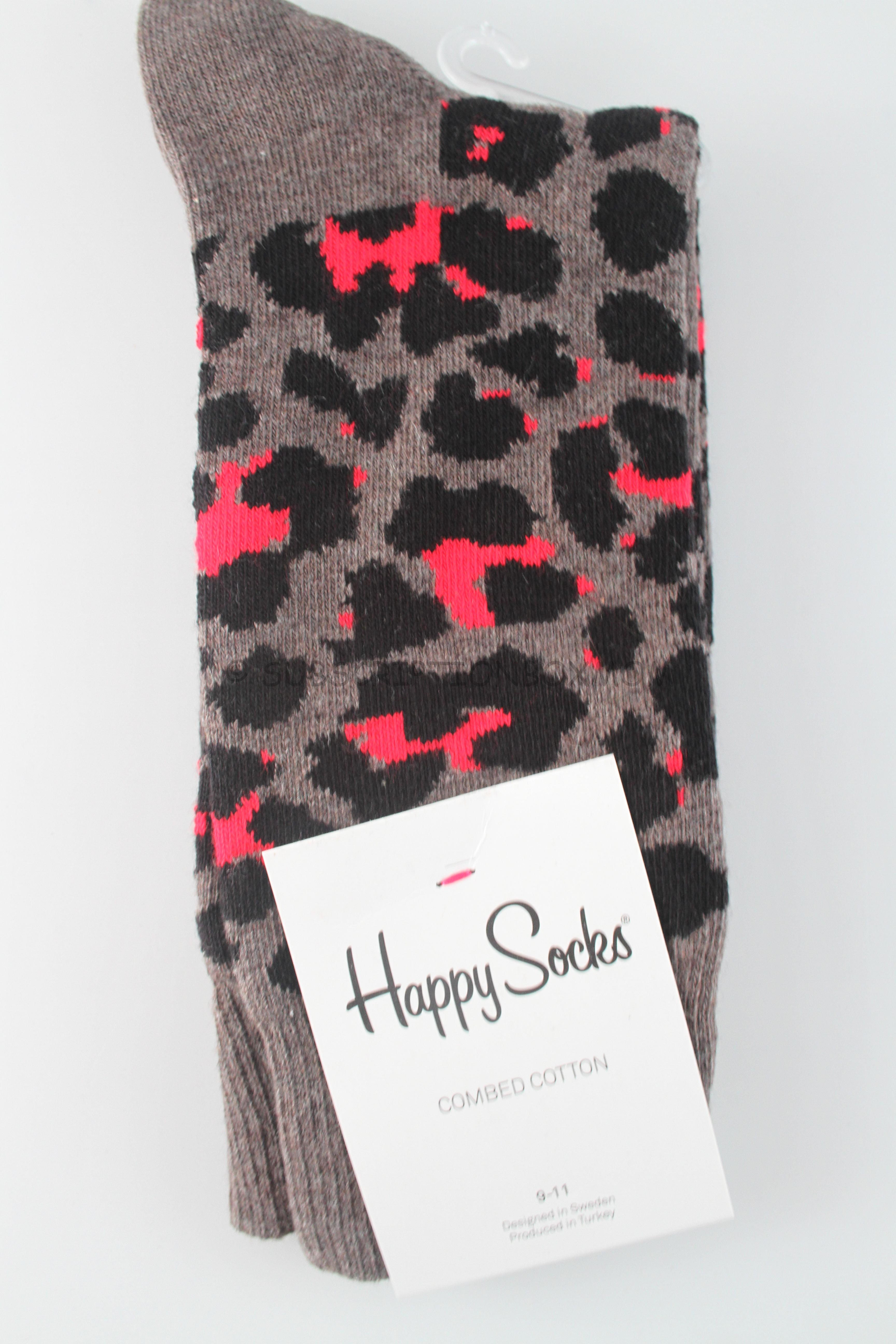 Happy Socks $8.40  These are pretty comfortable socks, but these don't wow me either.  I usually just wear short white socks (yes it's boring, but it makes matching socks easy).  This is my second pair of  "fancy" socks, and I will wear them, but maybe just around the house.  Do you have to match your fancy socks with your clothes?  What would I wear these with?  I think I need some fashion help.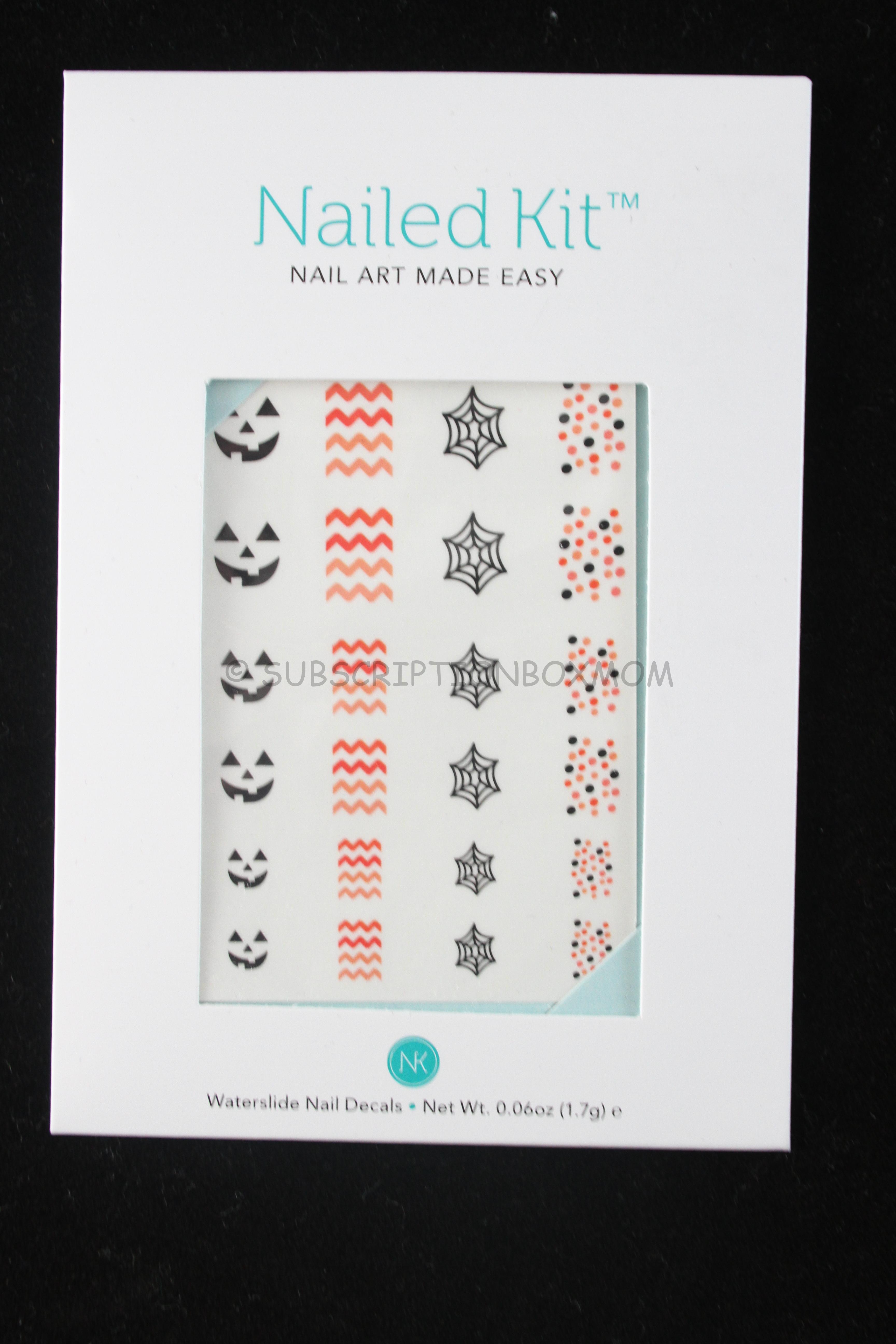 Halloween Nailed Kit $8.00  I really wanted these.  These go on your nails, for a fun Halloween look.  I had every intention of doing my nails tonight, but it's midnight on Halloween and I want to go to bed.  I am probably just going to save them for next year.  I wish Popsugar would have sent these in September, so we would have the whole month of October to use them.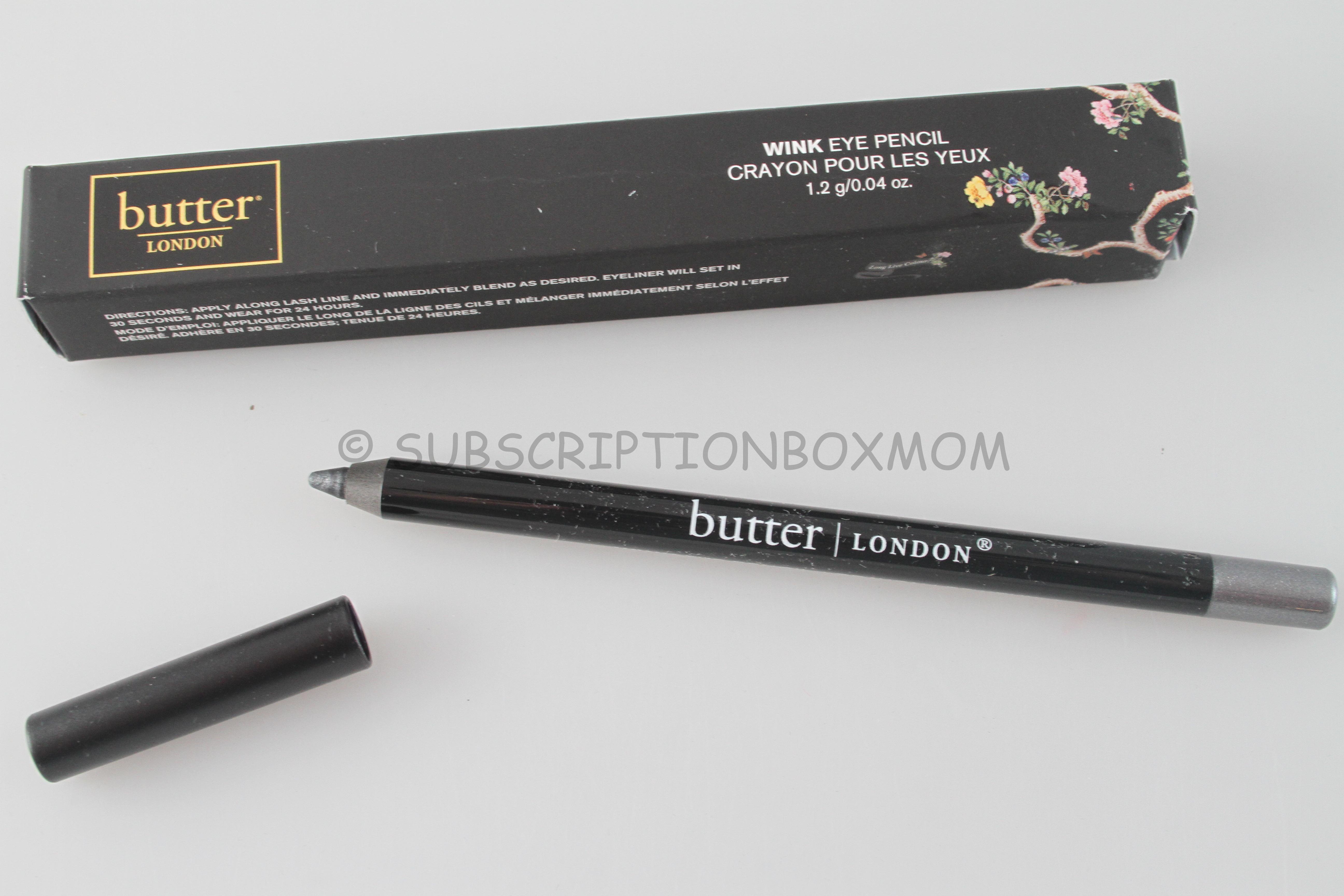 Butter London Earl Grey Eyeliner $18.00 I grumbled when I saw there was an eyeliner in the box.  Then I realized this is silver and I don't have silver in my huge box of eyeliners.  This turned out to be a pretty great eyeliner.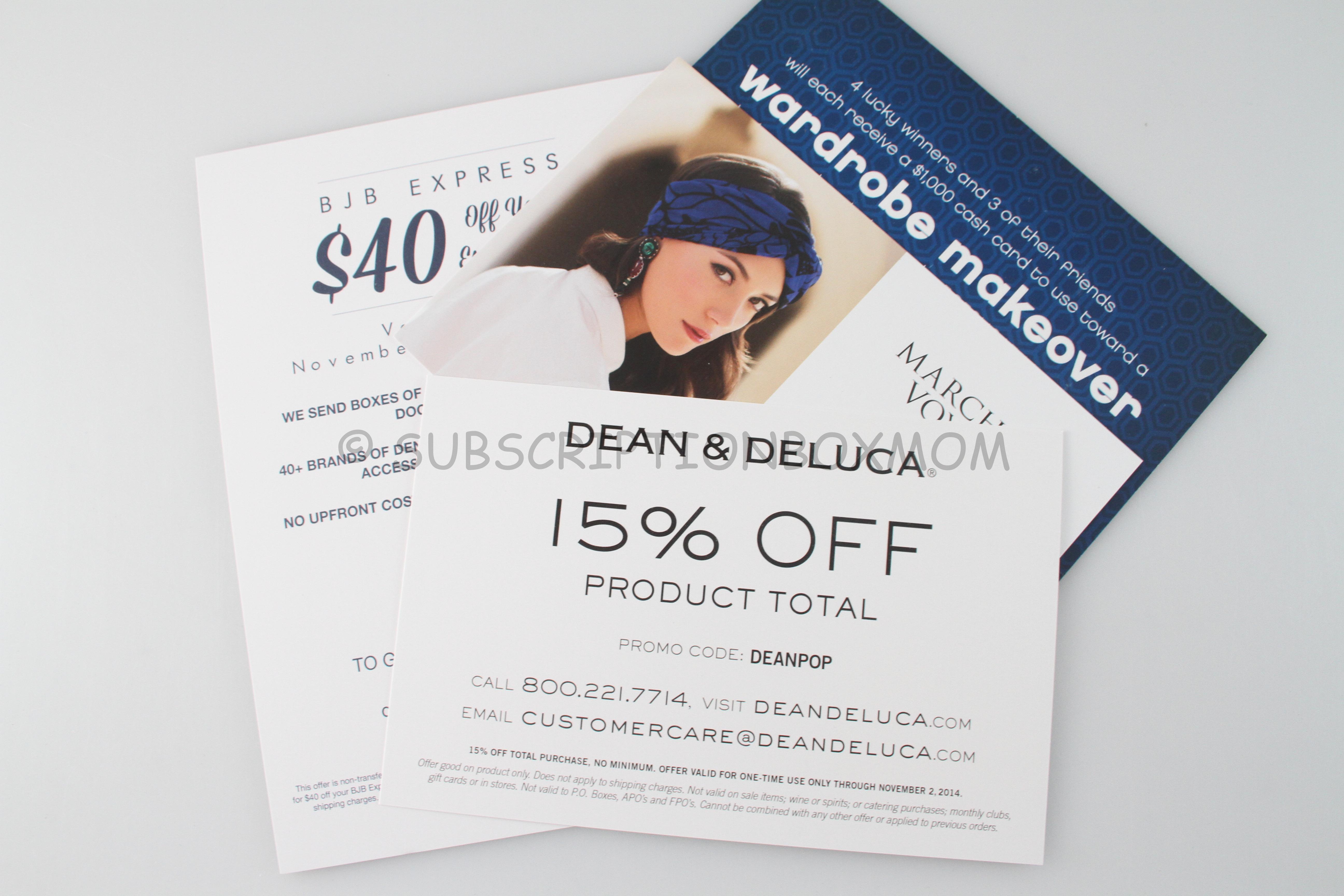 Coupons!  Popsugar included several coupons, included a $40.00 Blue Jeans Bar, which is a subscription I haven't tried.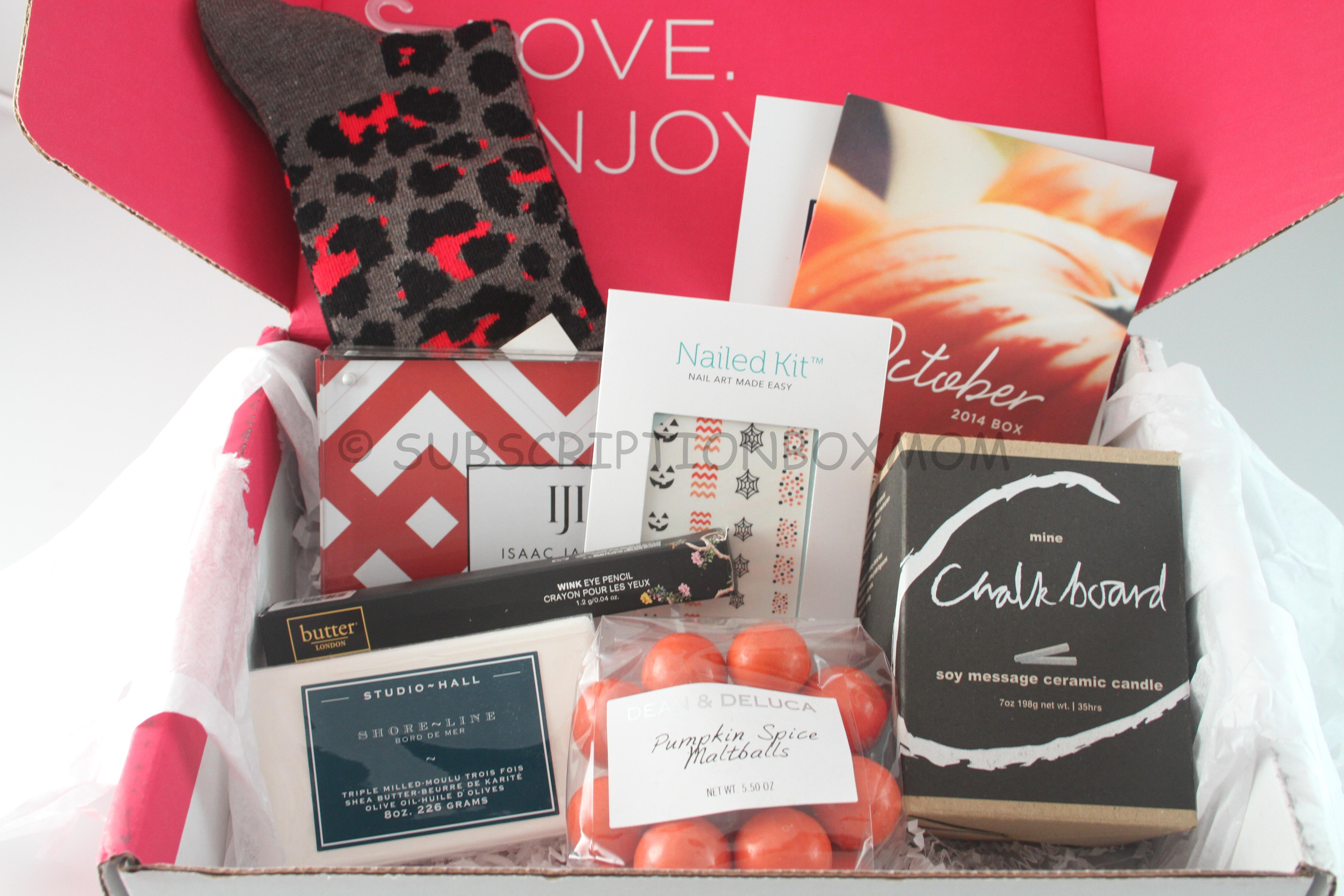 Final Thought:  This box had a total value of $109.90.  This isn't my favorite box from Popsugar, but it did have a great value.  I love the picture fram, candle and nail decails.  The eyeliner turned out to be a pretty great find as well.  I wasn't in love with the candy, soap or socks, but that is how it goes sometimes.  If you want to subscribe to Popsugar, click HERE.
Do you like FREE SUBSCRIPTION BOXES?  Click HERE to see my free subscription box list.
Check out my current giveaways 
HERE
Disclosure: This post contains referral links