October 13, 2014
10/13/14

By Subscription Box Mom

0 Comments
0
October 2014 Birchbox Review + Aces Coupon
Disclosure: This post contains affiliate links
Birchbox is one of the first subscription boxes. It is only $10.00 a month and you can earn some amazing rewards. I have subscribed to boxes for over a year, but just recently, subscribed. Each month you will get a box filled with 4-5 beauty, grooming, and lifestyle samples from both up-and-coming and well known brands. Each delivery will include a mix of categories. Samples are generously sized, with enough product to allow you to figure out if they're right for you. When you sign up, you fill out a beauty questionnaire, so Birchbox can better pick your products. You can find your profile by clicking on "Account Settings" in your account. Click "Edit Profile," fill out the questionnaire, and then save your preferences.
So what made me decide to subscribe? I decided to subscribe based on the amazing points system. For every 100 points you earn, you get $10.00 to spend in the shop. There are lots of ways to earn points too!
1.  Subscribe
2.  Review Your Products: You get 10 points for every sample review you complete.  Each box contains 4-5 products, so that is around $5.00 in points you can earn monthly!  This makes the box $5.00 a month.  If you use the 50% off code, this makes your first box FREE.
3.  Shop!: For every dollar you spend in the Birchbox Store, you earn 1 point for each dollar spent on full-size products in the Birchbox Shop.
4.  Refer Your Friends: For every friend you refer to Birchbox, you will earn 50 points for every person you refer!
The Details:
Cost: $10.00 a month
What's in the box? Each month you will get a box filled with 4-5 beauty, grooming, and lifestyle samples from both up-and-coming and well known brands.
When am I billed? When you place your order for the monthly membership, you will be billed for your first Birchbox immediately. For the women's Birchbox, you will be billed on the first day of each month after your first shipment. For the men's Birchbox, you will be billed on the 15th of each following month.
Website: www.birchbox,com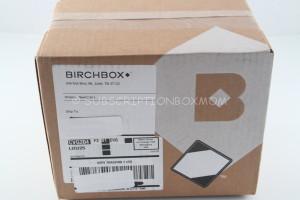 My Birchbox shipped in a big box this month.  I added on a couple of items, so I figured they were inside.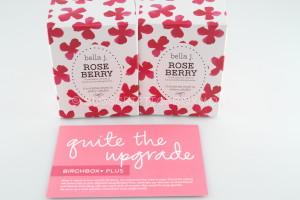 I added on two Bella J Rose Berry candles.  These smell amazing (just like roses) and inside, there is a jewel.  I am hoping for a big diamond, but they candles smell great regardless.
Birchbox always ships in an outer cardboard box, with a little box inside.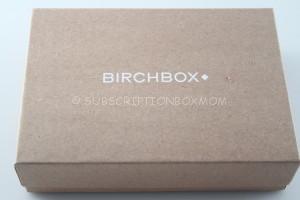 Birchbox boxes are really nice to store items in.  I like the lift off lid.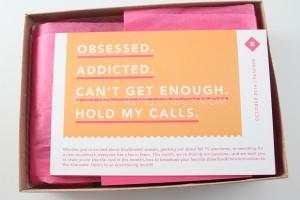 First Look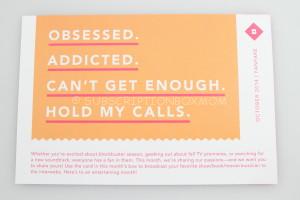 The theme this month is blockbuster season.  This is filled with Birchbox's passions and they want you to use the other card enclosed(see below) to share your favorite tv show.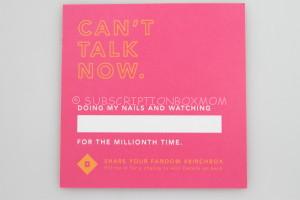 You just fill in the blank with your favorite show.  My favorite show is Revenge, but I have started loved Pretty Little Liars.  I think it is still on tv, I just recently found it on Amazon Prime.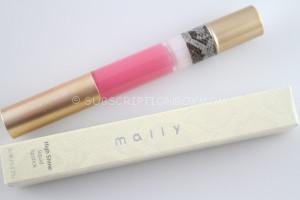 Mally Beauty High-Shine Liquid Lipstick Pens in Mellon $20.00  I was really surprised to get a full size gloss in the box.  This is one of the brush/twist bottom applicator, which I hate.  It's hard for me to get the product up, without getting to much.  Applicator aside, this is a great gloss.  It lasts a long time and smells great.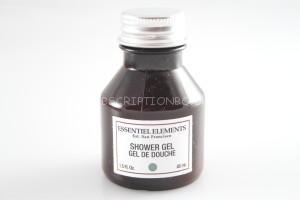 Essentiel Elements Wake Up Rosemary Shower Gel $3.56  This is a combination of rosemary and mint.  It actually reminds me of Eucalypus.  I am saving this for a cold/allergy attack.  This will be great to use when I can't breath.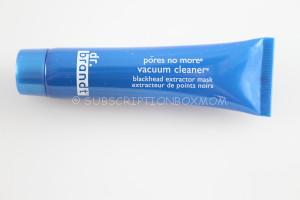 dr. brandt® pores no more® vacuum cleaner $11.25  This is designed to degunk pores.  I used this on my nose and did notice smoother cleaner skin.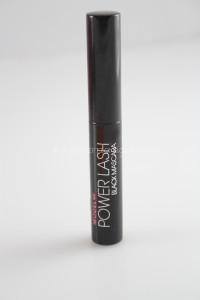 ModelCo Power Lash Long Wear Black Mascara $10.56:  If I never got another mascara or eyeliner in a subscription box, I would still have a lifetime supply.  With that said, I love this mascara.  I tried it and it thickened, separated and curled my lashes.  I am honestly really surprised.
Harvey Prince Petaly Noir  price unknown. I have had Harvey Prince perfumes before, and they always smell nice.  This is a floral/musk scent that has really romantic scent.  The full size bottle is very pretty as well!  I love this scent and it is perfect for me.  I went to the Birchbox store to buy this, and it is sold out already.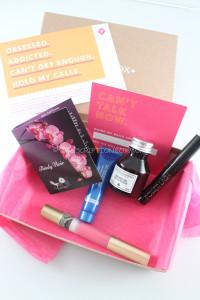 Final Thought: This box had a total value of $45.37, not counting the perfume (as I couldn't find the amount in the bottle).  I really loved this box and everything worked for me.  I really was expecting to hate the mascara but I really love it.  The lip gloss is also great and I love it is full size.  If you want to subscribe to Birchbox, click HERE .  Also, if you are  Birchbox Ace, you can save 40% on select items when you click HERE and use the coupon ACECLUSIVE40.
Do you like FREE SUBSCRIPTION BOXES? Click HERE to see my free subscription box list.
Do you love Giveaways?  Check out all my Giveaways HERE
Disclosure:This post contains referral/affiliate links.