September 16, 2014
09/16/14

By Subscription Box Mom

2 Comments
2
Whimseybox Subscription Update
I started my website over a year ago, because I loved subscription boxes, and I wanted to have a place for people to get honest reviews and stay updated about the subscription box world.  As many people already know, Whimseybox hasn't shipped their August subscription box as of today.  I personally subscribe to Whimseybox, and I am upset about the lack of communication by Whimseybox.
This is the last posted update by Whimseybox, on their Facebook page: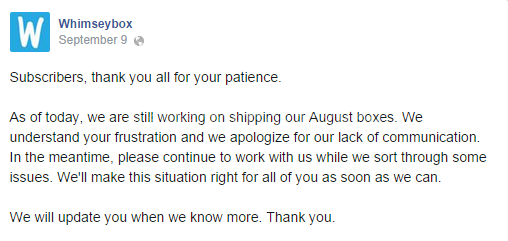 Since this post, there has been no communication on their Facebook page.  At this time, I have strong concerns about the viability of this company.  It appears they are going out of business, but honestly I don't know.  I wanted to do a post about this situation, so you, my readers, can stay updated.  This post doesn't contain any referral links.  If you want to stay updated on Whimseybox, continue to read my blog or follow Whimseybox on their facebook page here: https://www.facebook.com/whimseybox
Disclosure:  This post does not contain any referral or affiliate links.  The statements in this post are the opinions of Subscription Box Mom.  Always use your own judgement when subscribing to any box.