September 22, 2014
09/22/14

By Subscription Box Mom

0 Comments
0
September 2014 SocialBliss The Style Box #thestylebox @socialblisscom
Disclosure: This post contains referral links
Socialbliss Style Box is $39.95 a month plus $9.95 shipping.  Each box will contain an assortment of popular one size fits all fashion accessories and lifestyle products.  Each Style Box has a value of at least $100 and sometimes up to $200.
Details:
Cost: $39.74
Shipping: $9.95
What's in the box? "The Socialbliss Style Box consists an array of products each month that goes along with the theme that will improve your style monthly! "
How do I cancel? You can cancel from your online account.  Also note "As a monthly member, you are able to cancel at anytime. Make sure though to cancel before the 20th to ensure that you are not charged for the following box. As an example, if you are to cancel on the 19th of May, you will not be charged for the June box. If you choose to cancel on the 21st of May, you will be charged and receive the June box but your subscription will be canceled starting the month of July."
Website: http://www.socialbliss.com/

SocialBliss always ships in a black and white box and comes by USPS near the end of the month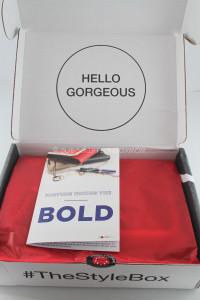 First Look: The theme for this month is "Fortune Favors the Bold"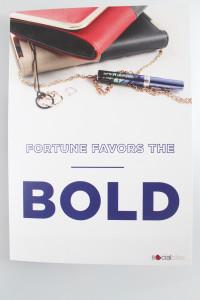 The theme for this month was about being bold.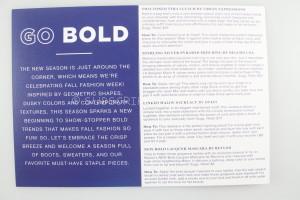 The inside of the information card has all the items in the box, along with a description.  This box had 4 items in the box, which doesn't seem like much.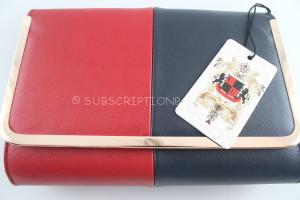 Two Tones Tyra Clutch by Urban Expressions: $49.00  I rarely use clutches and until recently, I didn't even own one. SocialBliss has given me all the clutches I own.  I love new purse but I really wish SocialBliss will send purses that are not clutches.  I really dislike this purse.  I don't like the cold and the red/blue combo is just too 80's for me.  This will be swapped, hopefully.  On a side note, the company makes a silver and pink clutch that is really cute, just click the name of the purse above.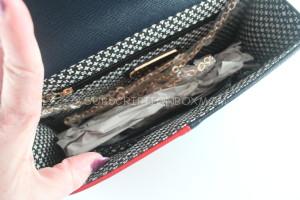 A look inside:  I really pack way too much stuff in my purse, to be able to use this.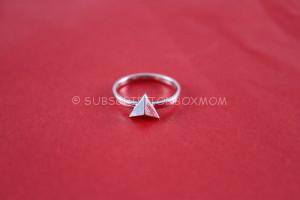 Sterling Silver Stackable Triangular Pyramid Ring  $30.00  I was really excited to get this, but it only really looks good on my pinkie.  I wear a size 7 and feel I have "normal" hands, so I don't know why this doesn't work.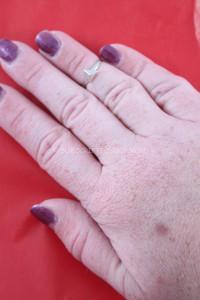 My finger looks smashed wearing this and I think it just looks weird.
Revlon Bold Lacquer Length & Volume Mascara $7.99: This is a new product that promises to lengthen and create volume.  I got this in my July Beauty Box 5 and the July Popsugar Must Have Box.  I tried this before and didn't care for it.  I love Revlon products, but this is a miss for me.  In addition, SocialBliss is marketed to be on the social trends, so I think this is a little late to be in a box, since it was released this summer.  There was also $1.00 off coupon.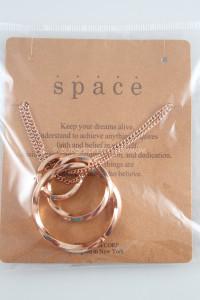 Linked Halos Necklace by Space: $15.00 This necklace is the best item in the box, but it's still just "okay" for me.  The chain seems a bit cheap.  The card says "Keep your dreams alive, Understand to achieve anything requires faith and belief in yourself.  Vision, hard work, determination, and dedication. Remember all things are possible for those who believe".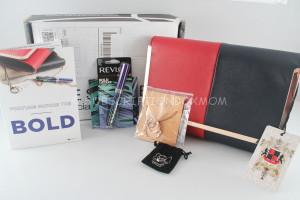 Final Thought: This box had a total value of $101.00.  I didn't like this box, at all.  The necklace was okay, but I don't see it being worth $15.00.  I might trade this whole box, to be honest.  SocialBliss really missed the mark this month.  I want trendy cool bags, not clutches and I want more trendy pieces in the box.  This box didn't scream bold this month, it just said "BLAH".  If you want to try SocialBliss, click HERE.
Do you like FREE SUBSCRIPTION BOXES?  Click HERE to see my free subscription box list.
Do you love Giveaways?  Check out all my Giveaways HERE
Disclaimer: This post contains referral links.