September 10, 2014
09/10/14

By Subscription Box Mom

0 Comments
0
September 2014 Pley Review + Free Box – Lego Subscription Box
Disclosure: This post contains affiliate links
Pley is a subscription box that send you Lego sets to play with and then return. Pley carries sets like Star Wars, Batman, Chima, and Friends  Pley sends a beautifully designed package that contains: a LEGO set, the minifigures and the manuals. They also include free items from time to time.  You can try Pley for FREE, just click HERE.  If you don't want to continue your subscription, you can cancel within 15 days, to avoid being charged.
When you get your Lego set, you can be assured everything has been sterilized.  Every set is cleaned with an eco- and kid-friendly sterilization solution. Their cleaner sanitizes the bricks to the same standards approved by the FDA for restaurants. Their proven cleaning and sanitation process ensures that 99.99% of residuals, germs and bacteria have been killed and removed from the set.
Shipping is always free, whether you are having the sets shipped to you , or returning them.  You can set you cue up with several sets, and when you are done, ship it back and get a new set.  If you decide you love the set, you can buy it at a discount.  Also, you will not be charged anything extra if you loose some pieces (up to 10 grams). You can visit your Account page to report to the set status or any missing pieces.  Pley also gives back to several children's charities!
The Details:
Cost: Small ($9.99/month) FAN SETS, Medium ($19.99/month) SUPER FAN SETS and Large sets MEGA FAN SETS ($49.99/month). All plans provide members with multiple rentals per month – one set at a time.
What's in the box?  You get a beautifully designed package that contains: a LEGO set, the minifigures and the manuals. Be sure to keep an eye out for some sweet freebies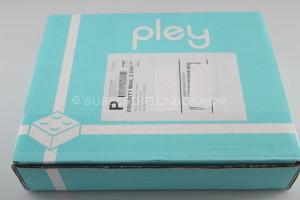 Pley ships in a little light blue box.  There is also a return address label included in the box.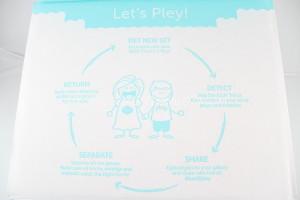 The inside of the book tells you the process of getting new Pley sets.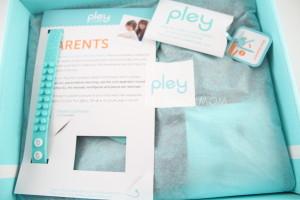 First Look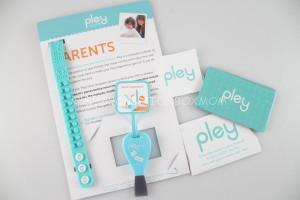 There was a lego bracelet, a lego separator and some referral cards included in the box.  Before you return the Legos, you have to separate all the Legos and the Lego seperator works great.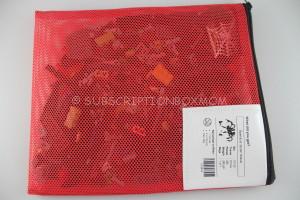 The Legos comes in a mesh bag.  There is a label on the side that has how many pieces are in the box, along with the name of the set.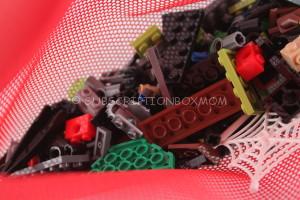 Inside the bag
Of course Pley includes the instruction book.  I received The Legends of Chima Sparratus Spider Slaker (Super Fan) for review.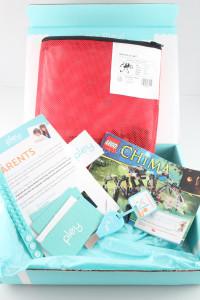 This is everything that came in the box.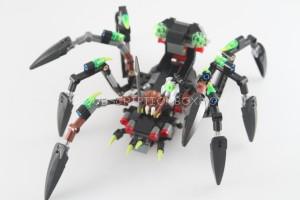 My oldest is 5, so he was a bit young for this set, so my husband had a blast putting this together.  Actually, my husband got really excited about trying out Pley.  All the pieces were included and there were even some extra pieces.  The instructions were in great shape and there were no tears/rips.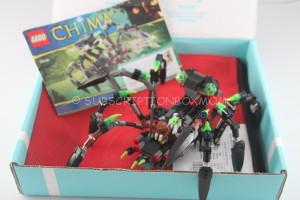 Final Thought:  Our family really loved Pley.  This is a really great subscription that lets your child or young at heart spouse to play with new Lego sets, at a fraction of the cost of buying it.  Legos are expensive and I have found that the actually intended project is only made once or twice, then the Legos get dumped in together.  Pley lets people play with Lego sets, then send them back for new ones.  You can get multiple sets a month, and you don't have to worry about cluttering up your house.  I really think Pley as a cool concept.  You can even try Pley for free!  Just click HERE and try your first box FREE for 15 days.
Do you like FREE SUBSCRIPTION BOXES?  Click HERE to see my free subscription box list.
Do you love Giveaways?  Click HERE to enter all my Giveaways.
Disclosure: This post contains affiliate links