September 2014 PetBox Review + Coupon
Disclosure: This post contains affiliate links.  I received this box free for review.
Petbox is a pet subscription box, that introduces people to fun and healthy new pet products every month. Petbox makes boxes for both cats and dogs.  Petbox is pretty unique, because Petbox lets you pick out the products you want in your box.  You are given a certain number of credits, and they you pick out what you want.  If you still like the element of surprise, you can let Petbox pick out the items for you.  Petbox also gives back to other animals.  For every Petbox purchased, a rescue animal is fed.  Petbox gives back to shelters, rescues and animal volunteers to feed hungry animals every day.  I love companies that give back.
The Details:
Cost:   1 Month $39.00 3 Months $37.00 6 Months $35.00 (save 23%) 12 Months $29.00 (save 31%)
Coupon:  Use the code BOXMOM20 to save 20% off your subscription
What's in the box: For dogs, you can choose items from toys, treats, Bones & Bully Sticks, waste bags, grooming, and accessories.  For cats, you can choose items from toys, treats, and grooming.  You get 6 points for your box and items are 1 or 2 points each.  You can get 3-6 items in the box.  You can get a dog box, cat box or a box for your cat and dog.
Managing your subscription: You can manage you subscription by going to your dashboard.
Website: http://getpetbox.com/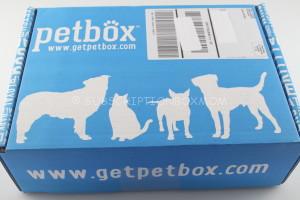 Petbox ships in a blue box and comes by USPS.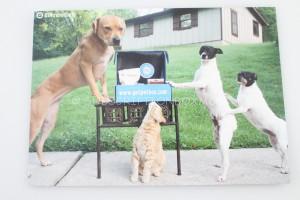 There was a card from Petbox and it just gave information about Petbox.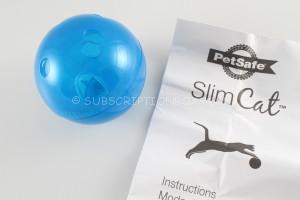 Petsafe SlimCat Meal Dispensing Cat Toy, Blue
 $4.49  This is a cat toy ball that releases a treat when you cat plays with it.  Oliver liked batting around balls, so I think he will like this.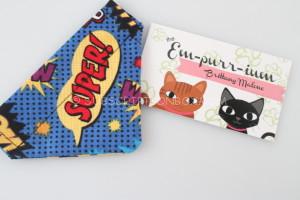 Em-purr-ium Cat Bandana $5.50  This is a really cute bandanna.  I love the super hero print and I can't wait to put it on Oliver.  You just slip the color through the slit in the top.  Trying to get the collar back on Oliver, will be the tricky part.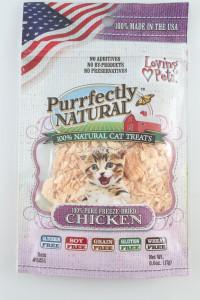 Purrfectly Natural Freeze Dried Chicken $5.06 Oliver really liked this chicken.  It is small freeze dried chicken.  Oliver doesn't like large treats, but he likes small treats.  This is gluten free, soy free, grain free, gluten free and wheat free.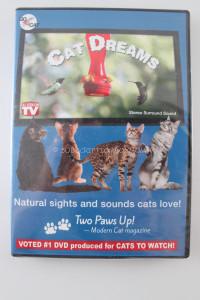 GoCat "Cat Dreams" DVD for Cats $9.24:  This may be one of the weirdest things I have seen for a cat.  This is  DVD for cats.  There are over 100 segments, including fish tanks.  This could be nice when we are away for a couple of days.  I had a guinea pig once, that wouldn't eat if we left for a day or too.  We had to leave a radio on.  It makes sense that cats could enjoy this too.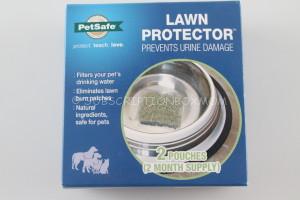 PetSafe Lawn Protector $14.99 You put a pouch in your cat's water and it will prevent your cat's unine from turning your grass brown.  Oliver is only an inside cat, so I will gift this to a friend.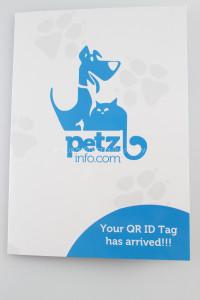 PetzInfo.com $12.99:  This is a QR tag for you cat, if he ever gets lost.  I love this and it's my favorite thing in the box.  Oliver got in our garage one, and fell under some stairs.  We couldn't find him for several hours and I was beside myself with worry.  This is going on Oliver tonight.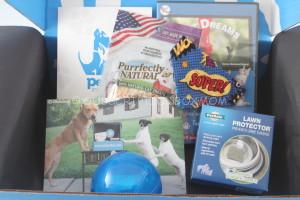 Final Thought: This box had a total value of $52.27.  This is a huge value.  I love the QR tag and it is by far, my favorite thing in the box.  I also really love the bandana too.  I have a little collection of cat apparel for Olive now, thanks to subscription boxes.  Oliver liked the treats and we are trying the dvd.  We won't use the lawn protector, and I will give that to a friend.  If you want to try Petbox, click HERE and use the code Use the code BOXMOM20 to save 20% off your subscription.
Do you like FREE SUBSCRIPTION BOXES?  Click HERE to see my free subscription box list.
Check out my current giveaways HERE
 Disclosure: This post contains affiliate links.  I received this box free for review.