September 21, 2014
09/21/14

By Subscription Box Mom

0 Comments
0
September 2014 Mommy's Me Tyme Box + October Spoilers
Disclosure: I received this box free for review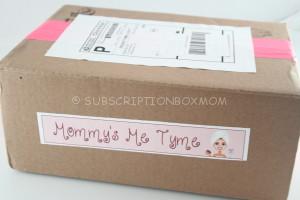 Mommy's Me Tyme Box is designed to pamper mother's or other women who need pampering.  You will receive 5 or more items each month for only $29.95+ shipping $7.95.  Each box will be filled with  jewelry, accessories, bath & spa essentials, beauty products and other items designed to brighten your day.  
Mommy's Me Tyme was founded by Teena, a happily married, mother of two.  In 1993, she was in a car accident that left her a quadriplegic (paralyzed from the neck down). Teena found a balance between being a mom and having time for her, and she wanted other mother's to have me time too.  This is how Mommy's Me Tyme Box was formed.
The Details:
Cost: $29.95/mo (pay by Paypal)
Shipping: $7.95
What's in the box? You will receive 5 or more items each month.  Your box will be filled with high quality products such as  jewelry, accessories, bath & spa essentials, beauty products and unique merchandise total value of $50+.
When does the box ship? Boxes will ship out towards the end of each month (between the 19th-27th).
Website: http://mommysmetyme.com/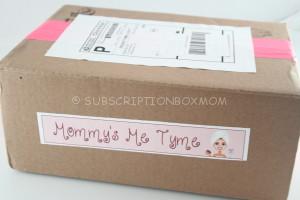 Mommy's Me Tyme come in a brown box and ships by USPS.  Mommy's Me Tyme's logo is on the side of the box.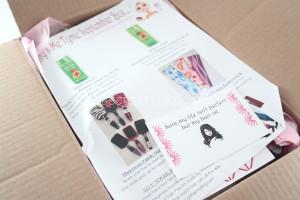 First Look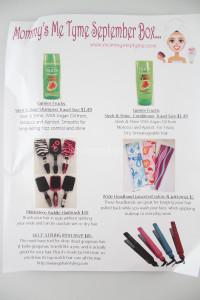 Mommy's Me Tyme includes a colorful information card in the box.  I like they include photos with each description.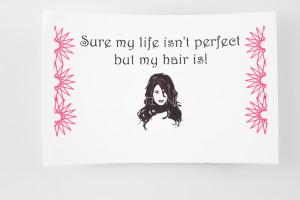 There was a quote included: "Sure my life isn't perfect, but my hair is!"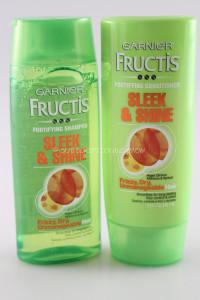 Garnier Fructis Sleek and Shine $1.49 each  I couldn't find this size online, and I think $1.49 each is an accurate price.  This shampoo and conditioner combination has Argan Oil from Morocco and Apricot.  This is designed to smooth frizzy, dry unmanageable hair.  This is a nice travel size shampoo and conditioner and good for long trips.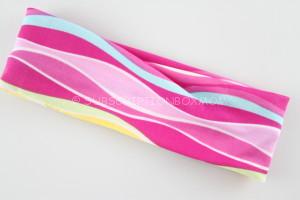 Wide Headband $2.00:  This came packaged, but I opened it on my YouTube Video.  This is a stretchy wide headband.  It's a bit wild for wearing out, but it will work great on workouts.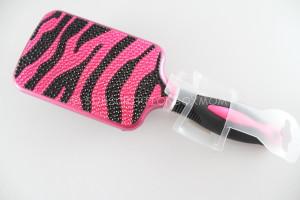 Rhinestone Paddle Hairbrush $10.00.  I thought this brush was a bit over priced when I first saw it, but I found a very similar brush on Amazon for $12.99, so $10.00 is accurate.  This is a cute brush and I like the pink and black pattern.  It is also a nice wide brush, so it is good for thick hair.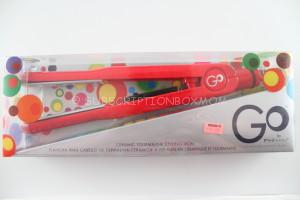 Go 1″ Styling Iron RSVP  The company says this has a msrp of $85.00.  It sells for $24.99 HERE and there was a price sticker on it for $14.99.  I am going to go with $24.99 for the retail value, and I think that a good average of the prices.  This is a 1″ styling iron,  This worked okay, but I wasn't blown away.  It is rather thin, so I have to make several passes to do straighten my hair.  I will probably save this as a backup, in case my regular straighter breaks, or I will use it for travel.
Mommy's Me Tyme also included a spoiler for October.
First there will be a Avon Rhinestone Bracelet $5.00 in the box.  $1.00 from the bracelet will got to Breast Cancer Awareness.
Second, There will be Rhinestone EOS lip balm $12.00 value made by Tee Miller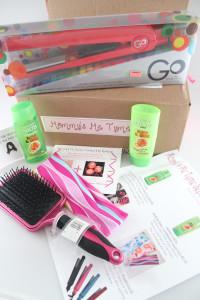 Final Thought: The total retail value of this box was $39.97.  This is still over the purchase price of the box.  This box had some nice items, but I didn't love it as much as my August Box.   The straightener was my favorite product in the box, but I wish it was a bit bigger.  I did like how all the items fit together for the theme.  If you want to try Mommy's Me Tyme Box, click HERE.
Do you want more Free or Almost Free Boxes?  Check out my full list HERE.
Do you love Giveaways?  Click HERE to enter all my Giveaways.
Disclosure: I received this box free for review.