September 23, 2014
09/23/14

By Subscription Box Mom

0 Comments
0
Nerd Block Jr September 2014 Review + Coupon – Boy – Toy Subscription Box
Disclosure: This post contains affiliate links
Nerd Block has released a new line of subscription boxes for children, Nerd Block Jr!  It is $13.99/mo plus $6.00 shipping. Nerd Block Jr. is a monthly surprise package just for kids! Shaping tomorrow's nerds today, Nerd Block Jr. is specifically designed for children aged 6-11 (give or take a year) and is filled with toys and games just for them!
The Details:
Cost: $13.99 plus $6.00 shipping
Coupon: To subscribe to Nerd Block Jr, click HERE and use the code SUPERHERO to save 10%.
What's in the box: Nerd Block Jr. is filled with toys, games, and collectibles from your kids favorite brands including Star Wars, Disney, Adventure Time, My Little Pony, Angry Birds, and many more!
When am I charged? Initially, you will be charged for your first Block at the time you register for your subscription. Then, you will be billed at the beginning of every month for that month's subscription (January block is billed on 1 January). The monthly billing closes on the 8th of the month. 
For example, if you subscribe on January 10th, that payment will be applied to February Block (remember, the closing date for January was the 8th). Your next billing will occur on March 1st for the March Block.

 
If you subscribe prior to the closing date for that month's Block (you subscribe on January 7th or prior) you will be billed immediately for January's Block and your next payment will occur February 1st for February's Block.

The closing date can be found on the homepage (hint: it's the countdown timer).
When does it ship?  Nerd Block Jr. is sent out at the same time as Nerd Block – approximately the 15th of every month, give or take a day. Once your Nerd Block Jr. is shipped, you'll receive an email notifying you of your tracking information! 
How do I cancel? Cancelling a subscription is easy! Just email cancel@nerdblock.com with your name and address, and they will cancel your account. Please note that all orders must be cancelled 24-hours prior to the 1st of every month.
Website: https://nerdblock.com/#nerdblockjr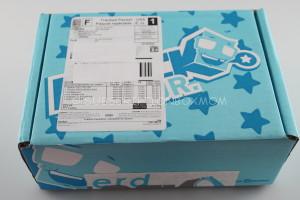 Nerd Block Jr ships from Canada.  The boy boxes ship in blue boxes and the girl boxes ship in purple boxes.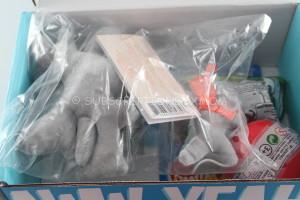 First Look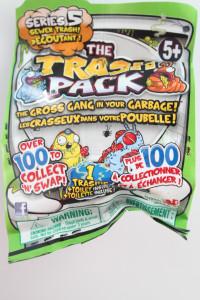 The Trash Pack Series 5 Mystery Pack $1.99 This is a mystery trash pack figure.  L loves Trash Pack, he got the garbage truck for his birthday.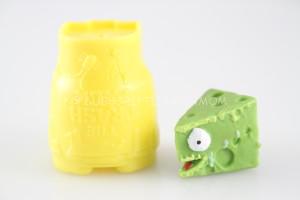 This is Stinky Cheese:  The that yellow thing, is a toilet.  It's actually upside down, because I didn't realize what it was, until L told me.  This such a boy item, toys from a toilet.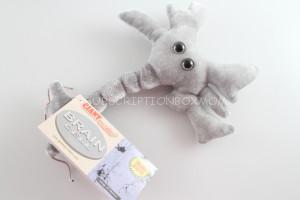 Think Geek Brain Cell $9.99:  This is the coolest plus toy.  This is a brain cell and it is the actual size of a brain cell, only 1,000,000 bigger (minus the eyes).  L loved learning about brain cells on the attached card.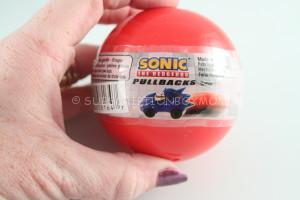 Sonic the Hedgehog Pullbacks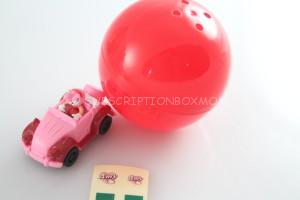 Tomy Gacha Sonic the Hedgehog Pullbacks Mini Figure Amy
 $8.46  These are cute pull back cars.  I remember playing Sonic as a child, but I don't remember the girl.  This is Amy and L likes playing with it.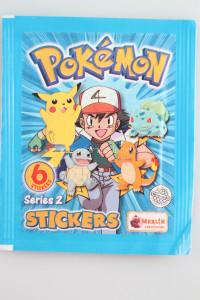 Pokemon Series 2 Stickers $1.00 est value This is a pack of Pokemon stickers.  There are 6 total.  I haven't opened these yet, because L doesn't really like Pokemon.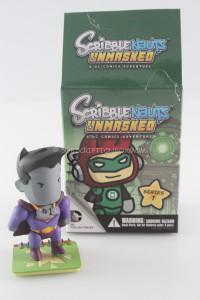 Scribblenauts UnMasked Blind Box Mini Figure
 $5.00 Superman:  I have heard about ScribbleNauts, but I don't think I have ever seen the show.  I actually didn't know who this was when I first saw it.  I gave to L (age 5) and asked him if he knew who this was and he said, "Yes mom, it's ScribbleNauts Superman".  Okay, maybe L should do this review.  ScribbleNauts is a game where DC Comic heros come together to fight evil.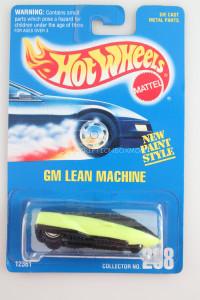 Hot Wheels Car $1.00:  Both of my boys love Hot Wheels.  We have about 1,000, but what's one more.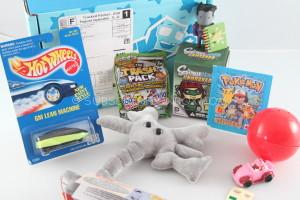 Final Thought: This box had a total value of $33.47.  This was a fantastic box and L really loved it.  This is actually one of L's favorite boxes.  L's favorite items were the brain cell plush and the trash pack.  This was a fun box and L really liked it (which is the whole point).  To sign up for Nerd Block Jr, click HERE and use the code SUPERHERO to save 10%.
Do you like FREE SUBSCRIPTION BOXES?  Click HERE to see my free subscription box list.
Do you love giveaways?  Click HERE and see all my current giveaways.
  Disclosure: This post contains affiliate links.   I received the box free for review.  My opinions are my own and I was not compensated in any way.