September 18, 2014
09/18/14

By Subscription Box Mom

1 Comment
1
Elementary Box September 2014 Review – Teacher Subscription Box
Disclosure: I was sent this box for review.
Elementary Box is a subscription box for teachers and they sent me this box for review.  I am not a teacher but many of my friends are teachers.  I have such respect for those people who devote their life educating students.  Elementary Box is based out of Texas and is $29.00 a month.  Elementary Box includes something educational for the classroom, a personalized gift for the teacher, and shared teacher tips and ideas.  You can subscribe for yourself, or give as a gift.  If you give as a gift, your child's teacher (or gift recipient will get an email to customize their box.  The teacher will get to select what grade they teach (K-5th), how long they have been teaching, their birthday month and how many students they have.  My oldest is in preschool, so Elementary Box kindly personalize this for a preschool teacher.
The Details:
Cost: $29.00/month
What's in the box? Elementary Box includes something educational for the classroom, a personalized gift for the teacher, and shared teacher tips and ideas.
When does the box ship? Elementary Box ships during the last week of each month so that our teachers receive their boxes within the first week of the next month.
When am I billed? You will be billed for the first month's box when you check out. The remainder of your payments will be billed on that same date of each month.
How do I cancel? Simply go to the "Contact" tab and fill out the form. Be sure to put "unsubscribe" and your or your teacher's name in the comments section, and submit the form.
Prepaid subscribers may cancel only during the first month of their subscription. After the initial month, prepaid subscribers are not eligible to cancel their subscription.
Website: http://www.elementarybox.com/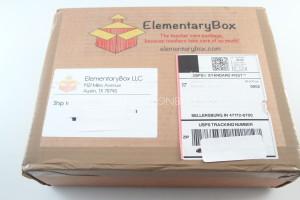 Elementary Box ships in a cute box (I love their logo) and ships by USPS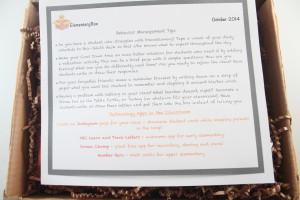 First Look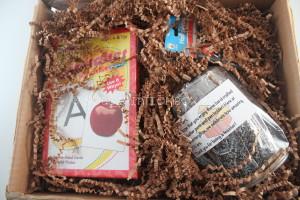 Second Look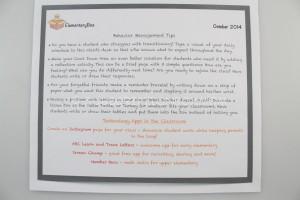 Elementary Box sent a paper of behavior management tips.  There was also a list of helpful apps.  Elementary Box recommended teachers use Instagram to keep parents updated.
Here are the apps for all the teachers and parents:
ABC Learn and Trace Letters :  This is a good app for early education
Screen Chomp: This is a free app for recording , sharing and more
Number Hero: This helps with math skill for upper elementary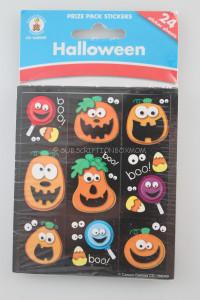 Caron Dellusa Halloween Stickers $1.99  This is a pack of 24 sheets of 9 stickers.  My child's teacher goes through tons of stickers.  I love that she is always encouraging and praising my child.  She is always making learning fun.  These are super cute stickers and I know she will love using them on papers this fall.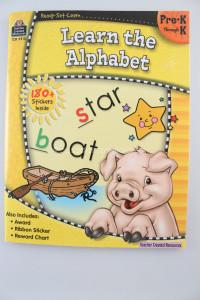 Teacher Created Resources Learn the Alphabet $3.49  This book is packed with activities to help teacher students their letters.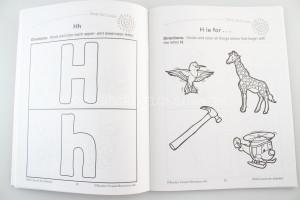 Here is a peek inside the book.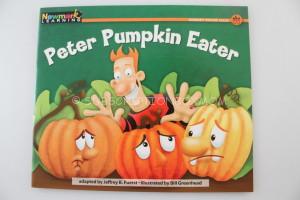 Newmark Learning Peter Pumpkin Eater $4.32 This is part of a special line of books that helps children learn to read.  I am not a teacher and I want to get some books like this for home.  The inside cover gives you tips and directions on how to reach this book with students.  The story is also perfect for fall.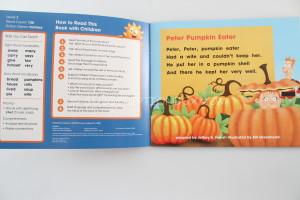 Here is a peek inside the book.  As you can see, the inside cover includes all kinds of tips and information.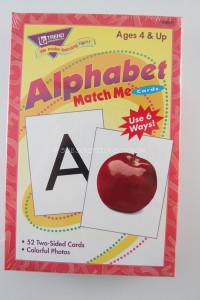 Trend Enterprises Alphabet Match Me Cards $4.99 This is a box of 52 two sided cards.  There are photos and letters, to help students learn their alphabet.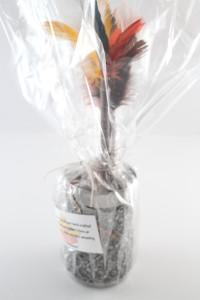 Handmade Pen Holder $16.00 (From Elementary Box based on prices on Etsy) $8.00 for the Pen holder and $8.00 for the pens: I saved the best for last.  This was is so cute.  This is a pen holder and ink pen sets.  The ink pens look like bark with feathers on the end.  There was also a personalized message on the size with the teacher's name.  This is really cute.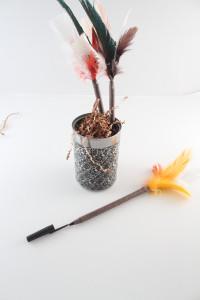 Here is what it looks like unwrapped.  I think L's teacher is going to love this.  I wrapped it back up really nicely after this picture, so it will look great when I give it to the teacher.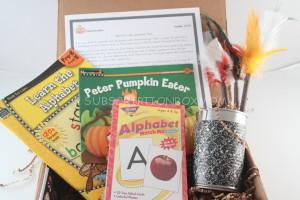 Final Thought:  This box had a total value of $30.76.  I really liked this box.  I loved the fall theme and how each item was perfect for a pre-k teacher. This would make a fabulous gift for a teacher.  Teachers get about 10 million lotions and candles, why not give your child's teacher a gift they will use all year?  I love this box and I will be using Elementary Box for my children's teachers when Christmas or the end of the year comes around.  This box can also be great if you homeschool or, if you just want more resources to help your child learn.  If you want to subscribe to Elementary Box, or give as a gift, click HERE.  Note: I am giving this box to my son's teacher tomorrow and I will update my review, when I hear back from her.
Do you like FREE SUBSCRIPTION BOXES? Click HERE to see my free subscription box list.
Do you love Giveaways?  Check out all my Giveaways HERE
Disclosure:This post contains affiliate links.