September 14, 2014
09/14/14

By Subscription Box Mom

1 Comment
1
Austin Lloyd September 2014 Review – 2 year old Boy + Coupon
Disclosure: This post contains affiliate links
Austin Lloyd is a subscription box for children newborn through age 3.   They just announced they will make boxes through a child's 3rd year!  Each month, your child gets 4-5 educational toys and at least 1 book. The toys are bpa and phthalate free and they are unique, high end toys, that you will not find at most stores. You will never get toys with batteries. The toys are also chosen to improve fine motor and cognitive skills. Each box is designed for the play level of the child. Austin Lloyd has a breakdown of child development on their website. You choose the play level that fits best for you child.  My youngest gets Austin Lloyd because I love the unique toys in the boxes.  As my children have gotten older, I have started to choose more unique and wooden toys for my kids.
The box is $49.99 a month, but you can choose to go every other month too. Austin Lloyd also has a donation feature. Once you are done with the toys, and are ready to get rid of them, Austin Lloyd will send you a prepaid shipping label. You mail the toys back, and they will donate them to their partnering charities.
Use the coupon subboxmom2014 to save 15% on your subscription.  To read my past reviews, click HERE.
This month, the theme was Air and Space.  The play level is for 2-3 years.  Austin Lloyd says " Toddlers can be demanding and unrelenting.  Doorknob licking and barking like a dog ar commonplace.  But these freaky behaviors do pass.  The vast majority of strange toddler behaviors are short lived phases, says Healthy Wittenburg, PsyD, psychological and author."
The Details:
Cost: 1 Month $49.99
3 Months $ 49.99 per month
6 Months: $44.99 per month
Coupon:  Use the coupon subboxmom2014 to save 15% on your subscription.
Play Levels: 0-5 Months
6-12 Months
12-18 Months
19-24 Months
2 Years
3 Years
What's in the box? Each month, or every other month, your child get 4-5 educational toys and at least 1 book. You will get unique, high end toys that are not typically sold in retail chains. All the toys are designed to improve fine and cognitive motor silks. The toys will ever have batteries. The overall value of the box will also be greater than what you pay.
When will I get my box? Subscribe by the end of the month, to get the next month's box. Boxes ship the 3rd week of the month.
How do I cancel? Email orders@austinlloyd.com to cancel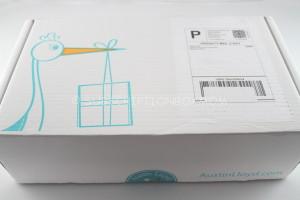 Austin Lloyd has the cutest boxes.  Austin Lloyd would be a great gift for someone, as their boxes are packed so cute.
First Look:  Again I love the attention to detail.  Each box has a sticker with your child's name.  There is also an envelope with information cards inside.
Austin Lloyd always included a stack of information cards about all the products in the box.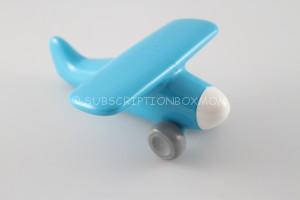 Kid O Mini Airplane $6.00: This plastic plane is so cute.  The wheels role and the plastic is very nice and thick.  This would be very sturdy for my rough and tumble boy.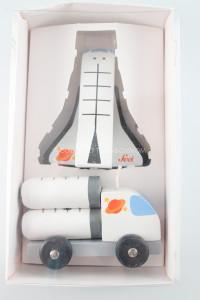 Sevi Shuttle with Fuel Truck $32.46 This is a really neat space set.  You can remove the rockets from the truck and add it to the space shuttle.  T is really going to love this.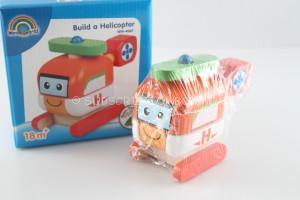 Wonderworld Build a Helicopter $20.99  This is a cute wooden helicopter and there is only four wooden pieces, so it's easy to put together.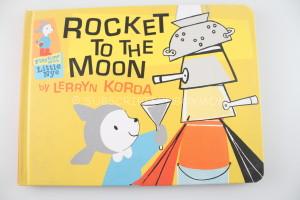 Rocket to the Moon by Learryn Korda $8.99: This is a hardback book and the pages are nice and thick.  They seem pretty tear resistance.  The graphics have a really cool retro feel.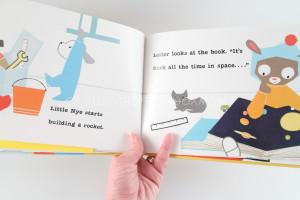 Here is an inside look at the book.
Alex Star Crayon $5.95: This is a bath crayon with 6 colors.  I like that all the crayons are in one toy, this makes for a uncluttered bathtub.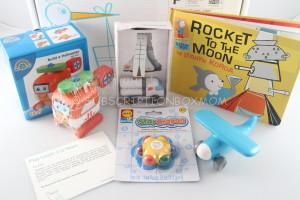 Final Thought:  This box had a total value of $74.39 and that is using the discounted websites prices.  This box has some cute stuff.  I really loved everything in the box.  T doesn't have any toys like these.  T loves planes, cars and all types of transportation.  I love the toys and value Austin Lloyd includes in their boxes.  I also like that you can subscribe every other month.  I personally subscribe for T and save toys back for Christmas.  If you want to try Austin Lloyd, click HERE and use the coupon subboxmom2014 to save 15% on your subscription.
Do you like FREE SUBSCRIPTION BOXES?  Click HERE to see my free subscription box list.
Check out my current giveaways HERE
 Disclosure: This post contains referral/affiliate links