August 5, 2014
08/05/14

By Subscription Box Mom

0 Comments
0
Posh Pak Subscription Box Review – Girls of All Ages
Posh Pak is a brand new subscription box for girls of all ages!  The Pak comes in 3 different age ranges so you can choose the best fit for your girly-girl. It is the best way to find new products and styles to love. And when your fashionista grows up – just change the age range on her Posh Pak to grow with her and she'll have new age appropriate goodies to discover! 
There are 3 different age ranges for the boxes

The Details:
Cost: 1 Month $29.00, 6 Months $169.00, 12 Months – $329.00
What's in the box? Inside the Pak you will find 4 to 6 items ranging from health/beauty, fashion accessories, tech, school supplies, tasty treats and some designer labels. Oh! Did we mention we love labels? We are excited to be working with amazing fashion designers that supply some of the latest accessories to the Hollywood A-list….take a peek!
When am I billed? When you place your order for the monthly membership, you will be billed for your first Posh Pak immediately. Posh Pak bills recurring PAKS on the 20th of every month
How do I cancel? Monthly Members may cancel their Posh Pak subscription at any time. There are no cancellation fees. Just make sure that you cancel before the 20th of the preceding month to avoid being charged for that next month's PAK.
Website: http://www.poshpak.com/
I was sent the 13 year old and up box to review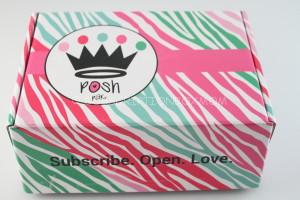 Okay, lets talk about this box.  Posh Pak ships in a beautiful box.  What girl wouldn't want to get this pretty box in the mail.  I believe this is the prettiest subscription box I have received.  By the way, Posh Pak ships by USPS from Indiana.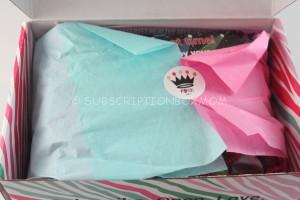 First Look:  I love the duel colored tissue paper.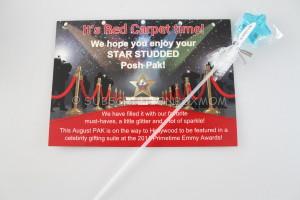 The theme for this month's box is The Red Carpet.  This box is filled with star studded items.  This same box is going to be in a celebrity gifting suite at the 2014 Primetime Emmy Awards.
One of the items in the box was a blue sucker from Twinkle Candy (.50).  I love candy and the star fits with the theme.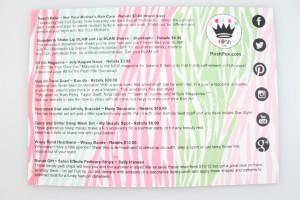 The back of the card had a list of all the items int he box.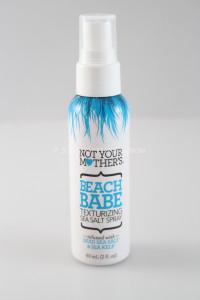 Not Your Mother's Hair Care Beach Babe Texturizing Sea Salt Spray $3.00:  I love sea salt sprays, not thanks to subscription boxes.  This is a nice travel size.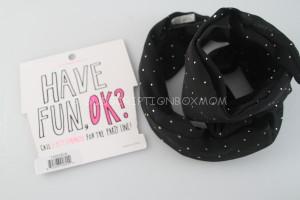 Ban,do Twist Scarf $20.00  This is a nifty little thing.  You can use this as a scarf, wrapped in rosette, in your hair or as a bracelet.  For the non creative types, aka me, you can watch a video of how to wear it HERE.  This is really neat and I will probably use this as a headband or a scarf.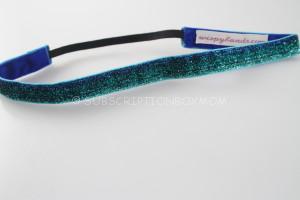 Wispy Band Headband $10.00 I have been wanting to try these kind of headbands for awhile.  These are perfect for sports or just headband loving folks like myself.  I tried it on my giant head and found it comfortable. I also love the sparkly fabric.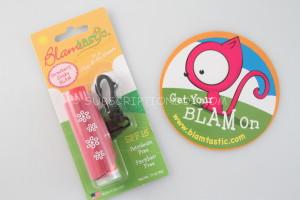 Blamtastic Luscious Lip Balm, Strawberry Shake  $5.98.  I didn't know lip balm could win awards, but this one did.  This won the 2010 Seal of Excellence and the Parent Tested Parent Approved award.  This lip balm has an spf of 15 and is petroleum free and paraben free. This also has a clip and a little holder, so you can clip it to your backpack or purse.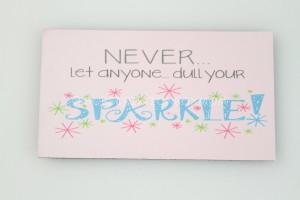 This is a magnet with a great message.  "Never let anyone dull your SPARKLE!"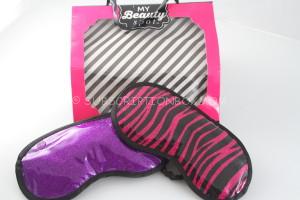 Zebra and Glitter Sleep Mask Set from My Beauty Spot: $6.99 These are really pretty and there are two.  You can give one to a friend or have one for home and one for travel.  I like sleep masks for traveling, a must for sleeping in the car.  These masks are very plushy and comfortable.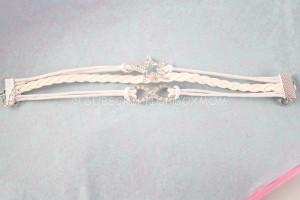 Encrusted Star and Infinity Bracelet by Body Decorator $19.99  I think the show Revenge really made the infinity symbol popular.  This is cute bracelet and would add bling to any outfit.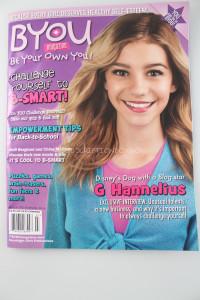 BYOU Magazine (July/August) Issue : $3.95: This is a new magazine for tweens and teens firls that builds self-esteem.  Featured on the cover is G Hannelius, a star of the Disney show "Dog with a Blog".   Posh Pak also has a giveaway for three winners in the magazine.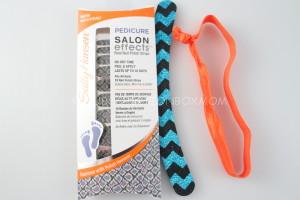 Bonus Gift Salon Effects Pedicure Strips, File and headband: $4.98 for the strips, $1.00 est for file, $1.00 est for headband:  This set was a bonus.  I have tried the manicure sets, but I haven't tried the pedicure ones.  See the next picture for a close up.  I also love the curved nail file and the headband.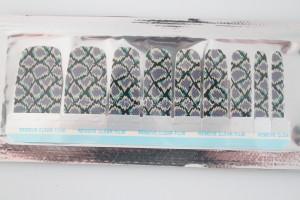 The pattern on the pedicure strips is snake, rattle and roll.  This is a fun set and will look great with sandals.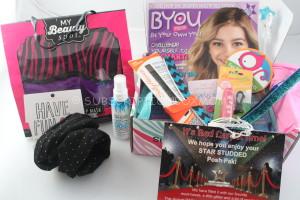 Final Thought:  The total value of this box was $77.39!  This box had an incredible value, more than double the price!  Everything in the box was fantastic and perfect for a teen girl.  I like how the magazine focuses on self esteem while having age appropriate content.  The lip balm, scarf and headband were my favorite items in the box, but everything was great.  Girls of all ages will like Posh Pak.  Posh Pak included a wide variety of items in each box, to ensure ever girls loves their box.  Did I mention the box itself is cute?  To try Posh Pak, click HERE.
Do you like FREE SUBSCRIPTION BOXES?  Click HERE to see my free subscription box list.
Do you love Giveaways? Check out all my Giveaways HERE
Disclosure: I received this box free for review.  My opinions are my own.