August 20, 2014
08/20/14

By Subscription Box Mom

0 Comments
0
August 2014 Nerd Block Jr Review – Girl – Toy Subscription Box
Disclosure: This post contains affilate links
Nerd Block has released a new line of subscription boxes for children, Nerd Block Jr!  It is $13.99/mo plus $6.00 shipping. Nerd Block Jr. is a monthly surprise package just for kids! Shaping tomorrow's nerds today, Nerd Block Jr. is specifically designed for children aged 6-11 (give or take a year) and is filled with toys and games just for them!  There is a huge lack of boxes for older kids, so I was excited to check Nerd Block Jr out.  I also reviewed the Girls Nerd Block Jr HERE  last month, as well as the Boy's Nerd Block Jr HERE.
The Details:
Cost: $13.99 plus $6.00 shipping
What's in the box: Nerd Block Jr. is filled with toys, games, and collectibles from your kids favorite brands including Star Wars, Disney, Adventure Time, My Little Pony, Angry Birds, and many more!
When am I charged? Initially, you will be charged for your first Block at the time you register for your subscription. Then, you will be billed at the beginning of every month for that month's subscription (January block is billed on 1 January). The monthly billing closes on the 8th of the month. 
For example, if you subscribe on January 10th, that payment will be applied to February Block (remember, the closing date for January was the 8th). Your next billing will occur on March 1st for the March Block.

 
If you subscribe prior to the closing date for that month's Block (you subscribe on January 7th or prior) you will be billed immediately for January's Block and your next payment will occur February 1st for February's Block.

The closing date can be found on the homepage (hint: it's the countdown timer).
When does it ship?  Nerd Block Jr. is sent out at the same time as Nerd Block – approximately the 15th of every month, give or take a day. Once your Nerd Block Jr. is shipped, you'll receive an email notifying you of your tracking information! 
How do I cancel? Cancelling a subscription is easy! Just email cancel@nerdblock.com with your name and address, and they will cancel your account. Please note that all orders must be cancelled 24-hours prior to the 1st of every month.
Website: https://nerdblock.com/#nerdblockjr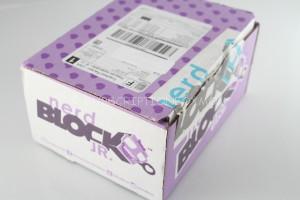 Nerd Block jr arrives around the middle of the month.  The girl boxes are purple, and the boys boxes are blue.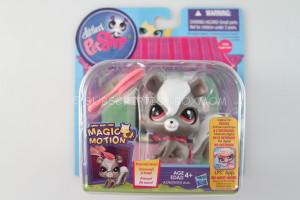 Littlest Pet Shop Pepper Clark $3.99:  I couldn't find this exact one to est price, so I found something similar.  This little pet shop toy moves when you brush it.  This is really cute and I am sure any little girl would like it.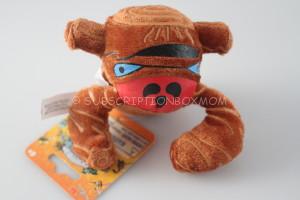 Skylanders Giants Flingers $5.00: This is a Skylanders finger puppet.  I don't know much about Skylanders, but I know it's pretty popular.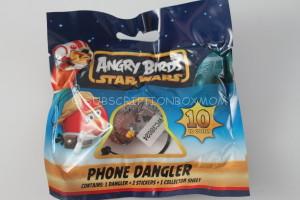 Angry Birds Star Wars Phone Dangler $4.99: This is a little star wars phone dangler.  This is "Chewy".  My 5 year old loves angry birds.  This could also be clipped to a backpack.  This may seem a bit more of a "boy" toy, but I was a huge Star Wars fan, ever since I was a child.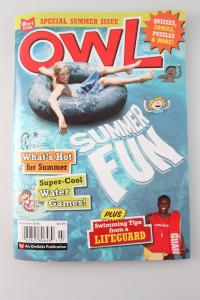 Owl Magazine: $5.99  This is a fun magazine for kids that has games, stories and fun activities.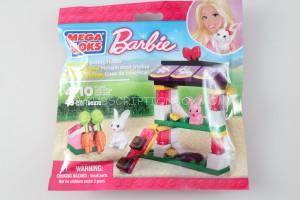 Mega Bloks Barbie Bunny House $4.99: This is a cute little Mega Bloks set with cute little bunnies.  I want to play with this.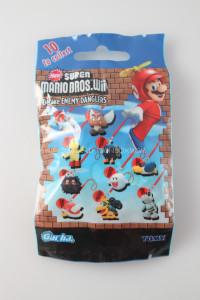 Super Mario Brothers Wii Deluxe Enemy Danglers $5.99 This is a little Mario Brother's dangler.  You can loop this through a zipper and have cute character decoration.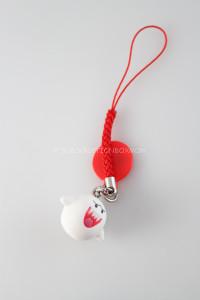 We got BOO!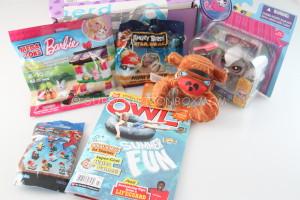 Final Thought:  This month's total value is $30.95.  This was a fun box and there were several items in it.  There did seem to be a couple toys that were more "boy", but that may not bother everyone.  The Skylanders and Angry Bird's toys seemed a bit more boy.  The magazine is really cute and it is packed with stuff.  The Littlest Pet Shop and Barbie legos were some of my favorite items. There are not many boxes for the 6-11 age range.  Nerd Block Jr has created a great box. To sign up for Nerd Block Jr, click HERE.
Do you like FREE SUBSCRIPTION BOXES?  Click HERE to see my free subscription box list.
Do you love giveaways?  Click HERE and see all my current giveaways.
  Disclosure: This post contains affiliate links.   I received the box free for review.  My opinions are my own and I was not compensated in any way.