July 13, 2014
07/13/14

By Subscription Box Mom

1 Comment
1
Popsugar Must Have Box July 2014 Review + Coupon
Popsugar is my favorite box I get for myself. I already knew the spoilers for this month, but I was still excited to see them in person.  Popsugar is $39.95 a month, but you can save $5.00 on your first box by clicking HERE and using the code REFER5. 
The Details
Cost: Month to Month $39.95
3 Months: $109.85
6 Months: $214.70
12 Months: $429.40
Coupon: click HERE and using the code REFER5 to save $5.00 on your first box.
Shipping: Popsugar only ships to the United States
What's in the box? Every month, Lisa Sugar and her editorial staff will curate an exciting monthly box full of fun, must-have picks across fashion, beauty, home decor, fitness, and more, which we will deliver to your door. The monthly box targets women ages 18-40 and features full-size products and premium items including tried-and-true classics, celebrity favorites, and brands consumers have yet to discover. Your monthly subscription box will include products worth over $100. (Please note: The $100 value is based on the manufacturer's estimated MSRP at the time products are acquired by POPSUGAR. All prices are subject to change without notice.)
When do I get my box? Your POPSUGAR Must Have box will ship by the 15th of the month, or the following business day if the projected shipment date is a holiday, or as otherwise indicated in your account. Your account settings will initially display that your box is "processing" after you are billed. When your box ships out, the "processing" message on your account settings will update to reflect your tracking information.
When am I billed? You will be billed for your first month immediately upon placing your order for a monthly subscription. Please note that if your monthly subscription begins in a later month, you will still be billed at the time you place your first order. After the first month has completed, you will be billed when your next shipment is being processed (expected to occur in the beginning of each month, or as otherwise indicated in your account).
How do I cancel? In order to cancel your subscription, simply go to your Account Page, and under the "Subscriptions" tab, click "Manage Billing." On the "Billing" pop-up, please scroll to the bottom where you will find the text "You can cancel your subscription here." Please click the highlighted "here." You will be prompted to confirm whether or not you want to cancel. Please note, clicking "Cancel" will disable the auto-renewal feature on your account but will not affect your current order. For example, if you have a 3-month subscription, you will still receive all three boxes but no additional boxes. Also, any referral bonus boxes as noted on your account settings page will be placed on hold after you cancel your account, as you need to have an active subscription in order to receive any of your referral bonus boxes.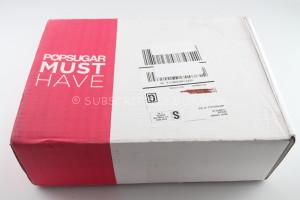 I don't believe I even received my tracking information this month.  I love seeing Popsugar on my doorstep.  The pink and white really stands out.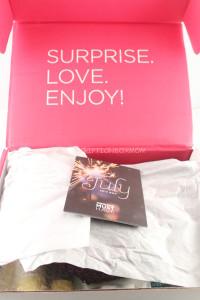 First Look:  This box was bursting at the seems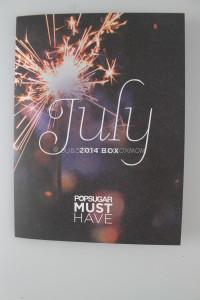 I like Popsugar's new information guides.  They have each month's theme on the cover.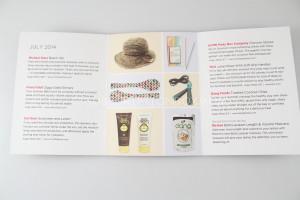 Popsugar includes descriptions of each item and the retail value.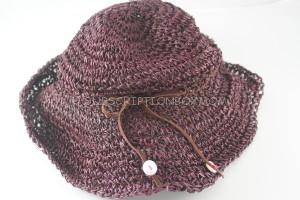 Michael Stars Beach Hat $48.00 This is a bendable hat that is great to wear in the sun, if you didn't have a gigantic head like I do.  1.  My head is huge and won't fit in this hat.  2.  That hat looks ridiculous on me.  This hat will be up for trade.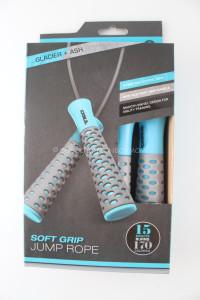 TKO Jump Rope $10.00 I can't say I have jumped rope since I was 10.  Popsugar says jumping rope burns 170 calories in just 15 mins.  I have fallen off my running kick and want to change up my workouts.  I am going to try this out, when my oldest son plays outside.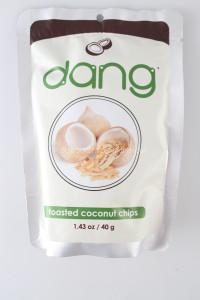 Dang Foods toasted coconut chips $3.00. Okay, when I saw these, my first reaction was DANG.  I really hate coconut.  I have no desire to try these and these will be up for trade for sure.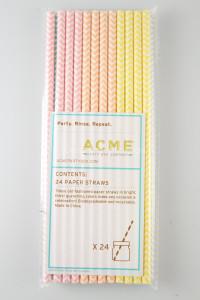 ACME Party Box Company Chevron Straws $7.00:  These are really cute straws.  I love the chevron pattern.  There are 24 old fashioned paper straws and they cost $7.00! That is about 30 cents a straw.  These are cute but I wouldn't pay $7.00 for straws.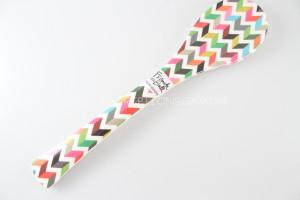 French Bull Ziggy Salad Servers $12.00  These are so cute!  Again, I love the chevron and totally awesome.  They are scratch and shatter resistant and dishwasher safe.   I don't eat salad (I know I am weird). but my family loves salad.  I will use these at parties and home.  You can also use these to serve dishes.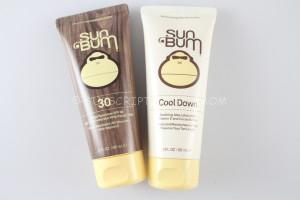 'Cool Down' Hydrating After Sun Lotion $7.99 This is to help hydrate your skin after being in the sun.  This has aloe lotion with vitamin E and cocoa butter.  I wear sunscreen, but I do get too much sub from time to time.
Sun Bum SPF 30 Moisturizing Sunscreen Lotion  $11.99 This is a relatively low spf for me (I am pale).  This is water resistant, not waterproof, which I guess means I can be splashed but not go swimming.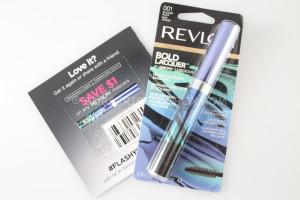 Revlon Bold Lacquer Length & Volume Mascara $7.99: This is a sponsored product from Revlon. This is a new product that promises to lengthen and create volume.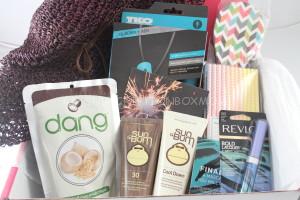 Final Thought: This month had a total value of $107.97.  I loved the salad servers and the jump rope.  I am also excited to try the mascara.  I am sad the hat isn't going to work for me and I won't eat the coconut chips.  The straws and sun products are nice but don't wow me.  I do like Popsugar, this is just not my favorite box.  If you want to try Popsugar, click HERE and use the code REFER5 to save $5.00.
Do you like FREE SUBSCRIPTION BOXES?  Click HERE to see my free subscription box list.
Check out my current giveaways 
HERE
Disclosure: This post contains referral links