July 11, 2014
07/11/14

By Subscription Box Mom

78 Comments
78
Oishiibox July 2014 Review + Giveaways – Asian Subscription Box
OishiiBox sent me this box for review.  OishiiBox is an Asian subscription box, that sends snacks, sweets and all things Kawaii from Korea, Japan, Taiwan and beyond.  Subscriptions cost $12.00 a month and each box is filled with tons of goodies.   A portion of each purchase will be donated to UNICEF.  If you want a different charity for your donation, you can contact them.  For $12.00 a month, I was really excited to see what would be in the box.  As of right now, you purchase the July, August and September's boxes individually.  You won't be charged on going for these months.
The Details
Cost: $12.00 a month
Shipping:  OishiiBox ships to the United States and shipping is free.
What's in the box? For $12/month (free shipping) you can get a handpicked box of Asian goodies from Korea, Japan, and Taiwan and beyond!  Choose to add the July, August, or September boxes.  A portion of each purchase will be donated to UNICEF.
When does the box ship? OishiiBox should be shipped and delivered within the first two weeks of every month. 
What is the cut off date to get a box? In order to receive lets say an August OishiiBox, you must order before the 23rd of every month.  This would mean you must order by July 23rd.  If you have missed a cutoff date but want the most recent box, please contact Oishiibox.
Website: http://www.oishiibox.biz/

OishiiBox ships in a white box with a logo sticker on top.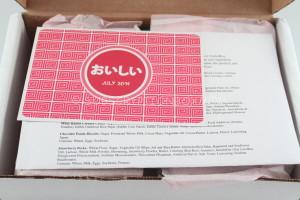 First Look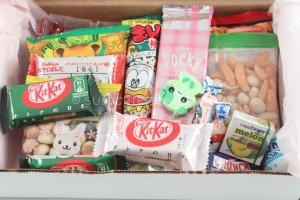 All the goodies.  I was surprised to see how full this box was.  There were so many snacks.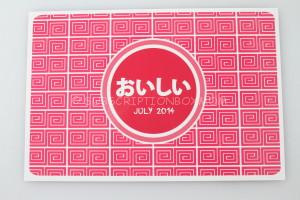 There was really cute card on top with the month and year on it.  On the reverse side, there is a welcome message.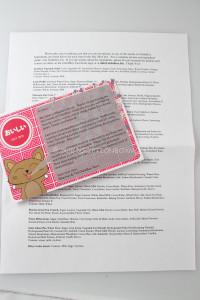 OishiiBox also came with a full list of the items in their box along with their ingredients.  As a mom with a child with a peanut allergy, I love this!  I don't let my son eat anything without checking the ingredients.  Since most of these snacks are not in English, I appreciate knowing what is in them.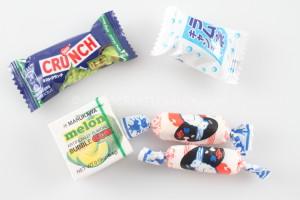 White Rabbit Creamy Candy: This tasted like soft white chocolate candy.
Fusen Melon Gum There were four little gumballs in the box.  They tasted like melon and were soft and chewy.  I love gum and this passed my tests.
Umeboshi Hard Candy: This was a fizzy fruity hard candy.  I really enjoyed it and would love to have more.
Matcha Green Tea Crunch:  My husband tried this one.  He said it was chocolate with a hint of green tea. He didn't like the after taste though.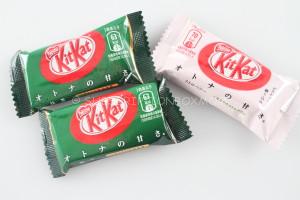 Green Tea and Strawberry Kit Kats:  My husband had the green tea one again and thought it was really good and said it tasted like a regular Kit Kat.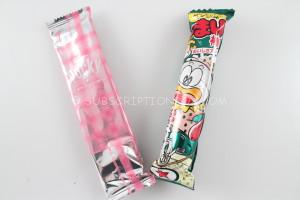 Strawberry Pocky: This is basically strawberry covered crackers.  This is really good.
Umaibou Vegetable Salad I have had Umaibou before, but I have had the cheddar version (I loved it).  I am interested to taste this one.  This has the consistency of a puffy Cheetos, only bigger and more dense.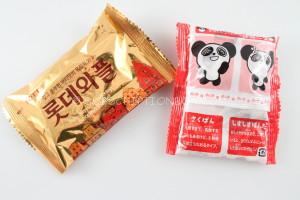 Lotte Waffle:  This was really good.  They are shaped like and taste similar to a waffle cone.  They do have a vanilla after taste, which isn't unpleasant, but it different.
Chocolate Panda Biscuits: These are really good as well!  They are little cookies shaped like panda heads.  They have chocolate and white chocolate icing to make the facial features.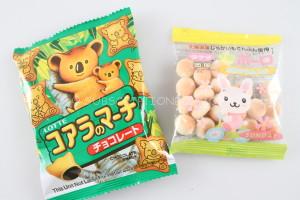 Lotte Koala's March  I love these cookies.  There are other versions too. These are cute little Koala shaped cookies filled with strawberry or chocolate.  These are filled with chocolate and so tasty.  Each Koala has a different picture on the front of the cookie.  I looked at one or two then finished the bag.
Baby Cookie Snack These are sweet little cracker puffs.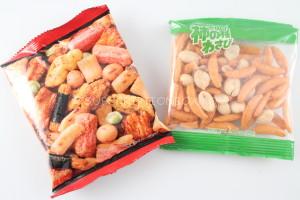 Otsumamu 10 Sen Baked Rice Crackers  This was really unique but not my taste.  There was little tiny pieces of fish inside (cuttlefish).  It was a bit too different for me, but I liked trying a new snack.
Kameda Kakinotane Wasabi Snack: This was crunchy, nutty and a bit spicy.  I really like it but my husband wasn't a fan.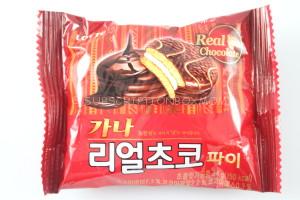 Lotto Choco Pie:  I haven't' tried these yet, but the picture reminds me of a moon pie.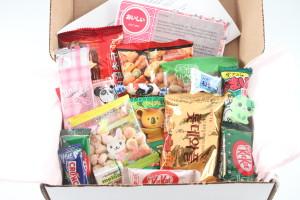 Final Thought: This was a fantastic box.  For $12.00 a month, you can try unique and tasty treats from places like Korea, Japan, and Taiwan.  I was impressed with the amount of snacks you get for $12.00/month.  If you want to try OishiiBox, click HERE.  OishiiBox has also given me two boxes for a giveaway.  There will be two winners, so enter below!
Do you like FREE SUBSCRIPTION BOXES?  Click HERE to see my free subscription box list.
Check out my current giveaways 
HERE
Disclosure: I received this box free for review.  OishiiBox is responsible for all prize distribution.