July 23, 2014
07/23/14

By Subscription Box Mom

0 Comments
0
Love with Food New Gluten-Free Subscription Snack Box + Spoilers
Love with Food is adding a gluten free subscription box August 2014.  It is going to contain eight to 12 handpicked gluten-free snacks, put together in themed boxes.  There is an estimated 18 million people that are sensitive to gluten.  Since it is hard to find a large selection of gluten free snacks, Love with Food decided to make a gluten free box.
Love with Food always donates a meal for every box they sell, but for the the month of August, they will donate two meals to feed hungry children in the United States.  The gluten free boxes will start at $25.00 a month and will be free of high fructose corn syrup, artificial colorings, artificial flavors and trans fats.
Would you like to see some spoilers for the August Box?  . The theme of the August GF box is "Fun at the County Fair"! Take a look at some of the photos.
Jules Gluten Free – Cookie Mix You can enjoy great tasting cookies with out the gluten 
2.  Lundberg Family Farms – Redwood Smoky BBQ Multigrain Chips These chips are made with brown rice, quiona, and and array of spices.  These look fantastic.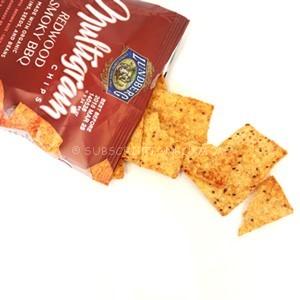 3.  BumbleBar – Apple Crisp JunoBar Delicious flavors of cinnamon apple crisp with protein-rich quinoa and a dash of sweetness from vanilla and honey.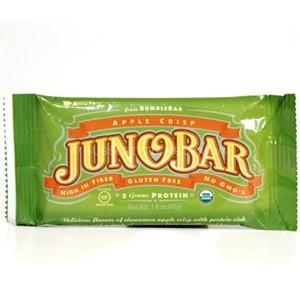 4.  180 Snacks – Nutty Rice Bites with Blueberries  These little clusters are made with blueberries, pumpkin seeds, roasted nuts, puffed rice and more.  These look really tasty.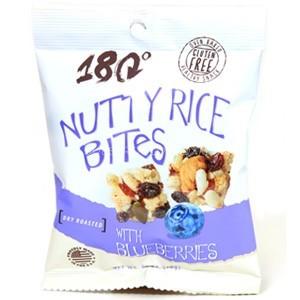 If you want to try the new Gluten Free Box, click HERE.  This looks like a really tasty box.
To read the official press release, read on
Love With Food Adds New Gluten-Free Subscription Snack Box
FOSTER CITY, Calif. (July 23, 2014) – Love With Food, the all-natural subscription snack box service, today announced it will offer a new Gluten-Free Snack Box option starting next month.
Each box contains eight to 12 handpicked gluten-free snacks assembled around fun themes like 'Derby Days' and 'Take Me Out to the Ballgame' giving gluten-sensitive consumers the ease and convenience of having delicious, healthy, worry-free snacks delivered right to their door. Love With Food will donate two meals to feed hungry children in the U.S. for every Gluten Free box sold.
According to the National Foundation for Celiac Awareness (NFCA), an estimated 18 million Americans are gluten sensitive, but gluten-free food options are limited, often forcing these consumers to give up some of their favorite foods. Love With Food founder Aihui Ong said her company aims to be part of the solution to improve options and quality of life for gluten-sensitive consumers. "Our subscribers and fans have been asking for more gluten-free options," she said. "With a mission to help Americans snack smarter, it was obvious to me that an exclusively gluten-free box would both support our cause and satisfy our subscribers' dietary needs by offering a great variety of gluten-free snacks every month." Each item in the Gluten-Free box is also free of high fructose corn syrup, artificial colorings, artificial flavors and trans fats, making them an all-around healthy snack option for anyone. Starting at just $25 per month, the Gluten-Free box is available for a monthly, 6- or 12-month subscription, and it makes a great gift for holidays, birthdays or just as a special treat to show a gluten-sensitive friend that you care. Love With Food offers convenient monthly delivery of delicious and nutritious organic or all-natural snacks right to your door, making these sometimes hard-to-find goodies available to consumers anywhere in the U.S. The San Francisco Bay area startup broke into the snack subscription marketplace with its premiere Tasting Box subscription in January 2012 with the mission of helping consumers snack smarter while doing good. Since then, Love With Food has garnered a massive social media following with more than 200,000 fans on Facebook and built a highly active and engaged subscriber community. As a marketing platform, Love With Food enables consumer food brands to tap into this valuable consumer insight to curate products based on consumer's taste preferences. Love With Food also offers an easy way for their members to purchase specific snacks that they love via an online marketplace.
As part of its mission, Love With Food also fights childhood hunger by donating up to two meals to feed hungry children in the U.S. for every snack box sold. To date, the company has donated more than 250,000 meals to food banks nationwide."
For more information or to sign up now to receive delicious, healthy snacks delivered right to your door, visit www.lovewithfood.com.
Do you like FREE SUBSCRIPTION BOXES? Click HERE to see my free subscription box list.
Do you love Giveaways?  Check out all my Giveaways HERE
Disclosure:This post contains affiliate links.