July 14, 2014
07/14/14

By Subscription Box Mom

11 Comments
11
littleBLAST July 2014 Review + Giveaway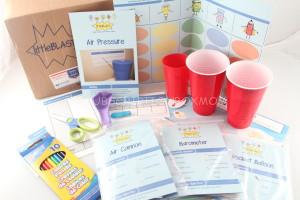 littleBLAST, who sent me this box to review, is a subscription box company that introduces Science  and Math to children and young as preschool.  Each month you will receive a new BLAST with all the supplies necessary to complete 3-4 activities centered around a theme. Included in the BLAST are instruction guides that will provide learning goals, clear instructions and highlight learning points during the process for each activity.
With these BLASTs, a caregiver will have the opportunity to expand the child's vocabulary, introducing terms such as saturation, gravity, and plane structure all through guided activities. Furthermore, the child will be introduced to the scientific process, encouraging the formation and testing of hypotheses.
My 5 year old love Science, so I was excited for him to test out little BLAST.  Everything in the box is written and geared for children.  You can buy single BLASTs, or you can sign up for a subscription, starting with a three month subscription.
The Details:
The Cost: Three month subscription: $74.85, $149.70 6 month subscription.
What's in the box? All the supplies and guides to complete 3-4 activities centered around a theme.  We include all the supplies from test tubes to pencils.  We also include guides with step-by-step instructions, highlighted learning points and descriptions of what should be learnt from this activity.  
When will I receive my box?  If you sign up for a subscription, your box will ship out the first Tuesday of the month.  If you buy a single box, you box will ship the moment you order.
Website: http://www.littleblast.com/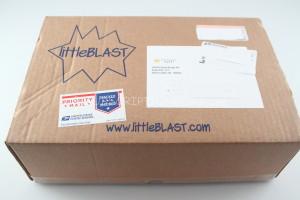 littleBLAST came in a big box!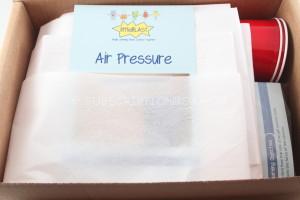 First Look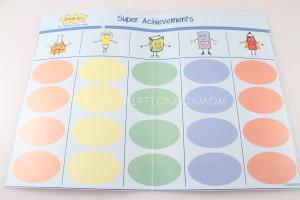 Little Blast included a chart you can put all your badges on.  Each month you will complete activities to earn a badge.  Once they are all completed, you add the badge to your chart.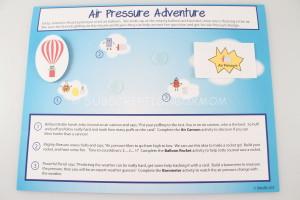 This month's theme was Air Pressure Adventure.  You join Jotty Journal as she floats along the sky, learning about air pressure.  The badge is also located on this sheet.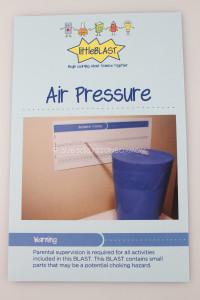 There was a general card about Air Pressure.  The card is written to the child.  There are three main activities this month: Air Cannon, Balloon Rocket, and Barometer.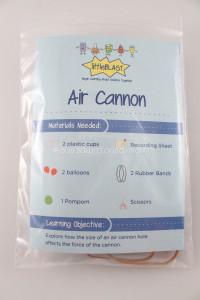 The first project was the Air Cannon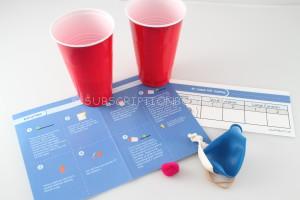 Each project included an information booklet and all the supplies needed to complete each project.  After you complete each project, there is a question to help your child lean more.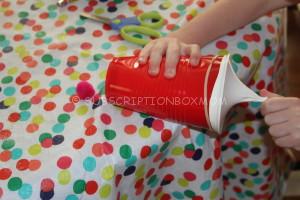 This project involves making an air cannon and seeing if blowing, using the cannon with a small hole or using a cannon with a large hole will be more effective.  This is the small hole cannon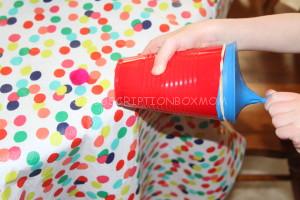 This is the large hole cannon.  At the end you document how many puff of air or pulls from the cannon it takes, to get the puff ball to blow across the table.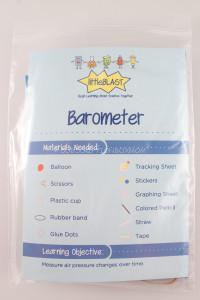 The second project was the Barometer.  little BLAST actually recommends doing the rocket second, but L really wanted to do the Barameter.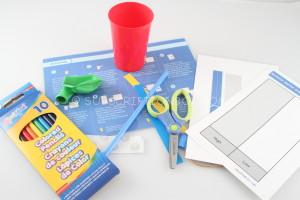 Everything we needed was included.  There was even scissors and a pack of colored pencils.   There was also journal/graphs to document your findings.
L had fun making his barometer.  He needed some help with the balloon, but the rest he did on his own.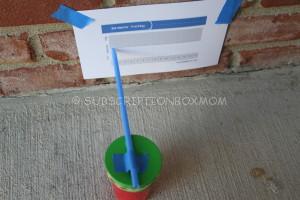 You put the Barometer out each day and document if there is high or low pressure.  My son loves checking on his Barometer each day and telling me if it was high or low pressure. Math is not my son's strong subject and I like how this kid helps him learn math skills.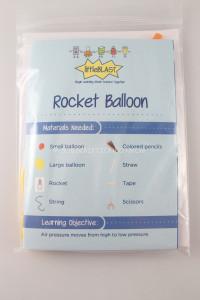 The last project was the Rocket Balloon.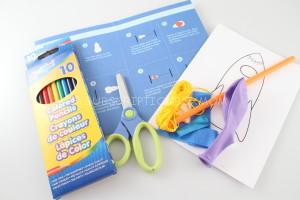 There was not a second set of pencils or scissors, I just included them in two pictures.  This project involves making  a rocket on a sting.  You need a 10ft area to do the project, so we are planning to do this outside.  Currently, it is very hot, so we are waiting till it is a bit cooler to do this project.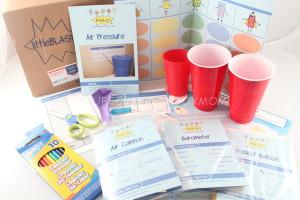 Final Thought;  littleBLAST is a really fun educational kit that lets preschoolers experience the world of Science and Discovery.  I was really impressed with the projects in the kit and  how they write the instructions and questions directly to children.  My son struggles with learning numbers and math, but littleBLAST made learning fun.  I am always searching for new ways to help educate L about numbers, and littleBLAST is a great resource.  If you would like to try littleBLAST for your child, click HERE.   littleBLAST is giving away one box to one of my readers.  Just click below to enter.
Do you like FREE SUBSCRIPTION BOXES?  Click HERE to see my free subscription box list.
Check out my current giveaways HERE
Disclosure:   I received this box free for review.  littleBLAST is responsible for all prize distributions.