July 16, 2014
07/16/14

By Subscription Box Mom

0 Comments
0
Horror Block Reivew – Nerd Block Horror Premier Box
There is a brand new Nerd Block, Nerd Block Horror!  Nerd Block is a monthly mystery package delivered right to your door filled with nerdy apparel, toys, and collectables! Every From the makers of Nerd Block comes Horror Block! Horror Block is a monthly mystery package delivered right to your door filled with pop-horror apparel, toys, and collectables! Every Horror Block comes with a custom t-shirt (in your size) and 5-6 epic items for you to tear into!  
Nerd Block contains licensed merchandise, hand-picked by our team of uber-nerds representing all genres from movies, television, video games, internet, and more! Each item is carefully selected and put through a series of in-house testing based on quality, brand association, collectability, and most important – fun factor.  Nerd Block Horror will contain items such as Funko Pop Walking Dead Figures, Aliens Minimates, Jason Vorhees Plush Toy,  I am really excited for this box.  The first box ships June 25th.  Just click HERE to check them out.  I am a HUGE horror buff and I am really excited about this box!
The Details
Cost: $19.95 a month plus $9.50 shipping for the U.S  They do ship to other countries.
What is Nerd Block Horror? Horror Block is filled with toys, collectibles, and a t-shirt from your favorite brands including A Nightmare on Elm Street, Friday the 13th, The Walking Dead, Aliens, Halloween, and many more!
The Shirts:  There are 4 categories of shirts: 1.  Guys and Gals from size S – 4XL, Women's Fitted from S-2XL, Men's Fitted from S-2XL and Youth from XS-XL  There are extra costs for larger sizes: 2XL=$1.50, 3XL=$2.50, 4XL=$3.50
When am I charged? You are charged each month on the day you registered.  So if you ordered on the 10th, you will be charged on the 10th every month.
When does it ship? Boxes ship out around the 15th of the month
How do I cancel? "Just email cancel@nerdblock.com with your name and address, and we'll cancel your account. Please note that all orders must be cancelled 24-hours prior to that month's Block closing date. The closing date for every month can be found at http://www.nerdblock.com under the countdown timer."
Contact Info:  Website: www.nerdblock.com Email: info@nerdblock.com Facebook: https://www.facebook.com/NerdBlock Twitter: https://twitter.com/nerdblock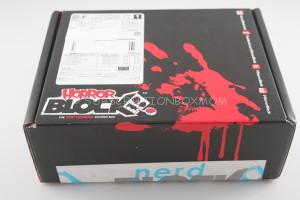 Horror Block shipped in an awesome black box with a bloody hand print on top.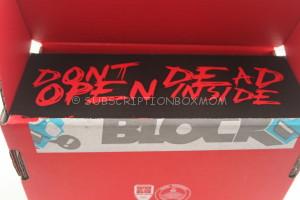 First Look: The inside edge of the box had a phrase "Don't Open Dead Inside"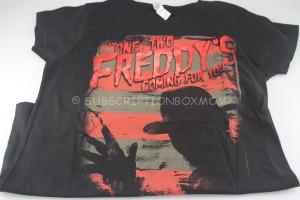 Freddy's Coming for You Shirt $20.00 est:  This is the woman's fitted shirt and it is really awesome.  My husband was disappointed I got the woman's size.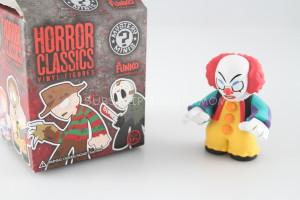 FUNKO Horror Classics Vinyl Figures Mystery Minis: $10.98: I got Pennywise from the movie It.  I hate clowns because of this movie.  With that said, I may move this guy around the house to freak out my husband.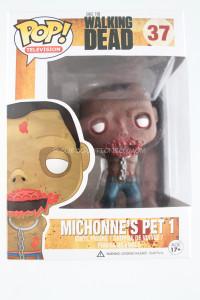 FUNKO The Walking Dead Michonne's Pet 2 $9.94 I am a huge horror fan, but I don't like zombies.  This is just kinda meh for me.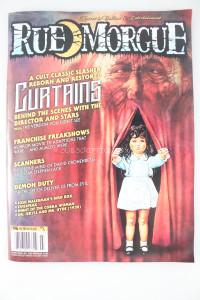 Rue Morgue Magazine $9.95: This magazine is devoted to everything horror.  This is a really cool magazine.  it has interviews about different movies,   There are some Horror Movie Tv Adaptations that were and almost were that is really interesting.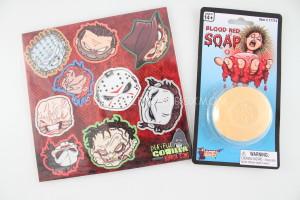 Playful Gorilla Stickers: $12.00  I think you can put these on your phone,  There are all top horrors on this sheet.  I actually know all their name but one.
Blood Red Soap: $2.00 Oh my this is cool.  I am saving this for Halloween.  Someone is going to go to wash their hand and boom,,,,BLOOD.  Okay, I told you I love horror.  This soap is fun.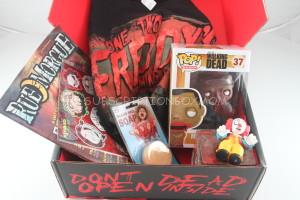 Final Thought: The total value of this box was $64.98.  This was an awesome box!  I love the t-shirt, magazine, figure, and soap.  The Walking Dead figure isn't my thing, but the box as a whole is awesome.  If you want to sign up for Horror Block, click HERE.  I think I need this subscription!
Do you like FREE SUBSCRIPTION BOXES?  Click HERE to see my free subscription box list.
Check out my current giveaways HERE
Disclosure:   I received this box free for review.  This post contains affiliate links.