July 24, 2014
07/24/14

By Subscription Box Mom

0 Comments
0
Freedom Japanese Market July 2014 Review + Coupon
Freedom Japanese Market is a Japanese candy and snack subscription box.  I was sent this box to review.  Freedom Japanese Market is $25.00 a month and each month you get about 7 to 12 candies and snacks, shipped to your house every month!  They ship worldwide and there is FREE SHIPPING!.  All the snacks ship right from Japan, to ensure maximum freshness.  You can also paid by Paypal, for extra security.
The Details:
Cost: $25.00/month
Coupon: Use the code Subscriptionboxmom when you subscribe to get an extra treat in your box.
What's in the box? About a pound of unique Japanese snacks sent to your front door every month!
When will I receive my box? If you order after the 15th of the month, you automatically start from the next month.  For example, if you subscribe on the 17th of January, your first payment will be accepted on the 15th of February, and your first package will be shipped at the end of that month.  If you order after the 15th and would still like to receive that month's package, please contact them.
When am I charged: The subscription fee is automatically paid through PayPal on the 15th of each month. How do I cancel? Send them an email stating you need to cancel your subscription. Please note that we cannot "skip" packages. If you cancel your subscription after the 15th of the month, you may be charged for the following package and receive one final box the next month. Website:  http://www.freedomjapanesemarket.com/ Facebook: https://www.facebook.com/FreedomJapaneseMarket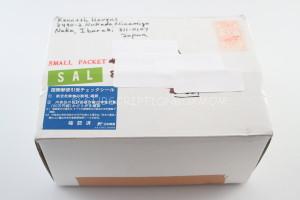 Freedom Japanese Market ships all the way from Japan.  They also ship worldwide for FREE!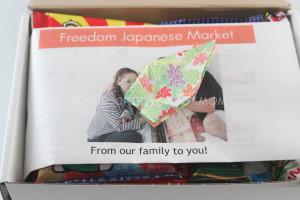 First Look: I loved the origami swan.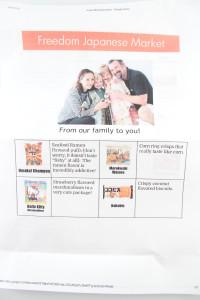 Information sheet: I love that they included pictures with the name and description.  I loved that there are pictures, because it makes it effortless to find the right product.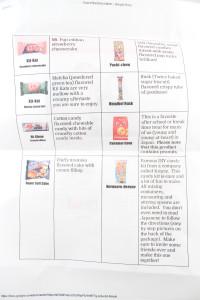 Back of information sheet.
Umaka! Champon:  These are seafood ramen flavored puffs.  These taste pretty good and have a bit of an onion taste.
Morokashi Watoro:  These are corn ring crisps. They are very crunchy and they are pretty tasty.  My 2 year old and I both like these.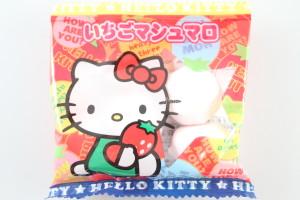 Hello Kitty Marshmallows: I love Hello Kitty and these are strawberry flavored marshmallows.  These are really soft and tasty!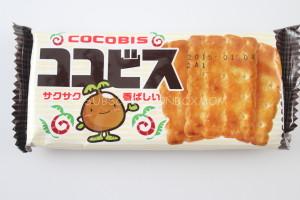 Kokohls: These are crispy coconut flavored biscuits.  If you follow my website, you know I hate coconut.  I will save these for a family member who loves coconut.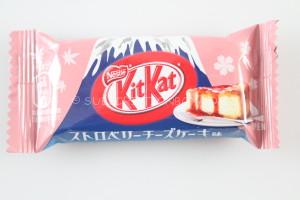 Strawberry Kit Kat:  Until the start of Japanese snack boxes, I never knew these existed.  These taste great.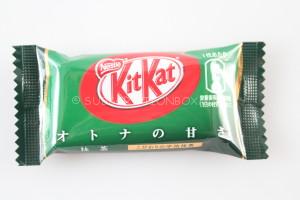 Green Tea Kit Kat: These are green tea flavored Kit Kats and my husband loves these.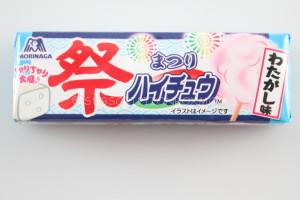 Hi-Chew Festival Edition:  These are cotton candy flavored chewable candy, with bits of crunchy candy inside.  My oldest (age 5) didn't really care for this.  This is a white candy with a crunchy flavor in the middle.  It was tasty, but different.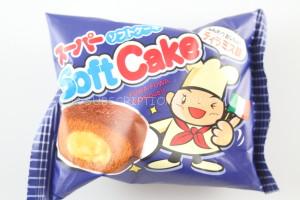 Super Soft Cake:  These is fluffy tiramisu flavored cake with cream filing.  My husband loves tiramisu, so I am saving this for him.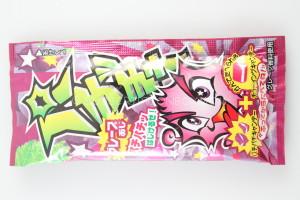 Pach-chew:  These are soft chewable, grape flavored canides mixed with grape flavored pop rocks.  These are great.  I have the candy taste buds of a 10 year old, so these are right up my alley.  My 5 year old and I loved this!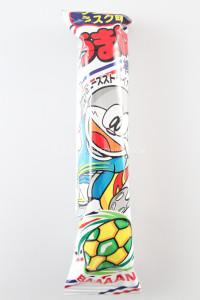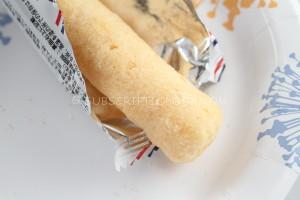 Umalbol Rusk:  I have had this before and I love it.  This is rusk (twice based sugar biscuit) crispy tube.  I could eat several of these.  My kids also loved it.
Caramel Corn:  This caramel corn is a favorite after school snack or treat for many Japanese children.  This was really tasty.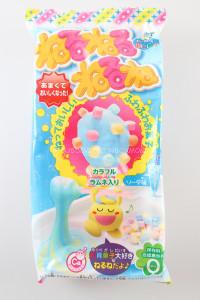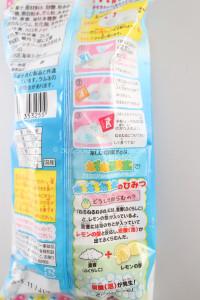 Neruneru-Nerune: This is a famous DIY candy kit.  I have seen You Tube videos of these and I can't wait to try this with my kids.  It even comes with measuring and stirring spoons.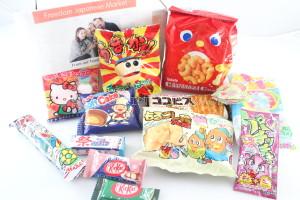 Final Thought: This was a great box.  I have reviewed some Japanese snack boxes and all but three of these snacks were totally new to me.  I love trying new snacks and my kids are all about helping me.  I also like that Freedom Japanese Market ships worldwide for FREE.  If you are interested in trying Freedom Japanese Market, click HERE and use the code subscriptionboxmom at check out, for an extra treat in your box.
Do you like FREE SUBSCRIPTION BOXES?  Click HERE to see my free subscription box list.
Do you love Giveaways?  Click HERE to enter all my Giveaways.
Disclosure: This post contains affiliate links.  I received this box free for review.