Bestowed July 2014 Review + Coupon
Bestowed is a subscription box full of healthy snack, food and beverages.  It was founded by Heather Bauer.  Heather is a registered dietitian and a best selling author of two books: The Wall Street Diet (Hyperion 2008) and Bread is the Devil (St. Martin's Press 2012).  This month's Bestowed box was designed to get rid of the last bits of winter, and spring into good health.
The Details
Cost: $19.00 a month or $209.00 a year
Coupons: 50% off your first month of Bestowed ($10 instead of $19) by using the code HELLOYUM34.  Just click HERE to join.  This code expires 6/15
What's in the box? Get a boxed assortment of healthy and delicious food, snacks, and beverages — delivered to your door every month. Most of the products are full size and the box will have a value of at least $30.00
When will I get the box? 15th of the month
                                    Twitter: @bstowed
                                    Phone: (866) 976-2797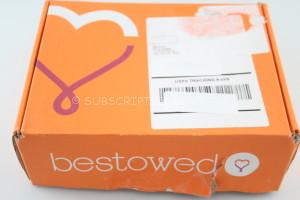 Bestowed ships in a pretty orange box.  This box got a bit wet from a storm, but the contents were safe.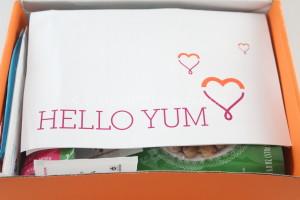 First Look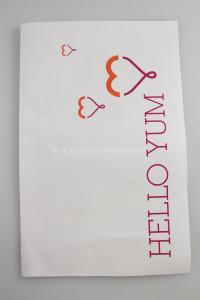 There is always an information booklet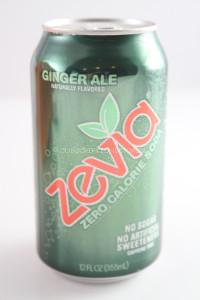 Zevia Giner Ale:  This is a blend of real giner and citrus oils.  This has zero calories and no sugar.  I really only drink giner ale when I am sick, so I am going to save this for one of my family members (or I) have a upset tummy.
Update:  My husband tried this one night.  He had an upset stomach, but wasn't a fan.  He said it had a diet flavor.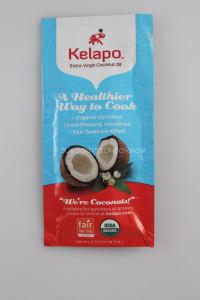 Kelapo Extra Virgin Coconut Oil:  If you read my blog, you know my strong dislike for coconut.  This is coconut oil and is used for cooking.  This is 100% organic, trans fat free coconut oil.  This is an all-natural , flavorful, energy packed alternative.  This is rich in vitamins, minerals and has a long list of impressive health benefits.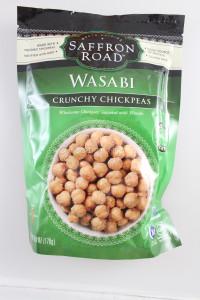 Saffron Road Crunchy Chickpeas:  I love salty snacks, but they are not very good for you.  These are non-gmo, gluten free and are a natural snack.  There is fiber and protein as well.  I was really prepared to love these, but they are much to spicy for my tastes.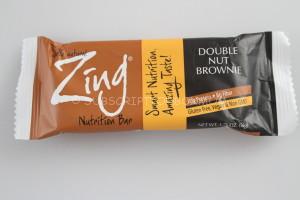 Zing Bar: This is wheat free, vegan, soy free and non gmo.  It has 10 grams of protein and 6 grams of fiber.  I was really excited to try this, but I hated it.  I actually didn't swallow.  It honestly tasted like dirt.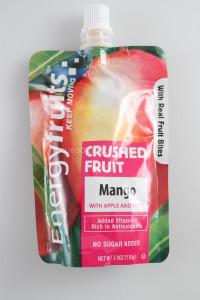 Energy Fruits: This is filled with selected fruits to pack some great healthy eating.  All the fruit is crushed and blended together and they even add some vitamins.  I am interested in trying this, although I know my 2 year old would love this.  He is a huge fruit eater and loves pouches.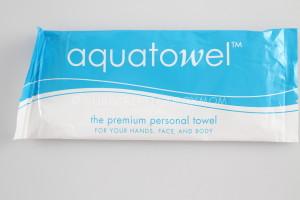 Aquatowel is an individually wrapped wet towel made of 97.4% water. It is used for the face, hands, and body but could also double as a cleaning wipe for a variety of surfaces. It is free of perfumes, oils and harsh chemicals that can cause allergies or other adverse reactions. This will be put with my travel items.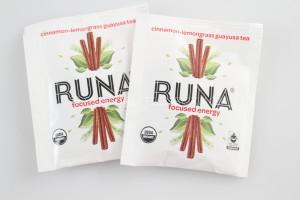 Runa: This is two packets of cinnamon-lemongrass guayusa tea.  Guayusa is native Amazonian tree leaf that indigenous people int he Ecuandorian Amazon have brewed like tea for thousands of years.  Drinking guayusa is essnetial to what makes them "runa"- fully alive.  C is the resident tea drinker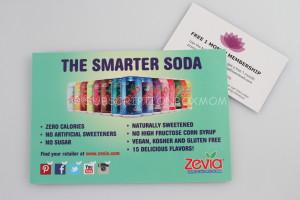 There are a couple coupons.  First there was a 1.00 the Zevia, and there was another card with a 1 month free membership to Yogadownload.com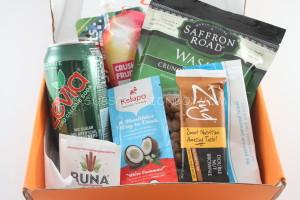 Final Thought:  I was really disappointed in this month's box.  The Zing bar and the chickpeas were not good at all.  I wish there were more items in this month's box.  This box seem much smaller than previous boxes.  I hope next month's box is better, because this didn't meet expectations.  If you want to try Bestowed, get $5.00 off your first box by using the code 5OFFBST and clicking HERE to join.  This code expires 8/15
Do you like FREE SUBSCRIPTION BOXES?  Click HERE to see my free subscription box list.
Do you love Giveaways?  Click HERE to enter all my Giveaways.
Disclosure: This post contains affiliate links