June 25, 2014
06/25/14

By Subscription Box Mom

2 Comments
2
Whimseybox June 2014 Review + Coupon Code – Craft Subscription Box
WhimseyBox is a craft subscription box that sends a complete craft, with all the supplies needed, for $15.00 a month. Every month, WhimseyBox sends project instructions, DIY supplies, a reusable storage box, and an original 5×7 original art print each month. WhimseyBox's slogan is "Stop pinning, start making".  I love Pinterest, but I am horrible at completing projects.  It takes so much time to plan a craft, take the kids to the store with me and then attempt the project.  WhimseyBox sends everything to me for only $15.00 a month.  There is even a coupon to save you $5.00 on your first box!
The Details:
Cost: $15.00 a month
Coupon: Click HERE and save $5.00 of your first box.
Shipping: Whimseybox is currently only available in the US and Canada.  Shipping is free to the US but there is a $5.00 shipping charge for Canada.
What's in the box? Whimseybox is THE destination for DIYers and crafters. We offer a $15 monthly subscription box that brings a fresh new DIY project to your door every month. Whimseybox.com contains hundreds of DIY projects for inspiration, and a blog full of DIY tips, techniques, trends and tutorials.
When does the box ship? Boxes ship at the END of each month. In general, if you subscribed on the 16th of the month or later your first box will be the following month. So, for example, your January 16th payment is for a February box.
When am I billed?  You are billed between the 4th-6th of the month.
How do I cancel? Monthly subscribers can cancel at anytime and there's never any silliness like cancellation fees. Simply log in to your account, navigate to "My Dashboard" then "Account" cancel your membership there before your next billing cycle.
Website: https://whimseybox.com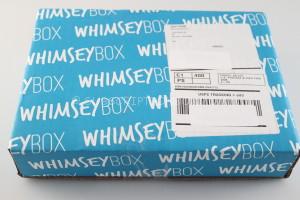 Whimseybox ships in a blue outer cardboard box.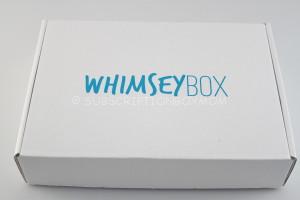 Inside is another box.  Whimseyboxes are pretty sturdy and are nice for holding craft supplies.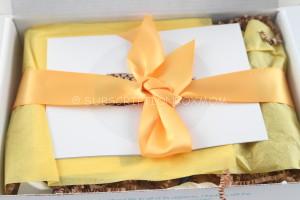 I love Whimseybox's presentation.  They always wrap everything in tissue paper and secures it with a ribbon.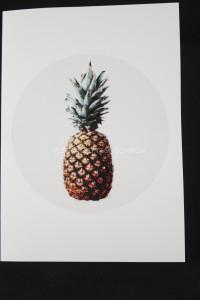 Whimseybox includes a new art print every month.  This month's art print is a pineapple.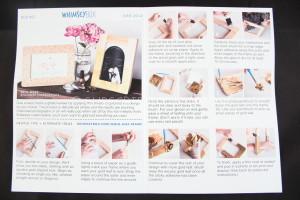 The inside of the instructions, gives details on how to complete the project.  This month's project was to make a gold leaf frame.
What is in the box?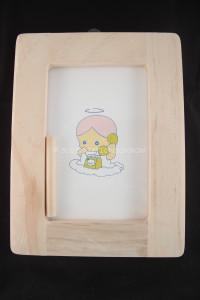 Whimseybox included a wooden picture frame (4×6) in the box.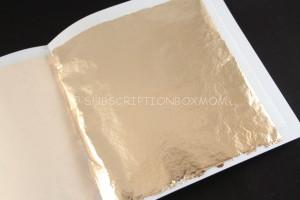 There was two sheets of gold leafing
To help keep all the supplies straight, there was a card with pictures of all the supplies on it.  There was a small brush, a foam brush, glue, varnish and gloves.  I will note, the box smelled strongly of varnish, even thought nothing leaked out.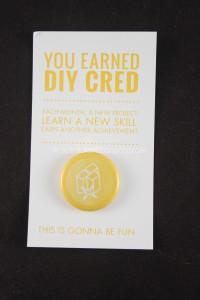 Each month, Whimseybox includes a button dedicated to that month's theme.  This month's button was yellow with gold bricks.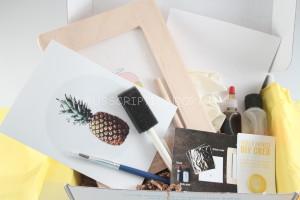 Everything in the box.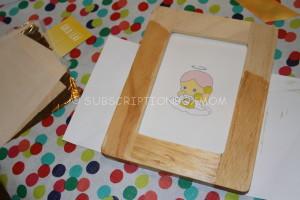 I marked where I wanted the gold to go, and I painted the glue on as directed.  The directions said to let the glue dry completely for at least 15-30 minutes.  I followed the instructions and then tried to apply the gold, but it didn't stick (at all).  So, I applied a bit more glue and waited a minute or two and applied the gold.  I will be honest, it got messy.  Some of it stuck and other parts didn't.  I ended up with bare spots.  When I went to use the varnish, it got worse.  I worked with it and did the best I could.  Do you want to see the finished product?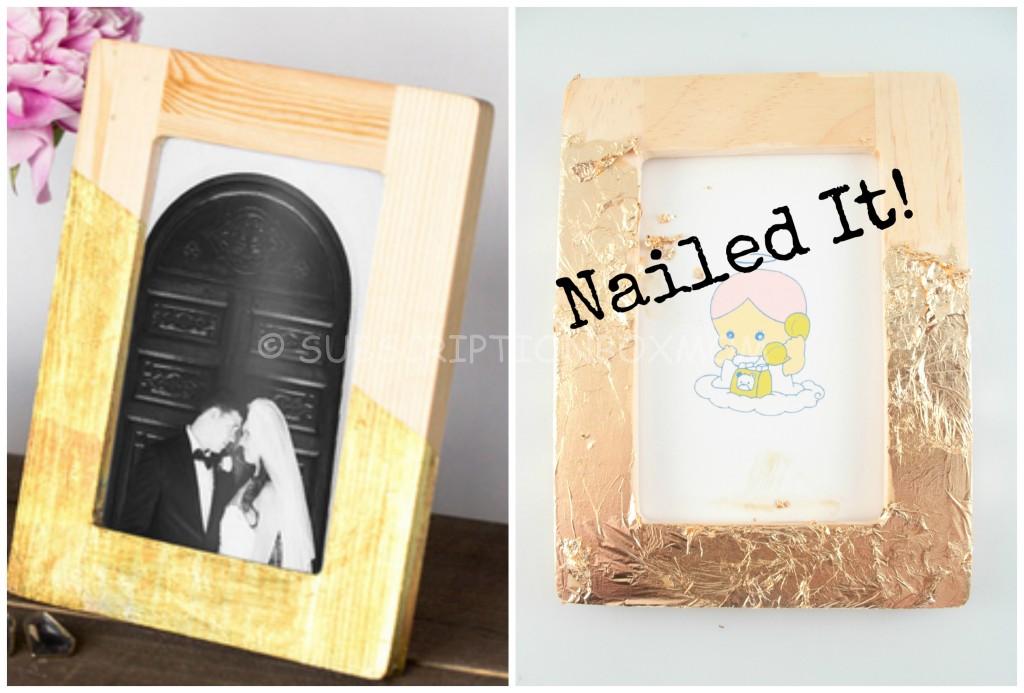 Final Thought:  Hopefully, you got a good laugh at my project.  I think my project came out quite awful.  I did have fun trying to make it pretty.  I am not sure what happened.  Maybe I didn't wait long enough or maybe I waited too long.  I do like my Whimseybox subscription, because they always have unique projects.   SAVE.  You can save $5.00 on your first box by clicking HERE.
Do you like FREE SUBSCRIPTION BOXES?  Click HERE to see my free subscription box list.
Do you love Giveaways?  Check out all my Giveaways HERE
Disclosure: This post contains referral links