June 26, 2014
06/26/14

By Subscription Box Mom

0 Comments
0
The Vegan Family Starter Kit + Coupon Code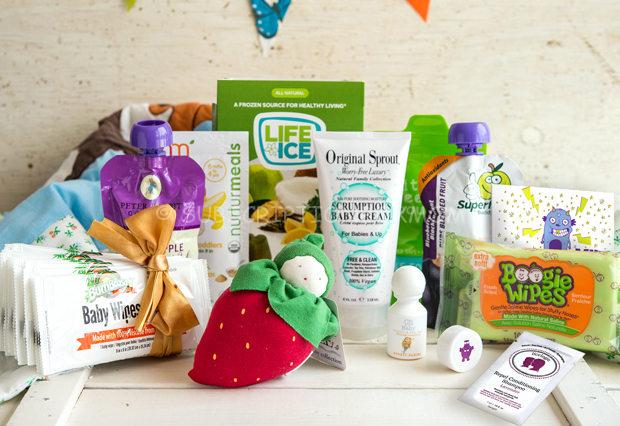 The Vegan Family Starter Kit – $47.00 $27.95 PLUS use shopvegansave10, to save 10%
First batch of Vegan Family Starter Kit Boxes will ship the week of July 2.
Are you a parent or do you know a parent? This lovely box, co-curated with Sayward Rebhal of Bonzai Aphrodite, is filled with cruelty-free products designed for babies, toddlers, and you, too! From food pouches to creams to wipes, everything you need for happy little ones is contained inside.
Offer includes:
Under the Nile – Organic Strawberry Plush
Made and stuffed with the finest 100% certified organic Egyptian cotton, this sweet fair-trade strawberry plush toy is destined to become your child's favorite. It might even help them develop a fondness for produce!
Little Green Pouch – Reusable Food Pouch – 7 oz capacity
Babies, big kids, and grownups will appreciate these reusable food pouches. They're made with eco-friendly materials and seal securely by means of a handy press zipper. Simply fill with purees, squeeze to eat, and toss in the dishwasher for easy cleanup.
Peter Rabbit Organics – Pear & Apple Pouch – 4 oz
Make mealtime fun by giving your hungry child a delicious squeezy pouch filled with 100% organic fruit blends. You can rest easy knowing there's no sugar, salt, or artificial flavors.
LifeIce – Green Grind LifeIce – 1 x Tray of 24 Cubettes, 2 fl oz
LifeIce are 100% natural, bite-sized ices delivered in convenient, shelf-stable, ready-to-freeze trays. Made from a base of coconut water, agave nectar, and the added nourishing benefits of kale, spirulina, and chlorella. Hints of banana, apple, and ginger balance the flavors.
NurturMe – NurturMeals Pouch – 1 serving, .67 oz
Sneak some superfoods into your little one's tummy! Mix these organic, nutrient-packed blends with breast milk, water, or formula for an instant puree for your infant, or add them into toddler-friendly recipes like pancakes or vegan mac and cheese.
Buddy Fruits – Superfruit Pouch – 4 oz
Buddy Fruits Superfruit Pouches have the same great taste presented in a new, grown-up package that'll appeal to parents and children alike. These snacks are delicious, convenient and 100% fruit-based, ideal for active families looking for healthier alternatives when snack time comes around. They're made without gluten, preservatives, colorants, and thickeners.
Original Sprout – Scrumptious Baby Cream – 4 fl oz
While not a sunscreen, this multi-purpose cream contains natural zinc to provide a protective barrier that keeps tender skin soft and smooth. It's non-greasy, hydrating, and contains rosemary to soothe and calm all skin types.
Boogie Wipes – 1 Pack of 10 Boogie Wipes
Boogie Wipes are made with saline to help dissolve boogies caused by the common cold, allergies, or otherwise booger-filled kid moments. They're extra soft, gentle, and an effective alternative to a dry tissue.
Bum Boosa – 20 Individually-Wrapped Baby Wipes
Naturally-scented with a mild blend of sweet orange and lavender, these hypoallergenic wipes are made from soft bamboo cloth that's thick, strong, and super absorbent. The gentle, plant-based formula soothes delicate skin.
DeVita Natural Skin Care – Bubbly Babies Shampoo & Body Wash – .95 oz
DeVita Natural Skin Care's 2-in-1 shampoo and body wash leave the harsh detergents and chemical fragrances out to create a pleasant bath experience for you and your baby. An Aloe Vera base, Soapwort bubbles and naturally derived essential oils work together to soothe, moisturize and clean.
Jack n' Jill – Natural Toothpaste – single use
Since young ones have a tendency to swallow toothpaste rather than spit it out, Jack n' Jill formulated a toothpaste that's both safe and effective. Organic calendula soothes gums and there's no artificial chemicals, additives, or flavors.
Logic Product Group – Licelogic Repel Conditioning Shampoo – 7 ml
A natural lice shampoo that repels lice for up to 24 hours, LiceLogic Repel Conditioning Shampoo is gentle and non-toxic.This shampoo does not contain sulfates, SLS, pesticides, parabens, DEA, PEG, artificial colors or fragrances. All LiceLogic products are biodegradable and never tested on animals and are proudly made in the U.S.A. Available in lavender, lemongrass or rosemary mint.
If your little ones' friends come down with head lice, create a barrier with this gentle and non-toxic conditioning shampoo. The biodegradable formula repels lice for up to 24 hours and is free of toxins, parabens, and anything artificial.
*Products subject to change without notice but we promise that what we choose for you will be loved by parents, babies, and kids alike.*
Coupons from These Partners
Faux Moccs
Faux Moccs are made-to-order, soft-soled moccasins for babies and kids ages 0 to 4. Each pair is hand-crafted, vegan, eco-friendly, vinyl-free, and 100% made in the USA.
Return policy
Not eligible for returns, refunds or exchanges.
Shipping information
Shipping information is collected by PayPal during checkout: it's your responsibility to provide a current address. Ships directly from Vegancuts within 7-10 business days.
The Vegan Family Starter Kit – $47.00 $27.95 PLUS use shopvegansave10, to save 10%
Do you like FREE SUBSCRIPTION BOXES?  Click HERE to see my free subscription box list.
Do you love giveaways?  Click HERE and see all my current giveaways.
  Disclosure: This post contains affiliate links.