June 23, 2014
06/23/14

By Subscription Box Mom

8 Comments
8
Surviving Momhood Review – Pre-K + Giveaway
Surviving Momhood is a new subscription box, just for moms.  One of the things that sets this box apart, is it covers momhood from moms with kids newborn to teenagers.  Monthly boxes are $30,00/month (check out the current sale) and each month, you get an assortment of goodies for moms and their children.  Each box contains a minimum of 5 items for mom and 1 item for your child.  Surviving Momhood always promises a value of at least $42.00.  When you sign up, you also fill out a personalized questionnaire to customize your box.  I was sent the pre-k box to review.  The pre-k box is for kids 2-5 and my kids are 2 and "almost" 5.  On a unrelated note, it makes me sad my youngest baby is now considered pre-k.
The Details:
Cost: $30.00/month, $87.25/3 months, $160.00/6 Months and $310.00/Year.
Coupon/Sale: $25.25/month, $72.74/3 months, $140.00/6 months, $300.00/yr
What's in the box?  Every month, you will get a box contains a minimum of 5 items for mom and 1 item for your child.  Each box will contain a minimum of $42.00.
When am I billed?  You will be billed each month on the 1st.
When does the box ship? Boxes ship on the 18th of each month via UPS/USPS
How do I cancel? May cancel at anytime prior to the 28th of the month prior.  Email survivingmomhoodbox@aol.com
Website: http://www.survivingmomhood.com/
Facebook: https://www.facebook.com/SurvivingMomhoodBox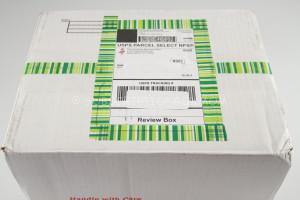 Surviving Momhood mailed in a white decorated box and shipped by USPS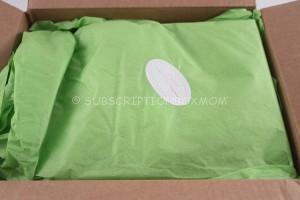 First Look:  The box was packaged with tissue paper and sealed with a cute sticker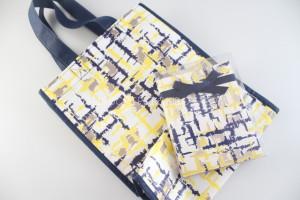 Ellen Tracy Bag and Notecards (10) $7.00:  This is a cute bag with a pack of 10 notecards and envelopes.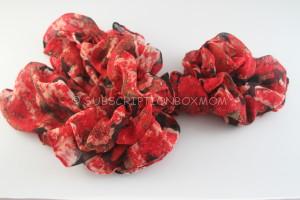 Red curly scarf $16.00:  This is a beautiful red scarf that is a bit curly/scrunchy.  Surving Mommyhood gave me the retail value of the scarf and I stand behind it.  I actually just went out shopping for scarves and found one on clearance that was $15.00, so $16.00 for a scarf is quite reasonable.
Snacks: $2.50 There was a waffle, Emerald Vanilla Roast Almonds, and peppermint tea.  I will admit, I did pause before I ate the unmarked packaged waffle, but I tried it anyway.  I am really glad I did, because it was fantastic.  It was thick, sweet and almost a pastry.  Surviving Mommyhood included a recipe for Salted Butter Caramel Sauce.  I wish I could say I tried the recipe, but I ate the waffle too fast.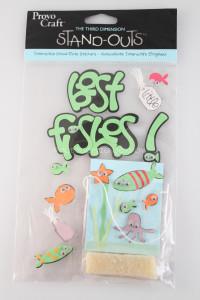 Provo Craft Stand Outs:  $4.30:  I used to scrapbook all the time, before photography, kids and blogging took over.  These are cute and I will probably use them to make a memory box for a vacation.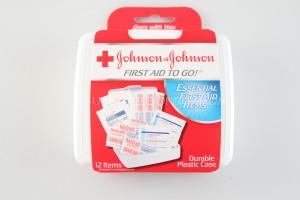 Johnson & Johnson First Aid To Go! Mini First Aid Kit
 $4.39:  These are great to have in the car or diaper bag.  This has 2 cleansing wipes, 4 gauze pads, and 6 band-aids.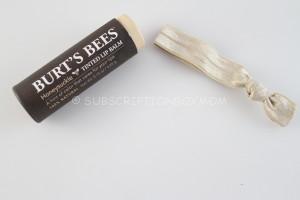 Burt's Bees Tinted Lip Balm, Honeysuckle $7.40: I love Burt's Bees lip balm.  This has a sweet smell,but it doesn't smell like honeysuckle so much.
Hair Tie: $1.00:  I love these hair ties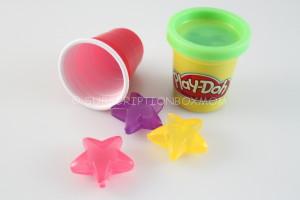 Toys: $3.00 There was a cup, Play Doh, and three star ice cubes.  The ice cubes are really cute and can be used in a drink for me, but I think I am going to put them in my purse.  I can see my kids playing basketball with that little cup.  These toys are perfect for waiting at a restaurant.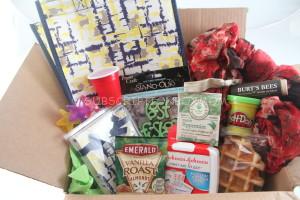 Final Thought: The total value of this box is $43.09.  This was a really nice mommy box.  This is the first box that sends a box for moms that is filled with really useful and fun items.  I am always sending thank you notes for various birthdays etc.  I love the Burts Bees lip balm and hair tie.  I use lip balm and hair ties daily.  The snacks were fantastic and the scarf is beautiful.  This is a great box for any mom.  Surviving Momhood's questionnaire also lets you get a box customized for your child.  To sign up for this box click HERE and I would love it if you would use my referral code TYEHRC.  Also, Surviving Momhood has given me a mini box for a giveaway.  The mini box is a custom item, specifically made for my readers.  Enter below for a chance to win!
Do you like FREE SUBSCRIPTION BOXES?  Click HERE to see my free subscription box list.
Do you love Giveaways?  Click HERE to enter all my Giveaways.
Disclosure: This post contains referral links.  I received this box free for review.  Surviving Momhood is responsible for all prize distribution.