June 6, 2014
06/06/14

By Subscription Box Mom

0 Comments
0
Sudsy Box Summer Edition + Coupon – Soap Subscription Box
Sudsy Box, who sent me this box to review, is a soap subscription box.  Receive a new and luxurious Sudsy Box every other month! You will get 3 amazing bars of soap (4 oz bars) and one free gift. Gifts can be lip balms, lotion bars, body butter, sea salt scrubs and more!  What is even better, is there is no artificial fragrances and colors, no chemical additives, and everything is all natural.  Now that I have children, I pay attention to the chemicals that are around my family.  All the soap comes from Heidi's Artisan Soap.
The Details:
The cost: $20.00 Every other month.
$57.00 6 Months 5% discount
$100.00 1 Year Get 1 Box Free
Coupon: Use the code SUMMER20 to save $4.00 on your first box
What's in the box? Each delivery of Sudsy Box will have 3 full sized soap bars (these are 4 ounces, not some wimpy hotel sized sliver!)  and one sample of a lip balm, lotion bar, sea salt scrub or body butter. The soaps will vary each time and will be themed to the season of the shipment. The samples will vary each box and we will try to highlight each one of Heidi's Artisan Soap product lines throughout the year.
When am I billed?  You are billed when you box ships
Website: http://www.sudsybox.com/
The box ships in a padded envelop and arrives by USPS.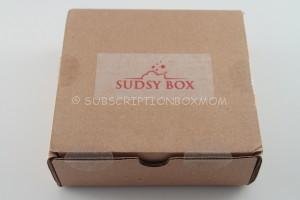 Isn't the box cute?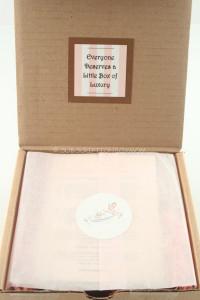 First Look: Sudsy Box has really cute packaging.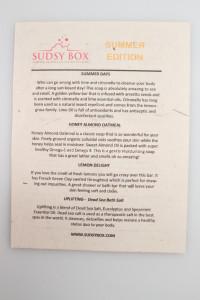 Sudsy Box includes a really neat information sheet.  The paper itself was made by craftsmen in Nepal.  The paper is also embedded with 15 different types of seeds.  You can plan this and it will grow!  In addition, every month, Sudsy Box gives back to the organization Clean the World.  Clean the World provides soap to those in need.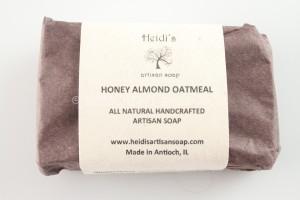 Honey Almond Oatmeal is a classic soap creation and it is so wonderful for your skin. Finely ground organic colloidal oats soothe your skin and the honey helps seal in moisture. Sweet Almond Oil is packed with healthy Omega 6 and Omega 9 fatty acids. This is a gentle moisturizing soap that has a great lather and is perfect for your body and face!
This has a soft, mild scent.  I love the oatmeal in the soap.  It's just a reminder of how natural the soap it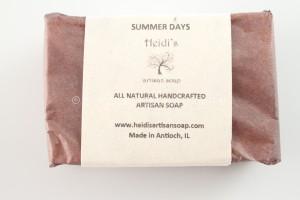 Summer Days $6.00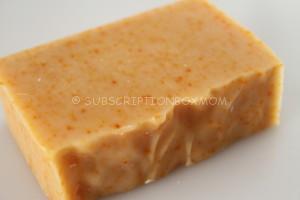 A golden yellow bar that is infused with annatto seeds and is scented with citronella and lime essential oils. Citronella has long been used as a natural insect repellant and comes from the lemongrass family. Lime Oil is full of antioxidants and has antiseptic and disinfectant qualities.
I am really excited to use this with my boys.  I have been wanting an all natural bug repellent.  I hate using harsh chemicals on my children.  This bar smells good.  You can smell citronella, but it doesn't scream "Bug Repellent".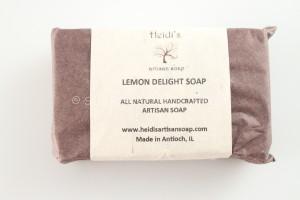 Lemon Delight Soap $6.00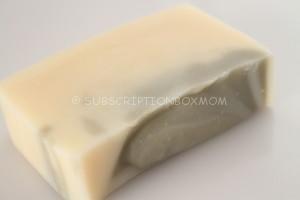 This soap has French Green Clay swirled throughout, which is great for drawing out impurities.  This has a soft lemon scent and I love it.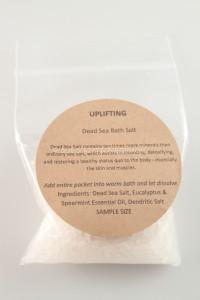 Uplifting-Dead Sea Bath Salt $2.00
Found on the southern shores of the Dead Sea, Bokek Dead Sea Salt is used as a premium, therapeutic salt in the best spas around the world. We have now brought this restorative salt to your home in UPLIFTING. Bokek Dead Sea Salt contains ten times more minerals than ordinary sea salt, which assists in cleansing, detoxifying, and restoring a healthy status quo to the body – especially the skin and muscles.
Add the spa bath salt at a rate of several tablespoons to one cup to warm bath water depending on your personal preference. Allow salt to dissolve as you soak. Relax and say, "Ahhhhh….".
This smells amazing and I can't wait to use it.  I actually have never used bath salts.  Is that weird?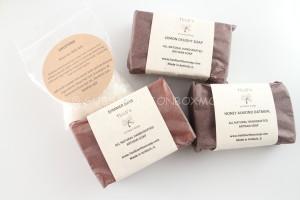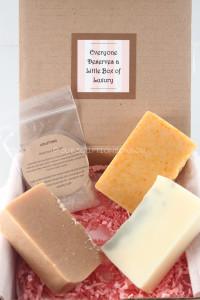 FInal Thought:  The summer Sudsy Box had a retail value of $20.00 and all the soaps were amazing.  I love all the smells.  I am excited about the Summer Days soap the most.  An all natural bug repellent soap is just what I have been looking for.  f you want to try Sudsy Box, click HERE and use the coupon SUMMER20 to save $4.00 on your first box.
Do you love Giveaways?  Check out all my Giveaways HERE
Disclaimer: This box was received free for review,  My opinions are my own.