June 10, 2014
06/10/14

By Subscription Box Mom

0 Comments
0
Popsugar Must Have Box June 2014 Review + Ten Dollar Coupon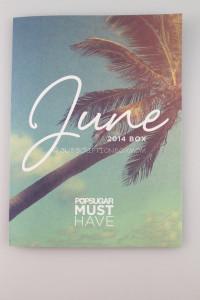 Popsugar is my favorite box I get for myself. It is $39.95 a month, but you can save $10.00 on three month plan by clicking HERE and using the code JUNESELECT10. Since I got a luxury box, this was my second Popsugar box this month.
The Details
Cost: Month to Month $39.95
3 Months: $109.85
6 Months: $214.70
12 Months: $429.40
Coupon: click HERE and using the code JUNESELECT10 to save $10.00 on a 3 month subscription.
Shipping: Popsugar only ships to the United States
What's in the box? Every month, Lisa Sugar and her editorial staff will curate an exciting monthly box full of fun, must-have picks across fashion, beauty, home decor, fitness, and more, which we will deliver to your door. The monthly box targets women ages 18-40 and features full-size products and premium items including tried-and-true classics, celebrity favorites, and brands consumers have yet to discover. Your monthly subscription box will include products worth over $100. (Please note: The $100 value is based on the manufacturer's estimated MSRP at the time products are acquired by POPSUGAR. All prices are subject to change without notice.)
When do I get my box? Your POPSUGAR Must Have box will ship by the 15th of the month, or the following business day if the projected shipment date is a holiday, or as otherwise indicated in your account. Your account settings will initially display that your box is "processing" after you are billed. When your box ships out, the "processing" message on your account settings will update to reflect your tracking information.
When am I billed? You will be billed for your first month immediately upon placing your order for a monthly subscription. Please note that if your monthly subscription begins in a later month, you will still be billed at the time you place your first order. After the first month has completed, you will be billed when your next shipment is being processed (expected to occur in the beginning of each month, or as otherwise indicated in your account).
How do I cancel? In order to cancel your subscription, simply go to your Account Page, and under the "Subscriptions" tab, click "Manage Billing." On the "Billing" pop-up, please scroll to the bottom where you will find the text "You can cancel your subscription here." Please click the highlighted "here." You will be prompted to confirm whether or not you want to cancel. Please note, clicking "Cancel" will disable the auto-renewal feature on your account but will not affect your current order. For example, if you have a 3-month subscription, you will still receive all three boxes but no additional boxes. Also, any referral bonus boxes as noted on your account settings page will be placed on hold after you cancel your account, as you need to have an active subscription in order to receive any of your referral bonus boxes.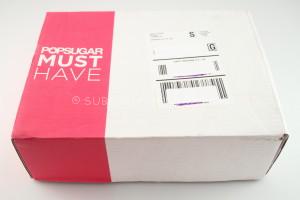 I already knew what was going to be in this box, but I was still excited to see it in person.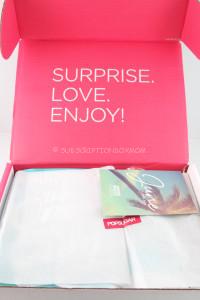 Popsugar seemed to have a different look this month.  The tissue paper was white instead of pink.  The Popsugar is also slightly different this month.  The inside of the box now says Surprise, Love, Joy, instead of Popsugar.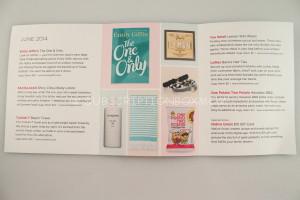 The information card has also changed.  The new information cards fold out and are in three sections, instead of the accordion style.  I am sure this new style is a money saving measure, and I like they are cutting back in this way, rather than raising prices.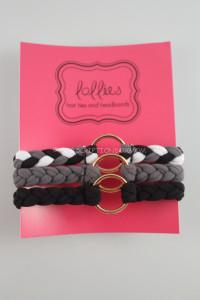 Lollies Hair Ties-3 Pack $8.00:  This are really awesome hair ties and there are three of them.  They are also cute enough to wear as bracelets, which I love.  Since I work from home with my kids, I often have a ponytail holder on my wrist.  I like these are cute, so it will look like a cute bracelet, not an ugly ponytail holder.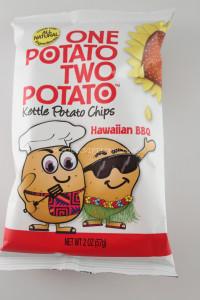 One Potato, Two Potato Hawaiian BBQ Chips $2.00  These are so yummy.  I love kettle chips and these Hawaiian BBQ chips are phenomenal.  They are cooked with all natural ingredients, so I don't feel as bad eating them.
The One & Only: A Novel by Emily Giffin 
$16.52:  This is a New York Times best seller by Emily Griffin.  This story is about an unlikely romance and life long friends set against the backdrop of Texas Football.  I don't watch football and I don't read romance novels, but I love reading.  I am going to give this book a try and see if it captures my attention.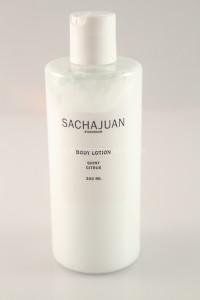 Sachajuan Body Lotion – Shiny Citrus
 $24.00:  This body lotion uses Swedish oats and promises to reduce the appearance of wrinkles and calms irritation.  This is a thinner lotion, but it does pack the moisture.  It has a fresh citrus smell, but it doesn't smell like cleaning supplies.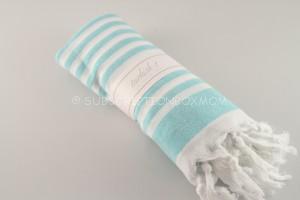 Turkish Towel  $32.00  This is a beautiful Turkish-T towel.  It can be worn as a cover up, used as a beach towel, or worn as a shaw/wrap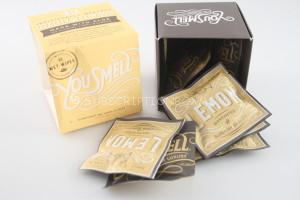 You Smell Lemon Verbena Aloe Wet Wipes $5.00  These are antibacterial wipes with a fresh lemon scent.  (Note: Popsugar was all about the citrus this month).  I am excited to throw some in my diaper bag and purse.  A mom of two boys always needs antibacterial wipes.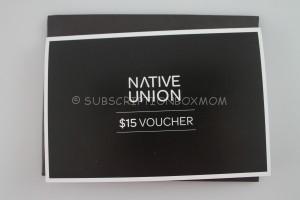 Native Union Gift Card $15.00:  Native Union has several electronic/cell phone products.  I found a USB adaptor that is 19.00 and there is a $7.00 shipping fee.  I will have to talk to C, to see if there is anything we need, if not I will trade this.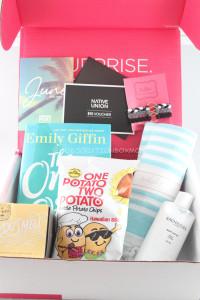 Final Thought:  This box had a total value of $102.52.  I love the Turkish T towel and will used it this summer.  The chips were very tasty (they were gone before I finished the review).    I really like everything in the box.  I am not totally sold on the book, but I am going to give it a try.  If you want to try Popsugar, you can save $10.00 on three month plan by clicking HERE and using the code JUNESELECT10.  
Do you love Giveaways?  Click HERE to enter all my Giveaways.
Disclosure: This post contains referral links