June 20, 2014
06/20/14

By Subscription Box Mom

0 Comments
0
Petbox June 2014 Review and Coupon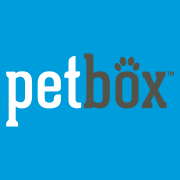 Petbox is a pet subscription box, that introduces people to fun and healthy new pet products every month. Petbox makes boxes for both cats and dogs.  Petbox is pretty unique, because Petbox lets you pick out the products you want in your box.  You are given a certain number of credits, and they you pick out what you want.  If you still like the element of surprise, you can let Petbox pick out the items for you.  Petbox also gives back to other animals.  For every Petbox purchased, a rescue animal is fed.  Petbox gives back to shelters, rescues and animal volunteers to feed hungry animals every day.  I love companies that give back.
The Details:
Cost:   1 Month $39.00 3 Months $37.00 6 Months $35.00 (save 23%) 12 Months $29.00 (save 31%)
Coupon:  Use the code BOXMOM20 to save 20% off your subscription
What's in the box: For dogs, you can choose items from toys, treats, Bones & Bully Sticks, waste bags, grooming, and accessories.  For cats, you can choose items from toys, treats, and grooming.  You get 6 points for your box and items are 1 or 2 points each.  You can get 3-6 items in the box.  You can get a dog box, cat box or a box for your cat and dog.
Managing your subscription: You can manage you subscription by going to your dashboard.
Website: http://getpetbox.com/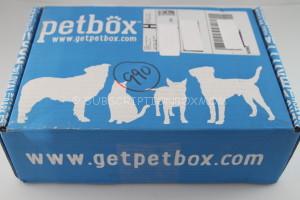 PetBox is a subscription box for cats or dogs, so the box features both.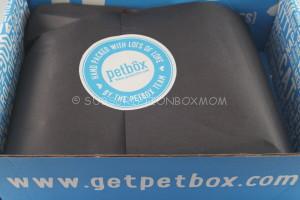 Petbox wraps everything in black construction paper and seals it with a sticker.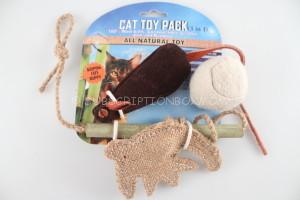 Cat Toy Pack $12.85: This is a pack of three all natural, eco friendly toys.  Oliver batted around the two smaller toys, but really loved the antler stick toy.  Oliver loves toys hanging from strings.  They keep him young and fiesty.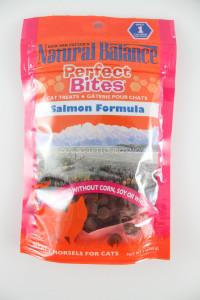 Natural Balance Perfect Bites Salmon Formula: $4.87  These are soft treats that do not include corn.  Oliver really likes soft treats like these.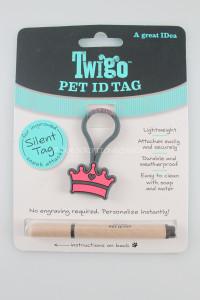 Twigo Pet ID Tag $9.99  This is a nice study tag that is so easy to put on.  I have been needing to update Oliver's tag with new information. so this came at a great time.  I don't think Oliver will mind wearing a pink crown, when he is a boy 😉 .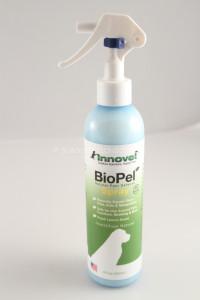 BioPel Natural Flea & Tick Spray
: $5.95 This is an all natural pest defense spray.  At first, I was going to gift this to my parents, who have an outside dog.  Oliver is an indoor only cat.  After further researching this, I have totally changed my mind.  This is an all natural spray that repeals pest.  Many people use this on their clothes to repeal mosquitoes and ticks.  It naturally repeals fleas, flies, ants and mosquitoes.  I am so excited to use this outside with my kids.  I have been searching for a spray that is natural and actually works.  I think I found it!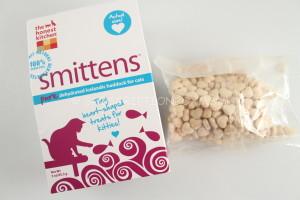 The Honest Kitchen Smittens $13.95:  These treats are made from wild line caught haddock of the coast of Iceland.   These are high protein, low-fat and low-carb with just 1.1 calorie per treat.  These have a VERY powerful fish smell, but Oliver loved them.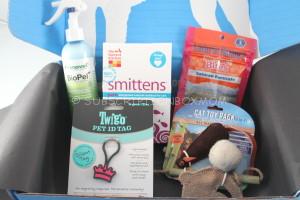 Final Thought:  This box had a retail value of $47.61!  This is an awesome value to go with this great box.  I really love every single thing in the box.  Oliver loved both treats and the toys.  The toys keep Oliver active and healthy.  The tag was a much needed item.  Last, the bug spray is perhaps the best item in the box.  Not only can my cat use this, but since it is all natural, it is safe for my family as well!  If you want to try Petbox, click HERE and use the code Use the code BOXMOM20 to save 20% off your subscription.
Do you like FREE SUBSCRIPTION BOXES?  Click HERE to see my free subscription box list.
Check out my current giveaways HERE
 Disclosure: This post contains affiliate links.  I received this box free for review.