June 17, 2014
06/17/14

By Subscription Box Mom

2 Comments
2
Okashi Connection June 2014 Review + Coupon – Japanese Subscription Box
Okashi Connection, sent me this box to review.  They are a new Japanese candy subscription box, that ships worldwide!  There is no shipping charge and boxes are $22.00!  Okashi Connection sends a big box with about a pound of Japanese candy and snacks inside. They try to send items that are difficult or impossible to get outside of Japan and seasonal items. They also include some information about the candy, as well as a video, hosted by Karin (13) and Haruka (11), with their opinions and instructions on how to make / eat the items.
The Details:
Cost: $22.00
Shipping:  Shipping is FREE and they ship WORLDWIDE.  They don't ship to a few locations, click HERE to see a complete list.
What's in the box? We send a size 60 box with around a pound (between 400-600 grams) of Japanese candy and snacks. We strive to include things that are difficult or impossible to get outside of Japan and seasonal items. We also include some information about the candy, as well as a video, hosted by Karin (13) and Haruka (11), with their opinions and instructions on how to make / eat the items.
When am I charged?   Your card will be charged on the 30th (or last day) of the month.
When does my box ship? Boxes will be shipped within the next week after being charged, and they should arrive at your door within 1-3 weeks after that. 
Website: http://okashiconnection.com/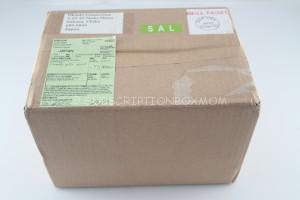 Okashi Connection ships from Japan, It took around 10-12 days to reach me.  They are still waiting on their labels, so the box isn't real fancy at this point.  I care about what's in the box, than what's on the box.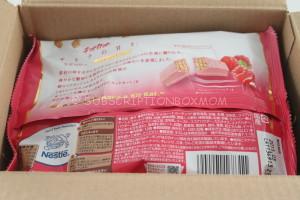 First Look!
Okashi Connection doesn't ship an information card in the box.  They give a piece of paper with the website and password to check out all the products in the box.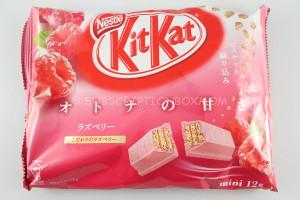 Bonus:  Okashi Connections sent a bag of raspberry Kit Kats to me as a thank you for the review.  I would love to do a giveaway for them, but I am not sure how to mail them without melting.  These were a bit melted when I received them. but I stuck the bag in the freezer and they were good as new.  This was the only item that was melted in the box.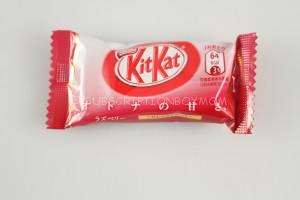 Raspberry Kit Kat  This is a raspberry flavored Kit Kat bar.  C didn't like it.  I thought it had a good flavor but it does have a zing about it, that is a bit surprising.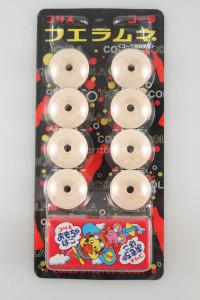 Fue Ramune These are candies that you blow through, to make a whistle.  I plan to give these to the kids, well maybe just L (age 5) and see how he likes them. I tried one out tonight and they are pretty fun.  There is a little plastic spinning top in the tiny box.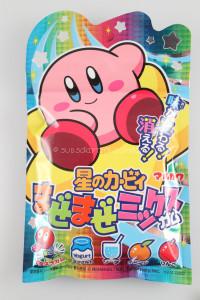 Kirby Mix & Match Gum  This is different flavored gum you can mix and match.  I love the animation/cartoons on the packaging.  Everything is in Japanese but it is so fun to look at.  The gum comes in apple, banana, soda, yogurt, and a mystery flavor.  The gum comes in tiny colored balls.  The gum had a nice flavor.  I tried banana and apple, c tried yogurt and we both liked it.  The back has little recipes you can mix the flavors to make new flavors.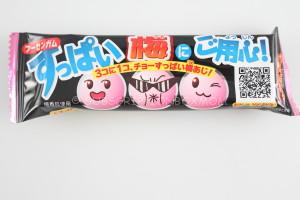 Sour Plum Bubble Gum  There are three gum balls in this package; sweet, sour and really sour.  All three gum balls are pink balls, so there is no way to know which is which.  I tried one and it was sweet.  I offered C one (and didn't tell him any were sour) and he got sour.  I didn't figure the "really sour" would really be that sour.  Wow, the joke is on me.  That "really sour" gum ball was REALLY SOUR!  I think I have the candy taste buds of a 10 year old, but this was really sour for me.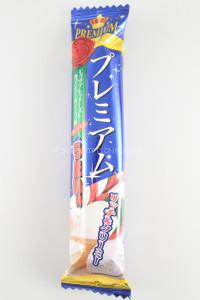 Premium Umaibo – Camembert and Mozzarella:   I recognized the name when I saw this treat.  I knew I had it before, but I couldn't remember what it was like. This is a long puffed tube  (this puffy Cheetos consistency) and flavored with Camembert and Mozzarella.  This was so good and I ate the whole thing, before C could try it.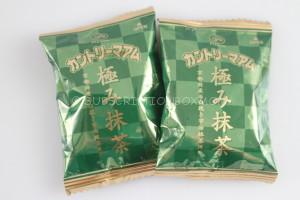 Matcha Country Ma'am These are green tea flavored cookies.  Since C is the resident tea drinker, I gave these to him.  C was skeptical but ate the whole cookie and said they were good.  He said they didn't have an intense tea taste.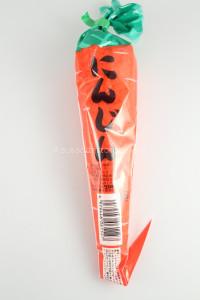 Ninjin This is a traditional Japanese snack.  These are tiny puffed, sweet pieces of rice.  They remind me of cereal.  Would it be weird to pour this in a bowl for breakfast?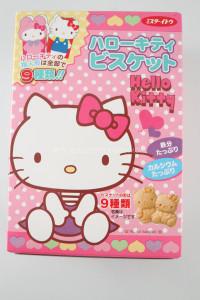 Hello Kitty Cookies:  These taste like regular sugar cookies.  There is also a punch out finger puppet on the back.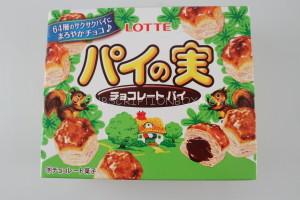 Pie no Mi These are tiny flaky pastries filled with chocolate.  You can eat them out of the package or heat them up.  C and I headed some up and tried them that way.  I thought they were really good.  They had a rich chocolate taste, so I didn't feel like I needed to eat the whole box in one sitting.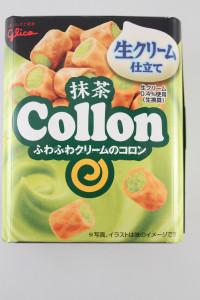 Matcha Cream Collon  This is cream filled green tea cookies.  If you haven't had these, this probably sounds disgusting.  I honesty couldn't taste the green tea at all.  I ate tea, so if I tasted it, I wouldn't like it.  These tasted like those cream filled Koala cookies.  I really liked these.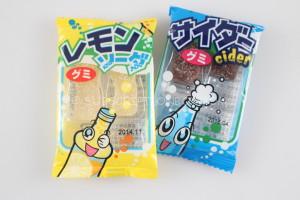 Lemon and Cider Gumi These are lemon and cider flavored gumies.  C said the cider just tasted like sugar.  The lemon flavored ones, were very lemon flavored.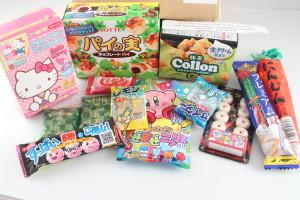 Final Thought:  This box was fantastic box.  I really loved most everything in this box, which for me, doesn't happen often with food.  I loved the huge variety of treats.  I liked the online information card, so I would know what I was eating.  Okashi Connections is only $22.00 a month and it ships worldwide (free shipping).  This is an awesome subscription and perfect if you love candy or if you love trying new treats.  Click HERE to subscribe and use the code Boxmom to get $1.00 off your box.
Do you like FREE SUBSCRIPTION BOXES? Click HERE to see my free subscription box list.
Check out my current giveaways HERE
Disclosure: I received this box free for review. My opinions are my own.