June 23, 2014
06/23/14

By Subscription Box Mom

3 Comments
3
Kiwibop Postcard Pals Review
This post contains affiliate links
Kiwibop Postcard Pals is a new subscription box that sends postcards to your child every week.  Each card will feature interesting facts and characters.  You child's first month package will include a special welcome letter, first 3 postcards, fun stickers and a Postcard Pals Discovery Box.  Receive weekly postcards packed with interesting facts from a rotating crew of inspiring characters.  The subscription is $8.99/month. $3.99/month
Kiwibop Postcard Pals also gives back!  Every paid membership is matched with a complimentary membership for a child coping with a life threatening illness.  Kiwibop sent me this box to review, and I knew my 5 year old would love it.  My son loves learning new things, especially facts, places and trivia.
The Details
Cost/Coupon:  Kiwibop is $3.99/month.  Just click HERE to check it out.  There are also longer subscriptions.  Get 6 months for $22.74 or you can get a year for $43.08.
What's in the box? Your child's first month package will include a special welcome letter, first 3 postcards, fun stickers and a Postcard Pals Discovery Box.  Receive weekly postcards packed with interesting facts from a rotating crew of inspiring characters.  You will get 4-5 postcards a month.
When will I get my box? As a new member you will be shipped your start-up package immediately (arrives in 2 weeks at most).
Website: http://www.kiwibop.com/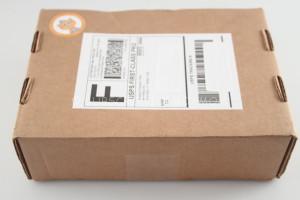 Kiwibop shipped in a brown box and shipped by USPS.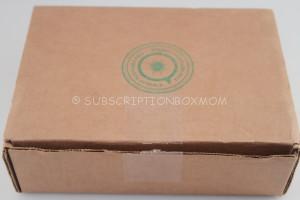 This is how the box looks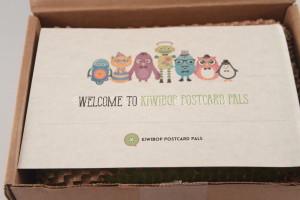 First Look: There was a very friendly first look.  On top was a welcome from the Kiwibop Postcard Pals.  The postcard had the following message "We're so excited to be your new friends.   Each week we will be sending you a new postcard about all kinds of different things.  We love funny animals, cool places, scaly reptiles, outer space, and even neat landmarks.  You'll get a postcard from a different pal each week, so you never know who you might hear from next."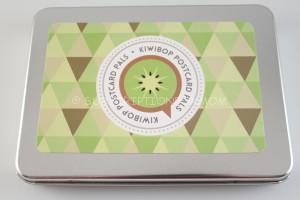 The first month, your child gets a Kiwi tin, to hold all the cards.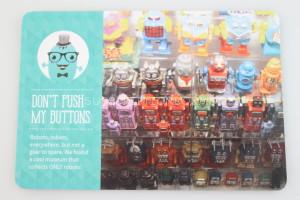 There were six cards included in this month.  I received a couple of extra cards, to get a bigger look on what kinds of cards come in the boxes.  The first card was about Robots.  Each card is really colorful and features one of the postcard pals on the front.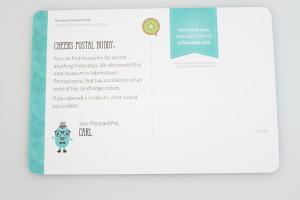 The back of each postcard features a person message from one of the pals.  This one says "Cheers postal buddy: You can find museums for almost anything these days.  We discovered this neat museum in Adamstown, Pennsylvania, that has a collection of all sorts of tiny (and large) robots.  If you opened a museum, what would you collect?  Your postcard Pal, Carl".
I really want to go to this museum,  It looks really fun,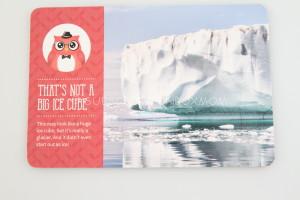 This postcard is from Carl:  "Good Day My Friend: When snow falls in the same place for many years, the snow on top is so heavy, it packs down the snow on the bottom.  Slowly, over many years, the air is all squeezed out and the big shape becomes ice.  Then it's called a glacier.  A glaier is usually as big as a football field, or even bigger!  Your Postcard Pal, Scoot"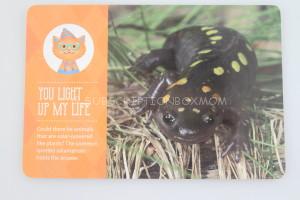 This postcard is from Kit "Hello Dear Friend: The spotted salamander is the only back-boned animal that has special cells in its embryos (early stage of growth) that has symbiotic algae living inside them.  This means the salamanders are solar-powered animals, capable of directly harnessing the energy of the sun in the same way that plants do.  Your Postcard Pal, Kit".
This postcard made me jump, when I flipped through the stack.  After looking at it, the little guy is kinda cute.  I like how Postcard Pals makes complex topics, easy for kids to understand.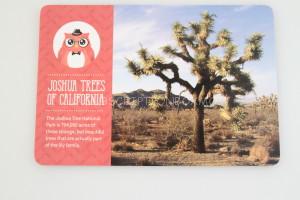 This postcard is from Scoot "Good Day My Postal Friend: In California, on Halloween of 1994, the Joshua Trees were opened for the world to see.  The Pinto people were the first to inhabit the land after the last ice age, but after the Gold Rush of the 19th Century, the land was left in ruins.  Now, visitors can come and see the sites!  Your Postcard Pal, Scoot"
This was really interesting.  I would love to see a Joshua Tree sometime.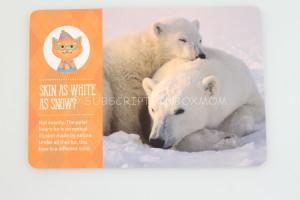 This postcard is from Kit "Hello Dear Friend: The polar bear's fur is made up of a warm bottom layer and a top layer that is called guard hair.  Surprisingly, this hair is not white, but actually transparent (clear) and hollow like straw.  This causes the hair to scatter and reflect light, making the fur appear white.  Amazingly, their skin is actually black under all that fluff, You Postcard Pal, Kit"
I have to say I even learned something from this one.  I knew about the transparent hair but I didn't know their skin was black.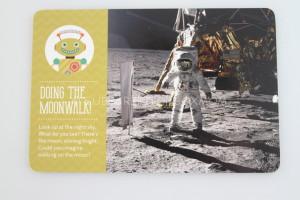 This postcard is from Geary "Greetings Postcard Friend: Before the first men could walk on the moon, they practiced by studying dormant volcanoes.  This means that they have not erupted for a very long time.  Apollo 11 was the spaceflight that launched from Florida on July 15, 1969.  Four days later, the astronauts of Apollo 11 did the first ever moonwalk! Your Postcard Pal, Geary,"
L is really into space and he loved reading this at nap time.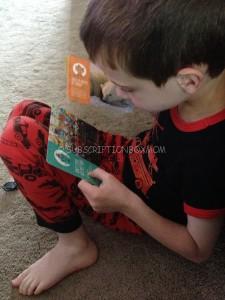 L reading his postcards.  L loves learning and he liked hearing about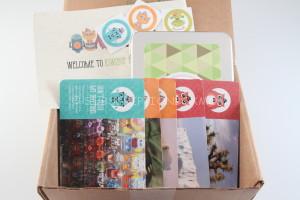 Final Thought:  I really love this subscription and L did too.  There were also three stickers of the postcard pals included in the box.  I loved all the unique things L learned from just this first box.  I remember getting cards similar to this when I was a kid, and it was so fun.  I don't have to rent 7 books for L to learn something.  The postcards are written in a way that a child can understand and not be bored.  Kiwibop Postcard Pals is a great way to help your child learn away from school and have it be fun.  You can try out Kiwibop and when you get a subscription, a child with a life threatening illness gets a subscription too.  To check out Kiwibop, click HERE.
 Do you like FREE SUBSCRIPTION BOXES?  Click HERE to see my free subscription box list.
Do you love Giveaways?  Click HERE to enter all my Giveaways.
Disclosure: This post contains affiliate links.  I received this box free for review.  My opinions are my own.