June 4, 2014
06/04/14

By Subscription Box Mom

0 Comments
0
Holiday Housewife June 2014 – Box of Gifts for Women – New Subscription Box
The Holiday Housewife is a new subscription box for wives, mother's and housewives.  Holiday Housewife was started by Autumn, who realized she was putting herself last.  She designed a box to help women get some pampering.  The Holiday Housewife Box is a monthly subscription service that delivers a box of gifts to you each month.  The box will include 4-5 five items (Chocolate, Novelty, Jewelry ect.) as well as a monthly newsletter featuring a blogger of the month and fantastic recipes
The Details:
Cost: $24.99 (you can pay by Paypal too!)
What's in the box? Each box will have it's own theme ( The Month of May is THINK PINK) the box will include 4-5 five items (Chocolate, Novelty, Jewelry ect.) as well as a monthly newsletter featuring a blogger of the month and fantastic recipes
When does the box ship?  By the 15th of the month.
How do I cancel? Cancellation requires a 30 day notice from your payment date. If your monthly subscription comes out on the 5th of each month you would need to give a 30 notice from the 5th of the month. There are no refunds for one time gifts.  To cancel please send an email to Holiday Housewives with your full name and email address that you used to pay with.
Website: http://theholidayhousewif.wix.com/theholidayhousewife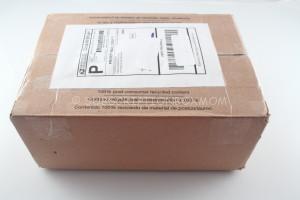 Holiday Housewife ships in a brown box by USPS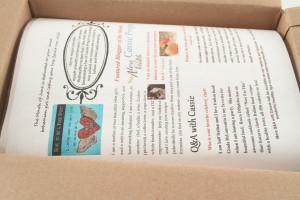 FIrst Look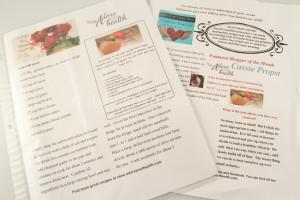 Each month, Holiday Housewife features a blogger.  This month it is Cassie Propst from Adore Health.  Holiday Housewife also includes a recipe.  This month there is Buffalo Blue Cheese Meatballs and Organic Margarita Mix.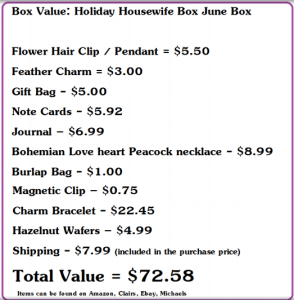 Holiday Housewife emailed a value card for the box.  I will note all Holiday Housewife's retail values, but I always use Amazon prices for my review.  I will not any Amazon prices as well.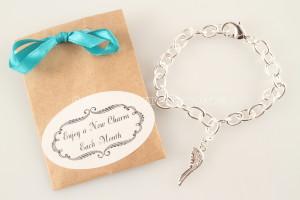 Charm Bracelet $22.45 and Feather Charm $3.00 :  I like the charm bracelet, but I wish I knew more about it, to assess the retail value.  Regardless, it is a beautiful bracelet and cute charm.  I did have one issue, I don't think the charm is made for the bracelet, because the charm's clasp won't close all the way, on the bracelet.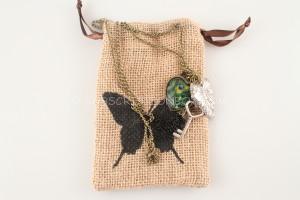 Burlap Bag $1.00 + Bohemian Love Heart Peacock Necklace Holiday Housewife Price $8.99 Amazon Price $2,95:  I actually really like this necklace.  It is pretty unique!  I could do without the burlap bag.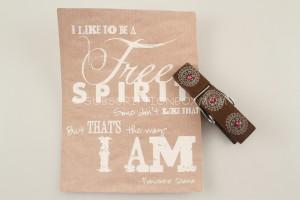 Magnetic Clip and Card .75 cents:  The clip is a clothespin (big one), that is decorated.  This can be a magnet for your refrigerator.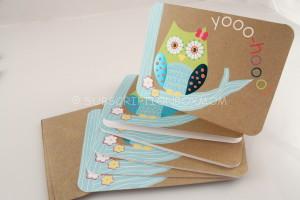 Yooo Hooo Cards $5.92: This are the cutest cards.  I love the little owl and these cards can be sent to many different people.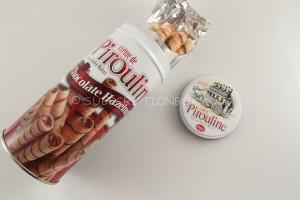 Pirouline Dark Chocolate Wafers – 3.25oz.
 Holiday Housewife Price: $4.99 and Amazon $4.93: These are all natural Artisan Rolled Wafers.  They have a great chocolate taste and I love them.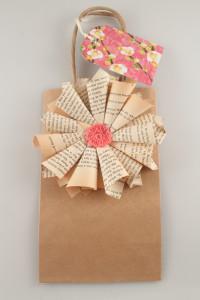 Gift Bag: $5.00 I assume this is from Etsy, but I don't know the seller.  This is just alright.  I am not a big fan, because it's too brown for me.  I love bright, colorful bagsI
Flower Hair Clip/Pendant $5.50: This is a cute hair clip or can be a pin.  It is cute, but not really my style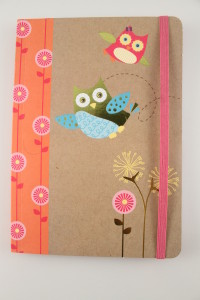 Owl Notebook: $6.99: I really like this.  This went well with the owl notebook.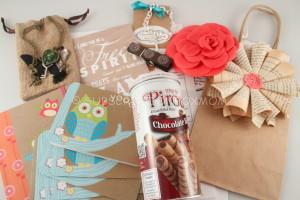 Final Thought:  The total value is $58.49, using the Amazon prices and using the $22.45 for the bracelet.  I like the note cards, journal and necklace the most.  I like the bracelet, but I wish I new the brand or more about it.  I was disappointed that the charm doesn't fit properly on the bracelet.  I like Holiday Housewife includes products from Etsy.  In the future, I would love to know the sellers.  I would like to get more of the owl products for myself.  If you want to sign up, click HERE.
Do you love Giveaways?  Click HERE to enter all my Giveaways.
Disclosure: I received this box free for review.  My options are my own.