June 26, 2014
06/26/14

By Subscription Box Mom

0 Comments
0
Flirty Fingerz Nail Box Review – New Nail Subscription Box
Flirty Fingerz Nail Box is a new subscription box launching July 4th.  It is devoted to nail polish and nail art.  There are different subscription types, but prices start at $14.99 (plus s/h).  Each month, you will get two nail designs with all the tools to create those looks.  You also get trendy nail wraps.  There are also Mystery Jewelry and Nail boxes.  They start at $19.99 and come with a nail design kit and some jewelry (amount depends on your subscription type).  There is also a nail box for little girls, coming soon.  I love the look of nail art, but I am very intimidated when it comes to trying it.  I was excited to try this box out.
Types of Subscriptions:
One Time Box: This is great to purchase for a gift or if you just want to try it out!
Monthly Subscription: You will receive two new nail design kits every month along with trendy nail wraps and all the needed tools for each design. You will automatically get billed each month for the subscription.
Mystery Jewelry and Nail Box: This is excellent for people that love trendy, fun, edgy, unique jewelry and FAB nail design. You can choose either the Fun Mystery Box, Fancy Mystery Box, Fab Mystery Box and the Glam Mystery Box. They will all include 1 nail design kit. LIMITED TIME ONLY!
Lil Dolls Subscription: This subscription is for the little girls in your life that love to get their nails polished with fun designs.
The Details:
Cost: $16.99 (One time only), $14.99/mo Monthly Nail Subscription.  $19.99-$49.99 For Mystery Jewelry and Nail subscriptions.
Shipping: $6.95
What's in the box? The Monthly Nail Design Subscription Kit includes two creative hand picked nail designs each month that will include all the tools as well as a tutorial and tips on how to create the look.  You will also receive trendy nail wraps.  The Mystery Jewelry & Nail Box is packed with a combo of trendy, edgy, bold, unique rings, necklaces, bracelets, earrings & earcuffs + a nail design kit. With this box, you will never know what pieces of jewelry, nail design kit you will be receiving.
How do I pay:  Paypal
Website: http://www.flirtyfingerz.com/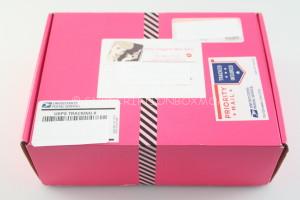 I received the regular monthly subscription box, plus a sample of the jewelry in the mystery boxes.  I love the hot pink box and the washi tape.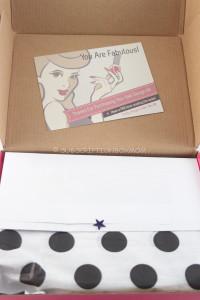 FIrst Look: I like the polka dot tissue paper.  Everything was packaged very nicely and looked cute.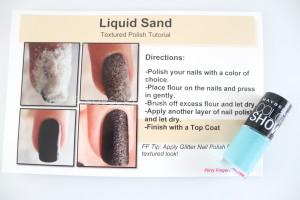 Liquid Sand:  This technique involves painting your nails, then putting flour on them before the polish dries.  Once you brush off the excess, you let your nails dry and then put on another coat of polish.  The end result is a textured polish look.  Included with this technique was Maybelline New York Color Show in turquoise paradise.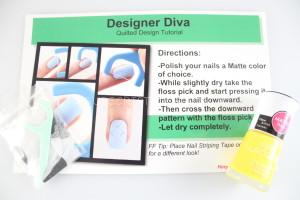 Designer Diva:  This is a quilted nail design.  You polish your nails a matte color.  Flirty Fingerz included Nabi Nail Lacquer in Funky Yellow Matte.  After you polish your nails, you use a dental floss stick to create the quilted pattern.  Finally you let your nails dry.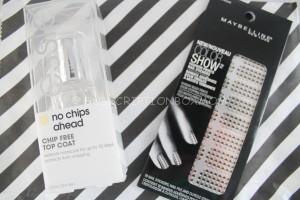 Essie No Chips Ahead No Chips Ahead :  This is a nice topcoat that makes you manicure last up to 10 days without chipping.
Maybelline Color Show Fashion Prints in Metal Prisms. This are fun holography nail wraps.  I am excited to try these,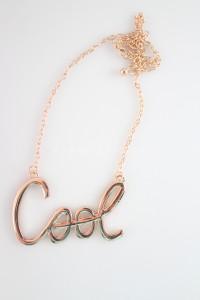 Cool Necklace:  This is an example of one of the jewelry pieces in the mystery boxes.  This isn't my style.  I prefer silver smaller pieces.  This could be fun on a young/teen girl though.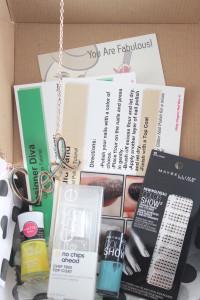 Final Thought: I didn't do a full price breakdown on this box, because this box is more about teaching new nail techniques than items in a box.  Each design was easy to read and follow.  The instructions were clear and I liked that all the tools were included.  This is a great box for people who love polishing their nails and learning new tricks.  I love the essie top coat and I am still in search of my favorite top coat.  I also like the inclusion of nail wraps.  I have had one set of nail wraps and they were really fun.  If you are interested in trying Flirty Fingerz, click HERE.  You can sign up for the monthly subscription now, but everything is launching July 5th.  There is also a twitter party July 3rd at 8:30pm  Just log into Twitter and tweet with the hashtag #fflaunchparty to enjoy the fun.  You can find more information on their website: http://www.flirtyfingerz.com/
Do you like FREE SUBSCRIPTION BOXES?  Click HERE to see my free subscription box list.
Do you love giveaways?  Click HERE and see all my current giveaways.
  Disclosure: This post contains affiliate links.   I received the box free for review.  My opinions are my own and I was not compensated in any way.