June 16, 2014
06/16/14

By Subscription Box Mom

0 Comments
0
Catster + KitNipBox Scavenger Hunt + Giveaway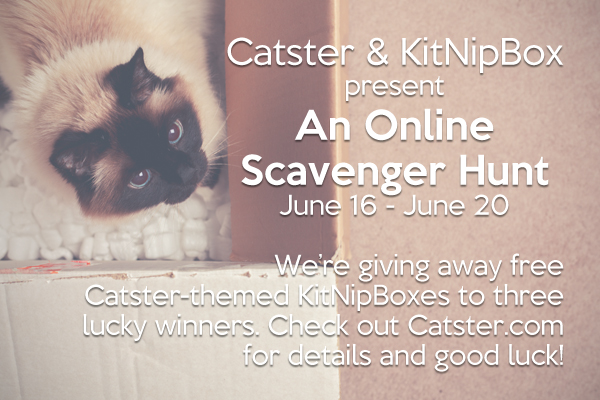 Catster and KitNipBox have teamed up with a great giveaway.  There is  scavenger hunt going on today, the 18th and the 20th. Three people (chosen at random) will win a free Catster-themed KitNipBox and a 25 percent-off coupon for a second Happy Cat or Multi-Cat KitNipBox.  You can't use the coupon for the starter box.  
To participate in the scavenger hunt, go HERE.
From Catster's website "Beginning June 16, We'll will hide items in albums on the KitNipBox Facebook page and on theKitNipBox site for you to find in an online scavenger hunt! Here's how it's going to work:
On June 16, 18, and 20, KitNipBox will release the scavenged items. They might be on the company's Facebook page or on its website — we'll make sure to let you know in the clues so pay attention!
Three winners will be randomly selected from the entries who correctly identify all three scavenger hunt items. In order to be part of the drawing, you must correctly identify all three scavenged items via this form.
The absolute deadline to submit your answers is Sunday June 22 at 11:59 PM PST.
Winners will be drawn and notified June 23.
But before we give you the clues, let's go over the rules:
Only addresses within the continental United States are eligible to win.
Only entries that correctly identify the three scavenger hunt items will be eligible for the drawing.
The three winners will be selected randomly from the eligible entries and notified June 23.
Go to the webpage now and check out the glues.  When you have all your guesses, go HERE and enter them on the form.