May 28, 2014
05/28/14

By Subscription Box Mom

0 Comments
0
Vegan Cuts Men's Grooming Box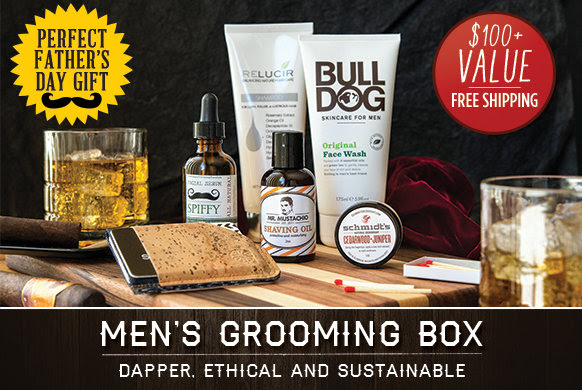 Vegan Cuts Men's Grooming Box: $27,95
Vegan Cuts has teamed up with Joshua Katcher from The Discerning Brute and Brave GentleMan to launch their first Vegan Men's Grooming Box. It's one-of-a-kind because, like Joshua, we only want the best. From shampoo to shave oil to face wash–the lucky vegan men who get this box will not only discover some new cruelty-free products, but they'll look and smell amazing while doing it.
Box includes:
Stitch and Locke Wallet
The Fanciful Fox Facial Serum
Formulary 55 Mr. Mustachio Shave Oil
Bulldog Skincare Face Wash
Schmidt's Cedarwood & Juniper Deodorant
Relucir Shampoo
Stitch and Locke Wallet – 11.6 mm thin
Carry eight cards plus cash in this minimalist, slim wallet made from cork fabric and denim.Kickstarter backers are going bananas for this wallet but we've got it first. Designed to disappear into any front or back pocket, it's functional and comfortable to carry. The innovative corner notch allows you to easily slide out cards whenever you want them.
The Fanciful Fox Facial Serum – 2 oz.
Smooth, soften, and moisturize facial skin using a unique blend of plant oils rich in vitamins and minerals. The light formula absorbs quickly, promotes skin elasticity, and balances complexion. Plus it's suitable for everyday use and all skin types.
Formulary 55 Mr. Mustachio Shave Oil – 2 oz.
Made with soothing aloe and a blend of herbal extracts, this protective, extra softening shaving oil for men is scented with a combination of over seven different essential oils. Use it as a pre-shave under your existing shaving cream, or solo as a one-step shaving product.
Bulldog Skincare Face Wash – 5.9 oz.
Packed with antioxidant-rich green tea and eight essential oils, this lathering face wash gently exfoliates while removing dirt and debris to leave you feeling clean and refreshed.
Relucir Shampoo – 5 oz.
While not a 2-in-1 product, this moisturizing and invigorating shampoo contains a medley of botanical extracts and other beneficial ingredients that will leave your hair silky and luxurious without the need for conditioner.
Schmidt's Deodorant – 0.5 oz.
The chemicals found in commercial deodorants are harmful to both your skin and body. Schmidt's aluminum-free deodorant cream neutralizes odor, absorbs wetness, and leaves you smelling warm and woodsy without the toxic ingredients.
Get the box here: Vegan Cuts Men's Grooming Box: $27,95
Do you love Giveaways?  Check out all my Giveaways HERE
Disclosure: This post contains referral links