Home
»
Uncategorized
»
Tyler Florence Fancy Box + Discount – West Coast Kitchen Essentials

May 28, 2014
05/28/14

By Subscription Box Mom

0 Comments
0
Tyler Florence Fancy Box + Discount – West Coast Kitchen Essentials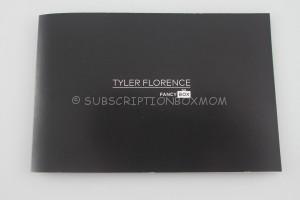 My husband used to get the Ashton Kutcher Fancy box, but the box was discontinued.  I wanted to try a new Fancy box, so I signed up for the Tyler Florence Fancy Box.  The Tyler Florence Fancy Box is $39.00 a month plus $7.95 shipping.  You can save 10% by using the code FOLLOWUP10.  Each month you get more than $80.00 worth of kitchen essentials.  I am not a big cook, but I am trying to change that.  I really want to expand my kitchen tools, so I was excited to check out this box.
The Details:
Cost: $39.00
Shipping: $7.95
What's in the box?  Get a collection Of the best home goods hand-picked by celebrity chef Tyler Florence each month. Each box includes $80.00+ of products. 
When does the box ship? Orders placed before the 21st of the calendar month will ship on the 25th of the same month. Orders placed after the 21st of the calendar month will ship on the 25th of the following calendar month. 
When am I billed?  You are billed the day you sign up and every 30 days after
How do I cancel? You can cancel your subscription by visiting  https://www.fancy.com/fancybox/manage. Any monthly Fancy Box subscription cancelation made within 5 days of your last payment will refund that payment. If you cancel after 5 days, you will still receive your Fancy Box for that month, and your subscription will cease in the following month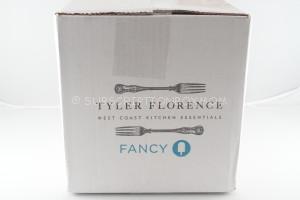 Fancy always ships in large boxes.  I like the Fancy box is personalized with the Tyler Florence logo.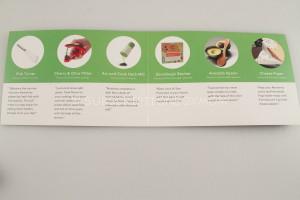 Fancy used to included product cards in the box, but I was impressed to see an information booklet.  The card had pictures of every product, along with a quote from Tyler.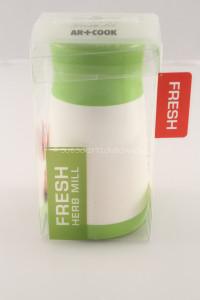 Art and Cook Fresh Herb Mill: $20.00:  This herb mill grinds up fresh herbs.  I love this and I can't wait to use it in my kitchen
Tyler Florence says: "Nothing completes a dish like a dash of minced herbs.  Grind anything from cilantro to rosemary with his herb mill'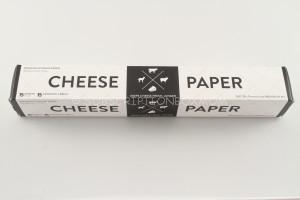 Formaticum Cheese Paper $9.00:  This cheese paper is two-ply paper allows cheese to breathe while maintaining optimal humidity preventing the cheese from drying out.   I have never used cheese paper before, I just used a zip lock bag.  I look forward to trying it out.
Tyler Florence says: "Keep you Monterey Jacks and Humboldt Fogs table-ready with Formaticum's printed cheese paper"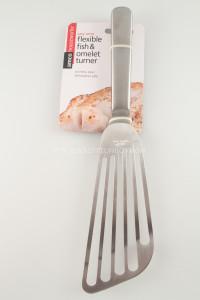 Amco Houseworks Flexible Fish & Omelet Turner  $10.88 This can be used for fish or omelettes.  I want try it with omelettes!
Tyler Florence says: "Welcome the summer into your kitchen by preparing fresh fish with this spatula.  This will make it a step easier for adding heart healthy Omega-3s to your diet"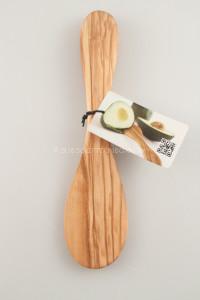 Avocado Spoon  $10.00: This kitchen tool is specially designed to remove avocados from their skin for guacamole or layered dips.
Tyler Florence says: "Guacamole has never been simpler to make with the help of this olive wood avocado spoon"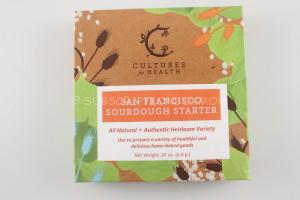 Cultures for Health San Francisco Sourdough Starter $13.00: This San Francisco Sourdough Starter Culture contains Lactobacillus sanfranciscensis bacteria and wild yeast Candida humilis giving this sourdough starter that famous San Francisco taste. Easy to care for and use. For best results, they recommend feeding your sourdough starter weekly.  I love sourdough bread, especially from San Francisco.  
Tyler Florence says: "Bake a bit of San Francisco in you home with this easy to use sourdough starter"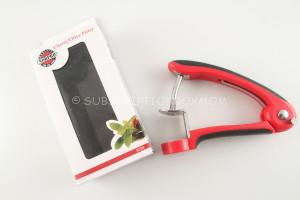 Cherry/Olive Pitter $15.00: Use this olive/cherry pitter to remove pits easily with the push of the plunger.
Tyler Florence says: "Lemons & limes add great, fresh flavor to your cooking.  Keep your summer salads and pasta dishes seed-free and full of citrus juice with the help of this reamer"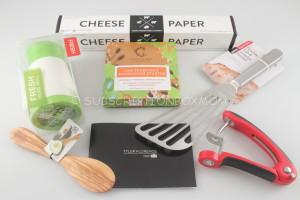 Final Thought; The total value of this box is $77.88.  I really loved this box.  This was filled with all kinds of cool kitchen gadgets.  I love the spatula, her grinder and sourdough bread kit the most.  I can't wait to make my own sourdough bread.  I also look forward to grinding my own herbs, instead of paying $8.00 for a bottle in the store.  If you want to try the Tyler Florence Fancy Box, or any fancy box, click HERE and use the code FOLLOWUP10 to save 10%.
Do you love Giveaways?  Check out all my Giveaways HERE
Disclosure: This post contains referral links