May 12, 2014
05/12/14

By Subscription Box Mom

0 Comments
0
May 2014 Popsugar Must Have Box – $10.00 Discount – Woman Subscription Box
Popsugar is my favorite box I get for myself. It is $39.95 a month, but you can save $5.00 on your first box by clicking HERE and using the code refer5.  I actually received my Popsugar box before I received my shipping notice this month.  
The Details
Cost: Month to Month $39.95
3 Months: $109.85
6 Months: $214.70
12 Months: $429.40
Coupon: Click HERE and use the codes MONIQUE or KIWI175K68.
Shipping: Popsugar only ships to the United States
What's in the box? Every month, Lisa Sugar and her editorial staff will curate an exciting monthly box full of fun, must-have picks across fashion, beauty, home decor, fitness, and more, which we will deliver to your door. The monthly box targets women ages 18-40 and features full-size products and premium items including tried-and-true classics, celebrity favorites, and brands consumers have yet to discover. Your monthly subscription box will include products worth over $100. (Please note: The $100 value is based on the manufacturer's estimated MSRP at the time products are acquired by POPSUGAR. All prices are subject to change without notice.)
When do I get my box? Your POPSUGAR Must Have box will ship by the 15th of the month, or the following business day if the projected shipment date is a holiday, or as otherwise indicated in your account. Your account settings will initially display that your box is "processing" after you are billed. When your box ships out, the "processing" message on your account settings will update to reflect your tracking information.
When am I billed? You will be billed for your first month immediately upon placing your order for a monthly subscription. Please note that if your monthly subscription begins in a later month, you will still be billed at the time you place your first order. After the first month has completed, you will be billed when your next shipment is being processed (expected to occur in the beginning of each month, or as otherwise indicated in your account).
How do I cancel? In order to cancel your subscription, simply go to your Account Page, and under the "Subscriptions" tab, click "Manage Billing." On the "Billing" pop-up, please scroll to the bottom where you will find the text "You can cancel your subscription here." Please click the highlighted "here." You will be prompted to confirm whether or not you want to cancel. Please note, clicking "Cancel" will disable the auto-renewal feature on your account but will not affect your current order. For example, if you have a 3-month subscription, you will still receive all three boxes but no additional boxes. Also, any referral bonus boxes as noted on your account settings page will be placed on hold after you cancel your account, as you need to have an active subscription in order to receive any of your referral bonus boxes.
I saw spoilers for the May box, but I was anxious to see it in person.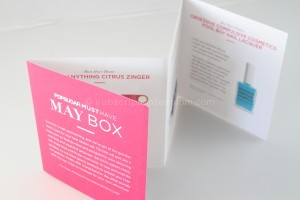 Popsugar includes a nice accordion information guide.
Kerry Cassill Eye Mask $24.00: This mask is made from voile cotton and is super soft.  I don't really know if I am going to use this, but I may keep it around.  It may be nice on a trip.
Smell Bent St. Tropez Dispenser $45.00:  This is an interesting perfume and I am not a huge fan.  It is a musky smell mixed with a beachy smell.  It's a bit of an off combination.  I think I might swap this.
Zing Anything Citrus Zinger $16.99: You can infuse lemons, limes, or any other fruit into your water.
Obsessive Compulsive Cosmetics Pool Boy Nail Lacquer $10.00:  I love this nail polish.  What a bright nice color.  I don't have this shade and I am obsessed with nail polish.
Hi I'm Skinny Sticks Multi Grain Sweet Onion $4.00: These are all natural and have 40% less fat than potato chips.  There was 15 grams of whole grains per serving.  There are all non gmo ingredients.  These are sweet onion snacks.
Tone It Up Dvd $10.00:  This is a 30 minute dvd to sculpt and tone your body.  I am not excited about this because my exercise of choice is running.  I have never been good about doing workout dvds.  I will probably trade this for something I will use.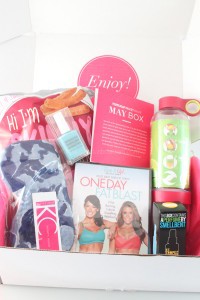 FInal Thought The total value of this box is $85.99.  This was probably my least favorite Popsugar box.  I am disappointed with this month.  The only items I am really excited about was the nail polish and Citrus Zinger.  The chips was nice but they weren't fantastic.  The box had a high value but all the items weren't my taste.  Popsugar is still one of my favorite boxes and I will continue my subscription.  If you are interested in Popsugar, click HERE and use the codes MONIQUE or KIWI175K68.
Do you love Giveaways?  Click HERE to enter all my Giveaways.
Disclosure: This post contains referral links