May 27, 2014
05/27/14

By Subscription Box Mom

0 Comments
0
May 2014 Petbox Cat Review + Half Off Discount – Pet Subscription
Petbox is a pet subscription box, that introduces people to fun and healthy new pet products every month. Petbox makes boxes for both cats and dogs.  Petbox is pretty unique, because Petbox lets you pick out the products you want in your box.  You are given a certain number of credits, and they you pick out what you want.  If you still like the element of surprise, you can let Petbox pick out the items for you.  Petbox also gives back to other animals.  For every Petbox purchased, a rescue animal is fed.  Petbox gives back to shelters, rescues and animal volunteers to feed hungry animals every day.  I love companies that give back.
The Details:
Cost:   1 Month $39.00 3 Months $37.00 6 Months $35.00 (save 23%) 12 Months $29.00 (save 31%)
Coupon:  Use the code BOXMOM20 to save 50% off your subscription, until May 31st
What's in the box: For dogs, you can choose items from toys, treats, Bones & Bully Sticks, waste bags, grooming, and accessories.  For cats, you can choose items from toys, treats, and grooming.  You get 6 points for your box and items are 1 or 2 points each.  You can get 3-6 items in the box.  You can get a dog box, cat box or a box for your cat and dog.
Managing your subscription: You can manage you subscription by going to your dashboard.
Website: http://getpetbox.com/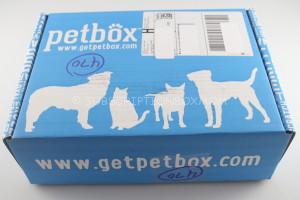 Petbox ships by USPS and comes in a pretty blue box.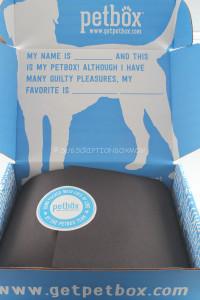 First look:  You box can be personalized with your pet's name!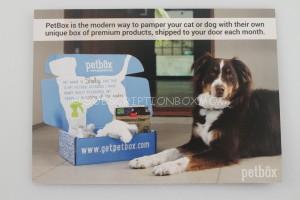 Petbox sent a general information card about Petbox.  Since you can customize your box, exactly how you want, Petbox doesn't send a customized information card.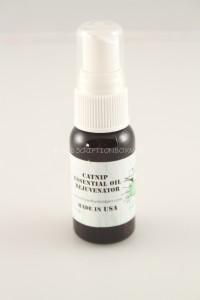 From the Field Catnip Essential Oil Rejuvenator $10.93: This is catnip oil, that you can put anywhere you want your cat to go.  This can go on toys, scratching posts or cat beds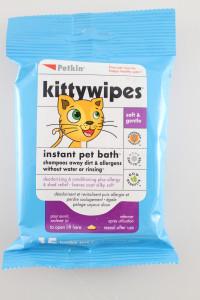 Petkin Deodorizing Kitty Wipes Instant Pet Bath
 $12.29  You can use these wipes to shampoo away dirt and allergens without  water or rinsing.  This has allergy and shed relief.  I have a family member with cat allergies, and I wonder if these will help with that.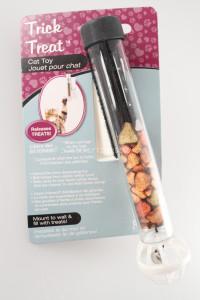 Hugs Pet Products Trick Treat for Cats
 $10.86.  This is a cool treat.  You hang it on the wall and your cat with play with the ball, then get a treat!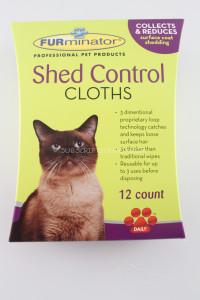 FURminator 105007 Cat Shed Control Cloths, 12-Count
 $11.99:  You use these cloths to "de-shed" you cat.  They are thicker than regular wipes and you can use them three times before throwing them away.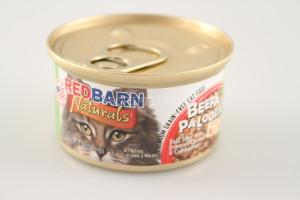 Redbarn Beefa Palooza: $1.21 This is grain free cat food.  It is beef stew with broccoli, carrots and cranberries.  Oliver, my cat has a sensitive tummy, so I will give this to another furry friend.  Oliver can only eat one food, or he gets sick.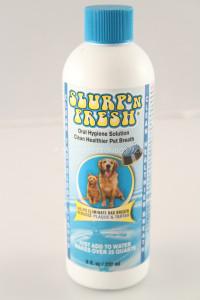 Millers Forge Slurp'N Fresh Pet Breath Freshener, 8-Ounce
 $13.24 You put a bit of this in your cat or dog's water, and it will freshen your pet's breath.  I am excited to see if this works.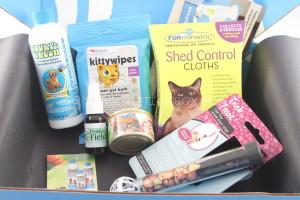 Final Thought: The total value of this box was $60.52, and that is using Amazon prices.  I love the cat treat toy, the catnip oil and de-shedding wipes the best.  This was a great box, and I wouldn't have picked these products out myself.  I like the ability to be surprised every month with treats for my cat.  If you want to try Petbox (for cats or dogs), click HERE and Use the code BOXMOM20 to save 50% off your subscription, until May 31st.
Do you love giveaways?  Click HERE and see all my current giveaways.
  Disclosure:  I received the box free for review.  My opinions are my own and I was not compensated in any way.