May 9, 2014
05/09/14

By Subscription Box Mom

2 Comments
2
May 2014 Hamptons Lane Box – $10.00 Discount – Artisan Food Kitchen Tools Subscription Box
Hamptons Lane provides the food lover with the tools they need to enhance their culinary experience as chef, entertainer, and eater. By carefully sourcing the best ingredients, kitchen tools, serveware, and local artisan foods they help chefs everywhere expand their culinary horizons, all for a great price. Hamptons Lane is $45.00 a month but you can save $10.00 on your first box by clicking HERE.  One of the best things about this box is the freedom to skip the month's you want.  I reviewed their first box in April and it was FANTASTIC.  You can check that review out HERE.
From Hamptons Lane "This month, Hamptons Lane explores the cuisine and dining experiences in some of the most breathtaking coastal towns in Italy. They are rich in classic Italian culinary traditions, the essence of which is simplicity – using only the best ingredients and preparing them with basic cooking techniques to enhance the natural flavor of the food.
Travel to the Amalfi Coast to the quaint seaside town of Cetara, where anchovy reigns supreme, for a rare, umami Colatura. Visit nearby Gragnano in Campania, the birthplace of dried pasta for their famous spaghetti dried by the breeze blowing from the mountains to the Mediterranean sea. A stopover in coastal Naples, home of the pizza, yields the #1 Tipo 00 flour – a staple for your perfect focaccia di Camogli, a stunning fishing village on the Italian Riviera. Hop a boat to the Italian island of Sardinia for a small batch, award-winning olive oil, pressed in mills owned by the Pinna family for generations. Enjoy each of your dishes with curated Italian wines from Lot18 – and $25 to spend on them — each perfectly paired and aerated with the best wine aerating pourer in the world. Buon appetito!"
The Details:
Cost: $45.00
Coupon:  Save $10.00 on your first box by clicking HERE.
What's in the box? Each month, their team of experts curates amazing kitchen products together with artisan foods & ingredients into a themed box, like the Must-Haves of Cucina Mexicana or The Best in BBQ.
Can I skip?  Yes, on the first of the month you will get a peek at that month's box and you can decide if you want the box, or if you want to skip.
Website: www.hamptonslane.com
The May 2014 Hamptons Lane Box theme is Coastal Italy.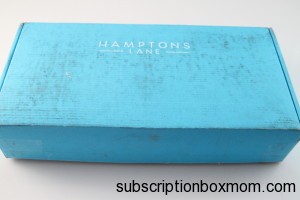 Hamptons Lane comes in a pretty blue box.  This box is rather dirty from shipping though.  Hamptons Lane ships by Fed Ex.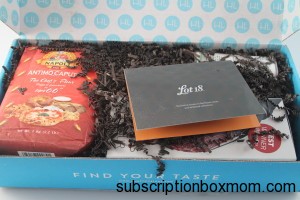 FIrst Look:  I want to try to make my own pizza with that flour.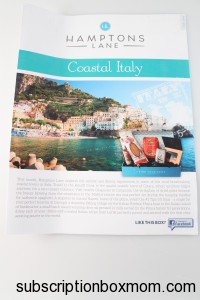 Hamptons Lane sends a full color brochure with details about all the products and how to use them.  There are also online recipes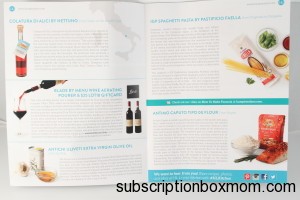 Inside the information guide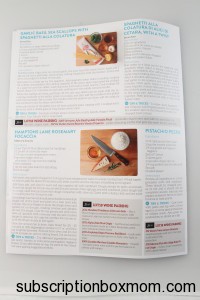 There are three featured recipes on the back of the information booklet.  I want to try the Spaghetti Alla Colatura Di Alici Di Cetara with a Twist..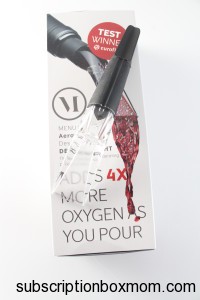 Blade Wine Aerating Pourer by Menu $19.95: This lets in 43% more oxygen in the wine than normal decanters.  Oxygen is important in wine, because it lets all the good flavors in and all the bad ones out.  My husband with love this.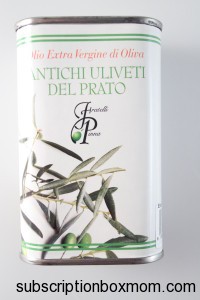 Extra Virgin Olive Oil from Antichi Uliveti, Sardinia $16.70 (I couldn't find the exact size):  I just ran out of my EVOO and I needed more.  I can't wait to try this.  This is described as moderately fruity and smooth with an artichoke taste and almond notes – which will add depth to any dish.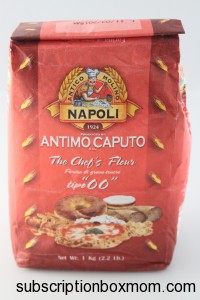 Tipo 00 Flour by Antimo Caputo, Naples $3.99: This is hailed as "the world's best pizza flour", which means it is also the world's best focaccia flour.  Hamptons Lane included a recipe for focaccia.  You can watch a video on how to make it HERE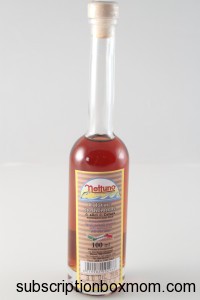 Colatura di Alici by Nettuno, Cetara on the Amalfi Coast  $12.50.  This is otherwise known as Anchovies extract or garum.  The Romans love to put this on everything, just as we might use salt.  This comes from the town Cetara on the Amalfi Coast.  You can use this to make Spaghetti alla Colatura di Alici di Cetara, Hamptons Lane original Seared Sea Scallops with Garlic Basil Colatura Pasta, or a mouthwatering salad dressing for Steak Caesar Salad.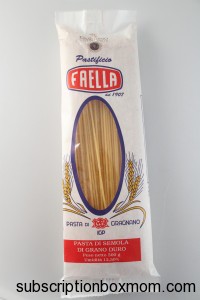 IGP Spaghetti Pasta by Pastificio Faella, Gragnano in Campania $8,00:  What is an Italian box without pasta?  This spaghetti comes from Gragnano, the birthplace of dry pasta making, where it has been artisanally produced since 1907. This pasta is said to have a rough and porous surface to best collect and adhere to the sauces; the texture is firm, and the fragrance, when you cook it, is like freshly baked bread.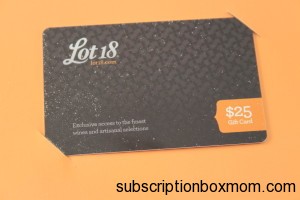 Lot 18 $25.00 GIft Card:  This is a nice gift card, I found a two pack of Moscato that was only $29.98.  Unfortunately, I can't get wine shipped to my state, but I can use this gift card on housewares.  I bought the Fortessa Sommelier Wooden Handle Wine Key and Case ($9.99), shipping was $12.98 and I was able to use my $25.00 gift card to pay nothing.  There is also a set of Clear Wine-Bottle-Shaped Water Glass (Set of 6) for $24.99, you will just pay shipping.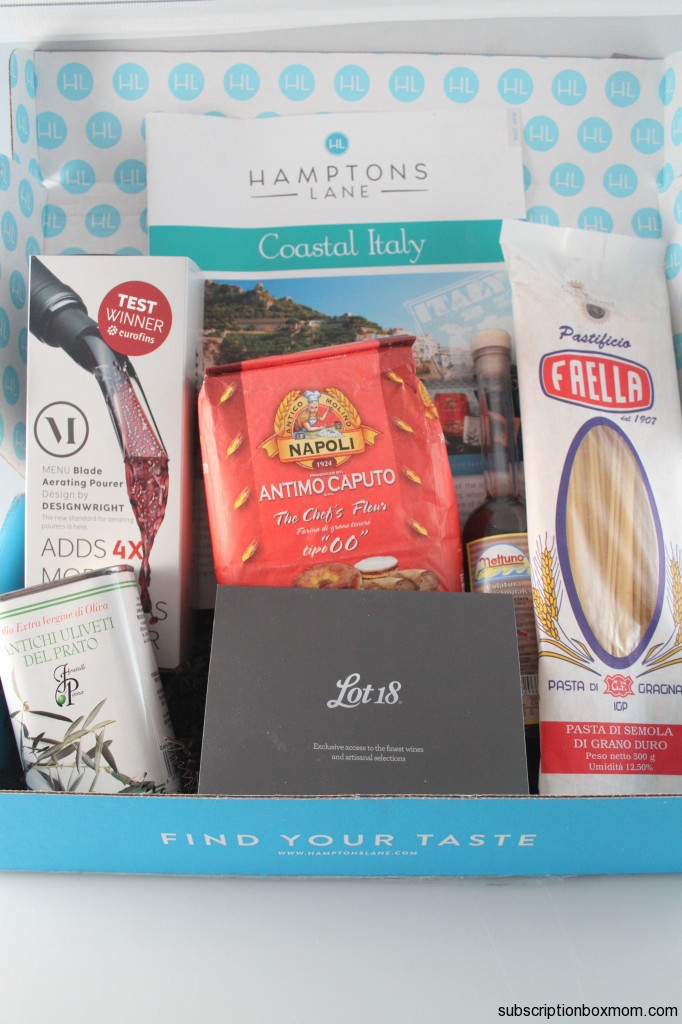 Final Thought:  I loved this box and everything in it.   The total value was $86.14 including the gift card.  I normally don't include the value of gift cards in my total value, because most are usually a glorified coupon.  I love the Lot 18 was a true gift card and covered my shipping.  Even if you can't get wine to your state, you can use your card.  I can't wait to use the wine pourer and see how much better my wine tastes.  The other items will go into making a fantastic meal.  Hamptons Lane is a phenomenal box with an outstanding value.  They give you gourmet foods that are actually tasty and they give you the freedom to skip any month!  Try them out HERE and save $10.00 on your first box.
Do you love Giveaways?  Click HERE to enter all my Giveaways.
Disclosure: I received this box free for review.  My options are my own.