May 16, 2014
05/16/14

By Subscription Box Mom

0 Comments
0
May 2014 Bulu Box – Get Half Off – 50% Discount – Healthy Subscription Box
Bulu box. the first and only vitamin and supplement sample box, send me this box to review. Bulu Box includes a well-rounded sampling of vitamins and supplements that help in all areas of health. Each box contains 4 to 5 premium samples plus lifestyle extras from time to time. There is a regular Bulu box and a weight loss Bulu Box.   The Bulu Weight Loss Box was designed with the specific goal of weight loss in mind. Each box contains 4 to 5 premium weight loss items such as vitamin and supplement samples, fitness gear and healthy eating tools. I really enjoy this box, because I can try supplements and vitamins, before buying an expensive jar of something I might hate.
Bulu Box also has a great reward system.  You can earn points easily to spend in the online store.  Every 10 points equals $1.00.  Your points will expire 90 days after you earn them.  Here is how you earn points.
1.  50 Points: for each $10 Bulu Box in your month-to-month subscription
2.  50 points: Refer a Friend and get 50 points.
3.  20 Points:  Fill out your user profile
3.  10 points:  Refer your products in your box.  You will have a min of 4 a month, so that is 40 points easily.
4.  1 Point:  Earn 1 point for every dollar spend in the box.
If you fill out your reviews you can earn 90 points a month easily!  That's $9.00 for the store each month.  A monthly subscription is only $10.00 a month, so this rewards system will make your first box better than free.  Each month after, you will be basically paying a $1.00 for your box.
The Details:
Cost: $10.00 a month, $30.00 for 3 months,
Types: Regular Bulu and Weight Loss Bulu Box
Coupon: Click here and use the code BULUGAN751 to save 50% on a Monthly, 3, 6 or 12 month subscription
Rewards: You earn at least 50 points ($5.00) or more for reviewing products in your box. You can then use the money, to buy full size products of things in your box.
When am I billed? 5th of the month
When does my box ship? Around the 15th of the month
How do I cancel or pause? You can cancel by logging into your account or emailing Hello@BuluBox.com
Website: www.bulubox.com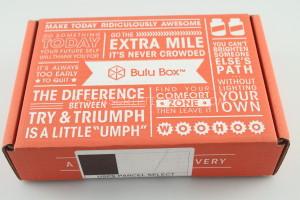 Bulu Box ships by USPS.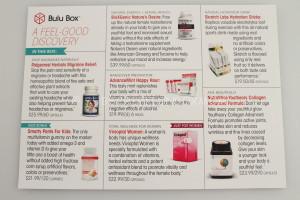 Bulu Box includes an information card filled with descriptions of all the samples and products in the box.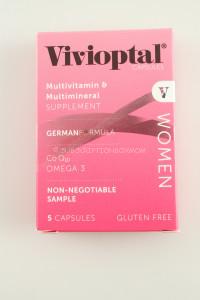 Bomuca Vivioptal Multivitamin for Women: $3.83: This multivitamin improves a woman's overall health and wellness.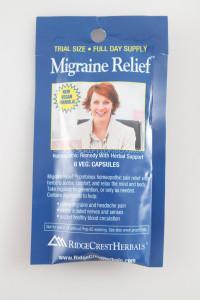 Ridgecrest Herbals Migraine Relief: $2.60: This uses homeopathic and traditional Chinese herbs to get rid of headaches.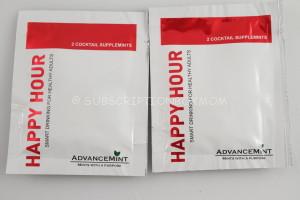 AdvanceMint Happy Hour: $3.33: This has a mix of vitamins, minerals and electrolytes and antioxidants to help your body offset the negative effects of alcohol.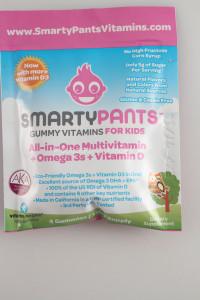 Smartypants Gummy Vitamins For Kids 74 cents: These gummy vitamins are filled with Omega-3 and Vitamin D, but they don't have any high fructose corn syrup, artificial flavors, colors or preservatives.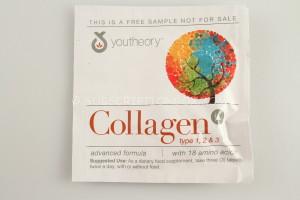 NutraWise Youtheory Collagen Advanced Formula: 18 cents: This promotes active joints, hydrates skin, and reduces wrinkles and fine lines cause by decreasing collagen levels.  I am anxious to see if this works.  There is only enough for one dose, so I am not sure if I will be able to see if it is effective.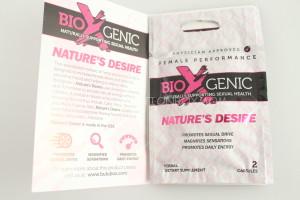 BioXGenic Nature's Desire: $1.33:  These promotes sexual drive, magnifies sensations and promotes daily energy.  This is filled with natural ingredients like american ginseng tyrosine!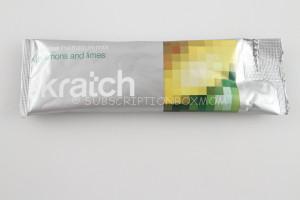 Skratch Labs Hydration Sticks $1.73: This is a drink powder that you put in a bottle of water.  It is filled with electrolytes with no artificial colors or preservatives.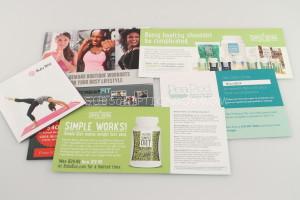 Bulu includes several pamphlets of companies Bulu thinks you may like.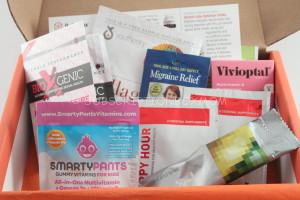 Final Thought:  The total value of this box was $13.74.  I tried the collagen tablets, but I am not sure if I will tell the difference.  I love the smartypants vitamins for kids, because they are free from artificial flavors and colors.  The headache medicine sounds really great and I hope it works.  I would love a more natural supplement, to deal with my headaches.  Bulu box also has a great point system, where you can review the products in your box.  If you are interested in trying Bulu Box,  click here and use the code BULUGAN751 to save 50% on a monthly, 3, 6 or 12 month subscription.  Remember: When you sign up for a month-to-month subscription you will earn 50 points for each $10 Bulu Box.  You can earn another 40 points or more by completing short sample surveys—that's about $10 back in points each month, making your Bulu Box essentially FREE.  
Do you love Giveaways?  Check out all my Giveaways HERE
Disclaimer: This post contains affiliate links.  This box was received free for review,  My opinions are my own.