May 7, 2014
05/07/14

By Subscription Box Mom

1 Comment
1
May 2014 Box of Happies – Discount – Women's Subscription Box
Box of Happies sends 3-5 handmade items to your door. Happies are designed to bring a smile to your face.  The boxes are reusable plastic boxes, so you can save them for storage around your home.  Who wouldn't want a box full of surprises, designed to make them smile?   I love Etsy and Box of Happies has combined all kinds of great items from Etsy and small businesses, into one great box.
The Details:
Cost: $28.99 ($24.00 plus $4.99 shipping).
Subscription plans: 1, 2, 3, 6, and 12 month subscriptions available

What's in the box? You get 3-5 hand made items from categories: jewelry, accessories, paper goods, bath & beauty, photography, and housewares.
How am I billed? You buy only the month's you want.
When does my box ship? Your Box of Happies will be shipped out on the first of each month.  At checkout, you will select the individual months that you would like to receive your Box of Happies.  You also have the option to purchase individual "past" boxes.  The past boxes are shipped within 7 days of your online order.  If you choose a future month, you will receive your shipment within the first week of the month selected.
How do I cancel? Since you buy only the month's you want, there is no canceling.
Website: www.boxofhappies.com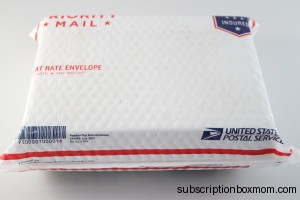 Box of Happies ships in a priority mail envelope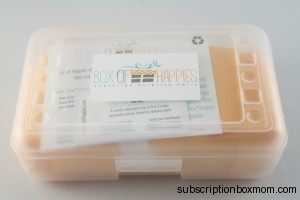 Box of Happies ships in a reusable plastic box.  I am going to use this one for condiment packets.  They are taking over my drawer!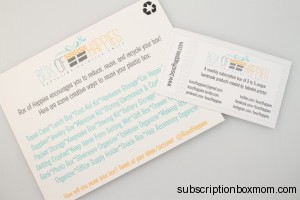 Box of Happies includes a card with ideas for the plastic box and a business car with Box of Happies contact info.
There is also a business card with all the products in the box.  Box of Happies gives the retail value and web addresses!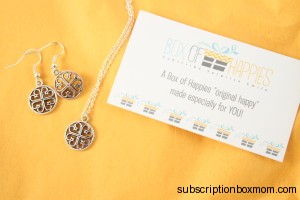 This is a Box of Happies exclusive.  The is a matching necklace and earrings with tiny heats inside.  This looks super cute and is just my style.  This retails for $16.00 for the set.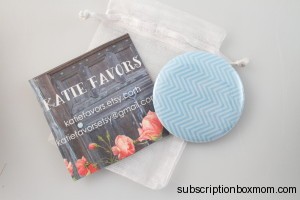 Katie Favors Pocket Mirror $3.00: This is a decorative mirror.  This is really cute and I like chevron pattern.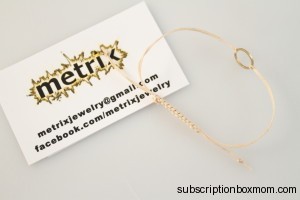 Matrix Jewelry Adjustable Bracelet $15.00:  I was surprised by the price of this.  This is an adjustable bracelet.  You pull the two ends to adjust it.  I couldn't find the Etsy shop, but I don't think this is worth $15.00.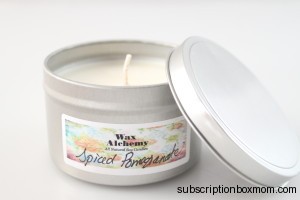 Wax Alchemy Soy Candle : $8.00:  This is in the scent Spiced Pomegranate.  It reminds me of spiced apple but has a sweeter smell.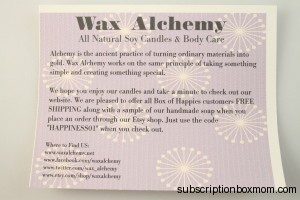 The candle also came with an information card.  The shop owners are out right now, so their ship is closed.  I would love to see their other scents though.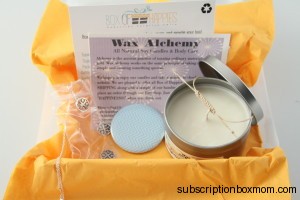 Final Thought: The total value of this box was $42.00.  I think this is a bit too high though, as the bracelet was not worth $15.00.  I love the candle and the necklace/earrings.  I think those two item were the best in the box and they were worth $24.00 alone.  This box was worth the price.  If you want to try Box of Happies, click HERE and use the code HAPPIES to save $2.00.
Do you love Giveaways?  Click HERE to enter all my Giveaways.