May 28, 2014
05/28/14

By Subscription Box Mom

1 Comment
1
May 2014 Bestowed Review + Discount Code
Bestowed is a subscription box full of healthy snack, food and beverages.  It was founded by Heather Bauer.  Heather is a registered dietitian and a best selling author of two books: The Wall Street Diet (Hyperion 2008) and Bread is the Devil (St. Martin's Press 2012).  This month's Bestowed box was designed to get rid of the last bits of winter, and spring into good health.
The Details
Cost: $19.00 a month or $209.00 a year
Coupons: 50% off your first month of Bestowed ($10 instead of $19) by using the code HELLOYUM34.  Just click HERE to join.  This code expires 6/15
What's in the box? Get a boxed assortment of healthy and delicious food, snacks, and beverages — delivered to your door every month. Most of the products are full size and the box will have a value of at least $30.00
When will I get the box? 15th of the month
                                    Twitter: @bstowed
                                    Phone: (866) 976-2797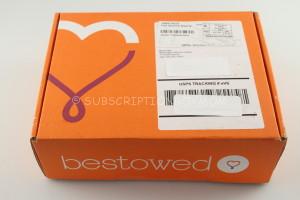 Bestowed always comes in a pretty orange box and ships by USPS.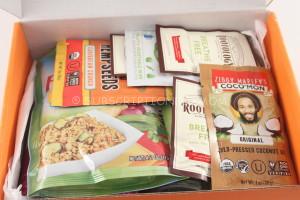 This month's box was packed full of snacks.  I couldn't wait to dig in.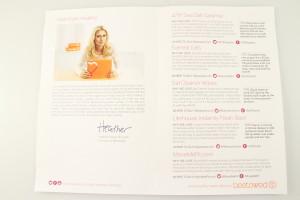 Bestowed always has a great information book.  They include a description of each product, along with tips on how to use them.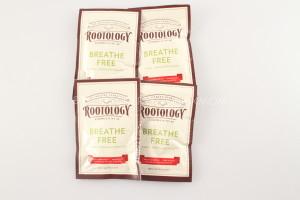 Rootology Breathe Free  4 packs of 2 pills: $3.40: Rootology is a blend of 13 concentrate herbal extracts that work to relieve sneezing, congestion, sinus pressure, runny nose, itchy watery eyes and headaches.  Currently, I have all those symptoms, so I am putting this to the test.  I tried one package today, and I am feeling better!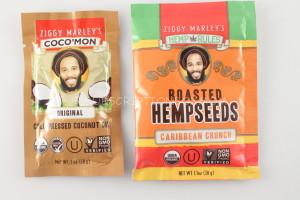 Ziggy Marley's Coco'mon: $1.18 This coconut oil is USDA certified, non-GMO verified, gluten free and made with organic coconut kernels.  This is packed with vitamins and minerals.  It can also be used in replacement of any other cooking oil.
Ziggy Marley's Roasted Hempseeds Caribbean Crunch $1.38: These are a mix of hemp seeds and an organic spice blend.  This is full of omega essential fatty acids and packed with protein, 9 grams per serving.  These are also non-gmo, gluten free and grown with out fertilizers, chemicals or pesticides.  C and I tried these and aren't really a fan.  They were really interesting though.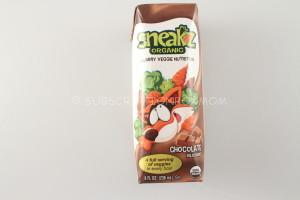 Sneakz Organics Milkshake, Chocolate $2.86: Sneakz pack a full servings of vegetables. disguised in a dutch chocolate milkshake.
Litehouse Basil $11.99 Litehouse takes fresh herbs and freeze dries them immediately after harvest, in order retain their natural flavor, aroma, and nutritional benefits.  You know you are an adult, when you are excited to get a fresh bottle of basil.  Herbs are expensive!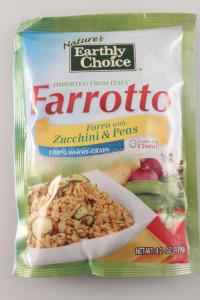 Earthly Choice Farrotto with Zucchini & Peas $3.59: This is a blend of farrotto, zucchini, and peas.  You just add water and olive oil, to make a tasty side dish.  I am excited to try this for dinner.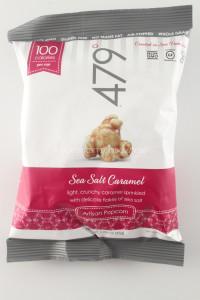 479 degrees Sea Salt Caramel Popcorn $1.00;  This was very tasty.  This is non-gmo, gluten free and low in calories.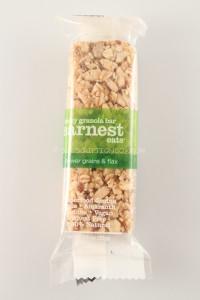 The Earnest Eats 98 cents: These granola bars are made with power grains and flax.  They have 4 grams of protein and 3 grams of fiber.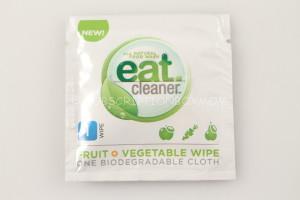 Eat Cleaner Wipes: 40 cents: You can use these wipes to remove pesticides and bacteria from fruit and veggies.  These wipes are 100% natural too.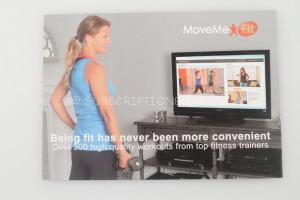 MoveMeFit.com $27.00:  This is a coupon to get three free months of workouts.  This website has several different workouts from cardio to pilates.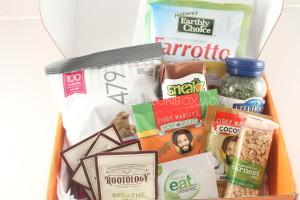 Final Thought:  The total value of this box was $53.78.  I am really excited to get new basil.  I am also excited to try the Farrotto.  It has only been a few hours, but the Rootology really seems to be working.  I am really excited to find a more natural allergy relief.  Bestowed is a great box, that sends new healthy foods to your door.  If you want to try Bestowed, click HERE and use the coupon HELLOYUM34, to get your first box for $10.00!
Do you love giveaways?  Click HERE and see all my current giveaways.
  Disclosure:  I received the box free for review.  My opinions are my own and I was not compensated in any way.