May 6, 2014
05/06/14

By Subscription Box Mom

4 Comments
4
Mary's Secret Ingredients – Spring Box – Premier – Discount – Artisinal Food & Kitchen Tools
Mary's Secret Ingredients, who sent me this box to review, is a new subscription box that sends unique gourmet, artisanal ingredients along with small kitchen products.  Boxes are released four times a year and they are filled with artisinal goodies, designed to satisfy your palette.  Boxes are $25.95 and released in April, June, September, and November.  There are only 100 boxes for each season, so buy I would buy now, if you are interested. There is no subscription commitment, you just buy the boxes you want.  They also give 10% back to Feed the Children!
The Details:
The Cost: $25.95
Coupon: If you want to try Mary's Secret Ingredients, click HERE and use the code 4LOVE to save $4.00.
What's in the box? Boxes are filled with artisinal goodies, designed to satisfy your palette.
When do the boxes ship? Spring Box-April 25, Summer Box – June 25th, Autumn Box-Sept 25th. Winter Box -Nov 25th.
How do I pay?  You can pay by credit card on the website or Paypal.
How do I cancel? You may cancel box(es) you have ordered by the 15th day of a shipping month. This courtesy gives someone else the option to purchase that box. IF YOU DO NOT CANCEL BY THE 15TH DAY OF A SHIPPING MONTH, REFUNDS CANNOT BE GRANTED.
Website: http://www.maryssecretingredients.com/
Mary's Secret Ingredients shipped by USPS.  The box is white with blue trim.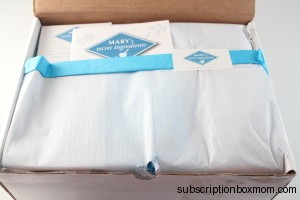 The first look really impressed me.  I loved the cute little pocket, that held the information!
Mary's Secret Ingredients included an information booklet with all the products.  Mary's Secret Ingredients also include a background on the companies and the products.  There was also and introductory letter from the owner.  You can follow their blog at www.lovethesecretingredient.net to find some recipe suggestions for the products.
Flathan's Fine Foods Cheese Straws $3.95: These are all natural cheese straws made with sharp cheddar.  These also have a kick of chipotle.  These were super cheesy and had a slight kick.  C wasn't a fan.  I am the cheese lover in the house and I loved them.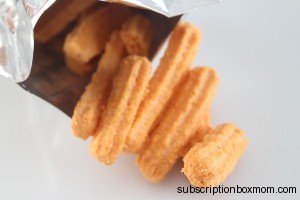 This is what the cheese straws look like.  They are yummy!!
Loacker Quadratinis Hazelnut: $4.99: These are little wafer cookies with hazelnut cream inside.  To be honest, I didn't know if I would like hazelnut.  These were so tasty and I could eat the whole bag.
Nueske's Landjaeger: $5.99: This is a German treat made from super lean cuts of pork and beef that are coarsely ground and blended with black pepper.  My husband loved this and raved on about how well it tasted.
Calmer Sutra Tea Gnger Infused Honey $10.99: Smooth textured and sweet our double blended honey dances with its freshest partner Ginger Root in this palate pleasing blend. It's sweetness with a calmer KICK!  This sounds interesting and I am excited to try it.
Sweetwater Bath Company Fajita Bath Brine Concentrate:  $8.99: The Tres Chilies brine uses natural Smoked salt and Smoked Chilies (Chipotle, Ancho, and Cayenne) to bring the taste of the grill indoors.  The medium degree of spice of this flavor is balanced with the sweet final note of the Apple Juice base.  This sounds so tasty and I can't wait to try it.
Calmer Sutra Tea Peppermyntle Tea $7.99: A Calmer Twist – Peppermint leaves lifted ever so lightly with sweet lemon myrtle. It's fresh, minty with subtle lemon, citrus notes. Perfect for refreshing your body and mind, settling an upset stomach, and helping to restore your balance.  
Harmonian Oregano From Wildcrafted Plants: $11.10: Following the tradition of Harmanonian spice collection, oregano is collected by hand from wildcrafted plants in Pindos' cliffs, thus contributing in a unique, strong aroma in contrast to conventionally cultivated oregano.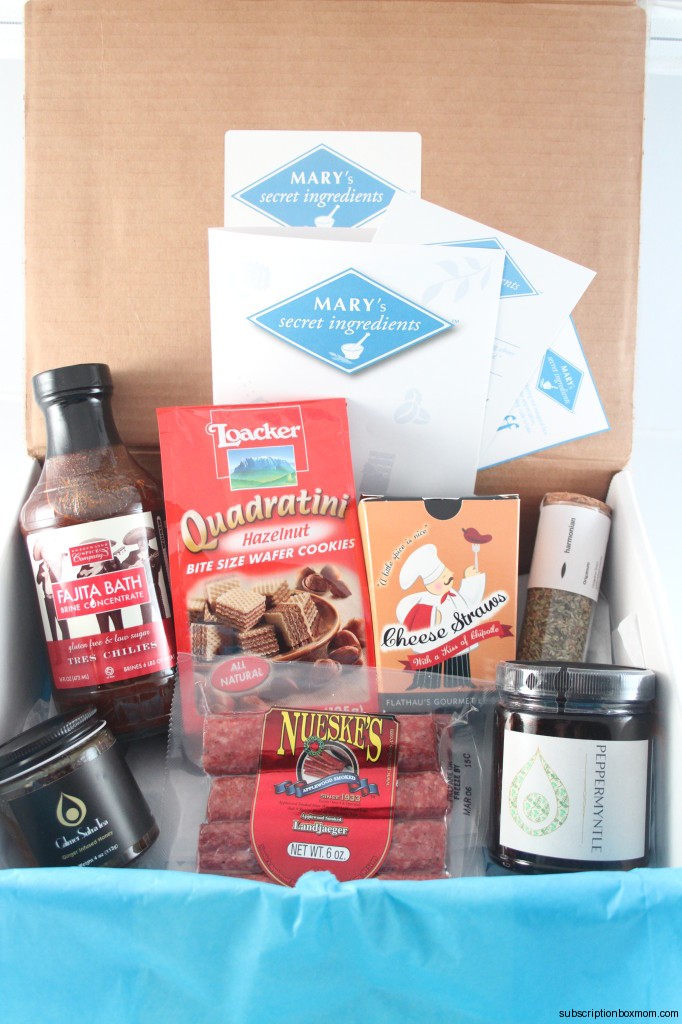 Final Thought: The total value of this box was $54.00!  I am really impressed with this box.  All the foods that my husband and I tried were excellent. My husband loved the landjaeger.  I actually don't remember him loving another food item from a subscription box more. Those wafer cookies are out of this world and I may have eaten them all already.  Those cheese straws were also pretty amazing.  This is probably my favorite food subscription box, as I like so many things!  That fajita bath is being used this week!  If you want to try Mary's Secret Ingredients, click HERE and use the code 4LOVE to save $4.00.
Do you love Giveaways?  Click HERE to enter all my Giveaways.
Disclosure: I received this box free for review.  My opinions are my own.