May 8, 2014
05/08/14

By Subscription Box Mom

0 Comments
0
The Lure of the Month Club – Send Lures – Fishing Subscription Box
The Lure of the Month Club is a new subscription from Send Lures.  Every month, they send a new freshwater fishing lure each month.  The plan is $19.99 and the you will get a welcome package filled with all kinds of fishing goodies.  I was excited to check this subscription out, as many of my friends love to fish.
The Details:
Cost: $19.99 a month
What's in the box? Month 1 – Rapala Glass Shad Rap lure, Johnson Beetle Spin lure, Thrill slip bobber, bobber stops, Swedish Fish candy, lure information card, personalized gift card, and welcome message containing club information all wrapped in a decorative tin pail.
For each remaining month, your fisherman will receive a premium freshwater fishing lure from companies like Rapala, Heddon, Reef Runner and others as well as an informational card containing interesting facts about their new lure.
When will the box ship? Lure of the month orders ship during the first week of the month.  When you subscribe, you will have the option of having your order shipped right away, or waiting until orders go out the following month.  You can also use the "special instructions" during checkout if those two options do not work for you.
Website: http://www.sendlures.com/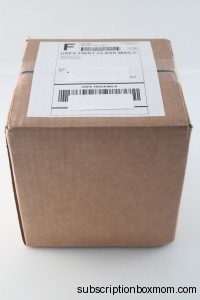 Send Lures sends their welcome package in a little brown box.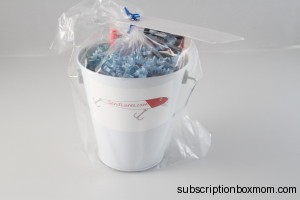 Everything was packaged in a little tin bucket  and wrapped in plastic.  Everything was packaged very cute!
Note: Since I don't fish and I want to accurately describe the item, I used official descriptions to explain each item.
Speed Weaver  This makes sure your bobber doesn't move up the line.
Rapala Glass Shad Rap:  Molded high-impact plastic with holographic foil insert allows the chameleon-like Glass Shad Rap® to pick up the color of its surroundings and bounce the same color back in an iridescent glow. When fished in bright sunlight or low light, the lure looks completely natural, adapting to the current conditions. Suspending on pause, the long-casting Glass Shad Rap® swims with a slightly different action than the legendary balsa model. Add internal rattle, VMC® black nickel hooks and hand-tuned and tank-tested features, this lure truly has it all.
Premium Balsa Floats: Crafted of pure balsa wood, Thill Premium Balsa Spring Floats are stained on the bottom half and painted on the top with hi-vis fluorescent paint. Oval in shape and easy to see, these Premium Balsa Floats are a great way to monitor your line for even the slightest activity.
Johnson Beetle Spin : The bright, matching "safety-pin" spinner is easy to remove when you want a plain jig for deep-water presentations. Available with silver or gold blade spinner. 
Swedish Fish   These are great fish.  My 4 year old and I loved them.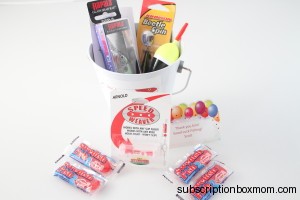 FInal Thought: This was a fun welcome package.  It has several fishing items that would make a great gift for a fisherman or woman in your life.  It is also a great way to build you fishing lures, since you will get a new one each month.  If you would like to check out Send Lures and their Lure of the Month Club, click HERE.
Do you love Giveaways?  Click HERE to enter all my Giveaways.
Disclosure: I received this box free for review.  My options are my own.