May 11, 2014
05/11/14

By Subscription Box Mom

20 Comments
20
KitNipBox May 2014 – Save 50% Off – Giveaway – Cat Subscription Box
KitNipBox who sent my cat Oliver this box to review, is a new cat subscription box.  KitNipBox searches for the best cat toys, treats, accessories, and other goodies.  Their CMO (Chief Meow Officer), Sylvester, the black cat, and his team of kitty product connoisseurs personally try the items to ensure their absolute purr-fection for kitties everywhere. Then they create a box of unique items and ship it to your cat.  There are three different types of boxes: starter, The Happy Cat, and The Multi Cat.  Subscriptions start at just $9.00!  There are so many dog subscription boxes, I was excited to see a box that is all about cats.  Oliver is my little cat and is 9 years old.  He agreed to try the box and share his thoughts.
The Details:
Cost: Starter Box (1-2 items) $9.00. The Happy Cat (4 or more items) $19.00 and the Multi Cat (6 or more items) $29.00.
Coupon:  Click HERE and use the coupon 50OFF to save 50% on your first box,
What's in the box? Depending on the box you get, you will get an assortment of goodies, just for your cat.
When will I get my box? Your first box will be shipped on the first of the month (June 1 if you order before the end of May). Please allow 6-10 business days for delivery, once your KitNipBox has shipped.
When am I billed? You will be billed when your KitNipBox ships on the 1st of every month. When you first sign up, your credit card will not be charged until they mail your first KitNipBox.
How do I cancel? Email them at meow@kitnipbox.com with your account details (full name, e-mail address, and shipping address), and request a cancellation. Please note that you must cancel by the 15th of the month to avoid receiving a shipment for the following month. Any additional feedback you could share on why you chose to cancel would be appreciated tremendously!
Website: https://www.kitnipbox.com
Oliver and I received The Happy Cat box to review.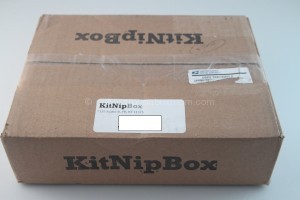 KitNipBox shipped in a brown box with the brand logo on it.  KitNipBox ships by USPS.
I loved the packaging.  Everything was bundled in an envelope.  There was a thank you card for subscribing and a little bow for Oliver's collar.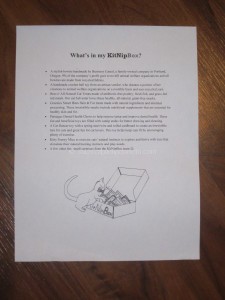 KitNipBox included a sheet with all the products in the box.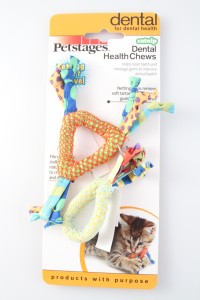 Petstages Dental HealthChews $2.39: These were very popular with Oliver,  He had a blast hitting these around on the wood floor and he enjoyed chewing on them.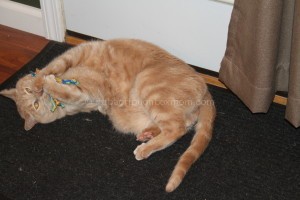 Oliver enjoying his treats!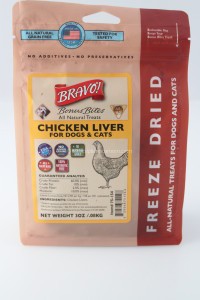 Bravo Chicken Liver for Dogs and Cats $12.09: These are freeze dried all natural treats for dogs and cats.  They are made of chicken liver and are free from hormones.  Oliver wasn't into these, but I will try again.  If Oliver decides he doesn't like them, my parents have a dog who would love them
oy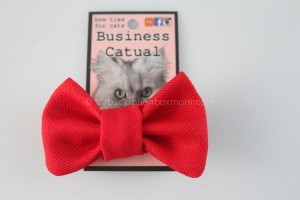 Business Catual $7.99:  This is really cute.  It is a bow tie that goes on the cat's collar!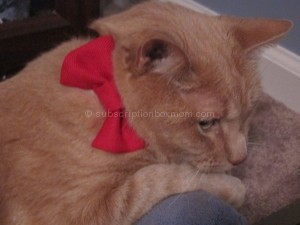 It took two days and several belly rubs for Oliver to let us put this on.  Surprisingly, he isn't trying to get it off!  He looks quite cute with it.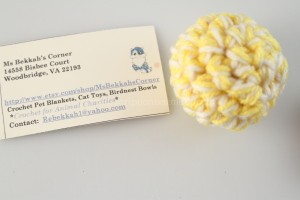 Ms Beckkah's Corner Crochet Ball $1.63: This is a handmade crocheted ball.  It is made from acrylic yard and is washable.   I couldn't get pictures of Oliver playing with the ball, but every time I walk out of a room, Oliver plays with it.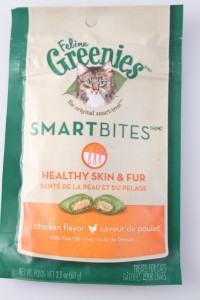 Smartbites Healthy Skin & Fur Chicken Flavor $3.21  These are made from Natural ingredients and minimal processing.  These help cats have healthy, skin and fur.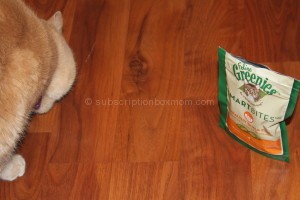 Oliver really enjoyed these treats, and they didn't upset his tummy.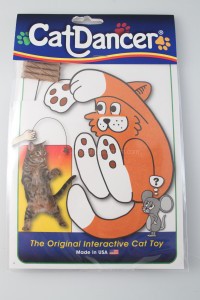 Cat Dancer Toy $2,99:  This is a wire cat toy that has rolled cardboard at the end.  Oliver loves these types of toys the most.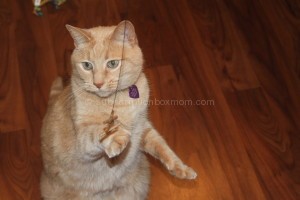 Oliver really enjoyed playing with this toy!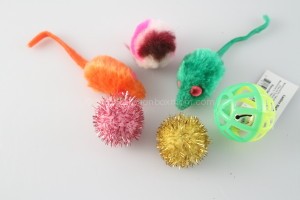 Kitty Frenzy Mice and Toys: $1.00  These are fun little toys for Oliver to bat around the house.  My two year old will probably try to snatch the jingle ball.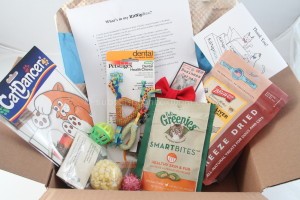 Final Thought:  The total value of this box was $31,39.  The Happy Cat box only costs $19.00, so this box had a great value.  Oliver's favorite items were the Greenies treats, the cat dancer toy and the Petstages Dental Healthy Chews.  Even though I haven't seen it, the crochet ball has been played with too.  It keeps showing up around my house.  KitNipBox is also offering 50% off your first month!  Just click HERE to check out the box and use the code 50OFF to save 50% off your first box.  This is a huge coupon and one not to be missed.  They are also giving away 1 The Happy Cat Box!  Just enter below.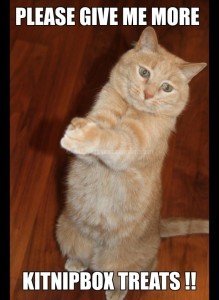 Do you love Giveaways?  Click HERE to enter all my Giveaways.
Disclosure: KitNipBox is responsible for all prize fulfillment. I received this box free for review.  My opinions are my own.